Friday, February 05, 2016 - Radan and Alex RAW - FULL CONTACT

Radan and Alex RAW - FULL CONTACT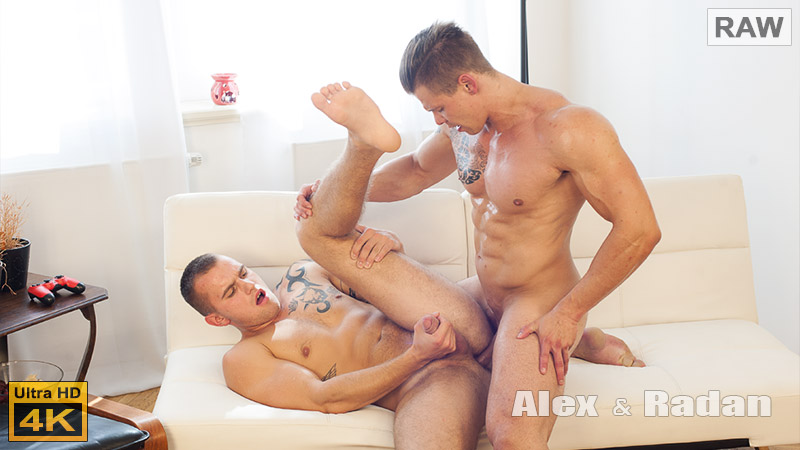 We brought Radan Flex and Alex Stan, two very hot guys, in for a Dream Set. We find them playing a video game. Alex loses the game and to console him Radan pulls him close and starts to kiss him. Alex loves that and responds eagerly. They help each other off with their tee shirts revealing two very hot chests. As they continue to kiss they have their hands in jeans and playing with each other's cocks. Alex's jeans are pushed down and his stiff cock hoves into view. Radan wanks it as Alex moves onto his knees. That allows Radan to take the stiff cock into his mouth and suck on it. Alex moans with pleasure as the hot mouth works on his cock. Having sucked that throbbing cock a while Radan moves up to kiss Alex again. Then Radan's jeans come off too and his own dick sticks out in front of him. Alex wanks it as they kiss some more. Then he takes it in his mouth to suck it. Radan grabs Alex's head and fucks his cock into the mouth. Then Alex licks up and down the shaft, sucking on the balls as well. They move to a 69 with Radan on top, sucking each other real well. Radan licks the balls as well then goes back to sucking on Alex's dick. he moves onto his knees and fucks his cock into Alex's mouth. Alex takes it all the way down his throat. Then Radan leans over, pulling Alex's ass in the air so he can rim the hot hole and spank the ass. His tongue laps at the hot hole making Alex moan. Then they move again, kissing and then Alex presents his ass for some cock. He moans loudly as Radan's dick fucks into his hot ass. Alex can take cock real well and Radan fucks him nice and deep. He pounds away at the hot hole, stretching it wide. Alex takes that cock so well. He lays on the sofa with Radan between his legs fucking his hole some more. Radan really bangs away at the hole as Alex wanks his own stiff dick. As Radan keeps up his pounding of the hole Alex wanks himself and shoots his big load. Then Radan is ready too and he pulls out to shoot his cream over Alex's cock and balls. He leans forward and they kiss again bringing a hot, steamy, session to an end.
... more about Radan and Alex RAW - FULL CONTACT further in this newsletter

Our Coming Soon Set Preview
Milen Petrof is sitting at this desk studying when Alan Carly arrives with some wine. He offers some to Milen and tells him to take a break from studying, as he pulls him to his feet and kisses him. They help each other off with their tee shirts and continue to kiss. Then Milen sits on the desk and leans back as Alan kisses his chest and unfastens his pants. He pulls them down, and off and then leans over to continue kissing Milen's body, running his hand over the underwear. He pulls off the underwear and starts to suck on Milen's cock. His lips wrap tight around the stiff shaft and his head bobs up and down on it. He licks the balls too and up the shaft to suck on the head again. Then Milen stands and they kiss again before Alan drops to his knees to suck on that big cock again. They move to the bed and, both naked, they wank themselves as they kiss some more. Then it is back to the desk, with Alan bent over and taking Milen's big dick deep in his hot ass. He moans as that big cock fucks him deep. Milen spanks the ass too as his dick goes all the way in, stretching Alan's hole. Alan turns over and lays on his back, one leg rest on Milen's shoulder. He wanks himself as Milan keeps fucking that hot ass. Alan's balls bounce as he wanks himself hard and fast with Milen pounding his hole. As Alan's wanking gets even faster his cock explodes with his creamy cum. He milks his cock as Milen continues to work his ass. Then Alan sits and laps at Milen's cock as it shoots the cum, dropping it onto Alan's hot chest. He laps at the sticky cock as Milen milks the last drops of cum from it. Then Milen leans over and kisses Alan one final time.

OPEN SET WINDOW

Trailer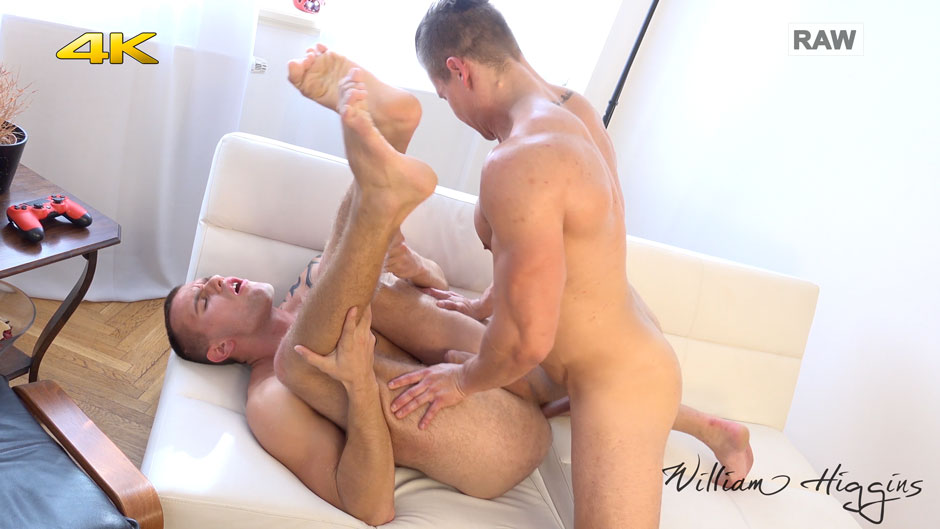 Vlog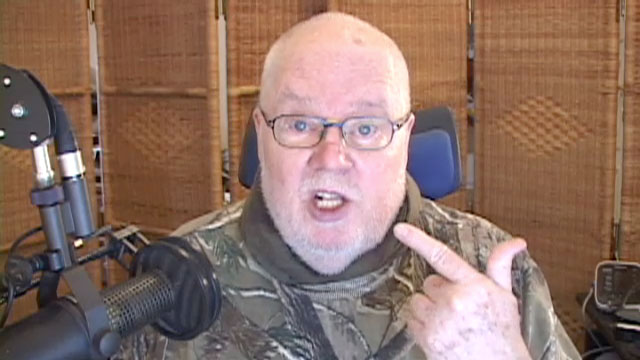 You can watch my Vlog for this Newsletter by clicking above or by going over to the Blog :
http://www.wheuro.com/?p=15697
Another spring like TGIFriday in Prague. I'm looking forward to the weekend. Next week I go for consultation regarding knee surgery. Not looking forward to that quite as much. It's a good time to visit Prague (and Europe). The dollar is high (still), hotels are cheap, and the weather is quite nice.
We have a great Dream Set today, featuring Alex Stan and Radan Flex. Then we see Stepan Tokaj receiving a a helping hand and dumping a huge load as fingers are jammed deep into his ass. After that we have Bedrich Zeman with his session stills shoot.
We have two very good castees in Tomas Decastro and Ivan Sergeiov. They both look so good but for me the stand-out guy today is Tomas Decastro.
REMEMBER YOUR CAN ALWAYS CHECK THE OLD WH WEBSITE AT:
NEW SETS AT STR8HELL.COM

Members of str8hell.com get full access to the site and to the full archive of more than 2500 sets on Czech Guys Next Door web site, at:
http://archive.czechguysnextdoor.com/
Non-members can access str8hell.com and browse the complete content, including free video previews and some free photos for each set. Non-members can also search the site, and are able to buy any sets they like, without taking out a full membership. Paying only for the sets you really want to see.
Sincerely
William Higgins

WHVideoShop.com Website Latest Updates

DOWNLOAD OUR VIDEOS IN FULL HD 1920x1080p FROM ALL 6 SITES!
Special Offer for William Higgins Newsletter Readers
William Higgins Newsletter readers are able to obtain a discount on the price of BURNDVD downloads by using the coupons that we will be publishing in each Members Newsletter. The coupon published in each newsletter will be valid for a period of 7 days.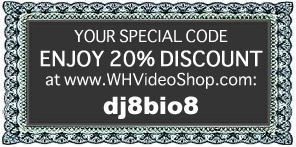 Copy today's coupon code here: dj8bio8

Our Partners:

PLEASE PROCEED TO THE NEXT PAGE FOR THE LATEST WilliamHiggins.com UPDATES