Tuesday, March 03, 2015 - Romi and Petr - Brothers Shoot RAW - FULL CONTACT

Romi and Petr - Brothers Shoot RAW - FULL CONTACT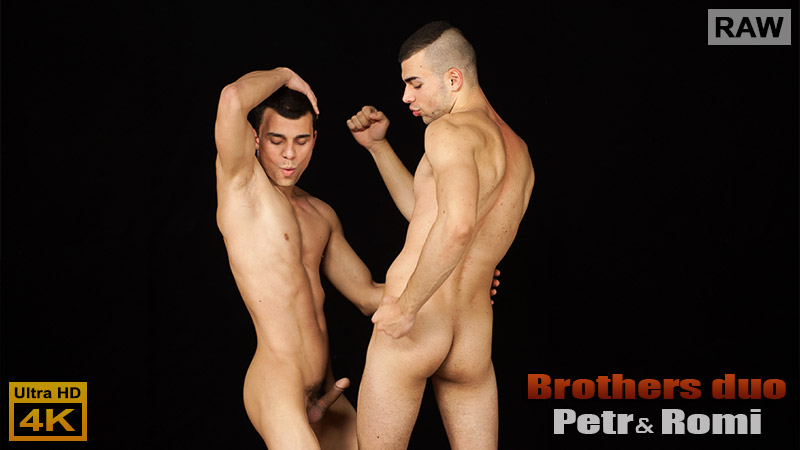 Our sexy brothers Romi and Petr Zuska are having fun with each other, dressed only in their jockstraps. Dancing together their hips thrust provocatively as their hands and mouths explore each other's bodies. Romi takes some oil and squirts it over Petr's hot body, rubbing it over his chest. Petr turns and Romi oils his back too,spanking his ass as well. Petr takes the oil and pours lots more over himself as Romi's hand roam all over him. Soon Petr has Romi coated in the oil as well. Romi grabs Petr's crotch with his brother returning the compliment. Romi bends over and pushes his ass, suggestively up against Petr's crotch, and then he faces his brother and begins to kiss him. He drops to his knees, pulling Petr's jockstrap down, to release a very hard cock. Romi takes the cock in his mouth and begins to suck it. He does a great job, his head bobbin on the dick, and his tongue lapping at the head. He takes the cock deep in his throat, showing just how good his is at sucking. He stands and kisses Petr again, who responds by releasing Romi's cock and wanking it. Those oily cocks look so good as Romi rubs them together. Then Petr drops to his knees, completely removing Romi's underwear and taking hold of his cock to suck it. He licks on the shaft and then takes the head in his mouth. He soon shows that he is great at sucking too. Then Romi gets on his knees and presents his ass, which Petr rubs as he drips more oil onto it. Romi's cheeks are spread, with his hot hole on full view as the oil streams over it. Petr's hands are all over that sexy ass, pulling it wider apart, as he examines the tight hole. He soon has a finger deep in the ass, fucking in and out. As he fingers the hole Petr reaches underneath and wanks on Romi's throbbing cock. It looks like he is going to take that ass for himself, but instead it is Romi who gets to fuck. His cock is planted deep in Petr's sexy ass, fucking it deep. Having fucked him from behind Romi lays on the floor and Petr takes a ride on that throbbing cock. His ass slides up and down on the thick shaft working right down to the tight balls. Then they move again, with Peter on his back, turned to the side with Romi between his legs pounding that hot ass. His dick is deep in his brother's tight hole fucking him real good. Romi moves again, fucking Petr from behind until he unloads his cum deep in that ass. Then he spreads Petr's cheeks until that hole releases some of the stored cum. Romi then lays down as Petr stands over him,wanking, and soon shoots his hot cream all over that sexy body. The brothers kiss again and then go to the shower to help wash all that oil and sweat off each other.
... more about Romi and Petr - Brothers Shoot RAW - FULL CONTACT further in this newsletter

Our Coming Soon Set Preview
In Wank Party 2015 #2 we have a great line-up, with Tom Vojak, Petr Zuska, Matej Borzik, Laco Meido and Kail Kopec. In part one we find Petr and Tom knocking at the door, but getting no response. Tom lets them in with a spare key, finding Laco, Matej and Kail all drunk, and asleep. They notice that Kail's cock is hard as he sleeps. Petr reaches forward and relases the hard cock and the balls. Tom leans over and licks the cock head, before Petr starts sucking it. Then they decide to check out Laco as well, noticing a vibrator on the floor. It seems the guys had been having some fun as they got drunk. Tom and Petr decided to continue the fun, stripping Laco's underwear from him. As he still sleeps they examine his cockand balls and then lift his legs, so they can use the vibrator in his ass. Tom pushes it into that sexy ass and lets Petr fuck the hole with it. Tom stands and pulls out his own cock, which is massive and quite hard. He moves Laco's head so that the cock rests on his lips. The get rouse Laco, whose mouth opens and Tom's cock slips in. With Laco awake he starts sucking on that big cock as Petr rouses Matej. He removes Matej's tee shirt and strips himself to his waist, opening his pants too. Matej starts sucking on Petr's cock as Laco continues to suck Tom. That wake Kail too, who is pleased to see the fun that is going on. He quickly joins the action, presenting his cock for sucking too. Matej tales turns on Petr's and Kail's dicks, sucking one and as he wanks the other. Petr then joins Tom in having Laco suck him, leaving Matej to enjoy Kail's throbbing cock. As they suck Laco and Matej wank each other. Then the guys move so that Laco and Kail are on the sofa, asses presented, having their tight holes rimmed. Tom works his tongue into Laco's ass and Matej does the same to Kail. Kail's hairy hole gets a good licking by Matej and his balls and cock feel Petr's hot mouth too. Tom starts fingering Laco's hole as Matej slips a digit into Kail's ass as well. They are loosening the holes ready for some hot fucking in part 2.

OPEN SET WINDOW

Trailer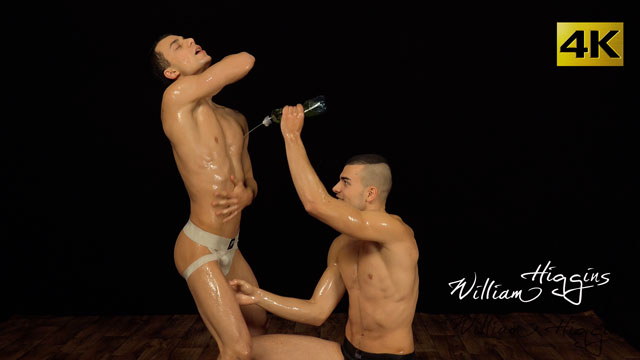 Vlog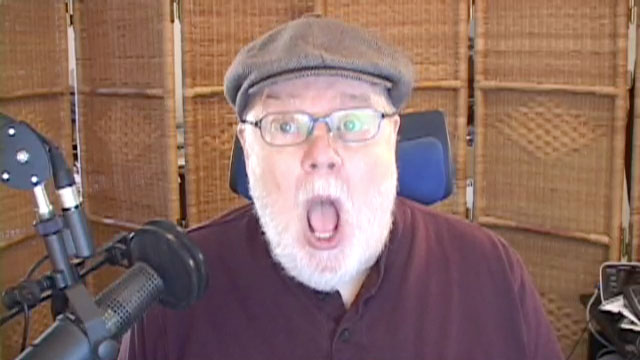 You can watch my Vlog for this Newsletter by clicking above or by going over to the Blog :
http://www.wheuro.com/?p=14155
I hope I'm getting over the worst cold I've experienced in donkey's years. It's been a real doozy. It's either about to fade away or take me down for the count. Meanwhile…
Oh what a great start to the newsletter today, with our sexy brothers Romi and Petr Zuska really getting it on with each other. Right at the end of that video is a preview of another shoot with them, this time including the third brother, Rado. So even more great stuff to look forward to with these guys. After that great duo we have a lovely massage with Jan Franz, and a superb erotic video from Oldrich Linger. Our session stills shoot today introduces another very cute guy too, Miro Keta. What a great line-up that is for today.
For our castings today we have another four very nice guys. Igor Rybar, Melek Cekov, Mirek Monk and Alan Greiss. They are all good and each very different. My pick of the bunch for today is Igor Rybar.

REMEMBER YOUR CAN ALWAYS CHECK THE OLD WH WEBSITE AT:
NEW SETS AT STR8HELL.COM

Members of str8hell.com get full access to the site and to the full archive of more than 2500 sets on Czech Guys Next Door web site, at:
http://archive.czechguysnextdoor.com/
Non-members can access str8hell.com and browse the complete content, including free video previews and some free photos for each set. Non-members can also search the site, and are able to buy any sets they like, without taking out a full membership. Paying only for the sets you really want to see.
Sincerely
William Higgins

WHVideoShop.com Website Latest Updates

DOWNLOAD OUR VIDEOS IN FULL HD 1920x1080p FROM ALL 6 SITES!
Special Offer for William Higgins Newsletter Readers
William Higgins Newsletter readers are able to obtain a discount on the price of WHVideoShop downloads by using the coupons that we will be publishing in each Members Newsletter. The coupon published in each newsletter will be valid for a period of 7 days.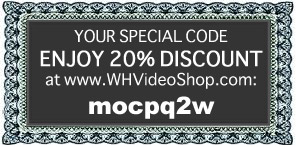 Copy today's coupon code here: mocpq2w

Our Partners:

PLEASE PROCEED TO THE NEXT PAGE FOR THE LATEST WilliamHiggins.com UPDATES