Friday, September 12, 2014 - Alan and Jirka - Screen Test - FULL CONTACT

Alan and Jirka - Screen Test - FULL CONTACT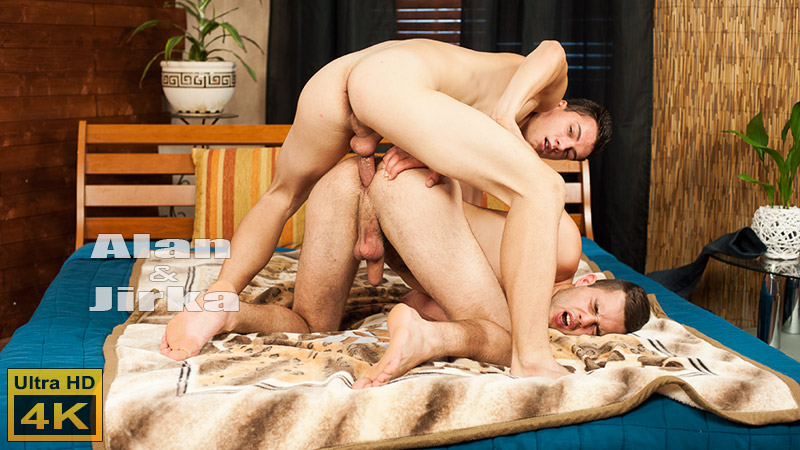 This is what we like, a guy going all the way with another guy for the very first time. In this screentest we have Jirka Mendez who has never has only ever kissed another guy. We find him sitting on the bed with Alan Carly. Alan has a chat with Jirka as they sit on the bed, and Alan persuades Jirka to have a massage. Alan lays Jirka on his belly and removes his jeans. He starts to massage Jirka's back and ass. Alan quickly drops his face into Jirka's ass crack, tonguing his hole. Jirka jumps as he feels the tongue on his hole, but settles down to enjoy it. Alan's finger probes at the hole too and Jirka's ass raises off the bed in response. With the ass spread Alan's tongue again finds the hot hole. That beautifully rounded ass is perfect for some play. But Alan turns Jirka over and, finding a swollen cock begins to suck on it. That cock is rock hard and Alan sucks it well, getting himself naked too, showing his throbbing dick as well. He wanks both cocks together, as he kneels over Jirka. He takes hold of Jirka's hand as he wanks the cocks, encouraging him. Then Alan climbs over Jirka, into a 69 position and Jirka responds by taking that cock in his mouth. Alan sucks Jirka too, so they are both enjoying the taste of hot, hard cock. Jirka is loving it and really works his mouth on Alan's dick. Then Alan gets on his knees and offers up his hot, hairy ass to Jirka, who eagerly shoves his dick deep inside. Alan really feels that dick as it slides in, his face showing exactly what he feels. Jirka's cock is so ready, and he really throws a good fuck to that tight ass. His cock is in a guy's ass for the very first time, and clearly Jirka feels good about it. as he fucks hard and fast, before laying on his back, with Alan taking a ride on that big cock. Alan's ass slides up and down on the shaft working it well. Then he rests as Jirka slams his dick in and out of his hole. He bangs that ass so hard that Alan feels every inch as it pounds him. Then they move again and Jirka shows just how hard he can fuck, and his cock jack-hammers into Alan's hole. It forces Alan, who is wanking hard, to dump his creamy load as his hole is rammed full of throbbing cock. Jirka doesn't stop though, he keeps on banging away at that hole, until he is ready to cum. Then he pulls out and unloads his juice over Alan's cock and balls. After a great first man fuck Jirka leans over and kisses Alan then they take a shower together to clean up.
... more about Alan and Jirka - Screen Test - FULL CONTACT further in this newsletter

Our Coming Soon Set Preview
In Wank Party 2014 #6 we have Tomas Melus, Marek Borek, Martine Merlot and Marek Prohodil. We find them in the river, splashing each other. Then they go back to the house, washing themselves in cold water, outside, before entering. They also wash each other, and then strip off, leaving their trunks and shorts to dry. Marek B wonders what they can do next and Marek P responds by taking his cock in his mouth. The cock gets hard, very quickly, as Marek P sucks it. His own cock is being sucked by Tomas too. Then Marek P sucks Martin as well, taking turn with Marek B's cock. All the guys cocks are rock hard with Tomas stretching his mouth to get as much as Marek P's as it can. Martin leans over and sucks on Marek B, before giving it up for Marek P again. Marek B grabs his head and pushes it further onto his upturned boner. Tomas wraps his hand around Marek P's dick and wanks it before sucking again. Marek P is gorging on two dicks, taking turns on each. Then the guys move, Marek B sitting on the steps so that Martin can suck him some more. Marek P rims Martin's ass hole as Tomas continues working on his dick.Then they daisy chain, mouth to cock, as Martin sucks Marek B, and he is sucked by Tomas, whose dick is worked by Marek P. That gets everyone so hot and horny, ready to fuck. Tomas sits his hot ass down on Martin's throbbing cock, as Marek B pounds his dick deep into Marek P's hole. As he his cock is ridden by Tomas Martin reaches round and wanks him. Then they swap partners and Marek P takes a ride on Martin's massive cock. His own cock is huge too and Martin wanks on it. Meanwhile Marek B has his thick, upturned dick deep in Tomas' tight, but eager, hole. Marek P's ass really works up and down Martin's thick shaft as his cock is wanked, and Tomas shoves his ass back in time with Marek B's thrusting cock. Moving to be side by side our pairs of horny fuckers continue to work those asses. With Martin fucking hard and fast Marek P really wanks himself. His hole is really stretched and his cock throbs and he speeds up his wanking until he shoots his hot juice. Martin pulls out, ready to cum and Marek P takes the cock in his mouth catching a big load of cum, which oozes out as he sucks. Marek B is ready to cum too and shoots his massive, creamy load all over Tomas' chest. Then Tomas sucks on the spent cock to make sure he got it all. Marek P isn't finished, he wants more cum and after Tomas shoots his load he drops down and sucks the last drops from the throbbing cock. What a fantastic Wank Party from four very horny guys.

OPEN SET WINDOW

Trailer
Vlog
You can watch my Vlog for this Newsletter by clicking above or by going over to the Blog :
http://www.wheuro.com/?p=13403
Our lovely India Summer has ended, it's been rain, rain, and more rain today. We kind of sort of have a cherry popping today, Jirka gets his first experience man to man. That's always interesting. Now, we'll see if we can get him to take the next step. Great body from Zdenek. Can't wait to download both these episodes and Blog them.
What a great start to today's newsletter. It is a screentest with Jirka Mendez and Alan Carly. This is one where Jirka gets to fuck a guy in the ass for the very first time, and he really does a great job. Then we have Robin Kristof in his erotic video, and we end things with a lovely session stills featuring Zdenek Dobrotil.
We have a great selection of castings too with Mirek Motal, Marek Turek and Igo Zako. They are all very nice, but I think my pick for today will be Igo Zako.
REMEMBER YOUR CAN ALWAYS CHECK THE OLD WH WEBSITE AT:
NEW SETS AT STR8HELL.COM

Members of str8hell.com get full access to the site and to the full archive of more than 2500 sets on Czech Guys Next Door web site, at:
http://archive.czechguysnextdoor.com/
Non-members can access str8hell.com and browse the complete content, including free video previews and some free photos for each set. Non-members can also search the site, and are able to buy any sets they like, without taking out a full membership. Paying only for the sets you really want to see.
Sincerely
William Higgins

BurnDVD.tv Website Latest Updates


DOWNLOAD AND BURN VIDEOS TO DVD OR DOWNLOAD OUR VIDEOS IN FULL HD 1920x1080P!
Special Offer for William Higgins Newsletter Readers
William Higgins Newsletter readers are able to obtain a discount on the price of BURNDVD downloads by using the coupons that we will be publishing in each Members Newsletter. The coupon published in each newsletter will be valid for a period of 7 days.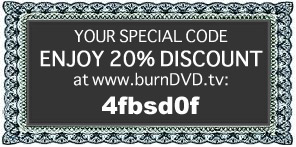 Copy today's coupon code here: 4fbsd0f

Our Partners:

PLEASE PROCEED TO THE NEXT PAGE FOR THE LATEST WilliamHiggins.com UPDATES