Friday, May 24, 2013 - Just and Adam RAW - FULL CONTACT

Introducing a BRAND NEW WEBSITE SWNude.com

We are proudly introducing a brand new Nude Submission Wrestling website SWNude.com
A membership website for fans of nude submission wrestling.
We will be posting a wrestling match each Friday there, anouncing it here in the WH Newsletter. So there will be always a new content available to the SWNude.com website members for weekends ;-). At present there are 55+ nude wrestling matches on the SWNude.com website and there will be always a new one each Friday while our production is at present shooting at least two completely new nude wrestling matches in a month.
The website is now acessible through both www.SWNude.com and www.SubmissionWrestlingNude.com domain links.
Please, feel free to take a FREE TOUR of our new website HERE.
ONLY NOW YOU CAN GET SWNUDE.com FOR A SPECIAL INTRODUCTORY PRICE!
Filip Carbol vs Maxim Petrovic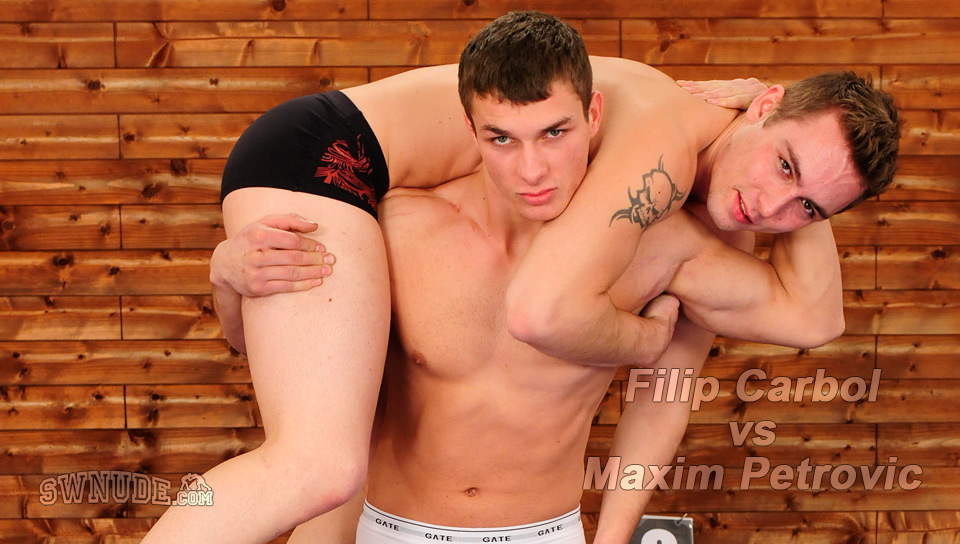 Limbering up before their match, we can see that this is not going to be some simple friendly affair. Both came here today to win, and has every intention to put all they've got into making that a reality. Both Filip Carbol and Maxim Petrovic are in perfect form for today's match up. With their bodies just aching to get things under way we let them loose. Writhing neither has total control of the other for the first few rounds and each struggles desperately to pin the other. After a few rounds swapping points one finally gains an advantage, small as it is, it is enough to tip the scale and put him on top for a precious moment, just suffice to give him the match.
Open Filip Carbol vs Maxim Petrovic at SWNude.com