Friday, June 28, 2013 - Wank Party 2013 #05, Part 1

Introducing a BRAND NEW WEBSITE SWNude.com

We are proudly introducing a brand new Nude Submission Wrestling website SWNude.com
A membership website for fans of nude submission wrestling.
We will be posting a wrestling match each Friday there, anouncing it here in the WH Newsletter. So there will be always a new content available to the SWNude.com website members for weekends ;-). At present there are 55+ nude wrestling matches on the SWNude.com website and there will be always a new one each Friday while our production is at present shooting at least two completely new nude wrestling matches in a month.
The website is now acessible through both www.SWNude.com and www.SubmissionWrestlingNude.com domain links.
Please, feel free to take a FREE TOUR of our new website HERE.
ONLY NOW YOU CAN GET SWNUDE.com FOR A SPECIAL INTRODUCTORY PRICE!
Julius Sekac vs Honza Forst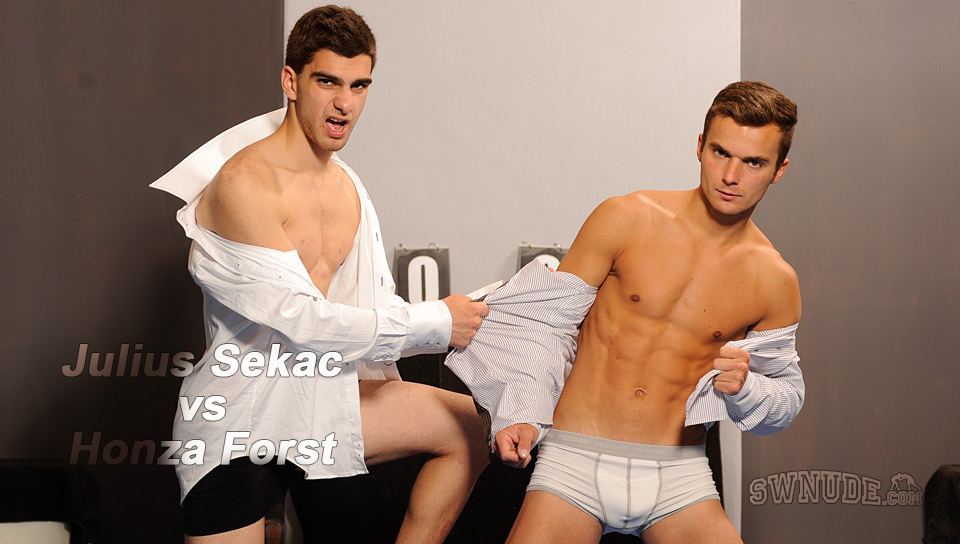 What a couple of good looking guys we have in Julius Sekac. They are up for a wrestling match and, with similar builds, we can expect a very even contest. In just shirts and underwear they start the match and quickly our expectactions are fully met, with the rounds being shared. Underwear comes off as they wrestle, so we get to see some very hot ass shots and a couple of swinging dicks as the guys battle to be supreme. With such an even match it is no surprise that the efforts increase and shirts become torn as a result. Each guy is giving his best and they end up naked through all their efforts. Oiling each other adds a new dimension to this wonderful video and when the match resumes we eventually find our winner. This is a really great match, from two very attractive guys, well wrestled and showing everything beautifully.
Open Julius Sekac vs Honza Forst at SWNude.com