Tuesday, March 24, 2015 - Luky and Vladimir RAW - FULL CONTACT

Luky and Vladimir RAW - FULL CONTACT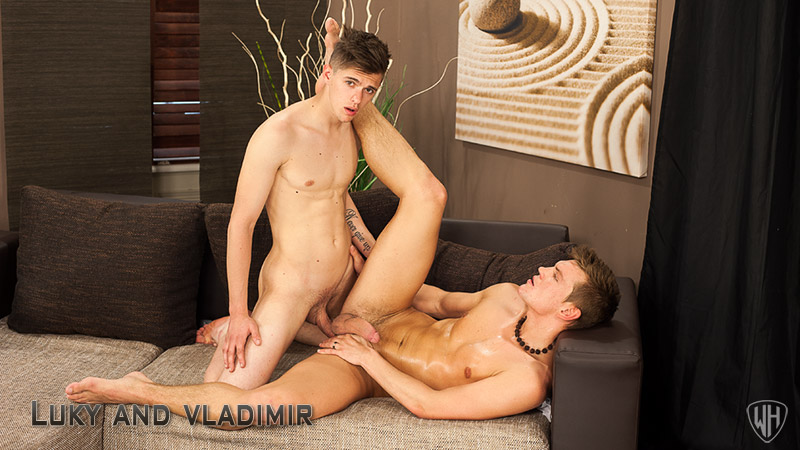 Luky Svit is out by the river, when he is joined by Vladimir Kruty. He is skimming pebbles over the water and then the two of them start to throw the stones. As they chat they decide to go inside and watch a movie. But Vladimir has ideas of a more erotic nature. He leans over and starts to kiss Luky. As they kiss Vladimir starts to unfasten Luky's jeans and he quickly releases a nice stiff cock. Vladimir takes the big cock in his mouth and sucks on it, wanking it too and kissing Luky some more. His mouth really works on the cock as Luky lays back and enjoys it. Then Vladimir removes his tee shirt and opens his jeans, revealing his dick to, for Luky to suck on. With Vladimir on his knees and Luky sitting before him his cock slides in and out of the eager mouth. That cock is so hard, and the balls are up tight against the base. Vladimir wants more of Luky's hot cock and he bends over to suck it again. Then it is Luky's turn again to suck his friend. Vladimir then offers up his hot ass for some rimming, which Luky happily does. He then fingers that hot hole too. Next his big cock pushes up against the hole, slipping inside and he fucks Vladimir nice and deep. Vladimir wanks his own stiff cock as Luky is deep inside him. Luky really knows how to fuck and his cock stretches that hole nice and wide as Vladimir reaches back to kiss again. They move to missionary position with Luky pounding away at that ass. Vladimir continues wanking as he takes it. Then Vladimir sits on Luky's cock , his own dick so hard. Luky leans forward and suck Vladimir a little as his dick in deep in that sexy ass. Vladimir turns around and sits back down on that cock and wanks himself to a great big cumshot. Then he turns slightly to kiss Luky again, as he wanks him. Then Luky takes over and quickly shoots his own creamy load up his body. Vladimir reaches up to kiss his friend again as a very good scene comes to an end.
... more about Luky and Vladimir RAW - FULL CONTACT further in this newsletter

Our Coming Soon Set Preview
Ondra Matej, Ivan Mraz and Steve Peryoux are are out walking on a nice spring day. They sit for a while on a park bench deciding what to do. In the end they go back to the apartment to relax. As they get more relaxed they start to get naked, with Steve moving over to kiss Ivan. Ondra is the first to be fully naked and the others follow suit. Ondra is in the middle and Ivan begins to suck his cock, before kissing Steve again. Then he kisses Ondra and Steve starts sucking. Soon both Ivan and Steve are taking turns on Ondra's cock. Steve's dick gets very hard too and Ondra wanks it as Ivan continues sucking. He takes turns on both Steve's and Ondra's cocks. Then Steve takes another turn on Ondra's cock as Ivan presents his to Ondra's hot mouth. Ondra sucks Ivan's dick and wanks him. With all cocks hard they keep changing around, playing with each other. Ondra moves onto his knees, presenting his ass for some rimming. Both Steve and Ivan are happy to oblige, tongueing that hot hole, and fingering it too. Ivan then gives up his ass, to Ondra's stiff cock. Ondra fucks that sexy ass nice and deep as Ivan sucks on Steve's cock. They then move again, this time with Ivan riding Steve's throbbing cock. His own dick is rock hard as his ass slides up and down on Steve's. Then Steve wants to feel some dick in his ass and Ondra fucks him deep and hard. Steve wanks himself as he gets fucked unloading a big creamy cumshot as his ass gets a good workout. Ondra pulls out and shoots his load too, quickly followed by Ivan who drops his cum on Steve's chest. Then they all share some kissing to end a great scene.

OPEN SET WINDOW

Trailer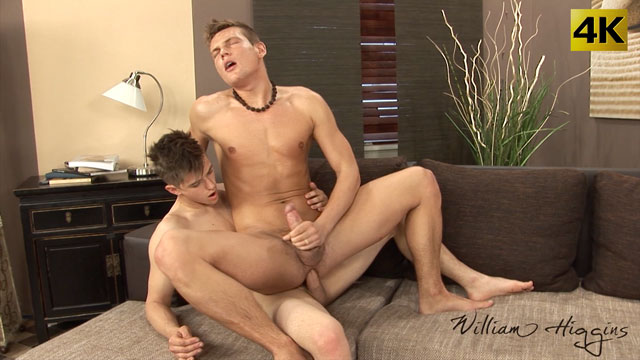 Vlog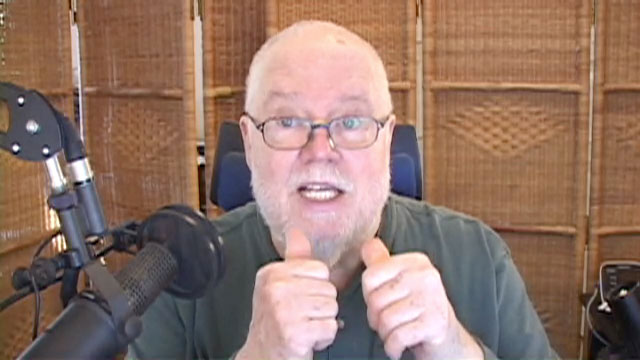 You can watch my Vlog for this Newsletter by clicking above or by going over to the Blog :
http://www.wheuro.com/?p=14265
After a bit of blustery weather, we're enjoying a lovely spring-like day in Prague. Hopefully more is on the way.
Luky Svit and Vladimir Kruty get things underway today, with a wonderful fucking duo. Then we have a lovely wrestling match between Peter Looper and Filo Bruska. They are followed by Jonas Hosek in an erotic video. We finish with a set of twins Peter and Jean Bazelan in a very nice session stills.
Our castings today are Ivan Kucherenko, Ruslan Polak, Gregor Borodin and Alan Novy. They are all very different and some very good candidates amongst them, making it a difficult choice, but my pick for today is Ruslan Polak.

REMEMBER YOUR CAN ALWAYS CHECK THE OLD WH WEBSITE AT:
NEW SETS AT STR8HELL.COM

Members of str8hell.com get full access to the site and to the full archive of more than 2500 sets on Czech Guys Next Door web site, at:
http://archive.czechguysnextdoor.com/
Non-members can access str8hell.com and browse the complete content, including free video previews and some free photos for each set. Non-members can also search the site, and are able to buy any sets they like, without taking out a full membership. Paying only for the sets you really want to see.
Sincerely
William Higgins

WHVideoShop.com Website Latest Updates

DOWNLOAD OUR VIDEOS IN FULL HD 1920x1080p FROM ALL 6 SITES!
Special Offer for William Higgins Newsletter Readers
William Higgins Newsletter readers are able to obtain a discount on the price of WHVideoShop downloads by using the coupons that we will be publishing in each Members Newsletter. The coupon published in each newsletter will be valid for a period of 7 days.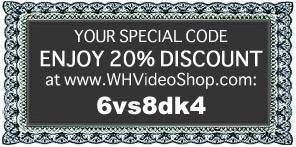 Copy today's coupon code here: 6vs8dk4

Our Partners:

PLEASE PROCEED TO THE NEXT PAGE FOR THE LATEST WilliamHiggins.com UPDATES