Friday, October 21, 2016 - Jan and Borek - FULL CONTACT

Jan and Borek - FULL CONTACT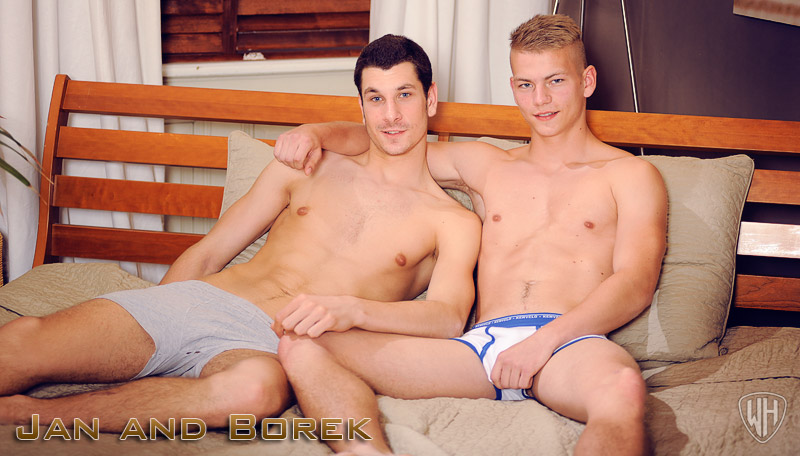 Jan Sadecky is chatting with Borek Sokol and persuades him to have some fun. He starts by kissing Borek, moving down to kiss his nipples too. Then he pulls out Borek's cock and starts wanking it as he works his way down to suck it. Borek's cock quickly gets hard and he pushes his underwear down as Jan takes the cock in his mouth. He reaches to wank Jan as his cock is being sucked. Jan sucks on the balls as well as the cock. Having done a great job on Borek's cock Jan sits up for Borek to return the favour. Jan's cock is big and it is rock hard as Borek goes down on it. Jan pushes the head down on his dick. Borek's lips wrap tight around the cock as he bobs up and down on it. They then move to a 60 with Jan underneath. His legs are pulled in the air so that Borek can rim his hairy hole. Borek slips a finger into the ass too as he keeps rimming. Jan then moves onto his knees with Borek standing behind him to slide his cock deep into the waiting hole. Borek fucks that eager ass deep as Jan moans with pleasure. They move to missionary position for Borek to fuck that hot ass some more. His dick goes deep into the hole as he grabs Jan's cock and wanks it. Then, as Borek's fucking speeds up Jan grabs his own cock and wanks it. He keeps up the wanking until his hot cum squirts up his body with Borek still fucking him hard. Borek then pulls out and shoots his hot cum as well before leaning over to kiss Jan again.
... more about Jan and Borek - FULL CONTACT further in this newsletter

Our Coming Soon Set Preview


Trailer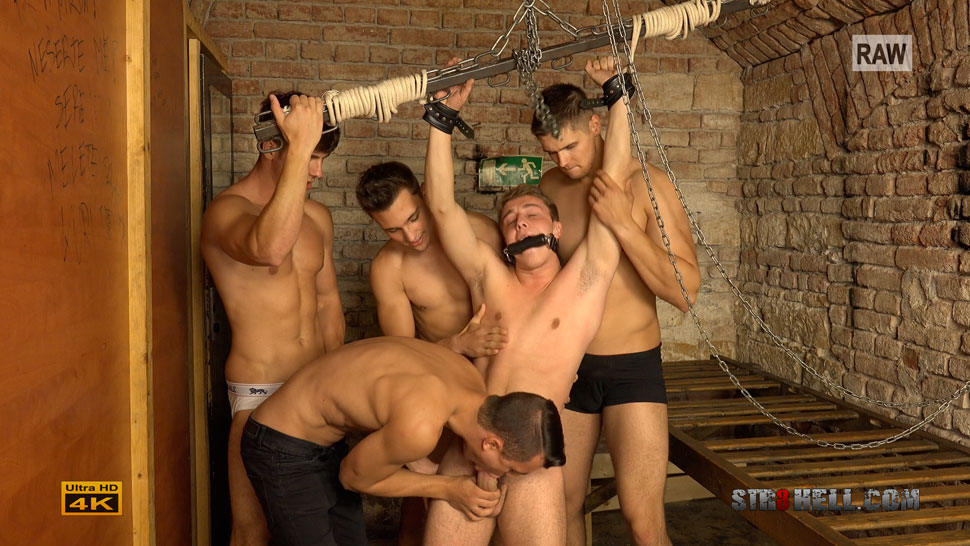 Vlog
You can watch my Vlog for this Newsletter by clicking above or by going over to the Blog :
http://www.wheuro.com/?p=16805
Today, I want to comment on a brand new Drake Set, suggested by Dan, posted on Str8hell.
I happened to be present for part of the filming which took place in Drakes Bar Prague and in its downstairs Dungeon. It's based around a relative newcomer Mirek, who is drop-dead gorgeous.
First, I'd like to comment about the beautiful new fluff job on the upstairs bar, conceived by Michael and Trevor. Martin, Tomas, Romi and Martin lure newcomer Mirek down into the Dungeon.
Cut to Mirek hoisted in a harness. He shouts, "I'm not GAY!" WRONG thing to say, that just turns the guys on more. The guys take turns filling Mirek's tight hole. Lots of great bondage and hand over mouth.
Thanks, Dan, another brilliant scenario. Be sure to click the banner on your screen and get your suggestions for a Dream Set to our Dream Set Impresario, Mr. Franky.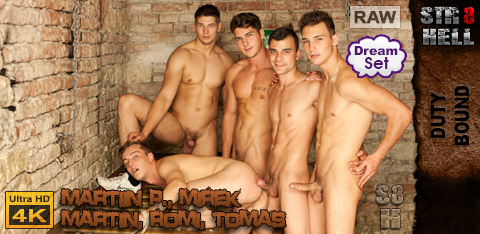 Earlier this week, I voted in the US Election by absentee ballot. Each four year cycle, I always panic for fear the ballot won't arrive in time to vote in the Presidential election. Each election, the ballot does arrive in just the nick of time. No, the election isn't rigged, officials can't send them out until the ballots are finalized and printed. I hope that each of you will vote in the USA election. It's such an important election. Don't think it's over until it's over. Don't suppress your own vote by thinking Madam President has it wrapped up. If lots of people think that way and stay home, we might be in for a very nasty surprise on November 9th. Above is the little sticker I received as a reward for voting. I applied it to my mobile phone case. Then I found out to my chagrin that I couldn't photograph it. Thankfully, one of the guys in the office photographed it with his phone. Be sure to VOTE!
We kick things off today with a lovely scene featuring Jan Sedecky and Borek Sokol. Then we see Roman Olenovic in a wonderfully erotic video. After that we introduce handsome newcomer Jakub Smolik with his session stills shoot.
For our castings today we have Petr Rikota and Ondra Rach. Both of the guys look very good indeed, with my pick being Ondra Rach.
REMEMBER YOUR CAN ALWAYS CHECK THE OLD WH WEBSITE AT:
NEW SETS AT STR8HELL.COM

Members of str8hell.com get full access to the site and to the full archive of more than 2500 sets on Czech Guys Next Door web site, at:
http://archive.czechguysnextdoor.com/
Non-members can access str8hell.com and browse the complete content, including free video previews and some free photos for each set. Non-members can also search the site, and are able to buy any sets they like, without taking out a full membership. Paying only for the sets you really want to see.
Sincerely
William Higgins

WHVideoShop.com Website Latest Updates

DOWNLOAD OUR VIDEOS IN FULL HD 1920x1080p FROM ALL 6 SITES!
Special Offer for William Higgins Newsletter Readers
William Higgins Newsletter readers are able to obtain a discount on the price of BURNDVD downloads by using the coupons that we will be publishing in each Members Newsletter. The coupon published in each newsletter will be valid for a period of 7 days.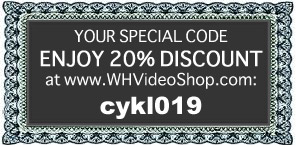 Copy today's coupon code here: cykl019

Our Partners:

PLEASE PROCEED TO THE NEXT PAGE FOR THE LATEST WilliamHiggins.com UPDATES