Friday, August 16, 2019 - Wank Party #111, Part 2 RAW - WANK PARTY

Wank Party #111, Part 2 RAW - WANK PARTY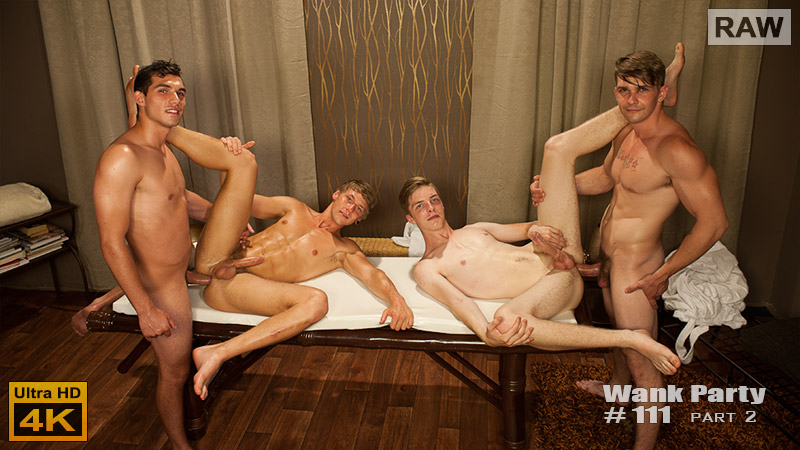 Wank Party #111 features Alexandr Jander, Ivanek Ukara, Tony Milak and Mojzis Kral. In this second part we join them as Ivanek is laying on the massage table as he is kissed by Alexandr, He then sucks Alexandr's big cock as his own dick is worked on by Tony, with Mojzis kissing his feet. Mojzis then joins Tony and shares the sucking with him. Alexandr fucks his cock into Ivanek's hot mouth. Then Ivanek sits up and all four swap kisses. Alexandr bends over on the table as receive Mojzis' throbbing dick in his hot ass hole. He sucks on Ivanek's cock as he takes Mojzis' dick in his ass. Tony shares the sucking of Ivanek with Alexandr and has his own dick wanked too. Mojzis' dick pounds Alexandr's hot hole deep and hard as Tony continues working on Ivanek's cock. He then slides his cock into Ivanek's hot mouth. Alexandr continues taking dick up his ass and sucking on Ivanek. Tony swaps places with Mojzis, sliding his rock hard cock deep into Alexandr's tight hole. Mojzis feeds his cock into Ivanek's eager mouth for sucking. Tony pile-drives his dick into Alexandr's ass and gives the cheeks a few slaps. Mojzis thick cock stretches Ivanek's mouth as it is sucked, and then licked. Then is it all change as Ivanek sits up so that Alexandr can slide his ass down on the throbbing cock and Tony bends over to take Mojzis huge pole in his ass. Alexandr's cock stands proud as he rides up and down on Ivanek's. Mojzis hjips thrust relentlessly as he fucks deep into Tony's sexy ass hole. Then Alexandr and Tony both lay on the table to be fucked by those throbbing cocks some more. Tony wanks himself as Mojzis keeps up his deep fucking. Alexandr grabs his own cock and wanks that too whilst being fucked hard. Ivanek's cock rams so deep into Alexandr's hole as he wanks himself to unload his hot cum. Alexandr milks his shooting cock dry as the big dick keeps fucking hard. Tony wanks hard as Mojzis thick-bushed dick keeps working his hole. Then Mojzis pulls out to dump his hot cum as Tony keeps wanking. Mojzis grabs Tony's cock and wanks and sucks on it. Then Tony wanks it again. Ivanek pulls out of Alexandr's ass and slides his cock into Tony's . He fucks hard and pulls out to wank himself as Tony cums onto his own belly. Ivanek continues to wank until he unloads his hot cum too. All four guys have spent there juice and stand up to kiss in pairs to end a wonderful scene.
... more about Wank Party #111, Part 2 RAW - WANK PARTY further in this newsletter

Our Coming Soon Set Preview


Trailer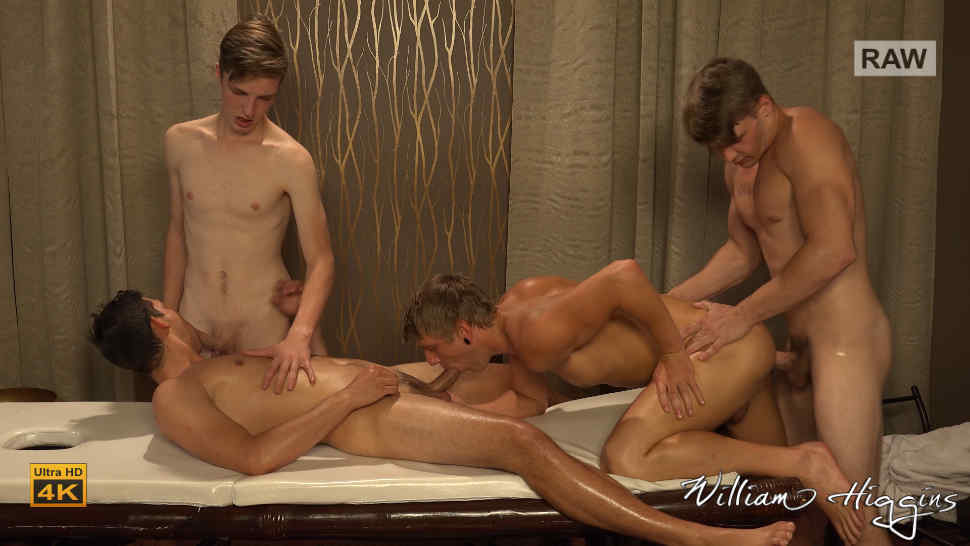 Vlog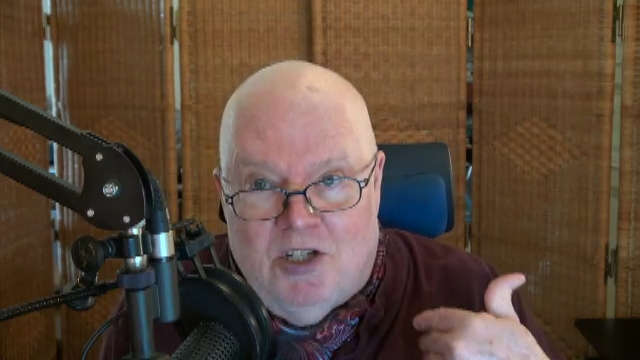 You can watch my Vlog for this Newsletter by clicking above or by going over to the Blog :
http://www.wheuro.com/?p=20691
First, I want to welcome back our Wordsmith Mr. Geoff from his trip across the Pond. I told him he has lots of work to do sorting out BooJoo and Brexit. He's promised to get right to work on it.
Cool rainy weather in Prague today. There are a couple of interesting stories in the news.
The Czech Republic may be facing a political crisis after Mr. Zeman the President rejected the government's nominee for Culture Minister. Zeman said: "He (the government's nominee) is not professionally competent for the post of minister of culture. Therefore the president has asked the chairman of the Social Democratic Party, Jan Hamáček, to propose a new candidate via Prime Minister Andrej Babiš who fulfils at least elementary professional requirements."
The problem is, the Czech constitution does not give the President the power to reject ministerial nominees. The chairman of the Social Democrats said: "The constitution does not allow the president in any way to evaluate such nominations. And the Social Democrats are definitely not planning to change our candidate."
Strangely, the Culture Minister is NOT an important post, and no one can really figure out what the President wants. The crisis could lead to the fall of the government and another general election. I'm not betting on that outcome, however. I predict a 'backroom' deal.
Tumblr sold this week for $3 million. Mind you Yahoo had bought Tumblr in 2013 for $1.1 billion. That 'billion' with a 'b.' The phone giant Verizon took over Tumblr as part of its purchase of Yahoo. After Apple banned (briefly) the Tumblr app, because someone posted some KP, Verizon banned all porn and nudity. Tumblr's views fell through the floor. So, this week, WordPress's parent company bought Tumblr at the bargain basement price. (not PornHub as rumored). WordPress doesn't have a problem with adult material, but has no plans to reverse the porn ban. In fact the owner said he will keep it in place. He said: "It's just fun," Mullenweg (of Wordpress) said of Tumblr. "We're not going to change any of that." So, any and all 'fun' can be put back on the shelf. Either the policy will change or R.I.P Tumblr.
Wank Party #111 Part 2, with Ivanek Ukara, Alexandr Jander, Tony Milak and Mojzis Kral is first up today. Then we have a wonderful newcomer, str8 guy Jeremy Robbins, in his erotic video.
Our castings today are Denis Polony and Honza Doran. Both guys are worthy candidates with Denis Polony being the pick for today.
Coming up over the weekend is a lovely RAW full contact with Radek & Jan. Over on Str8hell, Hunky Leo Lombar takes it up the bumper chute in a CFNM. Yum. Then there's my new Twink Favorite Austin Kok getting paddled. Also coming up on Str8hell is a Hot Ass with a lovely str8 guy Misko Sinak.
REMEMBER YOUR CAN ALWAYS CHECK THE OLD WH WEBSITE AT:
NEW SETS AT STR8HELL.COM

Members of str8hell.com get full access to the site and to the full archive of more than 2500 sets on Czech Guys Next Door web site, at:
http://archive.czechguysnextdoor.com/
Non-members can access str8hell.com and browse the complete content, including free video previews and some free photos for each set. Non-members can also search the site, and are able to buy any sets they like, without taking out a full membership. Paying only for the sets you really want to see.
Sincerely
William Higgins
Our Partners:

PLEASE PROCEED TO THE NEXT PAGE FOR THE LATEST WilliamHiggins.com UPDATES