Friday, January 18, 2019 - Miro & Martin RAW - FULL CONTACT

Miro & Martin RAW - FULL CONTACT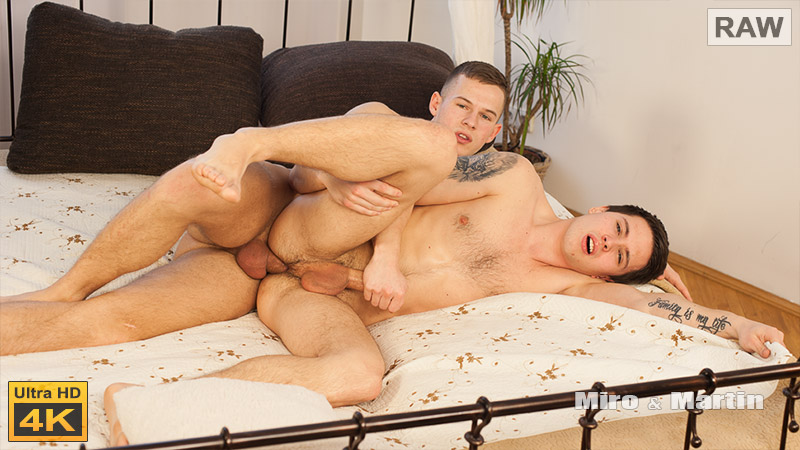 This lovely Dream Set, with str8 guys Martin Hovor and Miro Dalek was suggested by Stefan. We see them in the bedroom kissing each other. Martin's tee shirt is raised so that Miro can kiss his sexy chest as it is completely bared. Then Miro's tee shirt is removed too as they run their hands over each other. Martin kisses Miro's hot chest and then drops to his knees pulling the jeans down. That releases Miro's rock hard cock which Martin quickly takes in his mouth for sucking. He licks and sucks on that big cock, rubbing the balls too. His head bobs on the big cock and he wanks that dick too. Moving onto the bed Martin lays on his back with Miro kneeling over him so they can kiss. Miro kisses Martin's hot body too. Then they change positions, with Miro laying on the bed as Martin's sucks him again. He pulls the jeans off Miro's legs and returns to sucking on the big cock. Then Martin gets his jeans off too, his cock poking out between his legs as he sucks again. He moves up to kiss Miro again but sitll wants more of that tasty cock. He licks and sucks on the throbbing cock. Then Martin kneels and presents his sexy ass which Miro starts to lick. His tongue rims the hot hole before he positions his cock and slides it deep into the waiting ass. Martin's hole takes that cock deep inside as Miro starts to fuck in and out. His fucking speeds up and he pulls out andn slides that dick in again. His hips thrust as his cock works deep in Martin's tight hole. Martin takes that dick in his ass then says he wants to fuck Miro too;. They move to spoon and Martin pushes his big cock deep into Miro's hot hole. That fat cock really opens up Miro's tight hole as it fucks deep inside. Miro takes that dick so well and grabs his own cock to wank it. Martin pulls out and shoves his dick back into that ass as Miro keeps wanking himself. Martin's fucking gets harder and faster as Miro wanks himself to a nice cumshot. He milks his dick as Martin continues to fuck him hard. His huge cock pounds that hole until he is ready to cum. Then he pulls out and wanks himself to unload his cum, shooting it onto Miro's hot body. They kiss again after enjoying a great session.
... more about Miro & Martin RAW - FULL CONTACT further in this newsletter

Our Coming Soon Set Preview


Trailer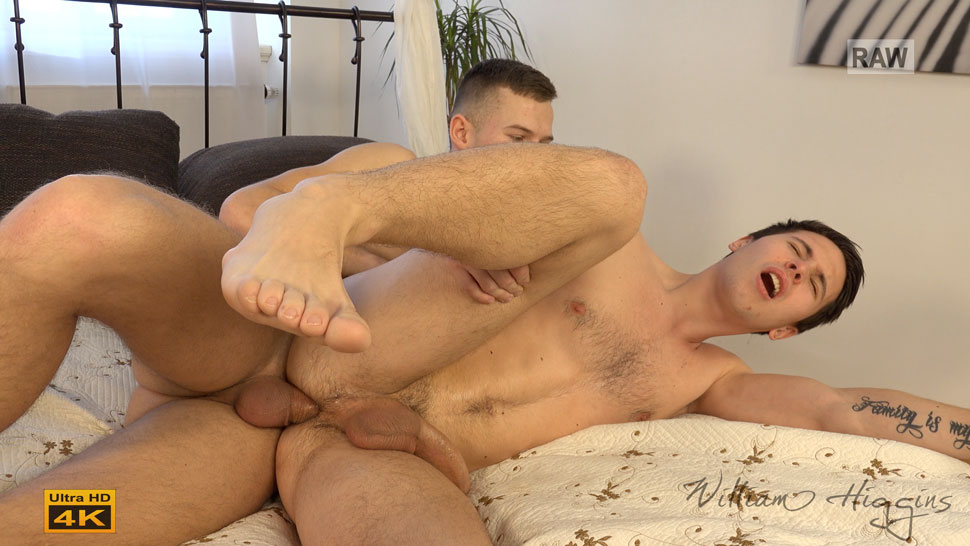 Vlog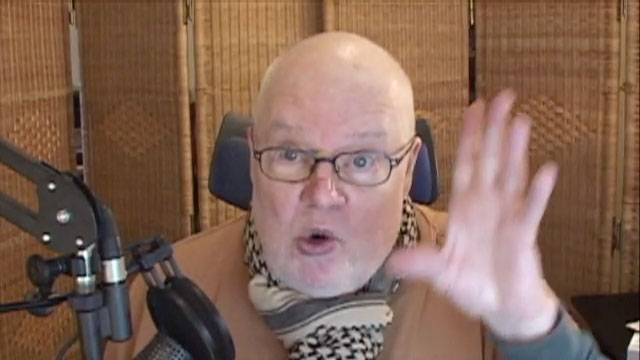 You can watch my Vlog for this Newsletter by clicking above or by going over to the Blog :
http://www.wheuro.com/?p=19898
We have two great DreamSets today. I want to make a special comment about the DreamSet with Miro and Martin, a flip-flop. If you've been following my previous comments, you remember that Miro is one of my all-time favorite models. Stefan, who suggested this dream set to me, is a very special fan as he's been following my work for donkey's years. I've been waiting a long time for this DreamSet to be posted, as I am sure has Stefan. I'd like to share with you a lovely email he wrote about me to Franky several months ago.
Hello Franky, Thank you for the dreamset! You writted me feedback is welcome, so I will try.
First I woud remarke that my first VHS video I buyed in the 80 ths as young men was a Catalina or Laguna Pacific from WH and it was followed be lot of others in this time. In the begining of Internet in the 00 years my first payed page was WH this time from Prague. So you see Im a long time fanJ I liked all the time the boys next door, probably straight, from California or now czech republic fuck and get fucked in a naturaly way, what ist he brand of WH. Compliment and congratulations for this 40 years of pleasure!
This year now, my first DS was produced. I chosed two of my favorits, Martin Hovor and Miro Dalek for a flip flop (I like flip flops because every of this straight guy must have something in the ass J and I dont like only top boys) So this two boys are amazing and the set was like I wished. They kiss very good and the flip flop fucking is very sexy. Only critical remarks are, that Miro Dalek dont suck, Martin dont lick ass (I think they dont want) and perhaps that they dont change positions so much. But all in all a realy dreamset for me.
Thanks to the preformers, the producers and the editors, thanks to you Franky and special thank to Mister Higgins fort he 40 years of pleasure. Please let him know this!
Was not my last DS and I hope next time I will be in Prague for. Excuse me for my english.
Best regards, Stefan from Switzerland
I'm sure I'm not revealing 'Stefan's' identity as there are doubtless lots of guys with his first name in Switzerland.
Stafan, thank you so much for the wonderful comments. It's really great to find wonderful folks who have been fans for as long as I've been in the business. Stefan's email was written in my 40th year in the business. The calendar has now flipped over to the 41st year and I have no plans to fade away gracefully. Again, thanks so much to Stefan.
I also want to sincerely thank Ranver for suggesting the 'kink' DreamSet involving rubber.
Please check in this weekend when we'll post a fabulous RAW duo featuring Peter and Dusan.
We have two great Dreamsets in this newsletter. The first, suggested by Stefan features Miro Dalek and Martin Hovor in a flip-flop. Then we have the second Dreamset, this one suggested by Ranver, with Vadim Covrescu. We also have a very good bonus set with Tomas Friedel, Jan Bavor and Nicoli Cole.
Our castings today are Viliam Dlouhy and Dominik Minar. That is two very worthy candidates, with both looking very good indeed. Viliam, who does some great posing, is the pick for today.
REMEMBER YOUR CAN ALWAYS CHECK THE OLD WH WEBSITE AT:
NEW SETS AT STR8HELL.COM

Members of str8hell.com get full access to the site and to the full archive of more than 2500 sets on Czech Guys Next Door web site, at:
http://archive.czechguysnextdoor.com/
Non-members can access str8hell.com and browse the complete content, including free video previews and some free photos for each set. Non-members can also search the site, and are able to buy any sets they like, without taking out a full membership. Paying only for the sets you really want to see.
Sincerely
William Higgins

WHVideoShop.com Website Latest Updates


DOWNLOAD OUR VIDEOS IN FULL HD 1920x1080p FROM ALL 6 SITES!
Special Offer for William Higgins Newsletter Readers
William Higgins Newsletter readers are able to obtain a discount on the price of BURNDVD downloads by using the coupons that we will be publishing in each Members Newsletter. The coupon published in each newsletter will be valid for a period of 7 days.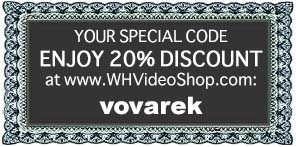 Copy today's coupon code here: vovarek

Our Partners:

PLEASE PROCEED TO THE NEXT PAGE FOR THE LATEST WilliamHiggins.com UPDATES