Tuesday, September 29, 2015 - Robin and Petr RAW - FULL CONTACT

Robin and Petr RAW - FULL CONTACT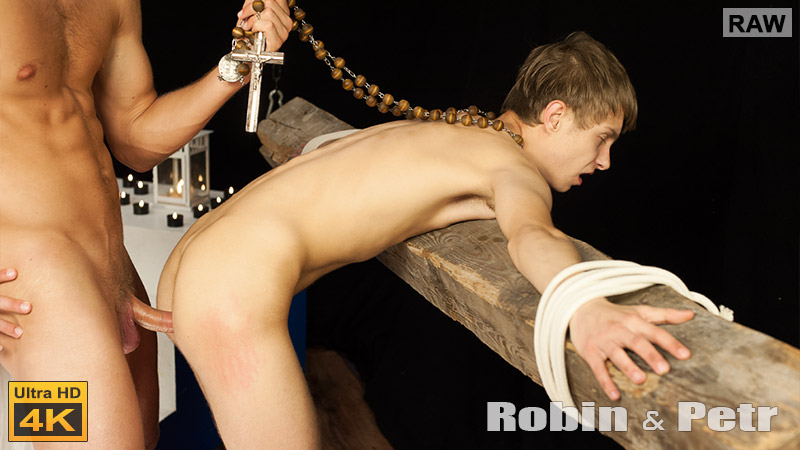 I got the idea for the Purification Scene one day while riding the tram back from the super-market. Riding in the tram's apse, at the very rear, was a young guy holding lantern containing a burning candle. He set my fantasies running amok. He must be heading somewhere special with that lantern. I wish I knew. Very quickly I dreamed up the Purification Scene. It took months to import the Monk's habit. I had the Opus Dei 'discipline' (whip) built to scale. Then I went to Prague's Catholic store. They had over a thousand rosaries on sale. Immediately, I spotted the largest, blingy one. I pointed it out to the little old ladies who ran the place. At first they thought I was pointing to smaller, more modest rosaries. After a couple of attempts, I directed their attention to the huge one. They kind of looked like, 'are we finally going to sell this thing?' Later, I realized that lots of young guys wear gaudy rosaries purely as jewelry, but not quite that big. Now, I was ready to shoot the scene. The first young lad absolutely agreed to bottom. It became apparent this was clearly a ruse. On the day, he tried every manipulation to switch his roll from catcher to pitcher. With any other script, it might have worked, but not this script. So, half way through the shoot, the scene had to be scrapped. The next day, recast, we shot the scene without hitch. However, on the 'B Roll' Miro said the tram was so crowded, there was no space for the young guy to stand in the asp at the back. Skoda. I'm very happy the release of this scene coincides with Papa Bergoglio's visit to the USA. Maybe he will see it and enjoy. Maybe not. We first see Petr as he rides on the tram, holding his candle latern. He then walks up to a door and announces hismelf, whereupon he is allowed to enter. Then we see Robin in his monk's habit, as he undresses Petr, removing his shirts and revealing his rather large crucifix that hangs down to his waist. Robin continues to undress Petr until he is naked. Then he takes some white material and ties it around Petr's waist, pulling the tail through the legs and tucking it in to cover Petr's equipment. Robin then begins the task of beating on Petr's back with his whip as the young man holds his rosary. Then Petr has to lick Robin's feet, going down on his knees to do so. Robin then takes some cloth, soaked in water and begins to wash Petr's slim body. He pours some of the water over Petr and continues to wash him, turning him around to do his back.Then he kneesl and washes the ass cheeks and the legs. Having washed him and poured more water over Petr Robin removes the modesty cloth and turns Petr around. Petr's cock is rock hard as he turn and he is pushed to his knees. Robins opens his habit and his dick it big and hard too. He guides Petr's head to the cock and slides it into his mouth. Robin starts to fuck Petr's mouth as he holds his head in place. When the cock has been sucked enough Robin bends Petr over and slides his cock into the tight ass that becomes available. Petr is bent over, arms spreadeagled and tied as he takes that cock. Robin holds onto Petr's rosary for leverage as he fucks nice and deep. Petr moans as he takes the big dick in his ass. As he fucks Robin also spanks on Petr's ass. He moves Petr, onto his back, legs up and tied, so that his ass is available again. Robin fucks that ass, hold Petr's cock up using the rosary. Robin is soon rady to cum and pulls out, wanking his cock to unload the cum over Petr's tight little ass hole. He pushes the cock back into the hole and then as he pulls it out again he lets Petr wank himself and shoot his creamy cum too.
... more about Robin and Petr RAW - FULL CONTACT further in this newsletter

Our Coming Soon Set Preview
Jirka Mendez and Steve Peryoux had a wrestling match, which is briefly reprised today, showing that Jirka was victorious. As he celebrates his victory Jirka takes his rewards, by pushing Steve to his knees and having him suck some cock. He sucks it very briefly before standing again and kissing Jirka. As they kiss they take hold of each other's cocks and wank. Both those dicks get very hard from the wanking and Steve goes back down on his knees to take Jirka's stiff dick in his mouth. He licks and kisses and then sucks on that throbbing cock, licking the balls too. Jirka grabs the back of Steve's head and pulls it further onto his cock. Steve is expert at sucking and really does a great job, keeping Jirka so rock hard. He manages to take the whole dick deep in his mouth before coming off it and wanking it as well. Then Steve sits on a stool, leaning backwards, with his dick available. Jirka quickly shows that he is up for some sucking too and gets to work on Steve's rigid pole. Steve is breathing heavily as Jirka's hot mouth works on his cock. Having sucked that beautiful dick for a while Jirka lays on the wrestling mats so they can 69 with each other, as Steve lays head to toe with him. They 69 so well and then separate, with Steve using his feet to wank on Jirka's cock. His feet wrap either side of the cock and wank it good. Then, with that cock so rock hard Steve gets and sits his ass right down on it. He rides up and down on Jirka's cock, wanking himself as he works his hole. Then, as Steve is ready to cum Jirka starts fucking his cock up and deep into that eager hole. Steve shoots his big load of cum all over the wrestling mats as Jirka keeps fucking him. Then he turns onto his knees, presenting his ass to Jirka who gets behind him and rams his big dick in and out of that hole. He really throws Steve a hot, hard fuck, working that hole so good. He grabs Steve's arms and pulls him back onto that cock as he keeps up his fucking. Then Jirka turns Steve over onto his back. His cock goes back in that ass and fucks it hard and fast. Soon Jirka feels the cum bubbling up as he fucks with long deep strokes. He pulls out and wanks the cum out of his cock, squirting all over Steve's sexy body. Steve takes hold of the cock and milks the rest of the cum out of it. Then they both go off the the shower to clean up.

OPEN SET WINDOW

Trailer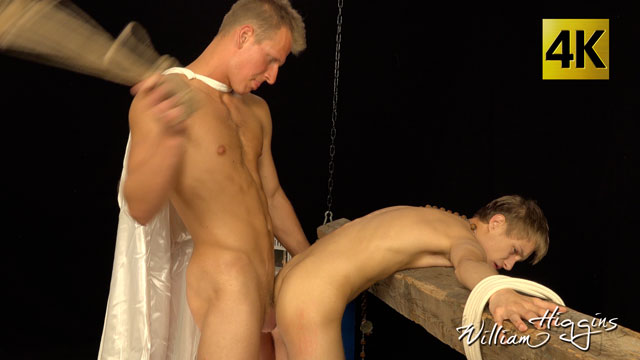 Vlog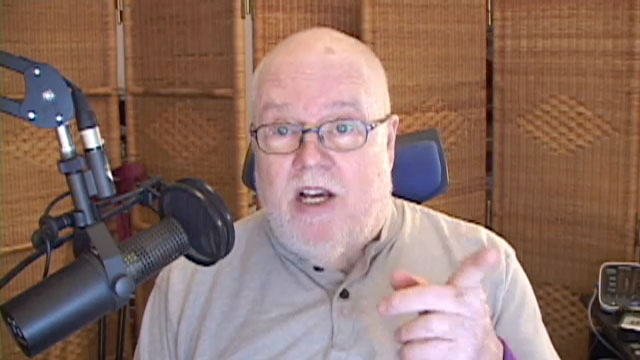 You can watch my Vlog for this Newsletter by clicking above or by going over to the Blog :
http://www.wheuro.com/?p=15107
Yesterday was a Czech holiday, St. Wenceslaus Day. Wenceslaus I, or Wenceslas I, was the duke of Bohemia from 921 until his assassination in 935, in a plot by his own brother, Boleslav the Cruel. The date of his assassination was Sept. 28, 935 AD. He was killed in Stara Boleslav, a small town I used to drive through nearly every afternoon in summertime on my way to the nude beach. Because of the holiday, my surgeon had the day off, and I didn't receive the final of the series of last-ditch shots to stave off knee-replacement. I'll have a make-up shot on Monday. I don't know if the two are related, but the knee is quite a bit more painful today.
On the Vlog I'll have some more to say about the Purification Scene.
We start today with my Purification scene, starring Robin Valej and Petr Said. Then we see Arny Donan and Marek Borek in a Dream Set Wrestling. That is followed by Marion Anel in his erotic video, with a helping hand. Our session stills shoot today is the very good looking Petr Brusk.
Our castings today are Karel Manek and Marcelo Menzez. That is two handsome guy who both look good. My pick of the two though is Marcelo Menzez.

REMEMBER YOUR CAN ALWAYS CHECK THE OLD WH WEBSITE AT:
NEW SETS AT STR8HELL.COM

Members of str8hell.com get full access to the site and to the full archive of more than 2500 sets on Czech Guys Next Door web site, at:
http://archive.czechguysnextdoor.com/
Non-members can access str8hell.com and browse the complete content, including free video previews and some free photos for each set. Non-members can also search the site, and are able to buy any sets they like, without taking out a full membership. Paying only for the sets you really want to see.
Sincerely
William Higgins

WHVideoShop.com Website Latest Updates


DOWNLOAD OUR VIDEOS IN FULL HD 1920x1080p FROM ALL 6 SITES!
Special Offer for William Higgins Newsletter Readers
William Higgins Newsletter readers are able to obtain a discount on the price of WHVideoShop downloads by using the coupons that we will be publishing in each Members Newsletter. The coupon published in each newsletter will be valid for a period of 7 days.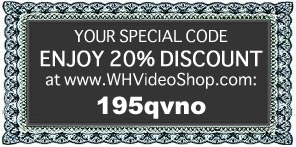 Copy today's coupon code here: 195qvno

Our Partners:

PLEASE PROCEED TO THE NEXT PAGE FOR THE LATEST WilliamHiggins.com UPDATES