Wednesday, April 27, 2011 - Wank Party 2011 #04

Wank Party 2011 # 4 - The Boxing Team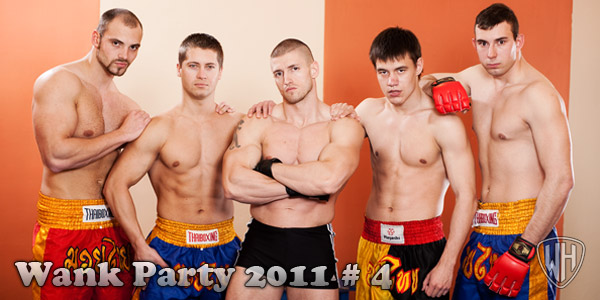 Wank Party 2011 #4 features Petr Cizmar, Joey Intenso, Tomas Friedel, Jindra Poruba and Ruslan Tarovsky. These are guys with really great bodies who are having a training session, led my Petr. He takes them through a series of stretching exercises,and wrestling positions before demonstrating some kick boxing maneuvers. Having warmed up sufficiently Petr then gets naked and instructs the others to do the same. Then as Petr watches on the other guys, all naked start more wrestling positions, which inevitable leads to Joey and Tomas shoving their dicks in Dmitry and Jindras mouths. This turn of events goes very well with some great sucking including 69s. Then with Joey and Tomas really up for it they decide to slip it to Jindra and Dmitry. Joey is a great top and, in his first time topping for us Tomas does a great job too. Both Jindra and Dmitry bottom for both guys before they each receive some great facials,with Petr, who has been rock hard as watches all the action, delivering a massive load to Dmitry.
... more about Wank Party 2011 #4 further in this newsletter

Our Coming Soon Set Preview
A wonderful shoot with Tomas and Jakub. Jakub had already done some shoots when he brought his friend into casting. They told us that they both needed money, so it seemed right and proper to invite them both into the studio for a shoot.They weren't too happy at the prospect which we only informed them about when they arrived in the studio. But once they got over the shock, the both got very nice stiffies. The guys start off undressing each other and then get some oil and takes turns in oiling each other. Then they massage each others bodies, first Jakub massages Tomas and then the roles are reversed. When Tomas starts to play with Jakub he gets very hard. Finally they sit on the couch and jack each other, before giving us the money shots. It is great to see friends who are happy to help each other out in this 60 minute video.

OPEN SET WINDOW

Latest Updates Trailer
William Higgins Atelier Backstage Vlog
William Higgins Newsletter Text
Well, this is my first Newsletter on the totally redesigned site. I'm just sort of feeling my way. But I'll do my best.
Scrub my comments about a very hot summer on the way for Prague. The very next day it started drizzling and has been coldish until this moment. So much for wishful thinking.
I have an important announcement: With the launch of the New Site, we are going to change the dates of the Newsletter. We will do the Newsletter today and Sunday. After Sunday, the Newsletter dates will be changed. Starting next week, we'll be publishing the Newsletter on Tuesday and Friday. The main reason for this: By publishing on Friday, Members will have all weekend to browse the Newsletter, not just Sunday evening. Plus, it's good to keep in mind, from now on you don't have to wait for the Newsletters. The New Site will be updated daily. So, you can check daily for each update. We'll just consolidate the updates into twice weekly Newsletters.
I finally finished the little video about the raunchy sukat duo that I promised on Sunday. I've been kind of up to my eyeballs with the New site:
Please write me with your impressions of the new site. If you have problems, let us know about them also and we'll fix them ASAP.
MESSAGE ABOUT CASTINGS:
Just a little reminder that the Latest Updates page which appears when you access the site shows the latest sets to come online. However that doesn`t include the castings. For the latest castings to come online you can click CASTINGS at the top of the page.
MESSAGE ABOUT LINKS TO THE OLD WH WEBSITE - WILLIAMHIGGINS.com ARCHIVES:
Please be aware that the link www.williamhiggins.com takes you to this brand new website now. If you bookmarked our old website in the past and you want to keep the bookmark as a shortest way to access the old WH website you need to change the link in the bookmark to:
You do not need to remember this link, you can conveniently get to the old WH Website - WilliamHiggins.com Archives anytime you need through the "WH 2001-2010" in the top menu of the new WilliamHiggins.com website.
CzechGuysNextDoor.com Latest Updates
Health Warning Strong: Today we have two very good solo shoots.
Enter www.CzechGuysNextDoor.com HERE
ENTER www.CzechGuysNextDoor.cz Newsletter Archives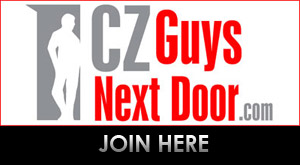 BurnDVD.tv Website Latest Updates
DOWNLOAD AND BURN VIDEOS TO DVD OR DOWNLOAD OUR VIDEOS IN FULL HD
Starting today you can download our videos in Full HD quality 1920x1080px!
Please remember that most of the videos available on BurnDVD are easily able to be downloaded with a single link, but some of the very large files, such as the newsletter DVDs have to be split into three separate links, as detailed below.

The videos with very large file sizes are now split into more than one part, using a program called HJSplit. If you wish to buy one of these larger videos to Burn to DVD, you will receive a link for file and then it is a simple process to join the downloaded files together to make the .iso file for Burning to DVD.

You can see all the available videos at www.burndvd.tv

Before downloading any videos to burn to DVD I advise you to read the BURNDVD Manual, which explains how you can burn the file to DVD. The file is an ISO file which contains all the required DVD files. The process for burning to DVD is fully explained.

The BurnDVD manual is easy to follow, with a step by step guide. Burning a DVD is easy to do, though it is helpful if you have previously burned DVDs or CDs.

The manual can be viewed here: BURNDVD Manual

Anyone who has any problems understanding the manual, or burning their download to DVD, or indeed any questions about this service please email geoff@wh.cz . Geoff will be happy to assist you.

You can view all the available downloads at www.burndvd.tv, by clicking the on the categories. A direct link to the latest files available will be published in each newsletter.
Our Latest Sets at www.BurnDVD.tv
Today we have a Wank Party 2011 #4 with Joey Intenso, Tomas Friedel, Petr Cizmar, Jindra Poruba
and Ruslan Tarovsky and Ivan Cakovsky`s Massage
Special Offer for William Higgins Newsletter Readers
William Higgins Newsletter readers are able to obtain a discount on the price of BURNDVD downloads by using the coupons that we will be publishing in each Members Newsletter. The coupon published in each newsletter will be valid for a period of 7 days.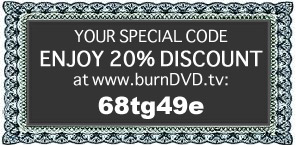 Copy today's coupon code here: 68tg49e

Our Partners:

PLEASE PROCEED TO THE NEXT PAGE FOR THE LATEST WilliamHiggins.com UPDATES