Friday, December 30, 2011 - Christmas Wank Party 2011 Part 2

Christmas Wank Party 2011, Part 2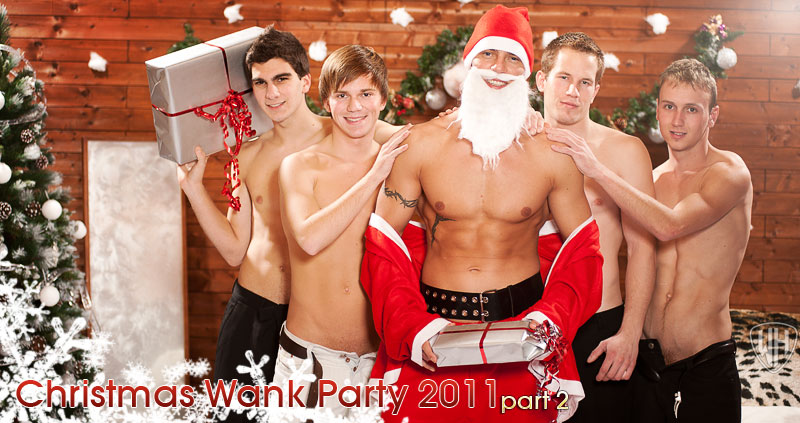 Christmas Wank Party 2011 features 5 of the hottest guys of the year. From Mirek Ceslar, as Father Christmas to the four cutest newcomers Jan Subrt, Honza Forst, Kaja Kolomaz and Jakub Nakuda everyone looks great. This second part of the Wank Party has a lot to live up to, but does so magnificently. The action continues from part one, with Honza fucking Kaja and Jan riding Mirek's big dick, as Jakub assists. Jan is rock hard as his ass moves up and down on Mirek's throbbing cock. Kaja is really feeling Honza's dick deep in his ass too. Jakub wants some action too and leans down to lap a Mirek's cock and Jan's ass as the fucking continues. Then as Jan is riding Mirek's cock Jakub sucks on his throbbing cock too. Having tasted that hard cock Jakub moves up and kisses Jan. Honza's cock is fucking Kaja nice and deep, with Kaja feeling every thrust. Jakub wants in on that action too and moves over to kiss Kaja and then goes down to suck on his cock. Mirek notices the action and decides that Jakub's ass needs attention, so he employs one of the Christmas presents, a vibrator on that sexy ass, with Jan looking on. Then Jan takes over the vibrator action on Jakub's ass and positions himself so that Mirek can slip his rock hard cock back into his ass for more fucking. All 5 guys are enjoined in one hot action sequence, with 3 holes being filled. Then they move, with Jan on his knees, doggy style and Honza riding his hot hole, while Kaja wants some of Mirek's big dick, so he rides it as hard as he can. That cock in his ass feels so good that Kaja shoots his creamy load over Mirek's chest. That really gets Mirek going and he stands and shoot his big, squirty load over Kaja's and Jakub's faces. He then pushes his cock into Jakub's willing mouth for cleaning, and then he gives a final taste of cock to Kaja too. Jakub and Kaja then kiss each other before Jaub moves under Honza's cock, which shoots a nice load into his mouth and over his face. The he sucks the cock into his mouth for more. It all gets Mirek hot again and he shoots another load, this time over Jan's face. Then, as he wanks himself Jan sucks Mirek's cock dry, as Jakub and Honza kissing each other, bringing a really great Wank Party to a lovely conclusion.
... more about Christmas Wank Party 2011, Part 2 further in this newsletter

Our Coming Soon Set Preview
We paired the lovely Dima Lukin with the handsome Honza Copak for a really good duo. Both are very handsome guys and have proved themselves before so I was sure they would do well together. Things get started with Dima reclining and eating an apple, his balls peeping out from his toga. Then, as the camera pulls out we see that he is watching Honza, similarly dressed, playing with his dick. Honza joins Dima on the couch and shares his apple as he rubs his leg. Then they start to kiss, with Dima working his way down Honza's massive chest and quickly sucking on his big, fat cock. He really knows how to suck and his mouth works up and down Honza's thick shaft, making it throb as he sucks it. Then it is Honza's turn to suck and he takes Dima's solid dick in his mouth sucking it real well. He then stands and places each foot, in turn, on Dima's chest allowing him to remove his footwear. Honza rubs his foot over Dima's chest as Dima feels those hairy legs. Then the guys move into a 69 and start sucking again. Dima loves cock and his tongue swirls all over Honza's. Honza is feeling so horny, he just has to have a taste of Dima's ass and gets down for some rimming. Soon Dima is ready for more, with his ass just wanting to be filled. HOnza lays on the couch and Dima gets on top and slides his hot hole right down, over Honza's throbbing dick. He rides that cock so well , sliding up and down on that rock hard pole. If Dima is a hot sucker he is also a wonderful bottom as he fucks himself onto Honza's solid dick. It really gets Honza going and he starts to fuck up into that hot ass. Honza wants more and Dima moves into a doggy position for more fucking. Honza pounds that ass, with his big, fat cock, with Dima pushing his hard cock back between his legs. He really stays hard while his ass is being fucked deep and hard. Dima turns onto his back and gets another pounding from that cock. Honza is a get top and really throws a great fuck into Dima's hole. He fucks him so well that Dima cant help it, he shoots his load while that cock is deep in his ass. That sets Honza off too and he moves and quickly dumps a huge, creamy load over Dima's face, with Dima sticking his tongue out to slurp at the spent cock. Honza then lowers himself down onto Dima's chest to rest after his exertions, bringing a really wonderful scene to a close. Two really hot guys, who certainly know what they like going at it for us, what a great scene.

OPEN SET WINDOW

Trailer
Vlog
You can also watch my Vlog for this Newsletter by clicking the video above or over at the Blog:
It's hard to believe this will be the last Newsletter of 2011. I was just remarking to one of my friends, as they years add up, they seem to whizz by a lot faster. There was no disagreement in that department.
Weather in Prague has turned kind of rainy and nasty. Hopefully, it will become a little drier by Sunday. In less than and an hour, Aida will be leaving for Granny's farm for the New Year. That will be good for her. We're bombarded with fireworks here at New Year's. They just make her crazy. Fireworks are few and far between down on the farm. I'm located less than a block from the river. There is an unusual ordinance in Prague, fireworks, anywhere in the city, require a permit, EXCEPT on the river. Because of that exception, no one ever gets a permit, and no one ever puts on a fireworks display except on the river. The one exception was the City's kiddy New Year's Day display, cancelled two years in a row because of Ms. Merkle's austerity program. I guess the city can issue itself a permit anywhere it wants to put on the show. New Year in Prague used to be quite wild. Now that we're becoming much more civilized, New Year has become a lot tamer.
Anyway from all out team, to you and yours a Very Happy and Prosperous New Year!
I just posted a teaser video of a Screen Test by Roman's best friend, Rudy. Roman and Rudy came in for a Broke Czech Boys. They only agreed to do it if they could do it together. They are bosom buddies. Roman is by FAR the more gay. He is the hardest to convince to do more (IMHO for that very reason). Rudy took Boris aside and asked for this Screen Test THE VERY NEXT DAY. Rudy got plowed by Paul Fresh in every way imaginable. He's the str8 one. Roman is the gay one. Go figure…. Great episode and I'll edit a 25 minute version over the weekend to publish later on the site.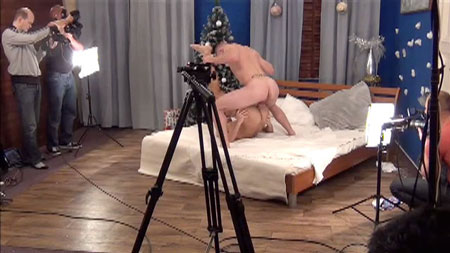 Kyptus and the guys are anxious to make themselves scarce for the holidays, so I'll plow right in.
MESSAGE ABOUT LINKS TO THE OLD WH WEBSITE - WILLIAMHIGGINS.com ARCHIVES:
Please be aware that the link www.williamhiggins.com takes you to this brand new website now. If you bookmarked our old website in the past and you want to keep the bookmark as a shortest way to access the old WH website you need to change the link in the bookmark to:
You do not need to remember this link, you can conveniently get to the old WH Website - WilliamHiggins.com Archives anytime you need through the "WH 2001-2010" in the top menu of the new WilliamHiggins.com website.
Today's Weather in Prague
We have launched our all new Kink only site with no solos. It's not for the feint hearted. Do take a look (if you dare):
http://www.str8hell.com/updates
At present, Members of CzechGuysNextDoor will be able to access the new site with their user information. If you have problems, write Karel@wh.cz
Latest Sets At Our NEW STR8HELL.com Website

Members of CzechGuysnextDoor.com - to log in the member's section of the new STR8HELL website use your present username and password, if you forgot your password or encounter a log in problem please feel free to contact us at: whcustomerservice@gmail.com
Non-members - you are welcome to browse our complete content - each regular set contains free video preview and free photos, if you decide not to become a member of our website you can also buy sets separately (we huge, well organized and easy to search library of models - there is always few models you may like) you can pay only for what you really want see ;-). You are always welcome to come back.
All members of www.CzechGuysNextDoor.com get a free access to STR8HELL.com till the end of November 2011!
Please use your present CzechGuysNextDoor username and password to log into the members area.
We have terminated updates to CzechGuysNextDoor.com website. CzechGuysNextDoor.com website will stay online, but now only as an archive of all CzechGuysNextdoor.com sets. Anyone who wants to access CzechGuysNextDoor.com Archives needs to have a STR8HELL.com membership. STR8HELL.com will continue with most of the czechguysnextdoor.com projects. Anyone who joins STR8HELL.com will gain access to two websites STR8HELL.com and CzechGuyNextDoor.com Archives which contain 2500+ sets. STR8HELL.com has exactly same features and controls as NEW WilliamHiggins.com website.
Direct access to CzechGuysNextDoor.com website is now through the link: archive.czechguysnextdoor.com or through "Archive Sets 2004-2011" links on the new STR8HELL website.
Thank you for your loyalty to CzechGuysNextDoor.com website,
Sincerely
William Higgins

BurnDVD.tv Website Latest Updates


DOWNLOAD AND BURN VIDEOS TO DVD OR DOWNLOAD OUR VIDEOS IN FULL HD
Starting today you can download our videos in Full HD quality 1920x1080px!
Please remember that most of the videos available on BurnDVD are easily able to be downloaded with a single link, but some of the very large files, such as the newsletter DVDs have to be split into three separate links, as detailed below.

The videos with very large file sizes are now split into more than one part, using a program called HJSplit. If you wish to buy one of these larger videos to Burn to DVD, you will receive a link for file and then it is a simple process to join the downloaded files together to make the .iso file for Burning to DVD.

You can see all the available videos at www.burndvd.tv

Before downloading any videos to burn to DVD I advise you to read the BURNDVD Manual, which explains how you can burn the file to DVD. The file is an ISO file which contains all the required DVD files. The process for burning to DVD is fully explained.

The BurnDVD manual is easy to follow, with a step by step guide. Burning a DVD is easy to do, though it is helpful if you have previously burned DVDs or CDs.

The manual can be viewed here: BURNDVD Manual

Anyone who has any problems understanding the manual, or burning their download to DVD, or indeed any questions about this service please email geoff@wh.cz . Geoff will be happy to assist you.

You can view all the available downloads at www.burndvd.tv, by clicking the on the categories. A direct link to the latest files available will be published in each newsletter.
Our Latest Sets at www.BurnDVD.tv
Today we have part 2 of Christmas Wank Party 2011 and CFNM Radek Meets the Jacuzzi Jockeys and Martin Kubenka and Nude Submission Wrestling with Jirka Valchar and Roman Lysacek:
Special Offer for William Higgins Newsletter Readers
William Higgins Newsletter readers are able to obtain a discount on the price of BURNDVD downloads by using the coupons that we will be publishing in each Members Newsletter. The coupon published in each newsletter will be valid for a period of 7 days.
Copy today's coupon code here: jndf98ej

Our Partners:

PLEASE PROCEED TO THE NEXT PAGE FOR THE LATEST WilliamHiggins.com UPDATES