Tuesday, November 21, 2017 - Igor & Igor RAW - FULL CONTACT

Igor & Igor RAW - FULL CONTACT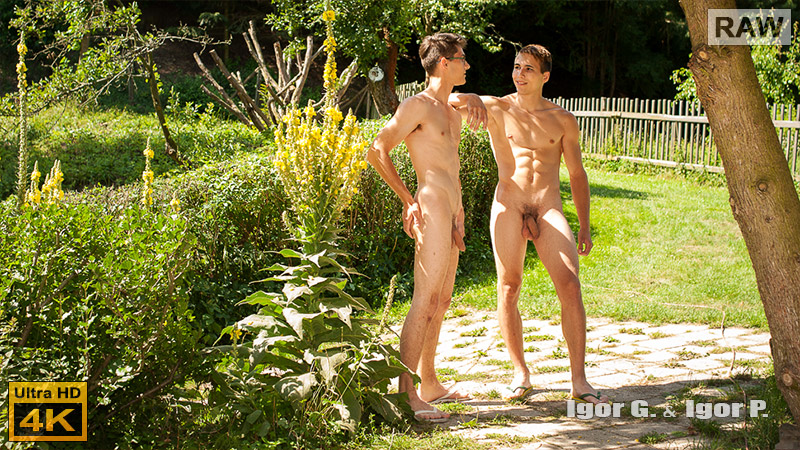 Igor Galek and Igor Tapak, two very hot straight guys give us a great scene. On a hot and sunny day they are in the garden and lay out a towel and sit down on it. Igor G offers to massage Igor T's feet. He begins to run his hands over one foot and then kisses it too. But his attention is drawn to more than feet and he begins to kiss Igor T. Laying him down he straddles his friend, continuing to kiis him as he opens the jeans to release Igor T;s cock. He wanks the cock as he kisses his was down the chest. Then Igor G starts to lick and suck on his friend's cock. He moves back up to kiss him some more and then goes back down on the stiff dick. His mouth wraps tight around the cock as Igor T fucks it in to the mouth. Then Igor G stands and drops his jeans to expose his own massive, and stiff dick. Igor T is quick to suck on it, taking it into his mouth and sliding it in deep. He works on Igor G's big cock for a while and then turns around to present his hot ass. Igor G tongues the tight hole, lapping at it. Then he slides his big cock into that hot hole. He fucks it deep, opening the hole well. His cock pounds away at Igor T's ass, spanking it a few times too. That big dick really stretches the hole and Igor T takes it so well. Igor G uses his belt around Igor T's neck to give me extra leverage as he bangs away at the sexy ass. Then Igor G lays down and Igor T sits on that big dick , taking it all the way in his ass as he rides up and down on it. Igor G fucks his dick up into the ass as hard as he can and his buddy takes it all so well. As he rides he grabs his dick and wanks it until he shoots his hot cum onto Igor G's belly. Then he climbs off and lays down for more cock in his ass. Igor G fucks him hard and fast until he is ready to blow his load too. Then he pulls out and shoots his creamy load onto Igor T, milking every last drop of cum from his big cock.
... more about Igor & Igor RAW - FULL CONTACT further in this newsletter

Our Coming Soon Set Preview


Trailer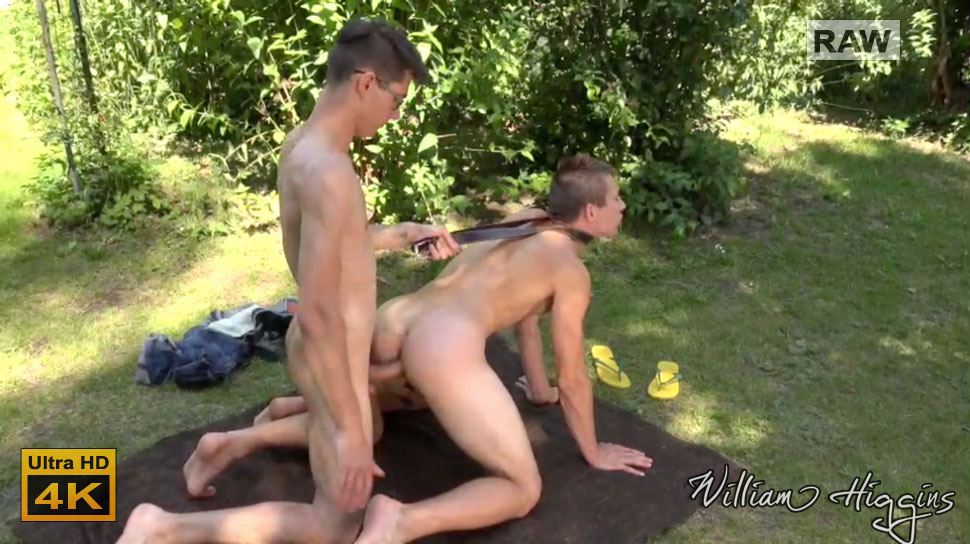 Vlog
You can watch my Vlog for this Newsletter by clicking above or by going over to the Blog :
http://www.wheuro.com/?p=18264
Today will probably be known as the beginning of the end of the Internet as we know it. Today the current administration is supposed to announce its plans to do away with Obama era of 'net neutrality.' That means the big ISPs can decide what content can go through their wires and how fast. We can all imagine how that will turn out and who will be at the end of the cue. MAGA.
I've been seeing quite a few articles recently about guys who identify as 'mostly straight.' That's a trend I love seeing. I'll take 'em on their gay days.
I'm rushing through the Newsletter today so I can prepare for the last, or at least next to last, grill party of 2017. One of the good friends of the studio is visiting and heads back to the other side of the pond tomorrow. It's very cold outside, and the heater in the gazebo will be straining to bring the temperature up. I'll soldier on despite the nasty little cold I picked up yesterday.
We have a fantastic line-up today starting with Igor Galek and Igor Tapak two very good looking str8 guys in a great duo. Then we see two more very handsome str8 guys Hugo Antonin and Adam Rezal in submission wrestling. We also have the very handsome, well-built, newcomer Tomas Polony, another really hot str8 guy in his erotic video, with helping hand.
Just a heads up, if you like handsome, hairy and hot assed guys get over to str8hell.com and see Adam Zrzek whose hot ass scene went online today. He is just so hot we couldn't wait to post this set, indeed his casting and solo are not even online yet. So this is the first we see of Adam.
Our castings today are very good indeed, Oliver Timek and Erik Gabor. They both look very good and have nice sized cocks, but it is Oliver Timek who gets the vote as pick of the day, for just how hard he got.
REMEMBER YOUR CAN ALWAYS CHECK THE OLD WH WEBSITE AT:
NEW SETS AT STR8HELL.COM

Members of str8hell.com get full access to the site and to the full archive of more than 2500 sets on Czech Guys Next Door web site, at:
http://archive.czechguysnextdoor.com/
Non-members can access str8hell.com and browse the complete content, including free video previews and some free photos for each set. Non-members can also search the site, and are able to buy any sets they like, without taking out a full membership. Paying only for the sets you really want to see.
Sincerely
William Higgins

WHVideoShop.com Website Latest Updates


DOWNLOAD OUR VIDEOS IN FULL HD 1920x1080p FROM ALL 6 SITES!
Special Offer for William Higgins Newsletter Readers
William Higgins Newsletter readers are able to obtain a discount on the price of WHVideoShop downloads by using the coupons that we will be publishing in each Members Newsletter. The coupon published in each newsletter will be valid for a period of 7 days.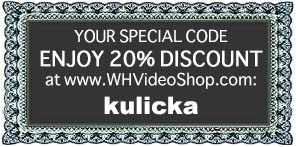 Copy today's coupon code here: kulicka

Our Partners:

PLEASE PROCEED TO THE NEXT PAGE FOR THE LATEST WilliamHiggins.com UPDATES