Friday, April 20, 2018 - Nikol & Laco RAW - FULL CONTACT

Nikol & Laco RAW - FULL CONTACT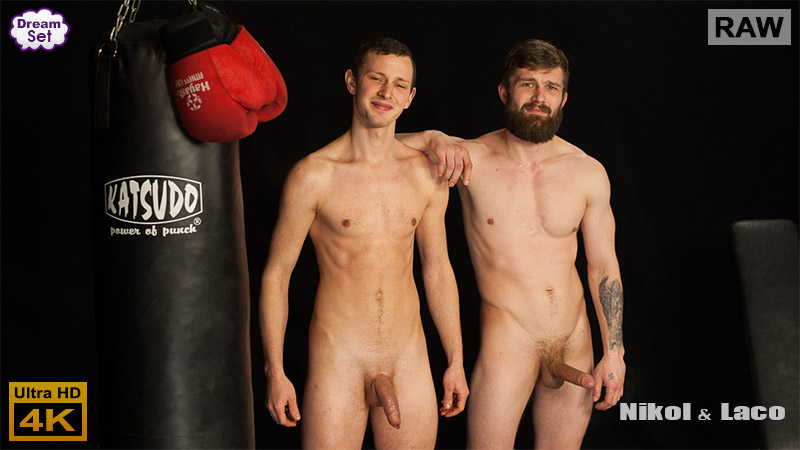 This is a wonderful Dreamset suggested by Kris. It features two of the sexiest str8 guys Nikol Monak and Laco Meido. Nikol i s on the phone as he waits for Laco to arrive for a training session. Laco arrives and is told to do some stretching exercises while Nikol goes off to finish his call. Laco starts stretching but is soon distracted as he looks into Nikol's bag and extract some underwear. He starts to grope himself as he sniffs the underwear, keeping an eye out for Nikol's return. Pushing his pants down Laco rubs his ass and wanks his dick as he sniffs the underwear. Nikol comes bak in and catches Laco, telling him off taking the underwear back. He then directs Laco's stretching exercises. He tells Laco to strip to his underwear so that he can see the body shape. Then Nikol directs Laco to bend over, showing his ass in his jock strap. Laco sits on the floor, legs apart to do more stretching . Laying down Laco swings his legs over his head, with Nikol holding them so that the ass is high in the air. Laco then stands up and Niko strips down to his jockstrap too . He takes some weights and starts excising his arms. Laco wantches intently and soon gets to feel Nikol's biceps. Then he is directled to turn around and do some squats. Nikol watches closely, tapping the thighs and ass as Laco works. Laco doesn't seem to be doing it correctly and says it is because he needs to piss. So Nikol holds a jug for Laco to piss into. Laco lets out all the hot piss and then is ready to squat again. Nikol places a dildo onto the floor for Laco to squat down till his ass touches it. Nikol's dick is very hard as he watches Laco squatting onto the dildo . Standing up Laco notices the dick and takes hold of it. He wanks the cock as he kisses Nikol. Then Nikol lays on the floor holding his cock. Laco does some push-ups between Nikol's legs, so his mouth goes down on that stiff cock. He sucks on the cock as he exercises and then turns around so they can 69. Each sucks on the other's cock. Laco licks Nikol's balls too and rubs his fingers over his tight hole. He sucks hard on Nikol's stiff dick and then laps at the tight hole. They both stand and remove the jock straps, then Laco kneels, presenting his hot ass. Nikol positions himself and slides his rock hard dick into Laco's waiting hole. He fucks that ass deep with Laco taking it so well. Nikol's fucking speeds up as Laco moans loudly. He keeps fucking that hot ass deep and hard, until he is ready to cum. Then Nikol pulls out and moves to shoot his hot cum over Laco's face. Nikol milks his cock dry and the takes a wipe to clean the cum from Laco's face. Laco then takes over and shows Nikol some special training. This has Nikol on his knees, getting his hot ass fucked deep by Laco's stiff cock. Nikol moans as he takes the rock hard cock deep into his ass. Laco pumps that ass with his dick, fucking harder and harder until his dumps his hot cum deep inside. He pulls out and spreads Nikol's ass to let the hot cum drip out to end a great training session.
... more about Nikol & Laco RAW - FULL CONTACT further in this newsletter

Our Coming Soon Set Preview
Stunning str8guy Leo Lombar has his screentest today. He is paired with the equally hot str8guy Tomas Salek who has proved himself to be a great bottom. The guys walk into the room after a heavy training session. As the sit on the bed Leo flexes his biceps and Tomas comments on what a good body he has. Leo explains that he still has to work harder. He stands up and starts flexing as his hot body is admired by Tomas. He strips down to his underwear showing off that hot body. Tomas is very impressed and takes some oil and begins to rub it all over Leo's massive chest. Tomas' hands rub all over the chest and abs and onto the biceps. He lets a hand run onto the underwear, feeling Leo's dick. The guys start to kiss as Tomas is pulled hard against Leo's hot body. When he is released he drops to his knees, pulling down the underwear, and starts to suck Leo's hard cock. Leo's hand finds the back of Tomas' head pulling it onto his stiff dick. Tomas sucks and licks on the cock and balls too, eager to get as much as he can. Leo's hips start to thrust as his dick is being sucked. He fucks Tomas' eager mouth, enjoying the hot lips as they wrap around his dick. Then Tomas stands up and the guys kiss again. Leo pulls off Tomas' tee shirt and then open his jeans too as he drops to his knees. He takes Tomas' cock into his mouth and begins to suck it. Leo feels the cock get hard in his mouth as he sucks it so well. His hot mouth works tghe dick for a while, then Tomas kneels on the bed, presenting his ass. Leo positions himself and slides his rock hard cock into the waiting hole. He fucks Tomas' ass deep and hard, stretching the hole. As he fucks his slaps the ass too. Leo looks magnificent as he thrusts his throbbing cock in and out of Tomas hot hole. Tomas takes the cock so well, feeling every thrust. Leo's hips keep working as he fucks hard into Tomas' ass. Then Tomas is turned over, onto his back with his legs in the air. Leo's dick pounds the hot hole hard and fast as he holds Tomas' legs. Tomas takes hold of his own cock and wanks it as he enjoys the pounding in his hole. He wanks his cock, moaning as he feels the cock in his hole. Soon Tomas shoots his creamy cum onto his hot body as Leo keeps fucking him hard. Leo continues to fuck until he is ready too and then pulls out to shoot his cum as well. He milks the cum from his cock and leans over to kiss Tomas again to end a great screentest.

OPEN SET WINDOW

Trailer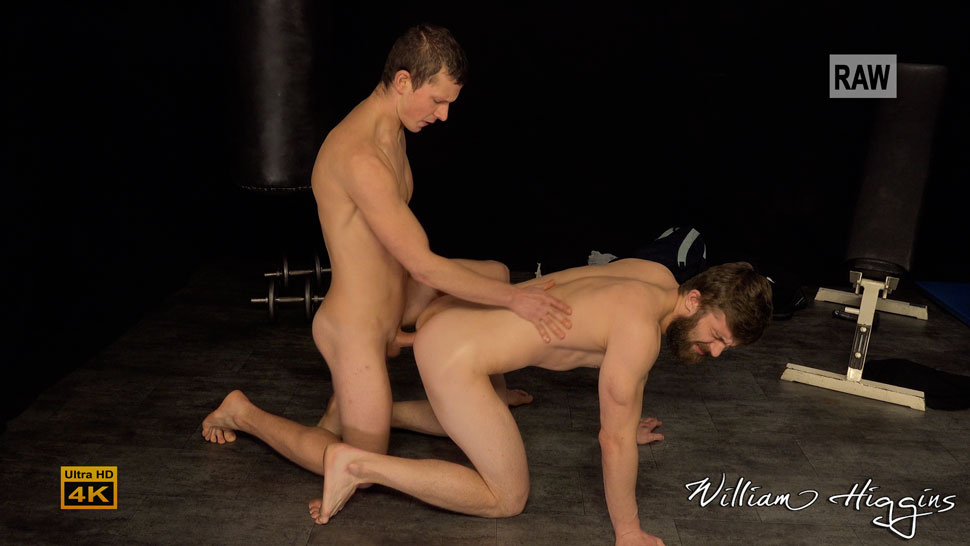 Vlog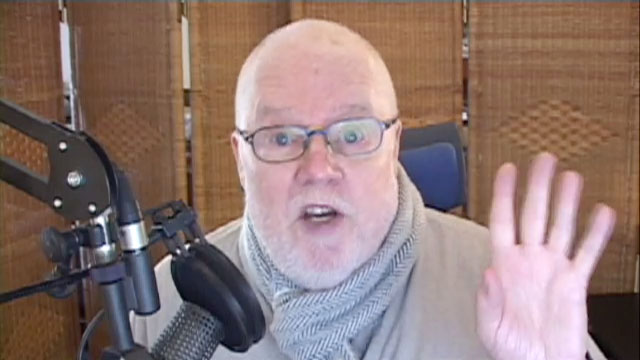 You can watch my Vlog for this Newsletter by clicking above or by going over to the Blog :
http://www.wheuro.com/?p=18841
Fabulous weather in Prague today. Currently 26ºC outside. That is really unseasonably warm. Mr. Geoff is whinging the the weather in the UK is even hotter. Compare that to the east-coast of the USA where it's unseasonably cold. Go figure. Of course, the received wisdom: There is NO global warming.
Today I want to give a particular shout-out to a new category on Str8hell, "Young Offenders." We're folding Airport Security into that category along with all the other lads who need special guidance with their anti-social problems. We are here to help them.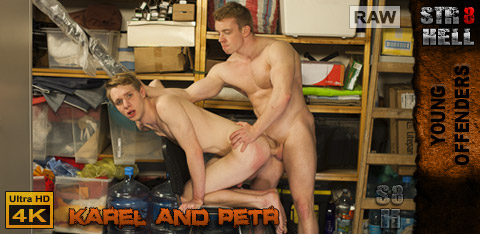 https://www.str8hell.com/set-list/set-detail/18042051
I also want to give another special shout-out to Kris who sponsored a particularly delicious Dream-Set with Nikol and Laco. (is there anyone on our site whom Nikol hasn't fucked?) If so, let me know, because Nikol is exceptionally good at it.
As promised we have a lovely Dreamset today, suggested by Kris is stars Nikol Monak and Laco Meido. Then we have Lukas Chlad in his erotic video. We also have a delightful backstage video with Tomas Fun and Rosta Benecky.
We have two very good candidates for casting today, Karel Opec and Albert Kroka. They both impress but Karel gets the nod as pick for today.
REMEMBER YOUR CAN ALWAYS CHECK THE OLD WH WEBSITE AT:
NEW SETS AT STR8HELL.COM

Members of str8hell.com get full access to the site and to the full archive of more than 2500 sets on Czech Guys Next Door web site, at:
http://archive.czechguysnextdoor.com/
Non-members can access str8hell.com and browse the complete content, including free video previews and some free photos for each set. Non-members can also search the site, and are able to buy any sets they like, without taking out a full membership. Paying only for the sets you really want to see.
Sincerely
William Higgins

WHVideoShop.com Website Latest Updates


DOWNLOAD OUR VIDEOS IN FULL HD 1920x1080p FROM ALL 6 SITES!
Special Offer for William Higgins Newsletter Readers
William Higgins Newsletter readers are able to obtain a discount on the price of BURNDVD downloads by using the coupons that we will be publishing in each Members Newsletter. The coupon published in each newsletter will be valid for a period of 7 days.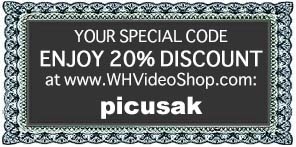 Copy today's coupon code here: picusak

Our Partners:

PLEASE PROCEED TO THE NEXT PAGE FOR THE LATEST WilliamHiggins.com UPDATES