Friday, August 29, 2014 - David and Robert RAW - FULL CONTACT

David and Robert RAW - FULL CONTACT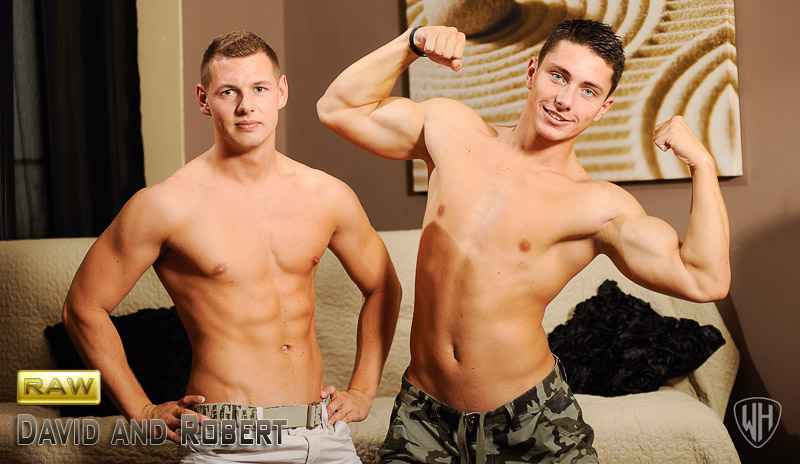 David Skabeta and Robert Drtina are a pair of really sexy hunks. They find themselves alone and Robert sets about seducing David, kissing his nipples and rubbing his chest and legs. As he continues to kiss over the chest and on the neck Robert pulls David's head towards him and kisses him on the lips. David moves a hand onto Robert's legs and gently rubs it in response. Robert then opens David's shorts, removing them to show off a big, hard cock. Robert is quickly down on that cock, taking it in his mouth and sucking on it. David really enjoys the sucking and wants to do the same. So, with Robert naked and hard David gets right to work. He shows that he can suck real good too, his lips wrapped tight around the cock. Then he goes up to kiss Robert again, before resuming the sucking. With Robert leaning back he brings his legs in the air, to show his hot hole to David. He responds by rubbing the hole and sliding a finger in. That is just what Robert wants and he moans as the finger fucks in and out of his ass. As he fingers the hole David sucks on the cock some more. But Robert needs more than finger in his ass and he is soon sliding his hot hole right down on David's throbbing cock. He rides on that big cock, moaning as he takes it. Then Robert holds his ass still, so that David can fuck it for him. That big dick thrusts up into Roberts ass, fucking him good. Robert then moves, bending over the couch, on his knees. David enters him again, from behind and pounds away at the eager ass. They kiss as David's cock goes deep in that ass. David moves Robert onto the sofa, legs up over his head, so that he can fuck him some more. Robert loves how that thick cock feels in his ass. As David pulls out Robert wraps his feet around the big cock and wanks it. That gets David close to cumming and he grabs the dick and wanks it to a mighty climax, dumping his cum over Robert. Robert needs to cum too and stands over David shooting his cream all over his chest. They kiss again and then go to the shower to help each other clean up.
... more about David and Robert RAW - FULL CONTACT further in this newsletter

Our Coming Soon Set Preview
Arny Donan is collecting logs with his buddy Paul Belonek. But, as always with Arny, he is horny. Feigning tiredness he sits and has Paul start to massage his shoulders. Paul's hand work the shoulders, sliding down to Arny's pecs too. Arny leans back offering his mouth and Paul bends to kiss him. As they kiss Paul's hand drops to Arny's groin and starts rubbing. Soon he is on his knees, licking an nipple and has a hand inside the pants. He has the shorts open and is wanking on that cock, until Arny stands, letting his shorts drop. Paul's mouth quickly closes over Arny's hard dick and sucks it. Arny loves the feeling and he starts to thrust his cock in and out of Paul's willing mouth. Then they swap, with Arny on his knees sucking Paul's massive cock. His big balls hang heavy as Arny works on the huge, throbbing cock. Arny really knows what he wants and is soon taking a ride on that cock. His hot, hairy hole slides up and down on Paul's thick shaft. Arny works his ass all over that big cock, his own dick staying hard too. Arny then bends over and takes that cock even deeper in his ass. He moans as Paul fucks him, stretching his ass wide. They move to missionary position with Arny's moans increasing in volume as Paul fucks him deep. That big cock really works that hot hole and Arny just loves it. Moving to spoon we see that huge cock really slide in and out beautifully, with Arny still moaning in pleasure. As he takes that cock Arny grabs his own and soon pumps a hot load of cum all over his leg. Paul keeps on fucking that ass, his balls tightening. He speeds up the fucking and is soon ready to blow. Pulling out he moves onto his knees and dumps his hot cum all over Arny's hot body. After Paul has milked his cock completely he leans over for a final kiss from his fuckbuddy.

OPEN SET WINDOW

Trailer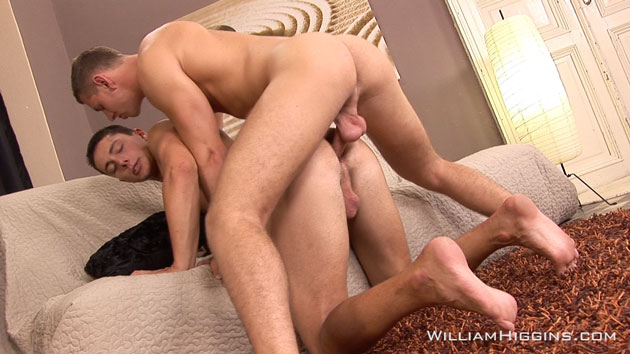 Vlog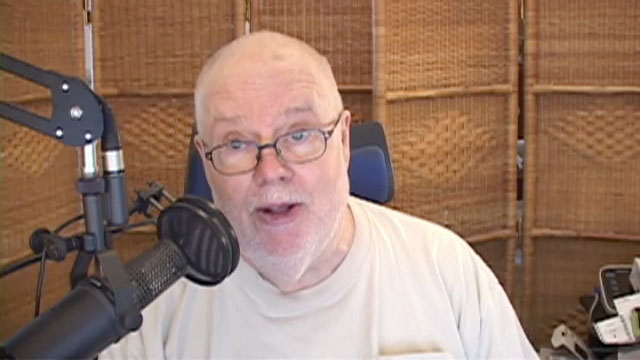 You can watch my Vlog for this Newsletter by clicking above or by going over to the Blog :
http://www.wheuro.com/?p=13349
This is my last summer newsletter for 2014, boo ho, School starts on Monday. And, to be frank, August hasn't seemed like summer at all, much more like early or even mid-fall. I'm off for a couple of days trip this weekend, the only time I could get Pavel Nikos to let me use one of our 4K camcorders. We'll be going to see the building in East Germany where The Grand Hotel Budapest was filmed. Then on Monday, we'll tour 'The Czech Alps' near the German border. Should be a very scenic couple of days.
Things kick off today with a great duo featuring David Skabeta and Robert Drtina. Then we have Martin Konrad with his erotic video and we end with Marek Prohodil's session stills.
We have a great selection of castings too with Alexander Fot, Filipo Zanety and Vasil Karanov. They are all very good, but my pick for today has to go to Vasil Karanov, for his hot body, rock hard dick and beautiful ass.
REMEMBER YOUR CAN ALWAYS CHECK THE OLD WH WEBSITE AT:
NEW SETS AT STR8HELL.COM

Members of str8hell.com get full access to the site and to the full archive of more than 2500 sets on Czech Guys Next Door web site, at:
http://archive.czechguysnextdoor.com/
Non-members can access str8hell.com and browse the complete content, including free video previews and some free photos for each set. Non-members can also search the site, and are able to buy any sets they like, without taking out a full membership. Paying only for the sets you really want to see.
Sincerely
William Higgins

BurnDVD.tv Website Latest Updates


DOWNLOAD AND BURN VIDEOS TO DVD OR DOWNLOAD OUR VIDEOS IN FULL HD 1920x1080P!
Special Offer for William Higgins Newsletter Readers
William Higgins Newsletter readers are able to obtain a discount on the price of BURNDVD downloads by using the coupons that we will be publishing in each Members Newsletter. The coupon published in each newsletter will be valid for a period of 7 days.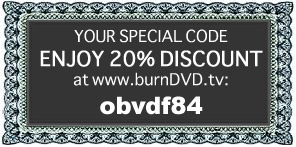 Copy today's coupon code here: obvdf84

Our Partners:

PLEASE PROCEED TO THE NEXT PAGE FOR THE LATEST WilliamHiggins.com UPDATES