Tuesday, December 30, 2014 - Xmas Wank Party 2014, Part 1 RAW

Xmas Wank Party 2014, Part 1 RAW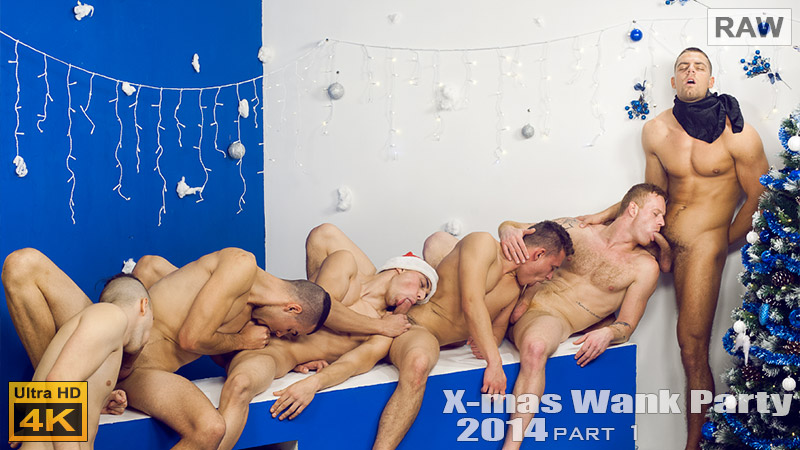 For our Christmas 2014 Wank Party we have a stellar cast, Hugo Antonin,Tomas Hozman,Tom Vojak,Arny Donan,Petr Zuska and Romi Zuska. In this first part we find the guy as they begin their celebrations with some wine, enjoying a chat as they do so. They sing and laugh a little before deciding to play some games. Spin the bottle seems to be the popular choice. Sitting in a circle the bottle is given its first spin, which results in Tomas having to remove his shirt. He is followed by Hugo, then Petr. Tom is next. When he spins the bottle it rests again, pointing at Tomas who has to remove his pants. Then Arny has to take off his shirt, and his spin results in Tom getting completely naked.Last off with his shirt is Romi. He spins the bottle and has Arny remove his pants. Then Arny has his revenge, with Romi taking off his. Only Petr and Hugo remain. It is Hugo who is next to get naked and lastly Petr does the same. The spinning resumes and settles on Tom and then Peter. So Tom has to give a little suck on Petr's cock. Romi is the next to be chosen by the bottle, and he has to suck Hugo. Then Arny decides to change the game. The bottle spinning will decide who will be active and who will be passive. Arny spins and is quickly chosen as one passive guy, then it seems that Hugo and Tomas are also chosen. But before they move onto that the guys decide on some hardcore sucking. Petr, Arny and Tom sit down, with Romi, Tomas and Hugo between their legs, to suck some cock. Those mouths quickly get to work on the cocks as Peter and Arny kiss each other. Then Arny turns and kisses Tom as well. The cocks quickly get very hard indeed , with Romi sucking Petr, Tomas working on Arny's meat and Hugo giving some hot mouth to Tom's massive dick. Then Tomas and Romi change places so they get to taste a differentn cock. Tomas really works Petr's throbbing cock well. He sucks and licks at it as Romi's head bobs up and down on Arny's. Hugo has Tom's big cock rampant and his mouth is wrapped tightly around it as he sucks. Then he swaps places with Tomas, and sucks on Petr for a while. Tomas gets to work on Tom's cock too as Romi is still with Arny. Hugo wanks his own stiff cock as he looks up into Petr's eyes and starts sucking him again. All change has Tom sucking Arny, with Hugo leaning over to suck Tom. Romi is busy on Hugo's cock too and his own is being sucked by Petr. Tomas stands behind them encouraging the all. Then as Petr, Tomas, Arny, Tom and Hugo stand in a sort of circle Romi lays in a revolving chair and is able to take turns on each cock. Romi has a great time as each guy's cock goes into his mouth. Moving again we find Hugo on the chair, with his ass exposed so that Tom can rim his tight hole. Tomas is laying down too and Romi has a great time tonguing his ass. Meanwhile Petr is wanked by Tomas and Arny is able to slide his cock into Hugo's mouth for more sucking. Those holes will soon be ready for some hot cock, as we will see in part two.
... more about Xmas Wank Party 2014, Part 1 RAW further in this newsletter

Our Coming Soon Set Preview
We brought newcomer Peter Moloch in and paired him up with Martin Merlot to see what might happen. What happened was Peter got his cherry busted. Not only was it his first time ever doing anything with a guy, he took it up the bumper chute. Martin starts things off by having a little chat with Peter. Peter is a little reticent to do anything so Martin pays him some money to encourage him, to remove his shirt and then his pants. Then, upping the ante, he pays even more to have Peter remove his underwear. With Peter fully naked Martin reaches over and starts to rub his leg. With more money handed over Martin takes hold of Peter's cock and begins to wank it. Peter's cock begins to respond and Martin leans over to take it in his mouth. He sucks on Peter's cock which is already quite hard. Peter helps Martin off with his tee-shirt, but doesn't get any further as Martin goes back down on that hard cock. Peter reaches over and begins to grope Martin's cock in his underwear. Under his touch Martin's cock gets hard in the underwear. He then kisses Peter and pushes the underwear down to release his own stiff cock. Peter is quick to lean over and take it in his mouth. He shows that he can suck good too. He then sits back and let's Martin go back to work on his cock. Both the cocks are big and hard and Peter wanks Martin's as his own is sucked some more. Then Peter takes another turn at sucking, with Martin fucking his mouth too. They move to a 69, with Martin on top, both sucking on hot, hard cock. Martin moves Peter onto his knees and starts to rim his hot ass, still playing with his cock as well. With that ass nice and wet Martin lays on the bed and has Peter slide his hot ass over that big cock. He rides the cock with Martin fucking upwards. Then Peter goes back onto his knees, with Martin behind him, fucking that hot ass deep and hard. Peter shows that he can take it real good. Then move again, with Peter on his back, having his ass pounded as he wanks himself. He wanks so hard and fast and soon he unloads his hot cum over his belly. Martin continues to fuck that hot ass until he is ready to blow too. Then he pulls out and wanks himself until he cums as well. After a great screentest for Peter Martin leans over and kisses him again.

OPEN SET WINDOW

Trailer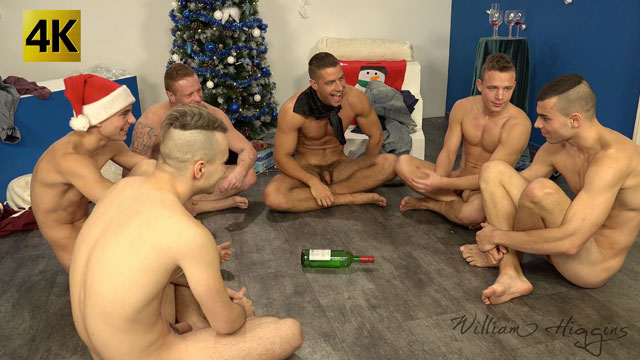 Vlog
You can watch my Vlog for this Newsletter by clicking above or by going over to the Blog :
http://www.wheuro.com/?p=13864
First of all, from all of us to all of you a Happy New Year. This is our last Newsletter of the year. Right now snow cover the ground in Prague. Mind you, this was looking like the warmest winter ever. Currently the temparture outside of 20ºF or -7ºC. Everyone will be heading to the ski slopes, but not me. Prague is full of tourists. All of us wish all of you the very best for 2016. We will be back with our first Newsletter of 2015 on Friday.
In our special double newsletter today we get off to a great start, with part one of our Christmas Wank Party. Then we have Robert Benet in his erotic video and Alberto Ronaldo in his session stills. After those splendid sets we have a wonderful duo with Paul Belonek and Jirka Mendez. They are followed by Petr Zuska in his massage, with Mattias Solich, Martin Anderson with his erotic video and we finish with Herman Gerchan's session stills.
Our castings today are Petr Senor, Milan Pokor, Alf Bovie, Oliver Cerny, Daniel Burek, Tomas Kler and Martin Sedivec. That is 7 very good candidates. My pick for today, just because of his beautiful face, in Tomas Kler.

REMEMBER YOUR CAN ALWAYS CHECK THE OLD WH WEBSITE AT:
NEW SETS AT STR8HELL.COM

Members of str8hell.com get full access to the site and to the full archive of more than 2500 sets on Czech Guys Next Door web site, at:
http://archive.czechguysnextdoor.com/
Non-members can access str8hell.com and browse the complete content, including free video previews and some free photos for each set. Non-members can also search the site, and are able to buy any sets they like, without taking out a full membership. Paying only for the sets you really want to see.
Sincerely
William Higgins

WHVideoShop.com Website Latest Updates


DOWNLOAD OUR VIDEOS IN FULL HD 1920x1080p FROM ALL 6 SITES!
Special Offer for William Higgins Newsletter Readers
William Higgins Newsletter readers are able to obtain a discount on the price of WHVideoShop downloads by using the coupons that we will be publishing in each Members Newsletter. The coupon published in each newsletter will be valid for a period of 7 days.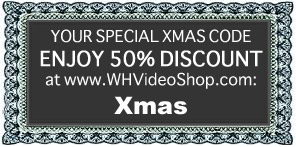 Copy today's coupon code here: Xmas

Our Partners:

PLEASE PROCEED TO THE NEXT PAGE FOR THE LATEST WilliamHiggins.com UPDATES