Tuesday, April 28, 2015 - Miro and Ivan RAW - FULL CONTACT

Miro and Ivan RAW - FULL CONTACT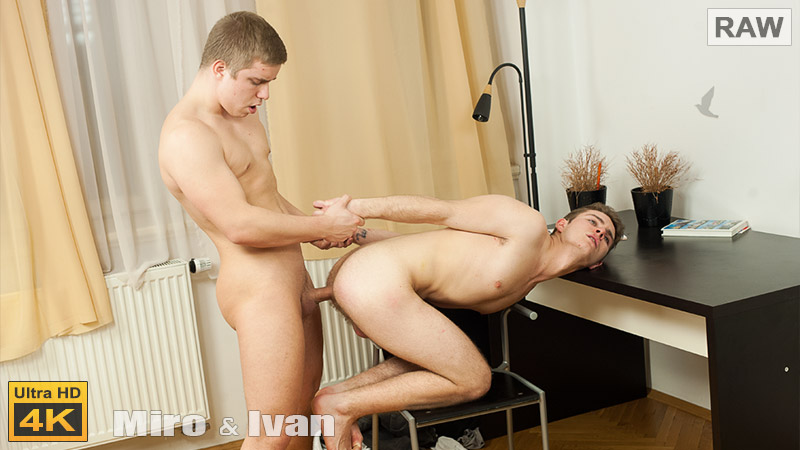 Miro Keta is sitting at his desk studying when Ivan Mraz joins him and starts to distract him by rubbing his body and kissing his neck. Miro responds, turning his head and kissing him. Ivan pulls off Miro's sweater and rubs his chest, kissing him some more. Standing and pushing his jeans and underwear down Miro's hard cock flops out and Ivan drops to his knees to suck it. His mouth wraps around the cock an d sucks it real well. He removes his tee shirt as he continues sucking on Miro's beautiful cock. Miro wants some cock too and is soon returning the favor sucking Ivan's fat, hard cock. He licks along the shaft and sucks the head into his mouth. His lips wrap tight around the head as he sucks the throbbing cock. With both cocks rock hard Miro stands and they wank each other. Then Miro lays on the desk, with his legs in the air. Ivan is quick to start rimming Miro's hairy hole and suck on that cock some more. As he sucks he slips a finger into Miro's tight ass hole. He works the hole as he keeps sucking the cock. Then he laps at the hole with his tongue again. Ivan stands and positions his cock, slipping it deep into Miro's hot ass. He fucks that ass nice and deep. As he fucks that ass Ivan leans over and kisses Miro again. Ivan's thick cock really stretches the ass. Then Miro stands and bends over so that Ivan can fuck him from behind. He works his dick in and out of that ass as Miro wanks himself. Ivan's fucking is hard and fast as Miro keeps wanking. Miro then kneels on his chair, his ass pushed back to take that cock as deep as he can. He keeps fucking and Miro continues to wank himself until his hot cum shoots out of his cock. Then he sits on the chair for Ivan to shoot his creamy load all over that sexy chest.
... more about Miro and Ivan RAW - FULL CONTACT further in this newsletter

Our Coming Soon Set Preview
We loved Rado Zuska when he first came to us, and he gave us some really great scenes. Then he did us a very big favor, sending his friends, Petr and Romi,to us too. They too showed us just how good they are and now we have brought all three together for a great scene. It all starts with Petr taking a shower. As he washes himself Rado arrives and joins him. Pete lets the water wash over Rado and then Romi joins them too. All three sexy friends showering together and they start to soap each others hot bodies. Rado is in the middle and he grabs at Petr's and Romi's cocks. Then he turns around so that Romi can wash his back and his ass. Then it is Romi's turn to be washed by his friends. As they wash they get playful, with their cocks, having a lot of fun. Shower over we find the three of them laying on the bed and they decide to compare cocks. So they all start wanking and soon get nice and hard. Rado's dick looks so good and Romi suggests that he and Petr should suck it. Romi is quick to take the cock in his mouth sucking it before both he and Petr lick up and down the thick shaft. Then Petr sucks on the stiff cock as Romi licks Rado's balls.With all three guys rock hard Rado lays back so his friends can suck him, kissing each other as they do so. Then Rado has to return the favor, so he kneels between them and takes turns sucking on each of those hard cocks. He does a great job on those dicks and then lays back with his legs up and ass in the air. That looks so inviting and Romi and Petr take turns in rimming the hot hole. Rado loves that feeling and soon is bending over, offering his ass up for some cock. Petr's throbbing cock soon slips into the eager hole, fucking it nice and deep. Then he makes way for Romi to fuck that hot ass too. Rado takes cock real well and moves onto his back so they can fuck him in missionary position. His ass gets a real good workout from his friends, with both Romi and Petr taking turns again. Romi lays down on the bed so that Rado can climb on and ride his throbbing cock. Then he holds his ass in place so that Romi can pump his dick up into that hot ass. He fucks hard and fast and dumps his hot load deep in that ass. Rado spreads his ass and releases that cum. Then Petr and Rado kneel over Romi, wanking themselves. Rado soon dumps his cum over Romi's face. Petr keeps up his wanking and is soon rewarded with his own cumshot to end a really great scene, with Romi sucking on spent cock.

OPEN SET WINDOW

Trailer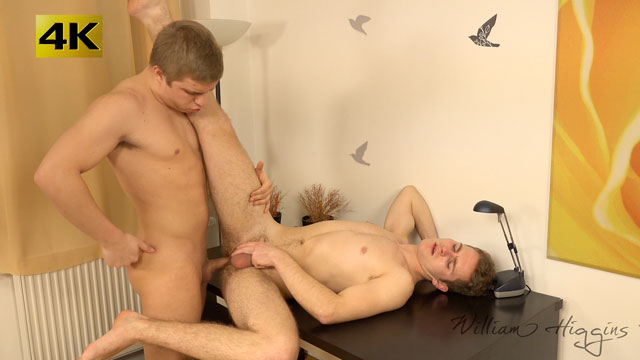 Vlog
You can watch my Vlog for this Newsletter by clicking above or by going over to the Blog :
http://www.wheuro.com/?p=14409
So much for spring and summer. Today we're having a heavy downpour. It started last night with very heavy rain. Today, it's only heavy rain and quite cold. I'm in a rush today as I have an appointment I must rush off to.
We have a great Newsletter today. I'm very impressed by newcomer Milen Petrof. He's already done a 'soft duo.' Hopefully, much more will be on the way. The duo with Ivan and Miro is lovely. And upcoming we have a hard core Raw scene with three brothers, the famous Rado with his brothers Petr and Romi. I'm looking forward to that. Seems like these brothers are up for anything.
We have a great duo today, with Miro Keta and Ivan Mraz to get things off to a flying start. Then we see Matej Borzik in his massage, with Mattias Solich. Alois Tomas with his erotic video is next and we finish with a very good session stills shoot featuring Milen Petrof.
For our castings today we have another four very nice guys. They are Milan Prorok, Milan Mendez, Jaro Kosak and Lukas Minar. That is a very good line-up, with my pick for today being awarded to Lukas Minar.

REMEMBER YOUR CAN ALWAYS CHECK THE OLD WH WEBSITE AT:
NEW SETS AT STR8HELL.COM

Members of str8hell.com get full access to the site and to the full archive of more than 2500 sets on Czech Guys Next Door web site, at:
http://archive.czechguysnextdoor.com/
Non-members can access str8hell.com and browse the complete content, including free video previews and some free photos for each set. Non-members can also search the site, and are able to buy any sets they like, without taking out a full membership. Paying only for the sets you really want to see.
Sincerely
William Higgins

WHVideoShop.com Website Latest Updates


DOWNLOAD OUR VIDEOS IN FULL HD 1920x1080p FROM ALL 6 SITES!
Special Offer for William Higgins Newsletter Readers
William Higgins Newsletter readers are able to obtain a discount on the price of WHVideoShop downloads by using the coupons that we will be publishing in each Members Newsletter. The coupon published in each newsletter will be valid for a period of 7 days.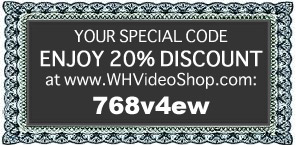 Copy today's coupon code here: 768v4ew

Our Partners:

PLEASE PROCEED TO THE NEXT PAGE FOR THE LATEST WilliamHiggins.com UPDATES