Tuesday, December 29, 2015 - Xmas Wank Party 2015, Part 1 RAW

Xmas Wank Party 2015, Part 1 RAW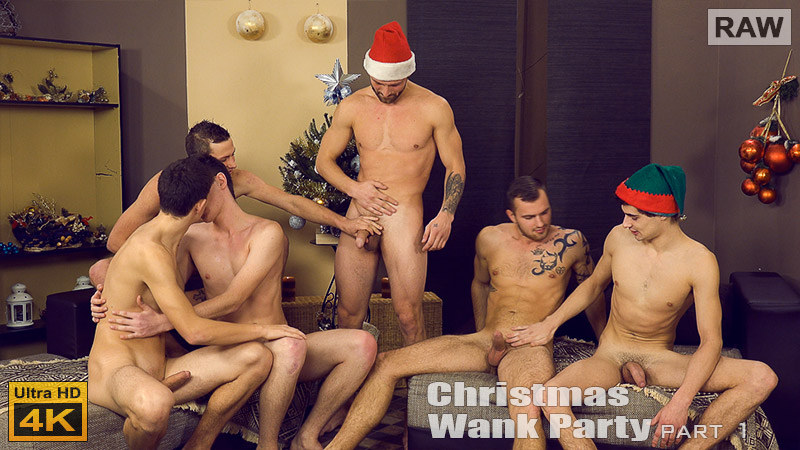 We have a great line-up for our 2015 Christmas Wank Party. It features Laco Meido,Martin Dorcak,Alex Stan,Roco Rita,Nikol Monak and Milan Pokorny. We find Laco, Martin, Alex, Roco and Milan enjoying each other's company and singing Christmas songs. Then Santa arrives, in the form of Nikol Monak. Wearing only his hat and some short Nikol is carrying his sack of presents too. The guys are all happy to see him and reach out to feel his sexy body. Nikol asks if they want to see him in action, smiling as he moves in time to the music. The guys are feeling him and Nikol tells them they should get undressed too. Martin is first with his pants off, showing his big cock. Then Milan follows, his cock already hard. Roco and Laco follow suit as Alex starts kissing Martin. Nikol's shorts come off and Laco reaches to wank on his cock. Alex gets naked too so all are ready to play. They pair up and start kissing and feeling each other's cock. Then Laco and Nikol split up. Nikol joing Alex and Martin. He kisses Alex as Martin leans over Alex, reaching for Nikol's cock with his mouth. He kisses Nikol as well as Laco is enjoying Roco and Milan. Alex lays back so that Nikol and Martin can suck on his stiff cock. They lick it and keep kissing his hot body. Milan and Roco wank each other as they kiss Laco. Martin's mouth is wrapped around Alex's rock hard cock, as Milan wanks Laco. Roco starts sucking Laco, taking turns with Milan. Nikol keeps licking Alex's shaft as Martin sucks the cock head. then Nikol gets in the middle to let Alex and Martin share his throbbing cock. Roco keeps sucking Laco's dick as Alex and Martin take turns on Nikol's. Then Laco moves to join Alex and Martin. Laco sucks on Martin's massive cock and Alex sucks him. Nikol's dick is being shared by Milan and Roco, as he lays between them. Alex keeps sucking Laco and wanking his own cock as Martin pushes Laco's head up and down on his. What a great start to this wonderful Wank Party, with much more to come in part 2.
... more about Xmas Wank Party 2015, Part 1 RAW further in this newsletter

Our Coming Soon Set Preview
Jirka Syty agreed to a screentest, so we paired him with Alan Carly. They look so good as Jirka sits between Alan's legs, barechested. Alan reaches round and rubs that sexy chest and slips a hand into Jirka's jeans. He helps Jirka off with his shirt and continues to feel his body, opening his jeans and groping him. His hand slides into Jirka's underwear to feel his cock. Then Jirka stands, so his jeans can be removed. Alan pushes down the underwear, releasing Jirka's stiffening cock. He drops to his knees and begins to suck the hard cock. Then he wanks it as well as sucking it. He takes the cock deep into his mouth as his head bobs up and down on it. Jirka's dick is so hard as Alan sucks on it. Then Jirka starts fucking it into Alan's mouth, holding his head on it as he fucks. Alan stands and Jirka drops to his knees to open the jeans and release the hard cock. He takes it in his mouth and shows that he can suck as well. His lips wrap tight around the cock and his bead bobs as Alan holds it on is dick. Jirka kisses the cock and then sucks it back into his mouth for Alan to fuck his face. Alan lays Jirka on the bed and licks his hairy balls before sucking on his rock hard cock again. He kneels between Jirka's legs and places his cock next to Jirka's. He wanks both cocks together, then lifts Jirka's legs in the air, to expose his hairy hole. Alan rims that hot hole, spreading the cheeks wide apart to really get his tongue into that hole. He slips a finger into the hole, fucking it in and out. Then he turns Jirka over and slides his throbbing cock deep into the hole. He fucks it nice and hard, pulling out and then shoving his dick back inside again. Jirka moans as he takes the dick deep into his ass. He turns over onto his back and wanks himself as Alan continues to fuck his hot ass. His wanking speeds up and soon he shoots his hot cum as Alan's cock is deep in his ass. Then Alan is ready too and pulls out to let his cum fly, all over Jirka's hairy balls. He leans forward and kisses Jirka before taking him to the shower to clean up.

OPEN SET WINDOW

Trailer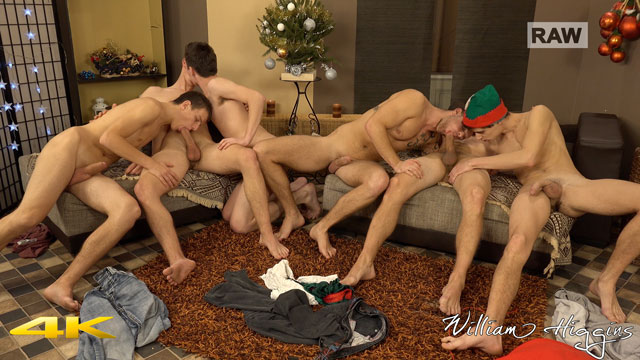 Vlog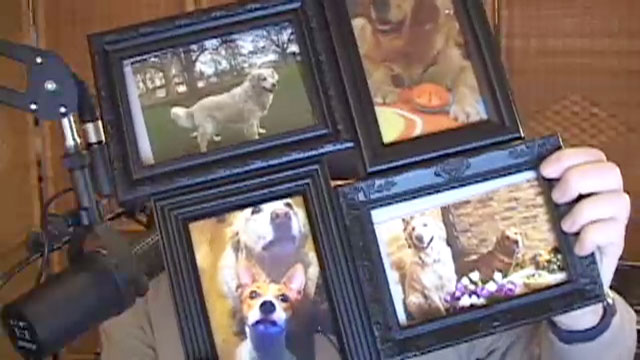 You can watch my Vlog for this Newsletter by clicking above or by going over to the Blog :
http://www.wheuro.com/?p=15567
All of us hope you had a very Merry Christmas and we wish you a Happy New Year. This will be our last Newsletter of 2015. Because New Year's Day falls on Friday, we're letting the WebTeam have New Year's Day off to be with their families. Consequently, we're presenting a double Newsletter today to make up for Christmas off. On Tuesday, Jan. 5, 2016, we'll once again present a double newsletter. However, all of the scheduled updates will go online between now and then. So, check the site on a daily basis, and then catch up on Tuesday. Once again, to all of our Subscribers and viewers, we wish you a very Happy and Prosperous New Year.
In our double newsletter we have a wonderful line-up of great shoots. The lead feature is a very good Wank Party featuring Laco Meido, Martin Dorcak, Alex Stan, Roco Rita, Nikol Monak and Milan Pokorny. We also have a great wrestling match between Charli Lomoz and Laco Meido. Martin Porter and Aron Ros give us a great screentest too. Milan Manek and Erik Drba both give us very good erotic videos and we also see Valer Starek and Martin Hovor in their session stills shoots.
We have some great castings today too, with Oleg Adamov, Milan Manek, Petr Kolok and Jan Nolen. They all look very good with my pick going to Milan Manek.

REMEMBER YOUR CAN ALWAYS CHECK THE OLD WH WEBSITE AT:
NEW SETS AT STR8HELL.COM

Members of str8hell.com get full access to the site and to the full archive of more than 2500 sets on Czech Guys Next Door web site, at:
http://archive.czechguysnextdoor.com/
Non-members can access str8hell.com and browse the complete content, including free video previews and some free photos for each set. Non-members can also search the site, and are able to buy any sets they like, without taking out a full membership. Paying only for the sets you really want to see.
Sincerely
William Higgins

WHVideoShop.com Website Latest Updates


DOWNLOAD OUR VIDEOS IN FULL HD 1920x1080p FROM ALL 6 SITES!
Special Offer for William Higgins Newsletter Readers
William Higgins Newsletter readers are able to obtain a discount on the price of WHVideoShop downloads by using the coupons that we will be publishing in each Members Newsletter. The coupon published in each newsletter will be valid for a period of 7 days.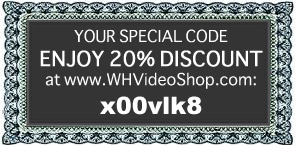 Copy today's coupon code here: x00vlk8

Our Partners:

PLEASE PROCEED TO THE NEXT PAGE FOR THE LATEST WilliamHiggins.com UPDATES