Friday, July 31, 2015 - Wank Party 2015 #05, Part 2 RAW

Wank Party 2015 #05, Part 2 RAW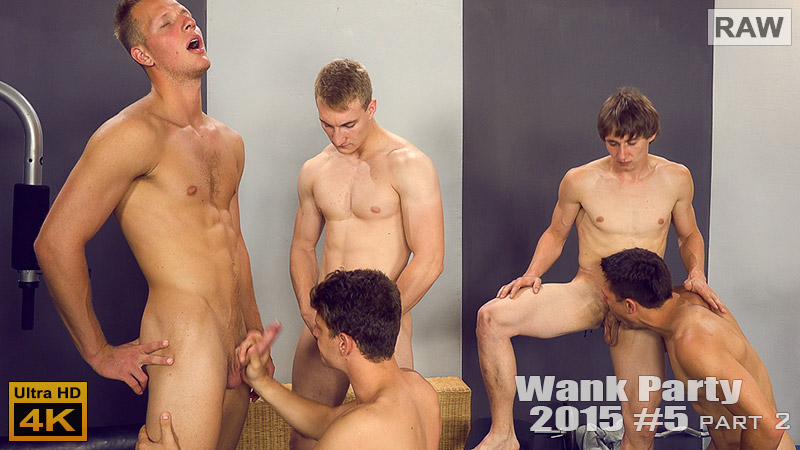 Wank Party 2015 #5 has a great group of guy, Rosta Benecky, Matej Borzik, Lorenc Byro, Robin Valej and Dave Cargo. In this second part we rejoin them as Rosta's hot ass is being fucked deep by Robin. Matej's hole is getting it too, from Dave's massive cock. Dave is fucking deep and hard, his big balls flapping around as well. Lorenc takes over from Robin , shoving his big cock deep into Rosta's eager ass. Lorenc slap that sexy ass to as he fucks hard and fast. Then he gives up the hole for Robin to take over again. Robin pounds Rosta's ass as hard as he can as Dave's pole is still stretching Matej's asshole. Then Dave moves over to fuck Rosta with Robin slipping his dick into Matej's ass. Rosta's big cock is nice and hard as he takes Dave's all the way. Lorenc spanks on Matej's ass and then takes over the fucking from Robin. His cock slams into Matej's hot ass. Matej moves, to lay over an exercise balls with his ass still being stretched by throbbing dick. Rosta moves too, laying on the bench wanking himself as Dave's massive cock slams into his hole. Lorenc is deep in Matej's ass fucking him deep. He pulls out and Robin takes his place. Rosta's dick is rock hard as he wanks it with Dave deep in his ass. Dave's cock is ready to explode and he pulls our and shoots a hot load, with Rosta going down on the dick to suck it dry. Robin pulls out of Matej's ass and both he and Lorenc drop their creamy loads over his back. Then all the guys stand around Matej as he wanks himself to lovely cumshot. They then all crowd into the shower to clean up after a great Wank Party.
... more about Wank Party 2015 #05, Part 2 RAW further in this newsletter

Our Coming Soon Set Preview
Pavel Man is one very sexy guy. We see himllaying on the table waiting for Ivan Mraz to come and massage him. Ivan arrives and gets right to work, taking some cream and beginning to massage Pavel's back. He quickly moves down to the thighs and then removes Pavel's underwear, revealing one very sexy ass. Ivan's hands rub over the ass cheeks and he takes more cream rubbing it into the ass, spreading the cheeks as he does so, giving a view of Pavel's hole. Ivan's cock gets hard as he works and he pulls it out of his underwear and rubs it over Pavel's ass cheeks. He moves Pavel up onto his knees, so the ass spreads naturally, showing off his hole. Ivan rubs his hands over the ass, particularly the hole. Then he slips a finger into the hole and starts fucking in and out. He grabs Pavel's cock, pulling it back between his legs as he wanks on it. Still fingering the hole he then starts wanking himself. He takes a toy and shoves that into Pavel's tight hole, opening it up nicely. Then Ivan removes his own underwear and shoves the dildo back into that hot hole. He fucks the ass with the dildo for a while and then turns Pavel over. Pavel lays on the bed as Ivan plays with his cock, wanking it and then, when it is rock hard, sucking it too. His head bobs up and down on Pavel's cock and then he turns him over again. This time when Ivan spreads those cheeks he leans down and tongues the hole. Then he straddles Pavel and positions his own stiff dick against the tight hole. He rubs the cock against the hole and then slips it inside. Ivan fucks Pavel's sexy ass, thrusting his cock in nice and deep. He works that hole real well, moving Pavel onto his knees again, so he can fuck even deeper. That hole gets stretched nice and wide as Ivan's throbbing cock rams in and out. Then Pavel turns over, into missionary position, wanking himself hard and fast as Ivan continues to fuck him. Ivan keep up his fucking and Pavel soon shoots his creamy load with that cock deep in his ass. Ivan keeps fucking until his load is ready too, then he pulls out and shoots his creamy cum over Pavel's cock and balls. Having milked his cock dry Ivan leans forward and kisses Pavel at the end of a very hot session.

OPEN SET WINDOW

Trailer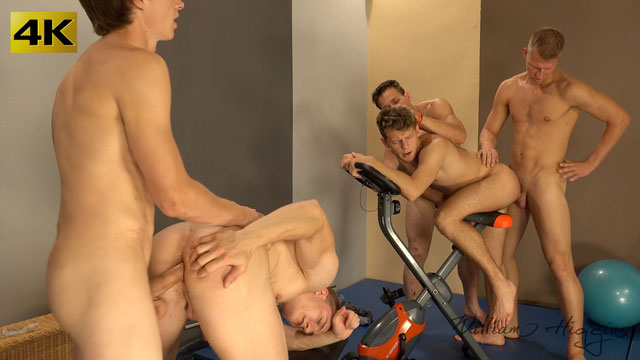 Vlog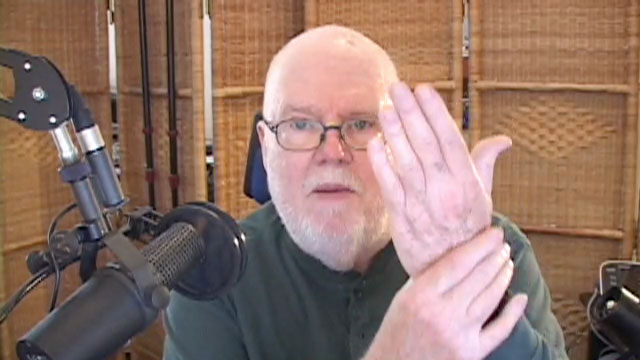 You can watch my Vlog for this Newsletter by clicking above or by going over to the Blog :
http://www.wheuro.com/?p=14846
I went to my regular orthopedic surgeon yesterday for another shot and examination. Today I feel much better. I can't walk without crutches, however. He told me an operation might/probably would be required. I came back yesterday evening feeling like shite and cancelled my Ludwig Castle tour. Feeling much better today, I reconsidered. One of my business colleagues has kindly contributed a three seat VW van for the trip, as there are five largish girls involved. Thank you colleague, very much. I went to the mobility store and purchased a super stout knee brace in order to avoid any more injuries during the trip. I'm going to try to sweet talk the doctor into one more shot just before I start the trip. And I'll do the operation, which he assured me is not serious upon my return. I researched and found at least two of the castles are wheel chair accessible. I'm considering renting one of these contraptions for the trip CLICK HERE. I've toured lots of castles in my day and know I could never walk through even one of them on crutches. The irony is, I injured myself getting fit to make this trip. Go figure.
Part 2 of Wank Party 2015 #5 leads off today's newsletter, with a stellar cast and some great sex. That is followed by Martin Rezac with his erotic video and then Petr Roland in his session stills.
Our castings today are Kuba Janecek, Leo Kolak and Lukas Golab. That is a good selection today. My pick for today is Kuba Janecek.
REMEMBER YOUR CAN ALWAYS CHECK THE OLD WH WEBSITE AT:
NEW SETS AT STR8HELL.COM

Members of str8hell.com get full access to the site and to the full archive of more than 2500 sets on Czech Guys Next Door web site, at:
http://archive.czechguysnextdoor.com/
Non-members can access str8hell.com and browse the complete content, including free video previews and some free photos for each set. Non-members can also search the site, and are able to buy any sets they like, without taking out a full membership. Paying only for the sets you really want to see.
Sincerely
William Higgins

WHVideoShop.com Website Latest Updates


DOWNLOAD OUR VIDEOS IN FULL HD 1920x1080p FROM ALL 6 SITES!
Special Offer for William Higgins Newsletter Readers
William Higgins Newsletter readers are able to obtain a discount on the price of BURNDVD downloads by using the coupons that we will be publishing in each Members Newsletter. The coupon published in each newsletter will be valid for a period of 7 days.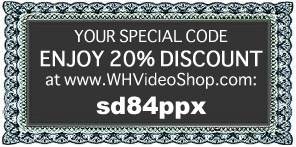 Copy today's coupon code here: sd84ppx

Our Partners:

PLEASE PROCEED TO THE NEXT PAGE FOR THE LATEST WilliamHiggins.com UPDATES