Friday, October 30, 2015 - Wank Party 2015 #08, Part 2 RAW

Wank Party 2015 #08, Part 2 RAW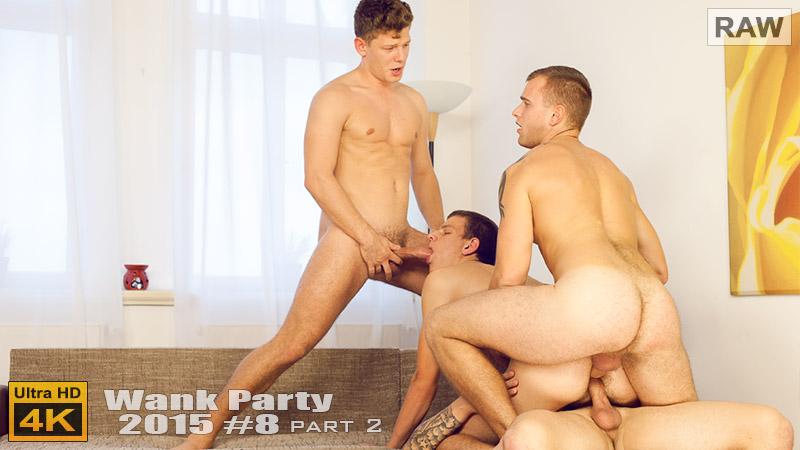 Part two of Wank Party 2015 #8, featuring Rosta Benecky, Alex Stan, Marion Anel and Roco Rita sees Roco having his ass fucked nice and deep by Marion as Rosta sits and rides on Alex's stiff cock. Marion pounds his throbbing cock deep into Roco's ass as Rosta's hard cock flails around as he rides on Alex. The guy moan as they enjoy the hard sex. Roco's fat cock lays on his belly as Marion keeps up his hard fucking. Alex's dick feels Rosta's ass sliding up and down on the shaft. Then Alex starts fucking upwards into the ass, stretching the hole wide. Roco turns over, onto his knees, spreading his ass wide as Marion's dick works his hothole. Rosta then lays on his back to get more of Alex's dick deep in his ass. Then Marion and Alex change partners. Marion's cock slams into Rosta's eager hole as Alex mounts and rides Roco's ass. Rosta grabs his big cock and wanks it as Marion fucks him deep. Soon Rosta shoots his hot load all over the place as he takes Marion's dick deep in his ass. Then Alex and Mation lay so their cocks are together and Roco sits down on both of them. His ass takes the two cocks at the same time. His hole is stretched wide by both cocks as he rides up and down on them. Then he sits on Marion's cock and Alex gets behind him and shoves his dick in that hole as well. He fucks his dick in that hole, rubbing it against Marion's. The two cocks fuck Roco's hole, and he takes it so well. Then Roco kneels over Alex, wanking himself as Marion slides his dick into Alex. Alex wanks himself as he gets fucked deep andhard. Rosta's massive cock is still hard after cumming and hangs next to Alex's face. With Marion fucking him hard Alex keeps up his wanking until he blows his hot load, moaning loudly as he releases his cum. He keeps wanking to milk all the juice out as Roco wanks hard and fast, with Marion continuing to fuck. Marion pulls out of Alex's ass and shoot his cum over the cock and balls. Then Roco is ready too and he dumps his hot load over Alex's shoulder and arm. After a really hot fuck session they all kiss to end a great Wank Party.
... more about Wank Party 2015 #08, Part 2 RAW further in this newsletter

Our Coming Soon Set Preview
Andrej Lamos is having a fine time enjoying his sexy reflection in the mirror. He opens his shirt and rubs his chest as he keeps watching himself. Then he takes off the shirt and grabs his groin, gyrating his hips. He also kisses his reflection as he feels his body. Opening his jeans he pulls out his already hard cock. He takes hold of the cock and starts to wank it as Ivan Mraz arrives. Ivan kisses Andrej's sexy chest and licks his neck before kissing him. He licks the chest and biceps before taking hold of Andrej's rock hard cock. He goes down on the cock and sucks it into his eager mouth. Ivan's head bobs on the cock and he licks Andrej's balls too. As he sucks on Andrej's dick Ivan wanks his own, which is very hard too. He cups Andrej's big balls and keeps sucking on the dick. Then Ivan stands and helps Andrej out of his jeans before leading him to the bed. Ivan lays on the bed and Andrej straddles him, sliding his cock back into the mouth for more suckng. Andrej's hot hole is on show as his cock gets sucked deep into Ivan's mouth. Ivan wanks himself all the while as he gorges on Andrej's throbbing cock. Andrej is enjoying being sucked and scoots around, sliding his dick back into Ivan's mouth. He leans over and takes Ivan's stiff dick into his mouth too. Andrej's cock is feeling so good, but needs more, so Ivan presents his ass and that dick slides deep inside. Andrej fucks Ivan's tight hole deep and hard making him moan as he takes it all. Andrej really pounds that hole and then lays down for Ivan to sit on his dick and get some more. Ivan rides the stiff cock, his tight hole sliding up and down on the shaft. As he rides the cock Ivan grabs his dick and wanks it until he shoots his hot cream all over Andrej's chest. Then he lays on the bed so that Andrej can continue to fuck his ass. Andrej works his dick deep into Ivan's ass, fucking him hard and fast. Soon he is ready too and pulls out to shoot his creamy load over Ivan. Then, having milked all the juice from his cock Andrej leans over and kisses Ivan after a real hot fuck.

OPEN SET WINDOW

Trailer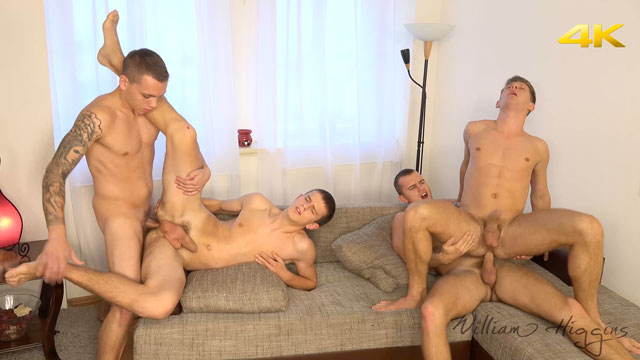 Vlog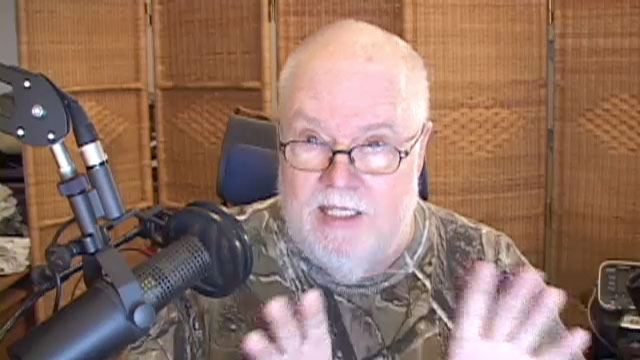 You can watch my Vlog for this Newsletter by clicking above or by going over to the Blog :
http://www.wheuro.com/?p=15275
Sometimes I'm asked why no one ever tries to mug me on the street. The answer is: wherever I go, I'm always watch over by a quasi-feral, vicious guard dog: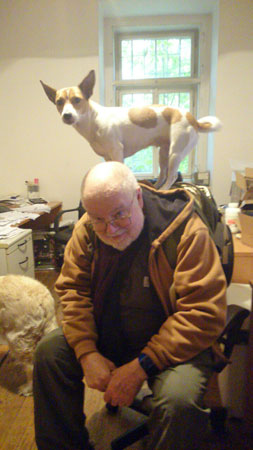 Part Two of Wank Party 2015 #8, with Marion Anel, Rosta Benecky, Alex Stan and Roco Rita leads off today, and what a great scene it is too. Then we see Radas Felix in a very nice erotic video. He is followed by Milan Stanecek with his stills shoot.
Our castings today are Milev Sokol and Radas Felix. That is two very good candidates today, with my pick going to Radas Felix.
REMEMBER YOUR CAN ALWAYS CHECK THE OLD WH WEBSITE AT:
NEW SETS AT STR8HELL.COM

Members of str8hell.com get full access to the site and to the full archive of more than 2500 sets on Czech Guys Next Door web site, at:
http://archive.czechguysnextdoor.com/
Non-members can access str8hell.com and browse the complete content, including free video previews and some free photos for each set. Non-members can also search the site, and are able to buy any sets they like, without taking out a full membership. Paying only for the sets you really want to see.
Sincerely
William Higgins

WHVideoShop.com Website Latest Updates


DOWNLOAD OUR VIDEOS IN FULL HD 1920x1080p FROM ALL 6 SITES!
Special Offer for William Higgins Newsletter Readers
William Higgins Newsletter readers are able to obtain a discount on the price of BURNDVD downloads by using the coupons that we will be publishing in each Members Newsletter. The coupon published in each newsletter will be valid for a period of 7 days.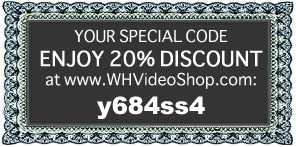 Copy today's coupon code here: y684ss4

Our Partners:

PLEASE PROCEED TO THE NEXT PAGE FOR THE LATEST WilliamHiggins.com UPDATES