Friday, December 30, 2016 - Xmas Wank Party 2016, Part 2 RAW

Xmas Wank Party 2016, Part 2 RAW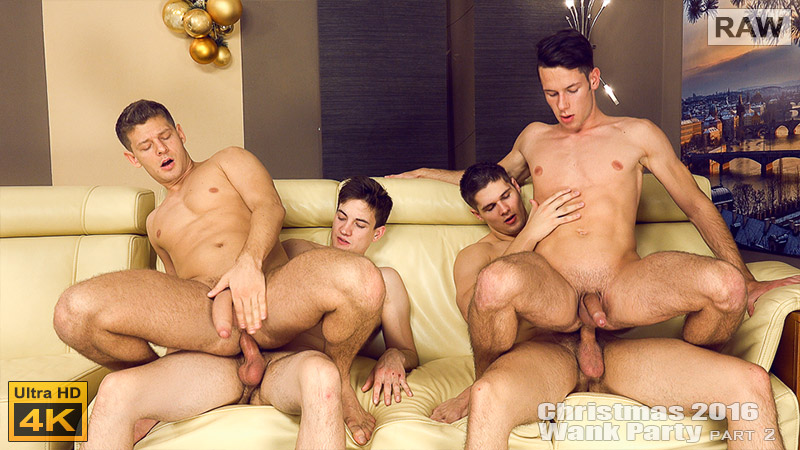 In part two of Christmas Wank Party 2016 we have Rosta Benecky, Tomas Fuk, Kuba Neval and Adam Rezal. Kuba is rimming Adam as Tomas Rims and sucks Rosta. Then each pair kiss as they transition into fucking. Rosta moves onto his knees as Adam lays on his back. Kuba slides his stiff cock into Adam's waiting ass as Tomas starts to fuck Rosta's hot hole. They moan as the fucking heats up. Adam's dick really stretches Adam's tight ass and Tomas pounds away at Rosta's. Kuba holds onto to one of Adam's feet as he dick slams in and out of the eager hole. Rosta moans so loudly as Tomas fucks him so hard and fast. Adam's dick is hard as Kuba keeps fucking him. Tomas' cock goes deep into Rosta's hole as he keeps up the hard fucking. Then he pulls out and kisses Rosta as partners are swapped. Kuba and Tomas sit so that Rosta and Adam can sit on the waiting cocks. They each slide up and down on the stiff dicks. Kuba wanks Rosta's massive cock as the ass slides up and down on his. Adam rides Tomas' cock with his own cock flailing about. Tomas runs his hands all over Adam's sexy chest as the ass works all over his cock. Then Rosta and Adam lay son their sides for Kuba and Tomas to spoon them. Adam wanks his dick hard and fast as Tomas pummels his hot hole. His cock releases the hot cum as Tomas is deep in hishole. Adam milks all the cum from his cock as his hole continues to take Tomas big cock. Rosta moans loudly as he is fucked deep by Kuba. He wanks his big dick too as he takes the cock in his hole. Rosta's wanking soon induces the hot cum out of his cock as Kuba's dick is deep in his ass. Kuba pounds the tight hole and them pulls out to shoot his creamy cum all over Rosta's cock and balls. Then the two of them kiss again. Meanwhile Tomas continues to pound Adam's hole until he is ready to blow too. With his balls so tight he pulls out and dumps his cum over Adam's sexy ass. Tomas turns his head and kisses Rosta and Kuba moves over to kiss Adam to end a great Wanky Party.
... more about Xmas Wank Party 2016, Part 2 RAW further in this newsletter

Our Coming Soon Set Preview
We have Nikol Monak getting his cherry well and truly busted today. We have seen Nikol many time, and he is a great top. But in this seen he gives up his ass to Boda Gold. The guys start off on the bed, kissing each other. Then Boda works his way down Nikol's body and opens his pants. Soon Nikol's big cock is out and being sucked by Boda, who does a great job on it. His hot mouth works that cock so well. Then it is Nikol's turn and Boda kneels and pulls his hard cock out. Nikol gets straight to work on the big cock before then get fully naked and move to 69. With Boda on top they suck each other's throbbing cocks. Then Boda move to lay next to Nikol as they continue sucking each other. Nikol then presents his hot, unused, ass and Boda's tongue laps at it rimming the hole real good. With the hole prepared he kneels behind Nikol and slides his big cock deep into the waiting hole. Boda fucks that hot ass deep with long thrusts as Nikol's face shows that he is feeling it. Boda continues to fuck the tight ass, moving to spoon. Nikol moans as he feels the dick deep in his ass. He grabs his own cock and wanks it hard until he shoots his hot cum. Then Boda continues to fuck until he pulls out to shoot his load too.

OPEN SET WINDOW

Trailer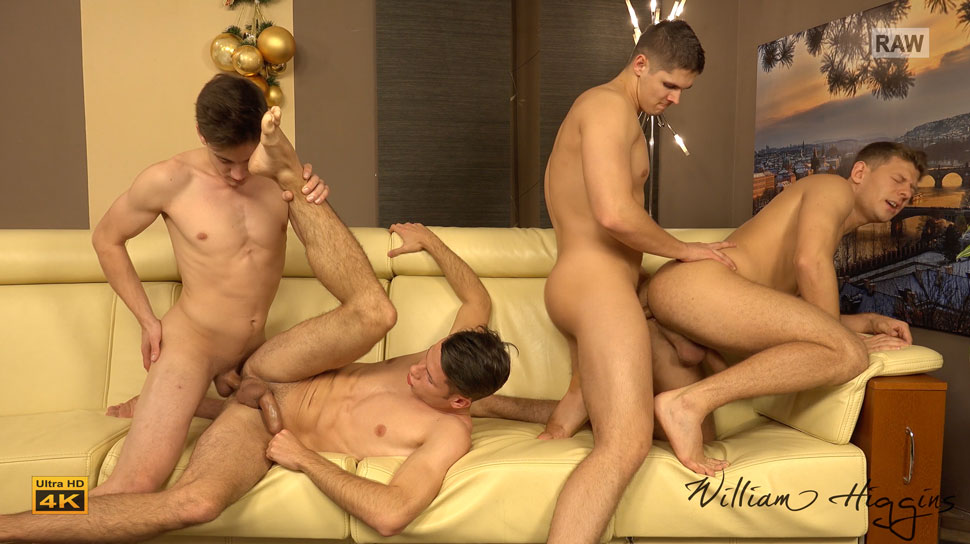 Vlog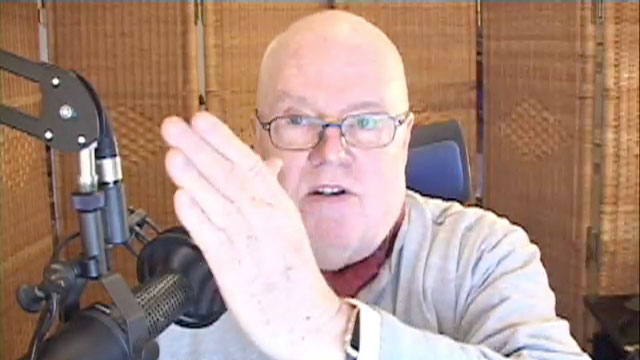 You can watch my Vlog for this Newsletter by clicking above or by going over to the Blog :
http://www.wheuro.com/?p=17080
Very Happy New Years
This has been a really eventful year for me. I started out the year wheelchair bound, underwent a very serious knee replacement, resulting in a heart attack. Now by the end of the year, I feel fully recovered and great. Even with all of that 2016 has just whizzed by. We all hope you've enjoyed the site over the last year. And wish you many more hours of pleasurable viewing in 2017. Meanwhile, I and the full crew, say 'goodbye' to 2016 and wish you a Very Happy New Years.
We have a great line-up for our final newsletter of 2016. We start with part two of our Christmas Wank Party, with Rosta Benecky, Kubal Neval, Tomas Fuk and Adam Rezal. Then we have Mirek Toman in his erotic video and Milan Kucera with his session stills shoot. We also have a bonus set, a backstage video of an airport security scene that appeared a while back on str8hell.com, featuring Petr Cisler and Milan Pokorny.
For our castings today we have two very handsome guys, Oleg Makarov and Svetlim Maly. Both guys look very good but my pick will go to Oleg Makarov. We have already posted his stills shoot and his erotic video, so if you haven't already seen them be sure to check them out.
REMEMBER YOUR CAN ALWAYS CHECK THE OLD WH WEBSITE AT:
NEW SETS AT STR8HELL.COM

Members of str8hell.com get full access to the site and to the full archive of more than 2500 sets on Czech Guys Next Door web site, at:
http://archive.czechguysnextdoor.com/
Non-members can access str8hell.com and browse the complete content, including free video previews and some free photos for each set. Non-members can also search the site, and are able to buy any sets they like, without taking out a full membership. Paying only for the sets you really want to see.
Sincerely
William Higgins

WHVideoShop.com Website Latest Updates


DOWNLOAD OUR VIDEOS IN FULL HD 1920x1080p FROM ALL 6 SITES!
Special Offer for William Higgins Newsletter Readers
William Higgins Newsletter readers are able to obtain a discount on the price of BURNDVD downloads by using the coupons that we will be publishing in each Members Newsletter. The coupon published in each newsletter will be valid for a period of 7 days.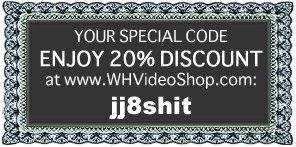 Copy today's coupon code here: jj8shit

Our Partners:

PLEASE PROCEED TO THE NEXT PAGE FOR THE LATEST WilliamHiggins.com UPDATES