Friday, February 26, 2016 - Wank Party 2016 #02, Part 1 RAW

Wank Party 2016 #02, Part 1 RAW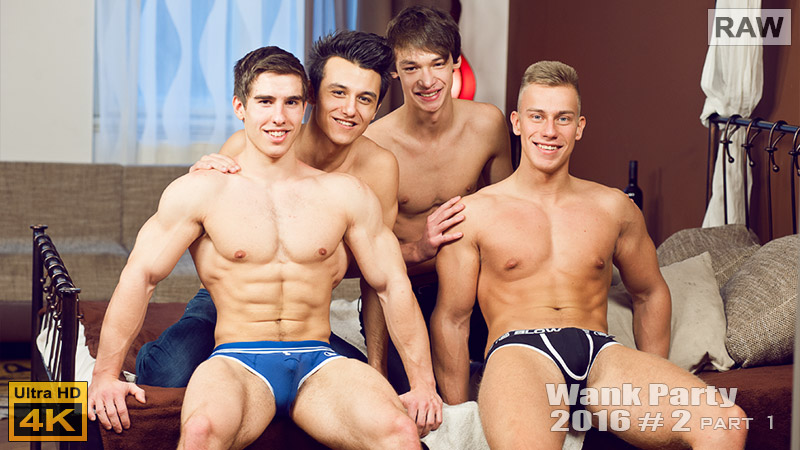 In Wank Party 2016 #2 we have Petr Plodner, Bradley Cook, Erik Drda and Petr Cernyka. In part one we find Bradley and Erik on the bed chatting. Erik is rubbing Bradley's legs and telling him good they are. they decide that they are tired from the gym and need to be massaged. So they call over the two Petrs who are sitting on the sofa and ask them to oblige. Petr P gets between Erik's legs and begins to massage them as Petr C does the same with Bradley. Eirk's cock looks hard in his underwear and Petr P's hands are soon feeling it as he massages the thick thighs. Petr C does the same to Bradley's large bulge too. Eriks is quite chatty asking Petr P about his massage experience and inviting the guys along to fitness with them. Petr P pulls on Erik's waistband and releases his swollen cock as Petr C does the same with Bradley. Both cocks look so good as the guys take them in hand. Petr C leans over and licks Bradleys cock and is followed by Petr P who licks and sucks on Erik's hard dick. He is greedy for cock and is soon leaning over and sucking Bradley's cock too. Then he encourages Petr C to have a taste of Erik's cock before they each return to their original choices. Their mouth work on the big hard cocks as Bradley and Erik lay their enjoying the attention. The underwear is removed from Erik and Bradley and the sucking on their cocks continues with Bradley pushing Petr C's head further down on his. Then Petr P moves up and kisses Erik and Petr C follows suit with Bradley before returning to the sucking. Petr P kisses up and down Erik's shaft and onto his balls and then sucks on the big head again. Petr C is engrossed in his sucking taking Bradley's big fat cock deep into his mouth. Bradley and Erik really enjoy all the attention being given to their cocks, with the promise of much more to come in part 2.
... more about Wank Party 2016 #02, Part 1 RAW further in this newsletter

Our Coming Soon Set Preview
Mattias Solich and Tom Vojak are having a good time, sitting on the sofa and kissing each other. Mattias removes Tom's tee shirt and begins to suck on a nipple as he rubs Tom's cock through his jeans. Then Tom removes Mattias' tee shirt as well and returns the favor by sucking a nipple as well. They continue rubbing each other and kissing as Mattia's pulls out Tom's rock hard cock and wanks on it. He sucks the nipple and works his way down to that big, hard, cock and takes it in his mouth. Tom rubs his hands over Mattias who keeps sucking on the big dick, alternating with chewing a nipple as well. They soon get naked and Mattias kneels on the sofa so that Tom can suck his cock. He sucks it real good as his own massive dick gets wanked. Then he lays down and Mattias climbs overhim to 69. They suck each other, with both cocks so hard. Mattias moves onto his knees, his sexy ass exposed, so that Tom can rim the hot hole. Tom's tongue laps at the hole and soon he slides a finger in as well. He fingers the hole a bit and then shoves his thick, hard, meat deep inside. Mattias breathes heavily as Tom's massive cock fucks him nice and deep. Mattias reaches between his legs and pulls on his own cock as Tom's pounds into his eager hole. Mattias can take a lot of cock and moans as Tom's pole keeps working his ass. He turns over so that Tom can fuck him missionary style. The hole is opened wide as Tom's cock slides in and out, going deep. Mattias wanks his cock as his ass gets a real good fucking. He continues to wank himself and releases his hot, creamy load onto his belly as Tom fucks him hard and fast. The Mattias moves along the sofa, still on his back and Tom stands up to shove his dick back into the sexy ass and fucks it even harder. He holds onto to one leg as his dick pounds the ass and then he pulls out to wank himself to a lovely cum shot, shoot his load all over Mattias' balls. Then he leans over and kisses Mattias before taking him off to the shower so they can both clean up.

OPEN SET WINDOW

Trailer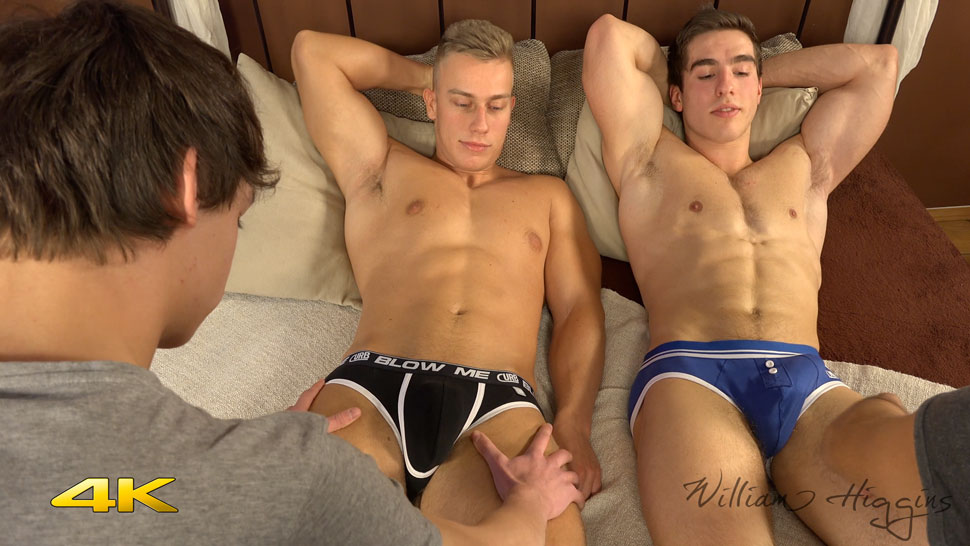 Vlog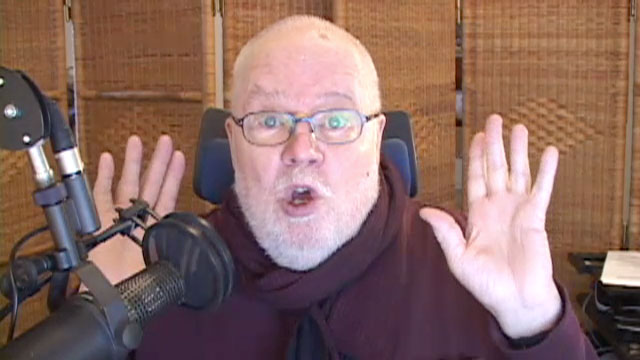 You can watch my Vlog for this Newsletter by clicking above or by going over to the Blog :
http://www.wheuro.com/?p=15826
It's another beautiful early spring day in Prague today. So far, I've passed the pre-op physicals and the partial knee replacement operation is still on for March 14th. I might be away in therapy for as long as three weeks. I'll give updates via twitter:
https://twitter.com/williamhiggins
Today, we publish Part One of our Wank Party Two for 2016. Amazingly the episode features two great, great beauties, Bradley Cook and Erik Drda who have hesitated because they refuse to do anything 'too gay.' Apparently, 'too gay' does not apply to anal. I'm sure we'll all follow their progress across the bridge with great anticipation.
We have a really great line-up in Wank Party 2016 #2, with Erik Drda, Bradley Cook, Petr Poloda and Petr Cernyka. We see them in part one today, having a very good time indeed. The Wank Party is followed by Cunek Boda in his erotic video and then by Martin Polnak with his session stills shoot.
We have two very good castees in Dan Klocur and Peter Salvia. Each looks great as they get naked for us, with my pick going to Dan Klocur.
REMEMBER YOUR CAN ALWAYS CHECK THE OLD WH WEBSITE AT:
NEW SETS AT STR8HELL.COM

Members of str8hell.com get full access to the site and to the full archive of more than 2500 sets on Czech Guys Next Door web site, at:
http://archive.czechguysnextdoor.com/
Non-members can access str8hell.com and browse the complete content, including free video previews and some free photos for each set. Non-members can also search the site, and are able to buy any sets they like, without taking out a full membership. Paying only for the sets you really want to see.
Sincerely
William Higgins

WHVideoShop.com Website Latest Updates


DOWNLOAD OUR VIDEOS IN FULL HD 1920x1080p FROM ALL 6 SITES!
Special Offer for William Higgins Newsletter Readers
William Higgins Newsletter readers are able to obtain a discount on the price of BURNDVD downloads by using the coupons that we will be publishing in each Members Newsletter. The coupon published in each newsletter will be valid for a period of 7 days.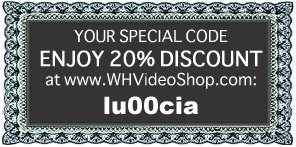 Copy today's coupon code here: lu00cia

Our Partners:

PLEASE PROCEED TO THE NEXT PAGE FOR THE LATEST WilliamHiggins.com UPDATES