Friday, January 29, 2016 - Wank Party 2016 #01, Part 1 RAW

Wank Party 2016 #01, Part 1 RAW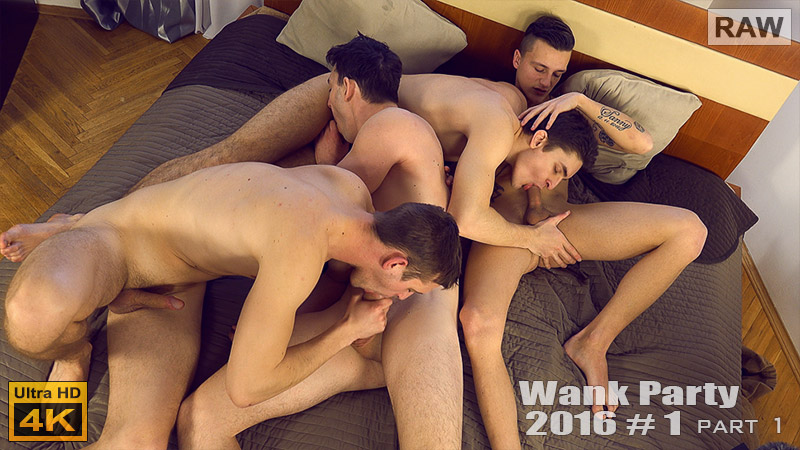 In Wank Party 2016 #1 we have Peter Andre, Milen Petrof, Petr Cisler and Anton Sanek. In this first part we see Milen and Peter as they sit on the sofa playing a game on Milen's phone. Petr and Anton are stills sleeping and Milen and Peter go to wake them. Pulling off the blanket show that Petr and Anton are both naked and the others begin to run their hands over the bodies. Petr and Anton wake and turn over and they begin kissing Milen and Peter. Milen and Peter remove their shirts and then as their cocks get hard the pants come off too. Anton starts to suck on Peter's cock as Petr does the same to Milen. Anton's hot mouth licks and sucks on Peter's stiff cock and then he kisses him some more. Milen's balls are tight against the base of his cock as Petr sucks him. He fucks the cock into Petr's mouth and then they kiss again. Swapping partners has Anton kissing Milen and wanking on his big cock. Then he goes down to suck it too. Petr does the same for Peter as Anton has a great time on Milen's throbbing cock. Petr's mouth does a great job at sucking Peter. Anton's hand grabs Milen's hairy balls as he sucks on the cock. Then Petr turns and kisses Anton and wanks himself. Milen grabs Anton's dick and wanks it as Peter begins sucking Petr. Milen leans down and takes Anton's rock hard dick in his mouth as Peter continues sucking Petr. Then Petr sucks Peter again and Anton returns to sucking Milen. All change again has Anton and Petr kissing and then Petr sucks him . Milen and Peter kiss each other as Anton leans over to take Peter's dick in his mouth. Milen lifts his legs in the air, as does Peter. That gives access to their asses and Anton starts to rim Milen's hairy hole. Petr rims Peter's ass too, and slips a finger into the hole. Anton sucks on Milen's dick again as Petr continues to rim and finger Petr's sexy ass. Milen's hairy hole gets more of Antons tongue.Milen and Petr wank themselves as their holes feel the hot tongues on them. Then Petr kneels and Anton takes his dick in his mouth to suck it as the other guys start kissing each other to bring part one to a close.
... more about Wank Party 2016 #01, Part 1 RAW further in this newsletter

Our Coming Soon Set Preview
Laco Meido is taking a shower, his cock rock hard as the water cascades down his body. He looks so hot and horny as he enjoys the hot water running over his big cock and his tight balls. There is a knock on the door and he calls out to someone to wait a minute. Then he leaves the shower, wrapping a shower around his waist, and goes to open the door. It is Mattias Solich who has been knocking. Laco invites him in and they start to kiss as Mattias removes the towel. He kisses down Laco's body, sucking on his nipples as he takes hold of the hard cock and gently wanks it. He reaches the cock and starts to lick and suck it. He takes the throbbing cock in his mouth and sucks it making Laco feel so good. Then they move into the living room and Laco pushes Mattias down onto the sofa and kisses him. Mattias removes his tee shirt, exposing his massive chest. His jeans are opened to reveal his stiff cock too. Laco eagerly sucks on that cock, wrapping his lips tight around the head. As he sucks on Mattias cock Laco also runs his hands over the sexy body. Mattias' jeans are removed too, and Laco licks all over the this shaft of his cock. Mattias pushes Laco's head down on his thick cock, and he sucks it deeper into his mouth. His head bobs on that cock enjoying it all. Then Mattias lifts his legs to expose his hot hole. Laco's tongue gets right to work on that hole, lapping at it. He licks the hole and sucks the cock some more. Then he presents his cock to the hole, rubbing against it and pushing deep inside. Mattias moans as he feels his ass filled by Laco's rampant dick. Mattias grabs his own cock and rubs it as his ass gets a nice slow fucking. Laco speeds up his fucking working that hole real good. Mattias' cock stays fock hard and he wanks it as Laco fucks him. Laco leans over and kisses Mattias again as he keeps up with the fucking. His cock is so deep in that hot ass as Mattias' balls are tight against his shaft. Mattias turns over, onto his knees, with Laco behind him fucking him deep. He really works that hole and then pulls out to lay down so that Mattias can ride that dick. His hot ass envelopes the throbbing cock, sliding up and down on it. As he rides on Laco's cock Mattias wanks himself and shoots his hot cum over his friends sexy body. Then he comes off the cock and licks Laco's balls. Laco wanks his meat as Mattias sucks on the balls, and soon the hot cum explodes out of the cock and shoot up that sexy body. Laco milks every last drop out of his cock and Mattias leans over and kiss him again to end a very hot session.

OPEN SET WINDOW

Trailer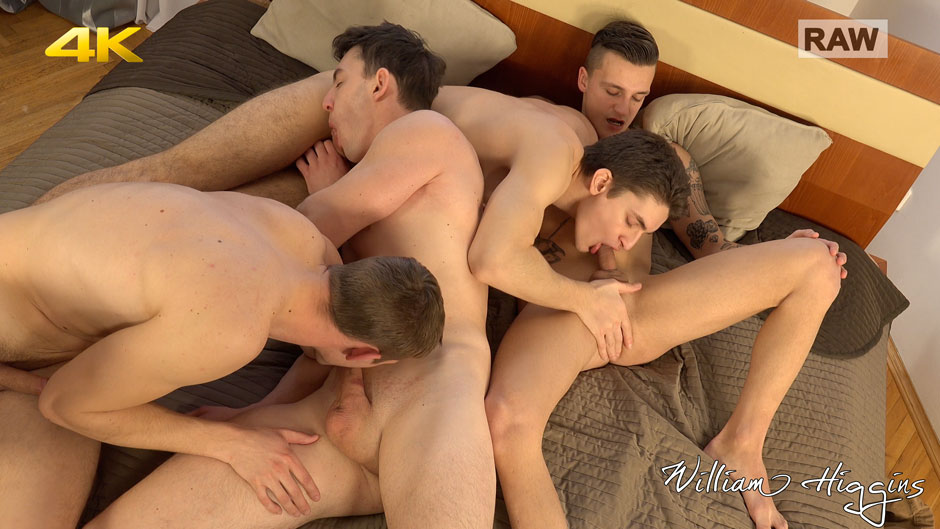 Vlog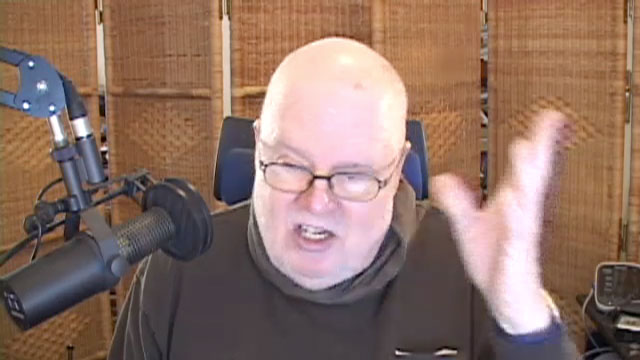 You can watch my Vlog for this Newsletter by clicking above or by going over to the Blog :
http://www.wheuro.com/?p=15697
Where has the year gone? We're almost at the end of January, and it seems like yesterday was New Year's Day. Time really flies when you're getting older. This TGIFriday is really a spring day in Prague. It's hard to believe. It's almost shirt-sleeve weather outside. I have no idea what the rest of winter has in store for us.
Leading off today is a great cast in part one of Wank Party 2016 #1. That is followed by Jan Matiovsky with his erotic video and then Stepan Tokaj with his session stills shoot.
We have two very good castees in Boda Gold and Bedrich Zeman. Both guys look great, but as we have already seen Boda with his solo shoot I will choose him as my pick for today.
REMEMBER YOUR CAN ALWAYS CHECK THE OLD WH WEBSITE AT:
NEW SETS AT STR8HELL.COM

Members of str8hell.com get full access to the site and to the full archive of more than 2500 sets on Czech Guys Next Door web site, at:
http://archive.czechguysnextdoor.com/
Non-members can access str8hell.com and browse the complete content, including free video previews and some free photos for each set. Non-members can also search the site, and are able to buy any sets they like, without taking out a full membership. Paying only for the sets you really want to see.
Sincerely
William Higgins

WHVideoShop.com Website Latest Updates


DOWNLOAD OUR VIDEOS IN FULL HD 1920x1080p FROM ALL 6 SITES!
Special Offer for William Higgins Newsletter Readers
William Higgins Newsletter readers are able to obtain a discount on the price of BURNDVD downloads by using the coupons that we will be publishing in each Members Newsletter. The coupon published in each newsletter will be valid for a period of 7 days.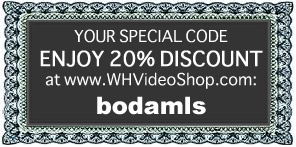 Copy today's coupon code here: bodamls

Our Partners:

PLEASE PROCEED TO THE NEXT PAGE FOR THE LATEST WilliamHiggins.com UPDATES