Tuesday, March 29, 2016 - Jindra and Martin RAW - FULL CONTACT

Jindra and Martin RAW - FULL CONTACT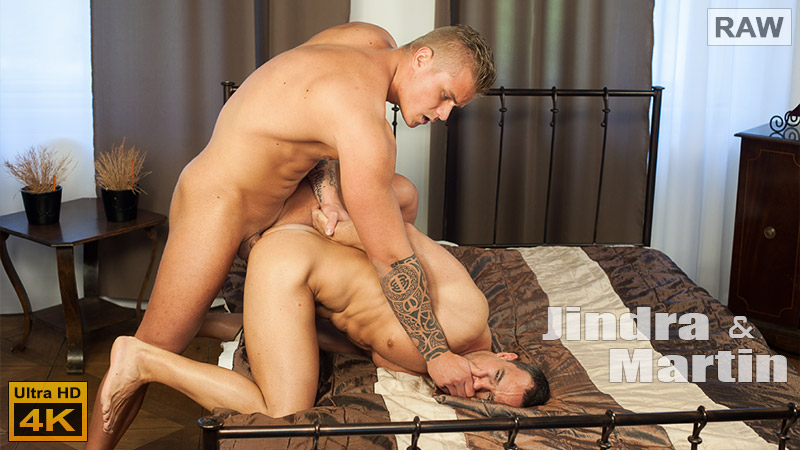 Jindra Durek and Martin Porter are getting to grips with each other, with the barechested Jindra nibbling at Martin's neck. They feel each other as Martin turns his head and kisses Jindra. Martin's tee shirt comes off so they are both barechested as Jindra rubs his hands all over Martin's chest and then opens his jeans too, reaching for his stiff cock. Martin joins Jindra on the bed and they kiss some more. Martin removes his jeansand then opens Jindra's pulling his cock out and starts to suck on it. His mouth works on the cock as he grabs Jindra's balls too. He has a good time sucking that cock and then mores over to the closet with Jindra sucking on his cock. Martin moans as he feels the hot mouth working in his dick. They go back to the bed for a 69 with Jindra on top. Jindra moves and pulls Martin's ass in the air. His tongue starts working on the hot hole, lapping at it and then probing it with his finger. He turns Martin over onto his knees and slides his rock hard cock deep into that hot ass. Martin moans loudly as the cock slams into his hole. Holding Martins wrists Jindra pounds away at the hot ass, covering Martin's mouth to limit his moans. Then they move to spoon position with Martin wanking his stiff cock as Jindra continues to fuck ass real deep. Jindra moves to missionary position and fucks the ass real deeply as Martin keeps up his wanking. Jindra lays down and Martin climbs onto his cock, sliding his ass up and down on it, wanking himself all the time. His wanking speeds up as Jindra fucks the asa, and Martin dumps a huge creamy load, the hot cum sticking to his cock and his hand. Jindra is ready too and pulls out of that hot ass and shoots his cum all over his belly. Martin lays next to him and they kiss again after a very hot session.
... more about Jindra and Martin RAW - FULL CONTACT further in this newsletter

Our Coming Soon Set Preview
Wank Party 2016 #3 features features Petr Cisler, Rosta Benecky, Petr Plodner and Mirek Madl. We find the two Petrs and Rosta sitting around bemoaning the fact that Mirek is late back from a modelling session. Mirek then arrives, with a box. He explains that he has been given some new underwear. He is already wearing some and strips down to show it off. Then Petr P goes into the box and finds a pair that he wants to try on. He strips too and tries on the new ones. Then Rosta and Petr C decide to do the same. Soon everyone is wearing the new ones and checking out each other and how they fit. They start to feel each other and Petr P kisses Mirek. Mirek leans over and kisses Rosta's body as Petr C kisses Rosta on the mouth. They all rub each other's crotches and kiss and Mirek soon has Petr P's rock hard cock out and is wanking it. Then Petr C's and Rosta's big cocks are out too. Mirek's follows quickly and all four guys are wanking each other. Mirek goes down and starts to suck on Petr P's cock and then turns his head and sucks and wanks on Rosta's big cock too. Then he moves on to Petr C's. he has three throbbing cocks in front of him and sucks each of them in turn. As he sucks the others kiss each other. Then Mirek stands and is replaced by Rosta whos eager mouth gets to work on the hard dicks. Then it is Petr P's turn, he sucks the dicks eagerly and it soon joined by Mirek, so Petr P sucks Rosta and Mirek sucks Petr C. Their mouths work all over the cocks as Roast and Petr C kiss each other again. Then Rosta and Petr C lay on the bed with their legs in the air. Petr P and Mirek kneel, side by side, and start to rim the holes of their friends. Roast and Petr C moan as they feel the hot tongues lapping at their holes. Then the moaning gets louder as fingers are slipped into those tight asses. The fingering and rimming continues, with everyone enjoying the action, setting things up for those holes to be fucked in part two.

OPEN SET WINDOW

Trailer
You can watch my Vlog for this Newsletter by clicking above or by going over to the Blog :
http://www.wheuro.com/?p=15871
Hi everyone, this is Geoff again, while Bill is still in hospital. With Bill back in the original hospital he has started to perk up. Although there was hiatus in his therapy, due to the Easter holidays, he did have some physio yesterday. He also had the staples removed from his knee. Today he should be back on the full recovery regimen so hopefully he will make some good progress. You can follow his posts from hospital on:
https://twitter.com/williamhiggins
https://www.tumblr.com/blog/williamhigginscom
Jindra Durek and Martin Porter serve up a great duo as a great start to today's newsletter. Then we have a submission wrestling match between Petr Cislar and Nikol Monak. We also see Mirek Madl in a helping hand video and then we finish with a lovely stills shoot featuring Martin Plar.
For our castings today we have Dalibor Panak and Mato Tunak. They both look good and have nice large cocks. My pick for today will be Dalibor Panak, but it was close between the two of them.

REMEMBER YOUR CAN ALWAYS CHECK THE OLD WH WEBSITE AT:
NEW SETS AT STR8HELL.COM

Members of str8hell.com get full access to the site and to the full archive of more than 2500 sets on Czech Guys Next Door web site, at:
http://archive.czechguysnextdoor.com/
Non-members can access str8hell.com and browse the complete content, including free video previews and some free photos for each set. Non-members can also search the site, and are able to buy any sets they like, without taking out a full membership. Paying only for the sets you really want to see.
Sincerely
William Higgins

WHVideoShop.com Website Latest Updates


DOWNLOAD OUR VIDEOS IN FULL HD 1920x1080p FROM ALL 6 SITES!
Special Offer for William Higgins Newsletter Readers
William Higgins Newsletter readers are able to obtain a discount on the price of WHVideoShop downloads by using the coupons that we will be publishing in each Members Newsletter. The coupon published in each newsletter will be valid for a period of 7 days.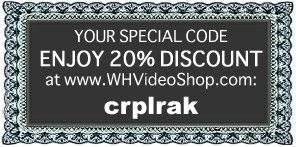 Copy today's coupon code here: crplrak

Our Partners:

PLEASE PROCEED TO THE NEXT PAGE FOR THE LATEST WilliamHiggins.com UPDATES