Friday, October 28, 2016 - Wank Party 2016 #10, Part 2 RAW

Wank Party 2016 #10, Part 2 RAW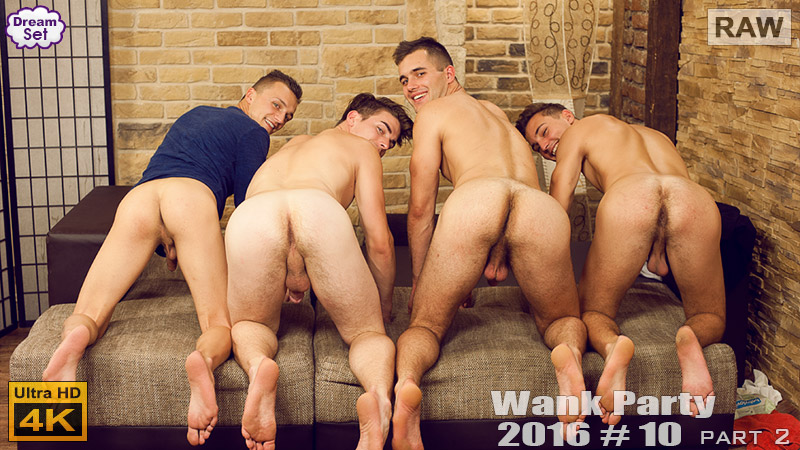 In part two of Wank Party 2016 # 10 we join Dusan Polanek, Martin Polnak, Alan Carly and Peter Andre ad Martin is rimming Alan's eager ass. He stands and slides his throbbing cock into Alan's hole as Dusan and Peter are watching. Dusan reaches over and rubs Alan's ass as he watches the cock fucking it deep. Martin fucks that ass real well and then pulls out, so that Peter's rigid dick can take a turn in the hot hole. Alan moans as he feels the cock pounding his ass. Dusan wants some of that ass too and wanks his hard cock as he watches Peter pounding the hole. Peter then pulls out, making way for Dusan to work his dick into the hole. He fucks Alan deep before moving aside for Martin to take his place. As they keep fucking that hole Alan really gets it good. Then he rims Peter and Dusan in turn as Martin fucks him hard. Peter then sits and has his cock sucked by Alan and wanks Dusan before it is all change again. Peter then fucks Alan while Dusan's dick gets sucked. Alan then lays on his back with Peter fucking him hard. Alan wanks his cock as his hole is fucked hard. Martin and Dusan kneel above him wanking themselves too. Alan's wanking gets hard and Peter pulls out of his ass. Alan's dick releases the creamy cum and the others all kneel over his head wanking hard. Peter is first to shoot his load, dumping the cum on Alan's chest. He milks his cock and rubs it over Alan's chin as Dusan gets ready . His hot cum spurts onto Alan's hairy chest too and he rubs the spent dick on Alan's face. Martin is close too and soon shoots his cum over Alan's face. Alan tells them all how much he enjoyed it and wants it again next year.
... more about Wank Party 2016 #10, Part 2 RAW further in this newsletter

Our Coming Soon Set Preview
Mirek Madl and Marion Anel are enjoying some fun on the bed, kissing each other. Mirek is soon kissing his way down Marion's bared chest and groping his hard cock in his pant. Then Mirek pulls the pants down off Marion's rock hard cock and starts to suck and wank it. He sucks the balls into his mouth too as he enjoys playing with the cock. His hot mouth really works Marion's cock licking around the head and sucking it into his mouth. They both get completely naked and move to 69. Marion shows that he loves cock just as much as Mirek, sucking his buddies' dick deep into his mouth. The Mirek lays on the bed and uses his feet to wanks Marion's cock. Marion needs more than his cock in play though and gets his ass ready. Mirek is ready to oblige and shoves his throbbing cock deep into the waiting ass. He fucks that ass deep and hard as Marion moans. Marion's cock stays hard as his hole is pounded. He moves onto his knees for Mirek to fuck him from behind. Mirek's dick slams in and out of the hot hole, really giving it a good, hard, fuck. Then they switch to missionary position and Marion wanks his dick as Mirek keeps up his hard fucking. Soon Marion dumps his hot cum onto his belly and Mirek fucks even harder, till he is ready too. He pulls out and shoots his creamy load all over Marion's cock and balls. Then the guys enjoy another kiss and go off to the shower to clean up.

OPEN SET WINDOW

Trailer
Vlog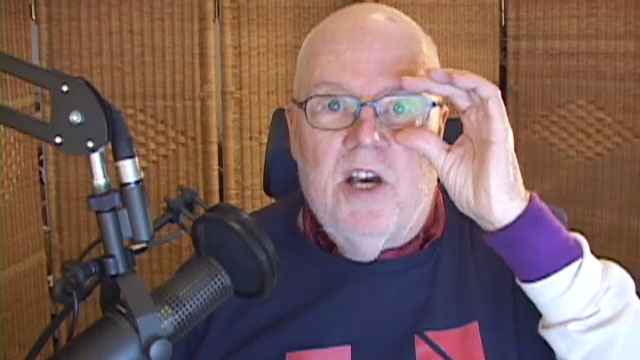 You can watch my Vlog for this Newsletter by clicking above or by going over to the Blog :
http://www.wheuro.com/?p=16835
Today is a national holiday in the Czech Republic, celebration the founding of Czechoslovakia. For years I've thought this holiday a bit ironic. That's because Czechoslovakia no longer exists. The country was broken in two, in part because of a silly dispute over the name.
Now comes another name dispute. The powers that B want the country called "Czechia," instead of the Czech Republic. I remember when the change happened. Everyone just woke up one day to the new name "Czechia." I don't remember any studies, any debate, or any public discussion. Spring forward a few months and the government announced that only the name "Czechia" should be used. I've had to bite my tongue until it bleeds in order to keep my mouth shut. To me, "Czechia" sounds too much like "Chechnya" in Russia. NOBODY would want to be confused with Chechnya. Well, turns out, I am not alone, virtually no one likes the name "Czechia" and even less use it. I can finally come out from under the bed. Today, a couple of newspaper articles were published, my favorite: "Nobody calls it Czechia."
I loved the comment from one man on the street: "Sounds too Eastern." Take a look at the articles:
and
Now I'm pretty sure the name "Czechia" will die a death. Fine, good riddance. Americans can take heart: Not only the USA has stupid politicians.
Election day in the USA is little more than a week away. Be sure to vote. Make sure your vote counts.
Today, our main event is Part Two of another brilliant Dream Set suggested by our stalwart member, Dan. It's the second half of a Wank Party. The object of the episode is Alan Carly who gets grandly fucked on my director's chair. Nice to see the chair being put to good use when I'm not there. I'm happy to say that Alan has joined our staff as an apprentice photographer/ videographer. Alan is hardly an apprentice, however. For a long time he's been keenly interested in photography. Alan not only speaks English flawlessly, after living for a long time on the other side of the Pond, he is a very gentle and nice person. This is another great episode authored by Dan. We're always very happy to receive his ideas. If you have an idea for a Dream Set, please be sure to get in touch with Franky, Curator of the Dream Sets.
I've posted a trailer for this Wank Party on Tumblr. Please take a look.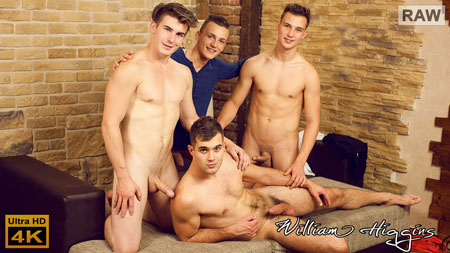 Part two of our Dream Set Wank Party 2016 #10 leads off in today's newsletter. Then we have Jakub Smolik in his erotic video, followed by Dan Bulan with his session stills shoot. We also have a backstage video of Petr Zuska with Erik Drda.
For our castings today we have Martin Polny and Ben Lomb. They both have their attractions but my pick will be Ben Lomb.
REMEMBER YOUR CAN ALWAYS CHECK THE OLD WH WEBSITE AT:
NEW SETS AT STR8HELL.COM

Members of str8hell.com get full access to the site and to the full archive of more than 2500 sets on Czech Guys Next Door web site, at:
http://archive.czechguysnextdoor.com/
Non-members can access str8hell.com and browse the complete content, including free video previews and some free photos for each set. Non-members can also search the site, and are able to buy any sets they like, without taking out a full membership. Paying only for the sets you really want to see.
Sincerely
William Higgins

WHVideoShop.com Website Latest Updates


DOWNLOAD OUR VIDEOS IN FULL HD 1920x1080p FROM ALL 6 SITES!
Special Offer for William Higgins Newsletter Readers
William Higgins Newsletter readers are able to obtain a discount on the price of BURNDVD downloads by using the coupons that we will be publishing in each Members Newsletter. The coupon published in each newsletter will be valid for a period of 7 days.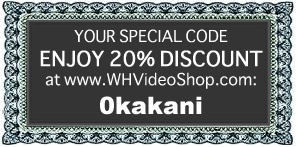 Copy today's coupon code here: 0kakani

Our Partners:

PLEASE PROCEED TO THE NEXT PAGE FOR THE LATEST WilliamHiggins.com UPDATES