Friday, April 28, 2017 - Lada and Tom - Screen Test RAW - FULL CONTACT

Lada and Tom - Screen Test RAW - FULL CONTACT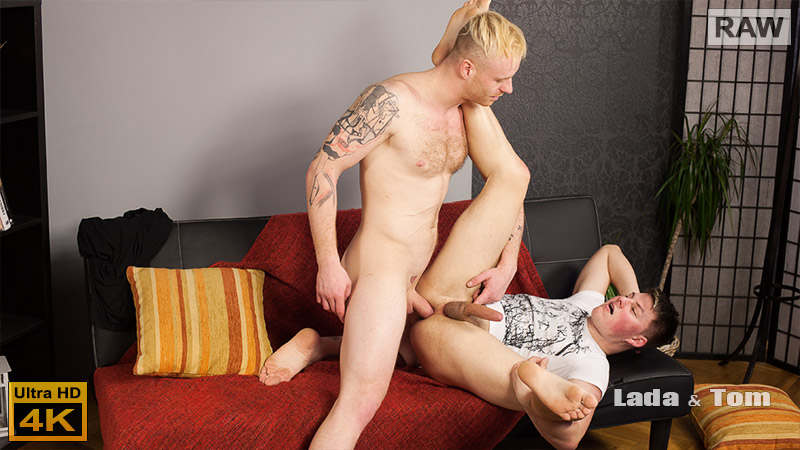 Tom Vojak has found himself a real hottie, for a Screentest, in Lada Jarek. The two of them are kissing and Lada soon works his way down to Tom's massive cock. He takes it in his mouth and sucks it. That cock is a real mouthful but Lada manages to take it. Tom's balls are tight around the base of the thick shaft as Lada's head bobs on the cock. Then Lada stands up and Tom's helps him take down his jeans. Lada kneels on the sofa presenting his sexy ass. Tom spanks the ass and spreads the cheeks to inspect the tight hole. Lada reaches between his legs and pulls on his cock as Tom plays with his ass. Tom's big dick pokes out in front of him as he fingers Lada's hole. He takes off his jeans and climbs over Lada to slide his huge tool into the waiting ass. It goes deep into the hole and Tom begins to fuck . His own sexy ass is spread showing his hole as he fucks Lada deep. He pounds the ass deep and hard, going in right up to his balls. Lada keeps pulling on his cock, getting it hard as he takes that big dick. Then he turns onto his back with Tom between his legs fucking him some more. The huge dick ploughs Lada's ass as he wanks himself. He takes it well and keeps wanking until he dumps his cum, shooting it all over the place. Then he turns over, onto his knees again and Tom slides his dick back inside to fuck until he he ready to blow his load too. Then he pulls out and shoots his hot cream over the sexy ass. Then Lada moves up to kiss Tom as the hottest of scenes comes to an end.
... more about Lada and Tom - Screen Test RAW - FULL CONTACT further in this newsletter

Our Coming Soon Set Preview
Martin Gajda, Peter Lipnik and Alan Carly are chatting as they sit on the sofa. Peter has been keeping fit and the other's are interested to see his body, and his routine. He explains it is about diet and exercise. They get to talking about sex, specifically about with another guy. Peter denies every having done anything with a guy, so Alan and Martin decide to show him. They start to kiss. Then they invite Peter to join in, sitting him between them. Alan kisses him, with Peter responding. Then he turns his head and Martin kisses him. He then shows them his hot chest and Martin and Alan begin to kiss and lick it, sucking on the nipples. Alan removes Peter's pants and they start to rub him through his boxers. Peter's cock is already hard in the underwear and soon it poking out of the top. Alan leans over and starts sucking on the hard cock. Peter's underwear is removed and Alan sucks the cock again as Martin licks the balls. Then Martin takes over sucking the rock hard cock. The two of them take turns sucking and licking Peter's dick and balls. Then Martin and Alan get naked too, both with their cocks rock hard. Peter takes hold of both cocks and wanks them as Martin wanks him. Peter's legs are raised into the air and Alan rims his hot hole aa Martin continues to wank him. Peter is moved onto his knees, with Alan behind him. He slides his fat cock into Peter's tight hole as Martin wanks himself. Peter moans as the cock works his tight hole. Then Alan and Martin change places, with Martin fucking that hot ass as Alan leans back and wanks himself. Peter takes the cock so well and turns over onto his back. Alan fucks him again in that position as Peter wanks his own cock. He moans loudly as his throbbing cock releases a lovely big cumshot, shooting the cream up his chest. Alan keeps up his fuckingand then pulls out to shoot his cum over Peter's balls. Martin takes Alan's place and fucks that ass some more. He pulls out and dumps his come over Peter too. Then they all kiss each other again.

OPEN SET WINDOW

Trailer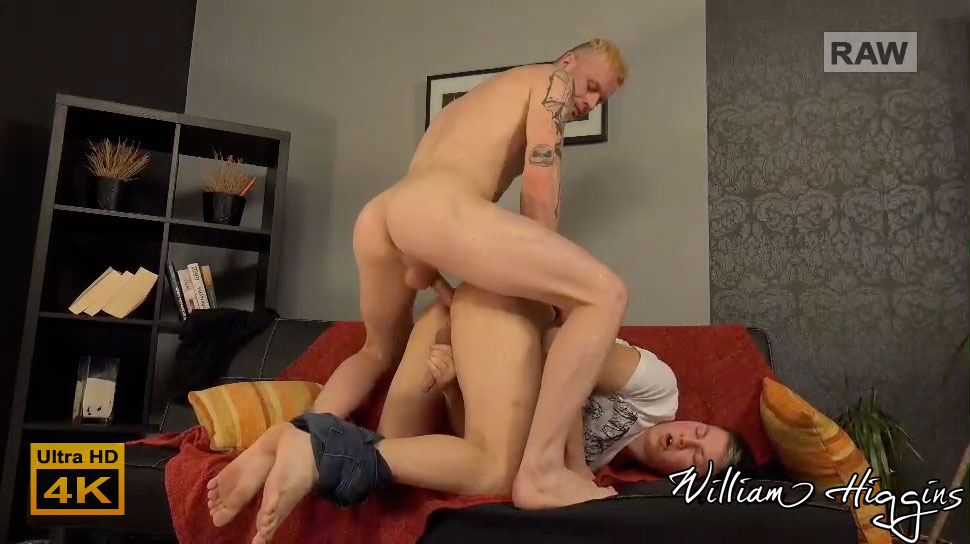 Vlog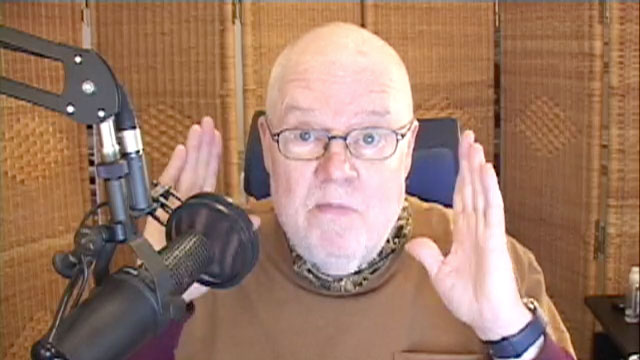 You can watch my Vlog for this Newsletter by clicking above or by going over to the Blog :
http://www.wheuro.com/?p=17569
Yesterday was a very big day on the personal side for me. Afterwards there was a celebration. And today I am completely knackered. And, no, I did not get married. Meanwhile, we have a fantastic Newsletter:
Straight guy Lada Jarek's Screentest, with Tom Vojak gets things started today, and what a great scene it is too. Then we see Tibor Rezak in his solo shoot and video. We also have a lovely bonus shoot from Str8hell.com featuring Lubos Koryz and Mirek Ceslar.
For our castings today we have Ivan Sabado and Milan Gala. That is two great looking guy, and each so different from the other. My pick for today is the very cute Ivan Sabado.
REMEMBER YOUR CAN ALWAYS CHECK THE OLD WH WEBSITE AT:
NEW SETS AT STR8HELL.COM

Members of str8hell.com get full access to the site and to the full archive of more than 2500 sets on Czech Guys Next Door web site, at:
http://archive.czechguysnextdoor.com/
Non-members can access str8hell.com and browse the complete content, including free video previews and some free photos for each set. Non-members can also search the site, and are able to buy any sets they like, without taking out a full membership. Paying only for the sets you really want to see.
Sincerely
William Higgins

WHVideoShop.com Website Latest Updates


DOWNLOAD OUR VIDEOS IN FULL HD 1920x1080p FROM ALL 6 SITES!
Special Offer for William Higgins Newsletter Readers
William Higgins Newsletter readers are able to obtain a discount on the price of BURNDVD downloads by using the coupons that we will be publishing in each Members Newsletter. The coupon published in each newsletter will be valid for a period of 7 days.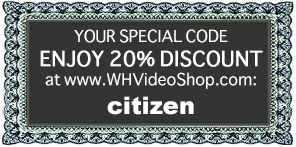 Copy today's coupon code here: citizen

Our Partners:

PLEASE PROCEED TO THE NEXT PAGE FOR THE LATEST WilliamHiggins.com UPDATES