Tuesday, February 28, 2017 - Marion and Martin RAW - FULL CONTACT

Marion and Martin RAW - FULL CONTACT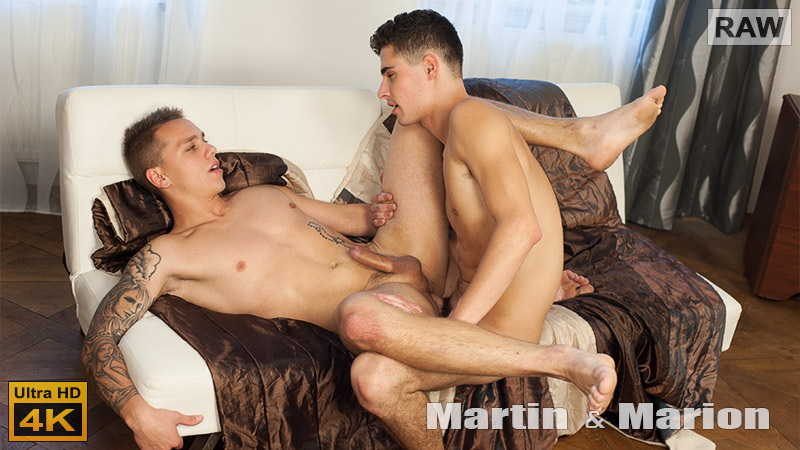 Martin Dorcak and Marion Anel are relaxing on the sofa. Marion's head is resting in Martin's lap. They then begin to kiss, with Martin laying on top of Marion. As he kisses him Martin releases Marion's cock from his pants and licks at it. He licks Marion's balls too and then wanks on the cock as they kiss again. Working his way back down to the cock Martin begins to suck on it. His head bobs up and down on the hard cock and he sucks at the balls too. Then he removes his own pants and moves to a 69 position so that Marion can suck too. They suck each other for a while before Martin moves again, lifting Marion's legs in the air and rimming and fingering his tight hole. He sucks on the balls as he fingers that hole. Marion moves onto his knees and Martin's massive cock slides into the waiting ass. His cock stretches the hole wide and fucks it deep. Marion takes the big cock so well as it works his hot hole. Turning onto his back Marion's legs are up and the big cock continues to fuck his ass. He grabs his own hard cock and wanks it as he takes Martin's dick. As he wanks hard and fast Marion's cock releases its' hot cum, shooting it up his sexy body. Martin's fat cock keeps up the fucking with Marion moving onto his knees again. Martin is ready to cum too and pulls out to shoot his cum onto Marion's ass. Then they go off to the shower to clean up.
... more about Marion and Martin RAW - FULL CONTACT further in this newsletter

Our Coming Soon Set Preview
Milos Ovcacek is on his bed. He is soon joined by Martin Gajda. Milos leans over and starts to rub Martin's sexy body. He opens Martin's jeans and releases a big, hard, cock. Milos starts to suck the cock as Bradley Cook arrives too. Martin slides a hand into Bradley's pants and pulls out his big cock. He kisses Bradely as he wanks on the cock . Milos pulls down Martin's jeans and then starts to suck on Bradley's big cock. He takes turns on Martin's and Bradley's cocks for a while. Then Milos and Bradley lay on the bed for Martin to suck each of them. Then as Milos sucks Bradley Martin sucks him. Milos keeps sucking Bradley but presents his ass for Martin to rim. With his hole ready Milos feels Martin's throbbing cock slide deep inside. It fucks him hard and deep. Bradely wants some ass too so he takes over from Martin and fucks Milos' eager hole. His fat dick stretches the hole real well. Then he changes places with Martin again, Milos turns onto his back and wanks his big cock, shooting a big load as his ass is fucked deep by Martin. Bradley then lays down for Martin to fuck him too. Martin pounds that hot ass as Bradley wanks himself. Before long Bradley is shooting his cums too, all over his hot body. Martin pulls out and wanks until his cum spurts out onto Bradley's cock and balls.

OPEN SET WINDOW

Trailer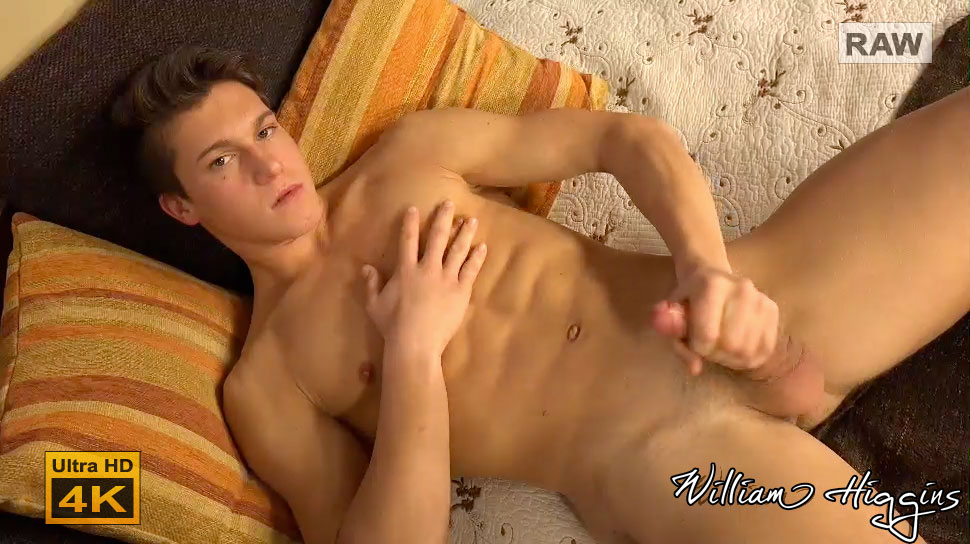 Vlog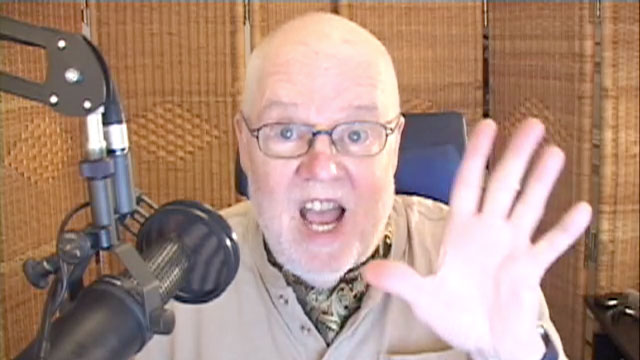 You can watch my Vlog for this Newsletter by clicking above or by going over to the Blog :
http://www.wheuro.com/?p=17293
This is not a Leap Year, so tomorrow is not a Leap Day. On the last day of February, Prague has turned a lot colder, dropping 6ºC from yesterday. But still a lot better than the minus days from the not so distant past. Tomorrow, we have a workshop student, and I'm preparing a pasta party for the gazebo in his honor. I'll be doing baked ziti, which is kind of an easy lasagna. Lots and lots of cheese. At my age, I've decided to say to hell with all the health warnings. Yesterday, I tested the recipe off of YouTube. The Italian 'nonna' got the baking temperature wrong, IMHO. Once I discarded the burnt top, it was delicious. Tomorrow, I'll lower the oven temperature, and closely monitor the final top crusting process to make sure I don't burn it.
A very good duo featuring Marion Anel and Martin Dorcak is our lead feature today. Then we see Mikes Nerad in his massage. He is followed by Igor Tenar with his erotic video and Miro Matejka in a session stills shoot. FYI, all str8 guys.
For our castings today we have Igor Tenar and Ahmed Sawka. They both look very impressive, with my vote for pick of the day going to Igor Tenar.

REMEMBER YOUR CAN ALWAYS CHECK THE OLD WH WEBSITE AT:
NEW SETS AT STR8HELL.COM

Members of str8hell.com get full access to the site and to the full archive of more than 2500 sets on Czech Guys Next Door web site, at:
http://archive.czechguysnextdoor.com/
Non-members can access str8hell.com and browse the complete content, including free video previews and some free photos for each set. Non-members can also search the site, and are able to buy any sets they like, without taking out a full membership. Paying only for the sets you really want to see.
Sincerely
William Higgins

WHVideoShop.com Website Latest Updates


DOWNLOAD OUR VIDEOS IN FULL HD 1920x1080p FROM ALL 6 SITES!
Special Offer for William Higgins Newsletter Readers
William Higgins Newsletter readers are able to obtain a discount on the price of WHVideoShop downloads by using the coupons that we will be publishing in each Members Newsletter. The coupon published in each newsletter will be valid for a period of 7 days.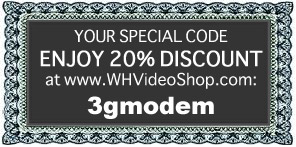 Copy today's coupon code here: 3gmodem

Our Partners:

PLEASE PROCEED TO THE NEXT PAGE FOR THE LATEST WilliamHiggins.com UPDATES