Friday, July 28, 2017 - Ondra & Martin RAW - FULL CONTACT

Ondra & Martin RAW - FULL CONTACT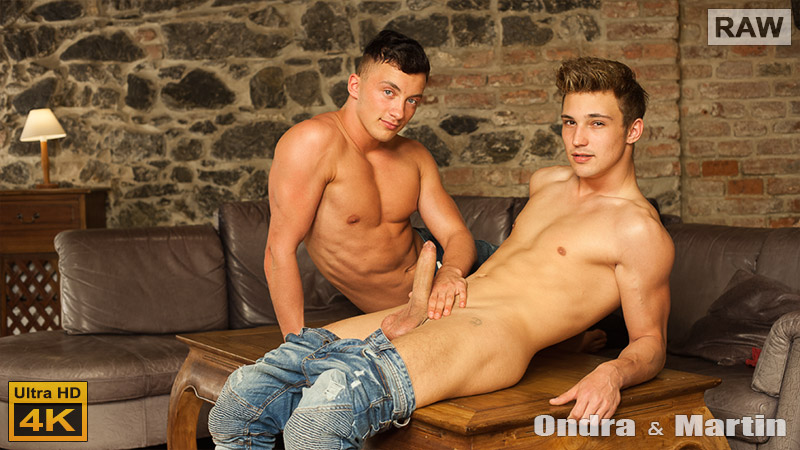 Martin Polnak and Ondra Black are relaxing and chatting as they enjoy a drink. It seems that Ondra had promised to dance on the table, so Martin tells him to do that. Ondra climbs on the table and begins to gyrate as he removes his tee shirt to show his sexy chest. Martin stands up and kisses him, taking off his tee shirt too. As they kiss they feel each other and Martin sits on the table. Ondra kisses his body, opening Martin's jeans to get at his rock hard cock. He takes the cock in his mouth and begins to suck on it. His head bobs up and down on the big cock, enjoying it immensely. He keeps sucking on tha cock until Martin wants to return he favour. He gets Ondra's shorts off and kneels to suck on his cock. He licks the head and sucks hard on Ondra's cock. He also licks the tight balls. Then Ondra moves onto his knees, bending over so that Martin can fuck his sexy ass. Martin's cock goes deep into Ondra's tight hole, opening it wide as he fucks. As the big cock pounds Ondra's tight hole Martin's balls swing back and forth. Then Martin moves back to the sofa and sits so that Ondra can slide his ass down on the throbbing cock. Martin fucks the big cock up into Ondra's ass, going nice and deep. Ondra then rides the cock going right down to the balls. Martin fucks hard and deep working the hole real well. Then he lays back on the sofa and wanks his big cock until he dumps the hot cum. As he milks his cock dry Ondra kisses him once more.
... more about Ondra & Martin RAW - FULL CONTACT further in this newsletter

Our Coming Soon Set Preview
Dan Holan gets his cherry busted by Martin Hovor today. They have a chat on the sofa to start, with Dan smiling and laughing as they talk about sexy together. Martin pulls Dan towards him and they start kissing. Then Martin removes Dan's tee shirt and the favor is returned. Then Martin pushes Dan back and stands over him to kiss some more as they feel each other. Martin opens Dan's jeans a little and feels inside. Then he drops his shorts to expose his big, hard, cock. Dan takes hold of the cock and begins to suck it. Martin fucks his throbbing dock into Dan's mouth. Dan's lips are wrapped tight around the cock as he sucks on it. He does a great job of sucking and wanking on that big dick. Martin's balls are so tight at the base of the shaft as his dick is sucked. Then Dan's jeans come off and Martin sucks on his cock . He gets on his knees to enjoy that hard cock as Dan's hand rests on his head. Martin keeps sucking for a while and then Dan takes another turn on his cock. Then Martin moves Dan to lay on his back with his legs in the air. Martin's finger finds the virgin hole and starts to finger it. The hairy hole takes the finger nice and deep as Martin works it in and out. Then Martin's big dick is positioned and slides into the tight ass hole. He starts to fuck the ass going in deep. Dan takes it well and then turns over onto his knees so that Martin can fuck him some more. Martin works his big dick deep into the ass, stretching the hole wide. The fucking speeds up when Dan lays on his back again wanking himself. Martin's dick pounds the hot hole as Dan's wanking gets faster. Very soon Dan shoots his creamy cum all over his belly . He milks his cock dry as Martin's cock keeps fucking his ass. Then Martin pulls out and wanks his cock to shoot his cum over Dan's hand and body. He leans forward and kisses Dan again to end a very hot scene.

OPEN SET WINDOW

Trailer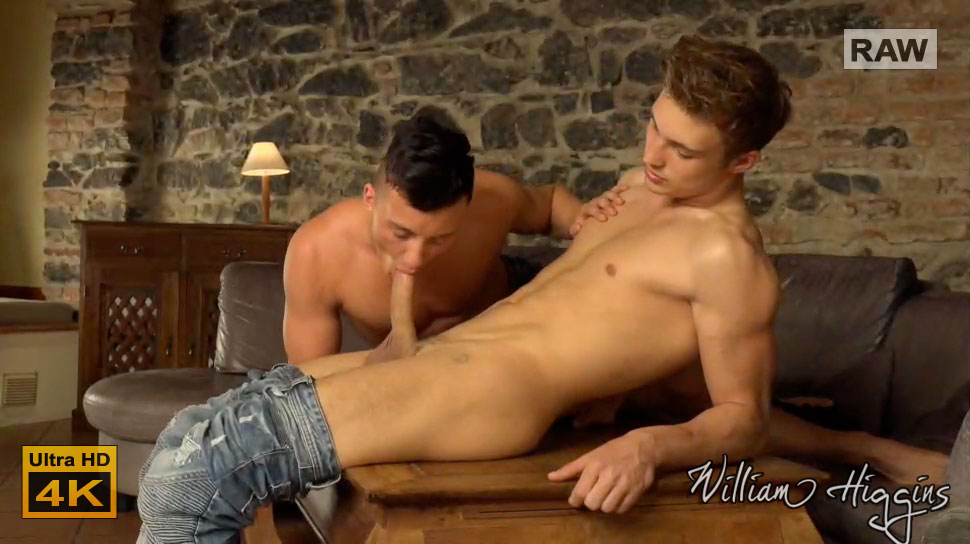 Vlog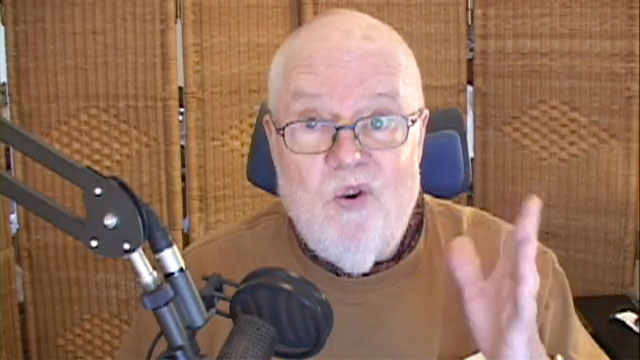 You can watch my Vlog for this Newsletter by clicking above or by going over to the Blog :
http://www.wheuro.com/?p=17895
We just had a huge rain in Prague. They're doing a Triathlon in the next block over. I hope all the guys had to change out of their wet clothing on the street. Unfortunately, I missed it for now. It'll be running all day tomorrow also.
I really want to call your attention to Kamil Banek's erotic solo. He's my perfect type. We've already posted a Submission Wrestling of him over on SWNude.com. He fights Jan Bavor who is likewise great. I highly recommend taking a look:
Coming next week will be the second part of our latest Wank Party, another episode you won't want to miss.
Just a little heads up today, about our archives. The Archives button has been removed, but at the bottom of the page is an option for Calendar, that will let you click on any year to view the site, 2009 and earlier will take you to the old WH site to view and search the archive. This is important as we got into a big archive search for my post in the last Newsletter, The Apple Never Falls Far From The Tree.
Martin Polnak and Ondra Black give us a great duo as our lead feature in today's newsetter. Then we see Kamil Banek in his excellent erotic solo. We also have a very good backstage video with Filip Vacek and Mirek Madl.
For our castings today we have Zdeno Cenas and Ludek Jaren. They both look very good indeed with my vote for pick of the day going to Ludek Jaren.
SESSION STILLS


Dear members,
as you probably noticed we discontinued publishing SESSION STILLS as a separate set recently. The reason for doing this is that we want to now offer quality pictures from the Session Still set and action videos from the Erotic Solo set in one product which will be called only EROTIC SOLO. So all the best stuff you were used to watching is still available, only now in one product.
Your WH Team
REMEMBER YOUR CAN ALWAYS CHECK THE OLD WH WEBSITE AT:
NEW SETS AT STR8HELL.COM

Members of str8hell.com get full access to the site and to the full archive of more than 2500 sets on Czech Guys Next Door web site, at:
http://archive.czechguysnextdoor.com/
Non-members can access str8hell.com and browse the complete content, including free video previews and some free photos for each set. Non-members can also search the site, and are able to buy any sets they like, without taking out a full membership. Paying only for the sets you really want to see.
Sincerely
William Higgins

WHVideoShop.com Website Latest Updates


DOWNLOAD OUR VIDEOS IN FULL HD 1920x1080p FROM ALL 6 SITES!
Special Offer for William Higgins Newsletter Readers
William Higgins Newsletter readers are able to obtain a discount on the price of BURNDVD downloads by using the coupons that we will be publishing in each Members Newsletter. The coupon published in each newsletter will be valid for a period of 7 days.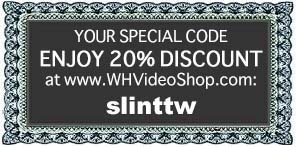 Copy today's coupon code here: slinttw

Our Partners:

PLEASE PROCEED TO THE NEXT PAGE FOR THE LATEST WilliamHiggins.com UPDATES