Friday, June 30, 2017 - Igor & Hugo RAW - CHERRY BUSTING

Igor & Hugo RAW - CHERRY BUSTING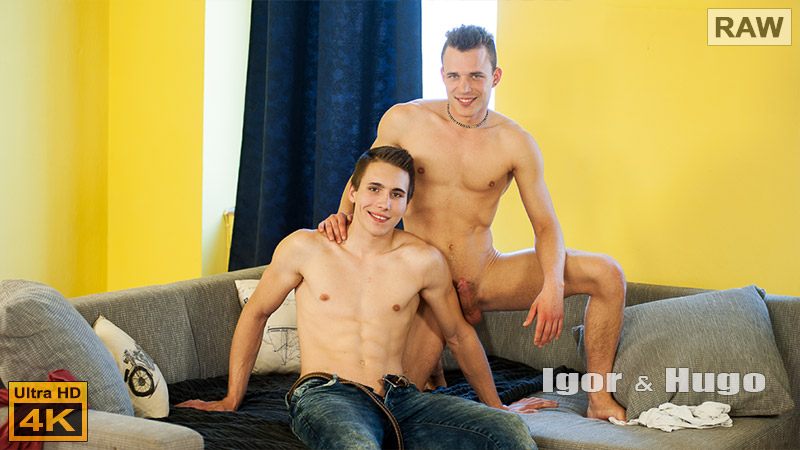 Igor Tapak is a great looking guy who gets his cherry busted today, by Hugo Antonin. Igor is sitting on the sofa when he is joined by Hugo and they start chatting. Igor starts things slowly, removing his tee shirt. Then Igor does the same and Hugo leans over and kisses his chest. Then they kiss properly as they start to feel each other. Hugo opens his jeans so that Igor can slide his hand inside. He finds Hugo's cock and starts to pull on it. Then he leans over and has a quick suck on the stiff cock. Hugo takes off his jeans as Igor wanks him and kisses his sexy body. As they kiss again Hugo gropes Igor through his jeans. Then Igor goes back down on the cock and sucks it into his mouth. His head bobs on the cock. Igor stands so that Hugo can open his jeans and pull out his hard cock. Hugo takes the dick into his mouth and begins sucking it. He licks the shaft and sucks on the cock, taking it deep into his mouth. He licks the balls too as Igor enjoys the feeling of a guys mouth on him. He thrusts his cock into Hugo's mouth. Then Igor sits and leans back for Hugo to go down on his cock again. He raises his legs to expose his hole and Hugo rubs it and then slides a finger inside. He wanks Igor's cock as he gently finger-fucks the hole. The finger goes in nice and deep as Hugo sucks on the cock again. Then he moves up to kiss Igor again. Igor reaches forward to pull on Hugo's stiff dick as the finger continues to work his hole. Raising his legs higher gives better access and Hugo slides two fingers into the waiting hole as he sucks on Hugo's cock. He opens the hole real good and then slides his throbbing cock deep inside. Igor wanks himself as he feels Hugo's cock fucking into his tight ass. Hguo's dick really stretches the hole as Igor keeps wanking hard. Igor loves the feeling of the dick deep in his ass as he wanks. The feeling is so good that Igor shoots his hot cum as Hugo keeps fucking him. Then Igor turns over, onto his knees, for Hugo to fuck him some more. He fucks that hot ass until he is ready to cum too and then pulls out to shoots his hot load too. Then he leans forward, as Igor turns his head, to kiss him again.
... more about Igor & Hugo RAW - CHERRY BUSTINGT further in this newsletter

Our Coming Soon Set Preview
Oliver Hruby, having recently had his cherry busted is back for more. This time he is paired with Nikola Donoval who appears in his Screentest. They start by kissing for a while. Then Oliver removes Nikola's tee shirt as he feels over his body. Nikola takes off Oliver's tee shirt too and begins to kiss his chest. They continue kissing and then Nikola takes down Oliver's shorts and drops to his knees to suck on the stiff cock. He works well on Oliver's cock, sucking it deep into his mouth, and licking on the shaft too as he gently wanks it. Oliver rubs Nikola's head as he fucks his cock into the waiting mouth. Oliver then sits and lands back for Nikola to suck him some more. Oliver then lays on his back, lifting his legs in the air for Nikola to rim his hot hole. He wanks himself as Oliver's tongue works his hole. Nikola slips a finger into the hot hole too and starts to fuck it in and out. He turns Oliver over, onto his knees, and slides his big, hard, cock into that tight hole. That cock looks a tight fit and Nikola begins to fuck Oliver, with long, deep, strokes. The fucking speeds up with Nikola grabbing Oliver's hips and pounding his hole. Oliver takes it well and is soon sitting on that dick, riding up and down on it. His own cock is rock hard as he takes the dick right down to the balls. Nikola thrusts his cock deep into the hole and fucks hard as he reaches for, and wanks, Oliver's cock. Oliver is moved again, onto his back and that massive dick goes back into his hole to work it hard. He grabs his own cock and wanks it as Nikola fucks him. All the fucking brings Oliver to the brink and he dumps his cum all over his sexy body. Nikola conitinues fucking the tight ass until he is ready to cum to. He pulls out and wanks his cock to shoot the creamy cum over Oliver. He milks his cock dry and leans over to kiss Oliver once more.

OPEN SET WINDOW

Trailer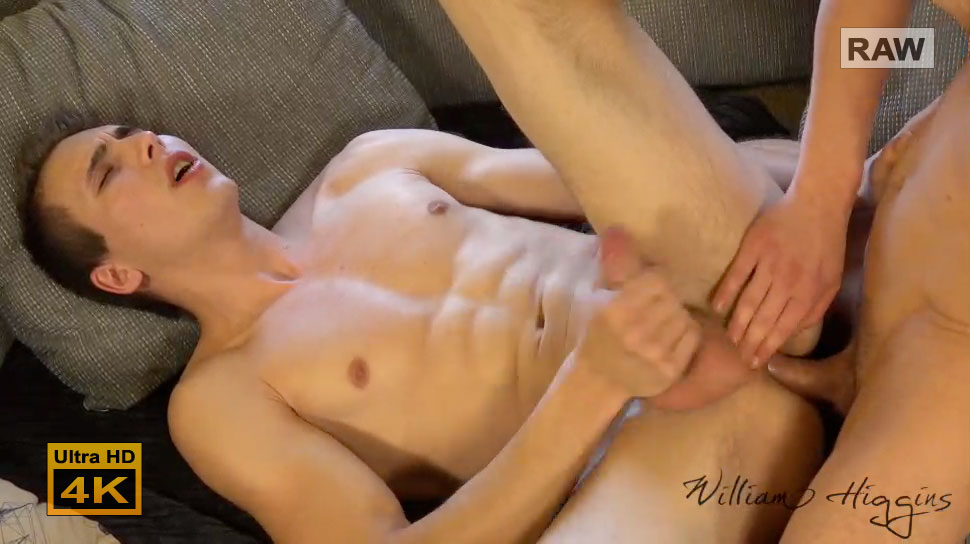 Vlog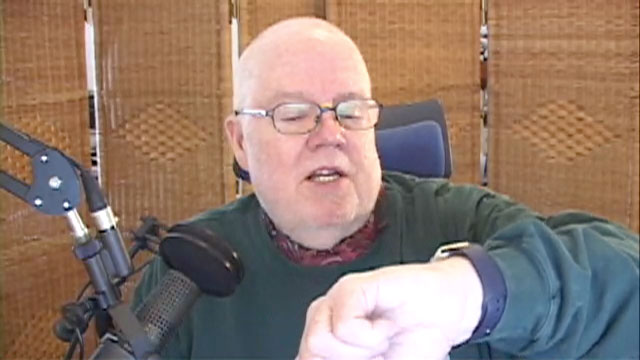 You can watch my Vlog for this Newsletter by clicking above or by going over to the Blog :
http://www.wheuro.com/?p=17793
The apple never falls far from the tree.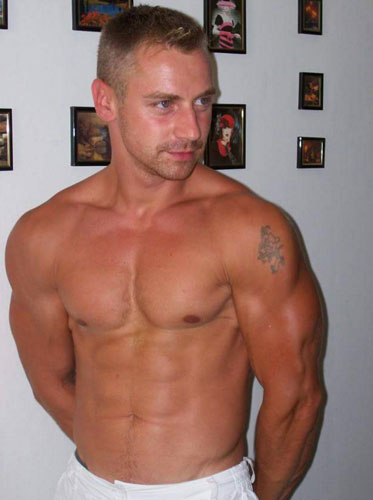 Above is a photo (current) of a model whom (Peter Hronsky) we shot donkey's years ago. He's 42 now, still looks great. He did masses of gay sex on our site. In fact during the shooting of one scene, his wife sat in a car outside the location waiting for him to finish (getting plowed) and give him a ride home.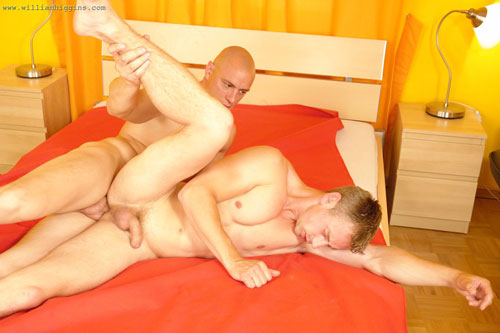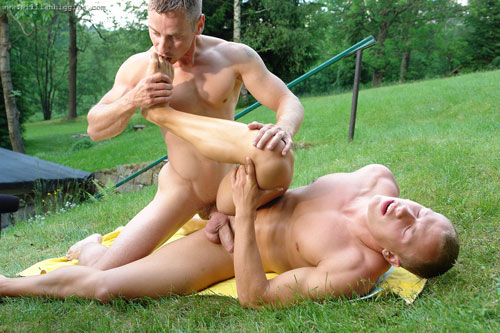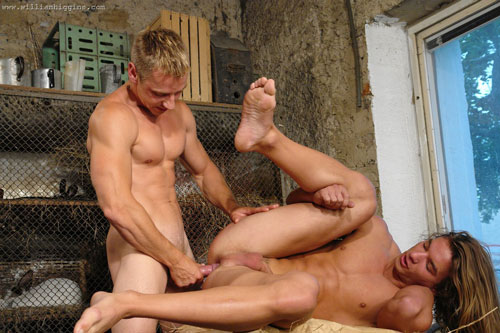 Yesterday, he referred this model to our casting: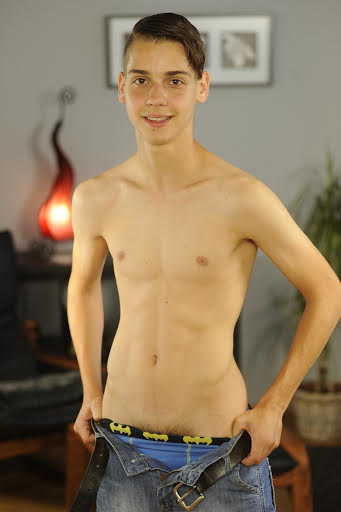 His son. Well, he has a bit to grow into. But he's already caused lots of positive comments around the studio. Hopefully, he'll be as versatile and willing as dad. It's a funny old world. We'll keep you posted regarding developments.
Another lovely spring like day in Prague, 22º outside. Big week next week. The next Newsletter will be on the 4th of July. Then on Wednesday and Thursday there are two of the biggest Czech holidays. Prague will be empty.
We have Igor Tapak getting a great cherry busting by Hugo Antonin in today's newsletter. We also have the handsome, muscled and very hairy Adam Sedek with a great erotic solo. We also have a lovely backstage video from Wank Party #76 to enjoy as well.
For our castings today we have Erik Kabek and Ilan Nerad. Both guys look good but I think the stand-out is Erik Kabek, so he is my pick for today.
SESSION STILLS


Dear members,
as you probably noticed we discontinued publishing SESSION STILLS as a separate set recently. The reason for doing this is that we want to now offer quality pictures from the Session Still set and action videos from the Erotic Solo set in one product which will be called only EROTIC SOLO. So all the best stuff you were used to watching is still available, only now in one product.
Your WH Team
REMEMBER YOUR CAN ALWAYS CHECK THE OLD WH WEBSITE AT:
NEW SETS AT STR8HELL.COM

Members of str8hell.com get full access to the site and to the full archive of more than 2500 sets on Czech Guys Next Door web site, at:
http://archive.czechguysnextdoor.com/
Non-members can access str8hell.com and browse the complete content, including free video previews and some free photos for each set. Non-members can also search the site, and are able to buy any sets they like, without taking out a full membership. Paying only for the sets you really want to see.
Sincerely
William Higgins

WHVideoShop.com Website Latest Updates


DOWNLOAD OUR VIDEOS IN FULL HD 1920x1080p FROM ALL 6 SITES!
Special Offer for William Higgins Newsletter Readers
William Higgins Newsletter readers are able to obtain a discount on the price of BURNDVD downloads by using the coupons that we will be publishing in each Members Newsletter. The coupon published in each newsletter will be valid for a period of 7 days.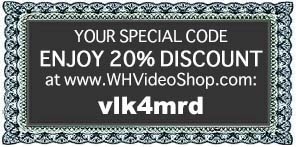 Copy today's coupon code here: vlk4mrd

Our Partners:

PLEASE PROCEED TO THE NEXT PAGE FOR THE LATEST WilliamHiggins.com UPDATES