Tuesday, October 31, 2017 - Ondra & Kamil RAW - CHERRY BUSTING

Ondra & Kamil RAW - CHERRY BUSTING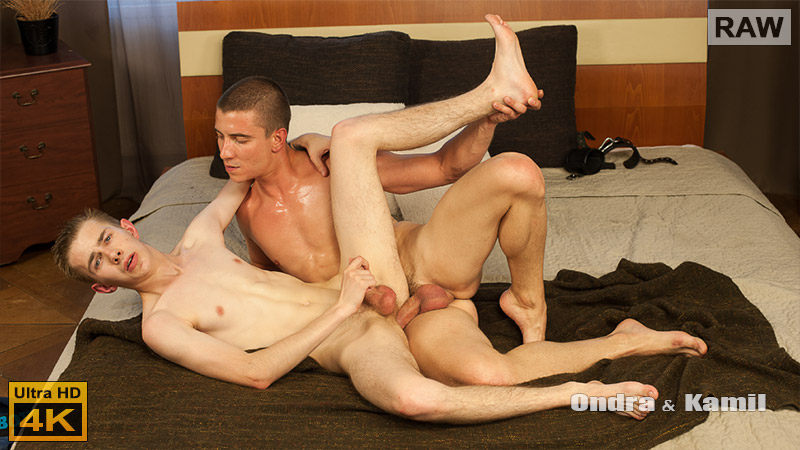 Two great looking str8 guys serve up a wonderful Cherry Busting scene today. It is Ondra Gala who gets a cock in his ass for the very first time, from Kamil Banek. Ondra is sitting on the bed when Kamil joins him. They chat, with Kamil asking the questions trying to encourage Ondra to do something with him. Ondra does agree to some kissing and is soon going further as he removes his tee shirt. Kamil runs a hand over Ondra's chest as they kiss some more. Then Kanil removes his tee shirt too. They start to grope each other as well. Kamil's cock is rock hard in is jeans as Ondra's hand finds it. Kamil opens Ondra's jeans and releases his stiff cock. Ondra quickly removes his jeans and Kamil opens his to release his cock. They start to wank each other and Kamil removes his jeans as they kiss again. Fully naked they wank the stiff cocks and then Kamil leans over to suck. He takes Ondra's throbbing cock into his mouth to suck it. He licks up and down the shaft as slides the head down his throat. With lips closed around the shaft his head bobs on that cock and then Kamil leans back for Ondra to take a turn at sucking too. Ondra shows that he is up for that, doing a great job on Kamil's rock hard cock. He wanks the cock as he sucks and then the climbs over Kamil to 69. That lets them both suck cock for a while, enjoying every second of it. Kamil then lays Ondra on his back, with his legs up. He gets between Ondra's legs and slides his big cock into the tight, virgin, hole. That fat cock stretches the hole as Kamil begins to gently fuck Ondra's ass. Then the fucking speeds up, with Kamil really pounding Ondra's hole as hard as he can. With that ass really opened by his big cock Kamil turns Ondra over, cuffing him too, and shoves his cock back into the hot hole. Ondra takes that big cock so well as it slam in and out of his ass. The fucking is hard and relentless as Kamil's hips thrust back and forth. Ondra moans as he feels the cock banging his ass. Moving to spoon Kamil's cock slides back into the ass as Ondra begins to wank himself. His ass gets fucked by that fat dick as he wanks himself. He soon shoots his hot cum as Kamil's dick keeps up the relentless pounding. The fucking gets even faster and then Kamil pulls out and dumps his cum onto Ondra's cock and balls. Then they kiss again to end a fantastic Cherry Busting.
... more about Ondra & Kamil RAW - CHERRY BUSTINGG further in this newsletter

Our Coming Soon Set Preview
Two of the hottest str8 guys give us a wonderful scene. Hugo Antonin is taking a shower in the garden. His cock is rock hard as the water runs over his. Then a naked Nikol Monak arrives and he begins to dry Hugo's sexy body. Soon they are kissing each other as Nikol's big cock starts to harden. He sits on a seat and Hugo drops to his knees to suck on the fat cock. The cock gets stiff under Hugo's expert ministrations. His head bobs oup and down on Nikol's big cock, taking it deep into his mouth. Nikol's hand pushes Hugo's head down on to his cock. Then Hugo licks Nikol's balls too before returning to his sucking. He licks up and down the shaft too as Nikol's balls are tight against the thick shaft. Hugo continues to suck and wank on that cock for a while. Then he stands up, his cock poking out in front of him as Nikol moves onto his knees and takes it in his mouth. He sucks the dick as Hugo fucks it into his eager mouth. That throbbing cock looks so good as it fucks Nikol's face. Then he licks Hugo's tight balls too. Turning around Nikol presents his sexy ass and Hugo wastes little time in sliding his rampant cock into the waiting ass. It is a tight fit and stretches the hole wide as it goes in deep. Then Hugo begins to fuck that hot ass. Deep thrusts, going all the way into Nikol's hole opens that ass so well. Nikol takes it all as Hugo keeps up his fucking. Hugo then pulls out and lays down with Nikol sliding his tight hole back down on the cock. His own dick flaps around as he rides up and down on Hugo's. Then he holds his ass in place as Hugo thrusts his cock up and into the hot hole. Nikol grabs his own cock and wanks it as he takes the dick in his ass. Moving to spoon position Hugo's cock fucks Nikol's ass so deep. He pounds the ass hard and fast as Nikol wanks himself. Nikol keeps up his wanking as he takes the dick in his ass. Soon he shoots his creamy cum as Hugo's dick rams deep into his ass. Hugo is soon ready too and pulls out to shoot his load all over Nikol's hairy balls. Then Nikol turns his head to kiss Hugo one more time.

OPEN SET WINDOW

Trailer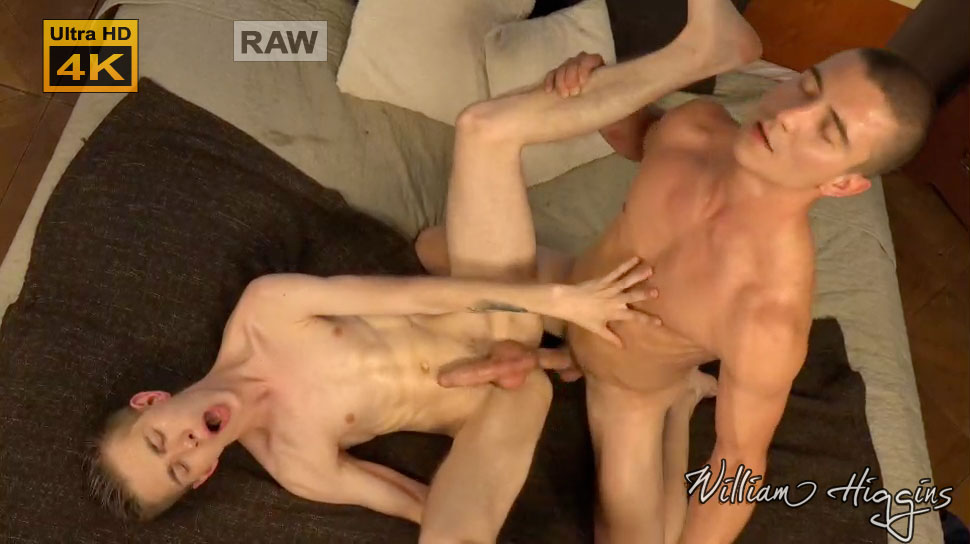 Vlog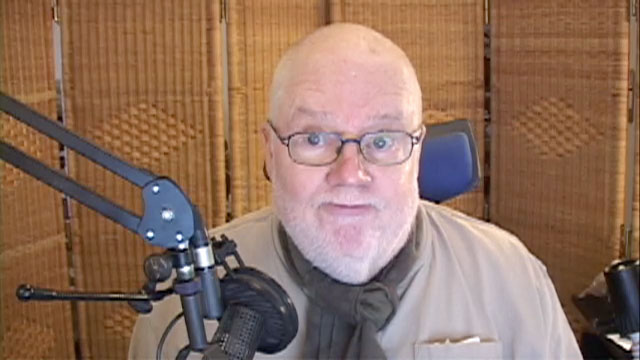 You can watch my Vlog for this Newsletter by clicking above or by going over to the Blog :
http://www.wheuro.com/?p=18200
First of all, Happy Halloween, the world wide Gay Holiday. With the developments on the other side of the pond, it's a Happy Halloween indeed for many of us. Keep up the good work, Bobby.
I have a few personal comments regarding today's offerings.
Ivan Janek is absolutely stunning, a perfect ME. He says, in his interview that he's from the Great Britian, but doesn't speak English all that well. More investigation is required. He doesn't want to try 'group sex' but an 'orgy' is in his bucket list right after 'perverse, anal, and pissing orgy.' In the shower, not a drop of water is allowed near his hair. I'd say he has a great future with our site.
Ondra Gala gets his Cherry Busted really hard by Kamil Banek. Strangely, he went from casting couch to Cherry Busting with no intermediate steps. Kamil seemed to really enjoy fucking Ondra. Asked if he liked it, Ondra replies, smiling, 'it wasn't bad.' Well, there's a lot more where that came from.
Miro Dalek's Massage: He lost his virginity to a girl (pity) when he was 12 – at a party. He appears as a top in the latest Wank Party #88. Total stoic silence throughout the massage, even while being finger-fucked. Air explodes out of him when he comes and he gives us a big smile. Hopefully, he'll flip soon!
What a great line-up we have today starting with two very hot straight guys in a Cherry Busting. Iti s Ondra Gala's cherry that gets busted by Kamil Banek. Then we have another fantastic str8 guy, Miro Dalek being massaged. A very handsome newcomer, str8 guy Ivan Jenek delivers a great erotic video too.
Our castings today are very good indeed, Ozan Bajak and Tomas Salek. They are both very good indeed. Ozan has a very long cock and a hot body, but it is Tomas, with his fantastic body and handsome face who gets the plaudits as pick of the day.
REMEMBER YOUR CAN ALWAYS CHECK THE OLD WH WEBSITE AT:
NEW SETS AT STR8HELL.COM

Members of str8hell.com get full access to the site and to the full archive of more than 2500 sets on Czech Guys Next Door web site, at:
http://archive.czechguysnextdoor.com/
Non-members can access str8hell.com and browse the complete content, including free video previews and some free photos for each set. Non-members can also search the site, and are able to buy any sets they like, without taking out a full membership. Paying only for the sets you really want to see.
Sincerely
William Higgins

WHVideoShop.com Website Latest Updates


DOWNLOAD OUR VIDEOS IN FULL HD 1920x1080p FROM ALL 6 SITES!
Special Offer for William Higgins Newsletter Readers
William Higgins Newsletter readers are able to obtain a discount on the price of WHVideoShop downloads by using the coupons that we will be publishing in each Members Newsletter. The coupon published in each newsletter will be valid for a period of 7 days.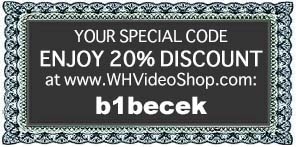 Copy today's coupon code here: b1becek

Our Partners:

PLEASE PROCEED TO THE NEXT PAGE FOR THE LATEST WilliamHiggins.com UPDATES