Friday, August 31, 2018 - Peter & Petr RAW - FULL CONTACT

Peter & Petr RAW - FULL CONTACT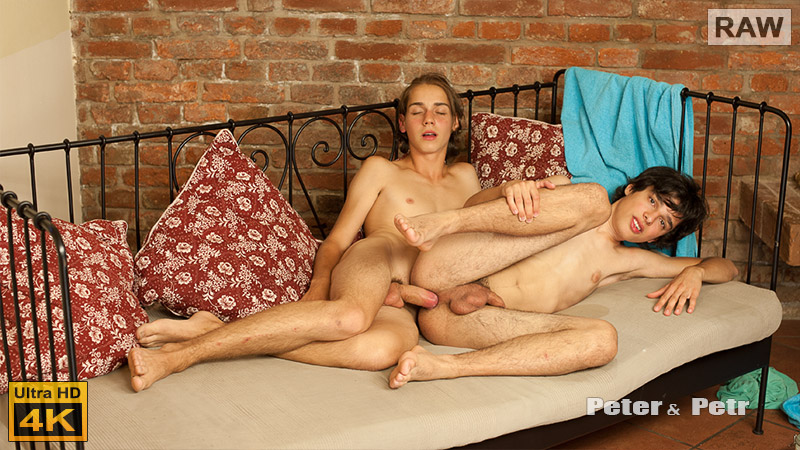 Peter Hronsky and Petr Ugan are a pair of very cute straight guys. Petr is listening to some music when Peter walks in, having just showered. Wearing only his towel he begins to kiss Peter who responds well. Leaning over he kisses Peter's chest and then, as the towel drops to the floor, his big, hard cock. Peter's fat cock is rock hard and poking through the bedframe as Petr's mouth sucks hard on it. Petr's head bobs on that throbbing cock. Then he licks the shaft and around the fat head some too. Peter enjoys the mouth on his dick, reaching for Petr's head encouragingly. Then he pulls out of Petr's mouth and strips him naked. Petr lays on the bed as Peter goes down to lick and suck on his cock and balls. Peter takes the cock into his mouth and suck it down to the base. Petr pushes him down on his hard cock. The sucking continues as Peter wanks himself some as well. His dick stays rock hard as he keeps up his sucking. Then he climbs over, head to toe, Petr and they begin to 69. Each is sucking on hard cock so well. But Peter wants more and moves his friend so that he is bending over and presenting his ass. Peter's huge cock slides deep into the waiting ass, stretching it wide. He fucks that hot hole as Petr takes it well. The big cock slides deeply into that hot ass and the fucking speeds up as the balls tighten around the base. The fucking continues as Petr kneels on the bed. Then he rides Peter's cock, sliding up and down on the thick shaft. His hole is spread wide as he rides. Peter reaches to wank his friend as his cock works the eager hole. They move again, into a spoon position with Peter's dick pounding that sexy ass. Peter's ass is pushed back to get every inch of that cock. The pounding continues apace as Peter gets to close to cumming. Petr raises a legs and wanks his own cock as he feels that huge pole working his ass. Soon the cream erupts from Petr's cock shooting onto his thigh as Peter's dick fucks him more. As the cock slams deep into Petr's ass repeatedly Peter reaches the point of no return and pulls out to shoot his cum onto Petr's balls. He wanks his cock after cumming. Then . he reaches forward to kiss Petr again.
... more about Peter & Petr RAW - FULL CONTACT further in this newsletter

Our Coming Soon Set Preview
Franta Tucny and Tomas Salek are two very hot straight guys. They are on the bed kissing each other. As Franta lays on his back Tomas helps him open his shirt. Then Tomas moves onto his knees and begins to suck on Franta's rock hard cock. He pulls Franta's jeans down and works his mouth on the big cock, taking time out for more kissing as well. Tomas kisses Franta's sexy chest too, but soon returns to the cock for more sucking. He licks up and down the shaft and sucks the cock deep into his mouth. Then Tomas lays on the bed and Franta is soon sucking on cock too. Tomas' dick is rock hard as Franta sucks it. His hot mouth works up and down the shaft and sucks on the dick, kissing his way up Tomas' hot body too. With both guys fully naked Franta climbs over Tomas, head to toe, so they can enjoy a 69 . Tomas rubs Franta's ass as he sucks the hard dick. They eagerly suck each other for a while before Tomas moves onto his knees with Franta standing behind him. Franta's cock slides deep into the waiting ass. That tight hole takes Franta's dick as it is fucked in and out, with Tomas moaning as he feels it. Franta fucks deep into the hot hole. Franta then pulls out and lays on the bed. Tomas straddles Franta's legs and slides his ass down on the throbbing dick. He rides up and down on Franta's cock and wanks himself at the same tiem. Tomas thrusts his cock up into the ass, fucking hard, as Tomas unloads his creamy cum. The hot cum squirts out of his cock as Franta keeps fucking. Tomas milks his cock dry, with his cum coating Franta's balls as the fucking continues. Moving to a spoon position they continue the hard fucking until Franta is ready to blow his load too. Then he pulls out and shoots his hot cum over that sexy ass. He reaches up to kiss Tomas again before they both go off to the shower to clean up.

OPEN SET WINDOW

Trailer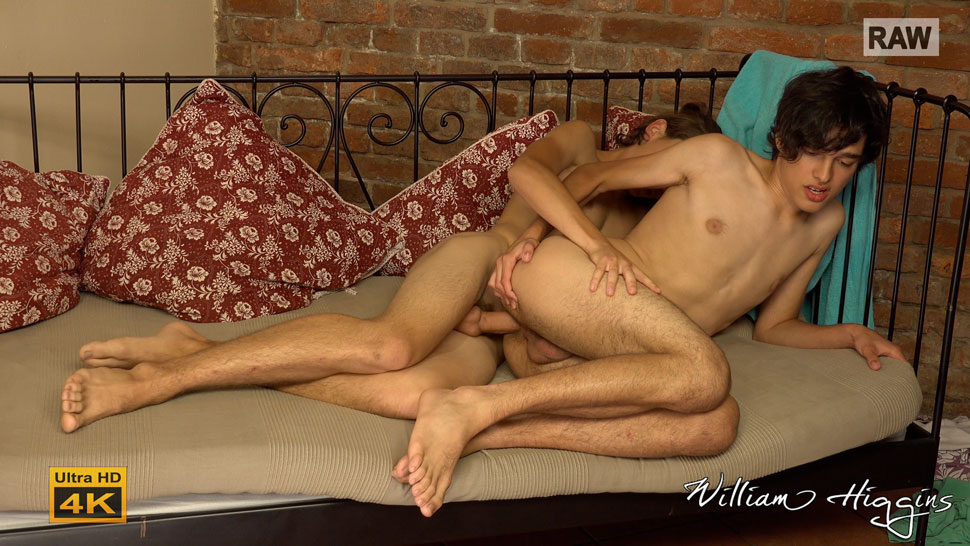 Vlog
You can watch my Vlog for this Newsletter by clicking above or by going over to the Blog :
http://www.wheuro.com/?p=19375
This is the last week of summer vacation in Prague. The streets have been virtually empty. However, Monday is back to school, and there will be traffic jams everywhere. Life goes on. Meanwhile, it's 19ºC outside. Much better than the 32ºC we've endured very recently.
Earlier this week, I was looking at some compilations of AMG wrestling videos (I like wrestling) shot in the early '70s. AMG used to pick up models at the Greyhound bus terminal in LA. They weren't alter boys at the Episcopal Church. I was amazed: In all the matches I watched, I didn't see ONE tattoo, not one. My, how things have changed.
Miro is finishing up two days of shooting with the two extremely good looking, extremely homophobic Slovak lads. My old rule: Permission to be gay. What is the permission? Money.
We have a great scene coming up over the weekend with Tomas and Franta. Be sure to check back in about Sunday.
Peter Hronsky and Petr Ugan are two very cute str8 guys. They give us a great scene to begin the newsletter today. Then we have another very good looking str8 guy, Ivo Fiala with his erotic solo. We also have a bonus set featuring Darius Ferdinand, Tony Gys and Gorka Martin.
We have two very good candidates for casting today, Marian Blaha and Eric Penak. Both guys look very good indeed but the clear winner for pick of the day is Marian Blaha.
REMEMBER YOUR CAN ALWAYS CHECK THE OLD WH WEBSITE AT:
NEW SETS AT STR8HELL.COM

Members of str8hell.com get full access to the site and to the full archive of more than 2500 sets on Czech Guys Next Door web site, at:
http://archive.czechguysnextdoor.com/
Non-members can access str8hell.com and browse the complete content, including free video previews and some free photos for each set. Non-members can also search the site, and are able to buy any sets they like, without taking out a full membership. Paying only for the sets you really want to see.
Sincerely
William Higgins

WHVideoShop.com Website Latest Updates


DOWNLOAD OUR VIDEOS IN FULL HD 1920x1080p FROM ALL 6 SITES!
Special Offer for William Higgins Newsletter Readers
William Higgins Newsletter readers are able to obtain a discount on the price of BURNDVD downloads by using the coupons that we will be publishing in each Members Newsletter. The coupon published in each newsletter will be valid for a period of 7 days.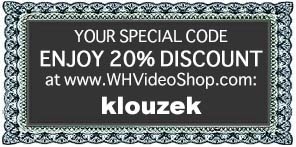 Copy today's coupon code here: klouzek

Our Partners:

PLEASE PROCEED TO THE NEXT PAGE FOR THE LATEST WilliamHiggins.com UPDATES