Tuesday, February 20, 2018 - Gerasim & Tomas RAW - Screen Test - FULL CONTACT

Gerasim & Tomas RAW - Screen Test - FULL CONTACT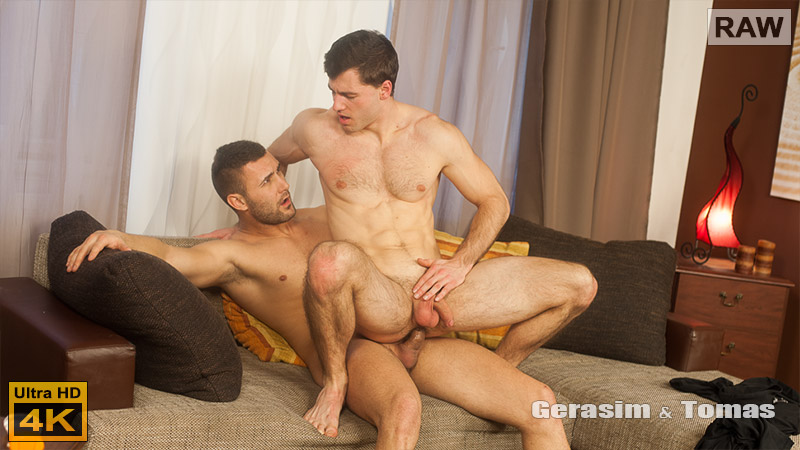 Gerasim Spartak and Tomas Salek are two very handsome str8 guys. In this screentest it is Gerasim who gets to experience sex with a guy for the first time. As he arrives Gerasim is greeted by Tomas. They have a chat, where Gerasim explains that he hasn't done anything with a guy before. When he agrees to try something Tomas leans over and kisses him. Then after a little persuasion things go further Tomas removes Gerasin's tee shirt and kisses his again. Then he opens and pulls down Gerasim's jeans to reveal his big, very stiff, cock. Tomas takes the dick in his mouth and starts to suck. Gerasim's hinad finds the back of Tomas' head and pushes it down on his throbbing cock. Tomas removes his tee shirt and then returns to sucking that cock. His head bobs up and down on Gerasim's dick, then he licks along the shaft and on the balls as well. Removing his jeans Tomas straddles Gerasim and sits his hot ass down on that big cock. The thick dick spreads the ass well as Tomas begins to ride up and down on it. As his dick is deep in that ass Gerasim reaches round and wanks on Tomas' cock too. Then he fucks his pole up into that hot ass. Tomas moves, kneeling and pushes his ass back so that Gerasim can fuck him from behind. The big dick pounds Tomas' hot hole going in so deep. Gerasim really bangs away at the ass, grabbing Tomas' hair as he fucks. Tomas takes it well as the dick is all the way in his hole. Then he moves to a spoon position and Gerasim slides his massive cock in again. He really pounds that hole as hard as he can. Tomas loves the dick so deep inside him and he grabs his dick and wanks on it. As he his fucked hard Tomas shoots his hot cum, milking his dick dry. Then he moves onto his knees again with Gerasim fucking him until he is ready to blow too. He pulls out and shoots his hot cum all over Tomas sexy ass to end a great screentest.
... more about Gerasim & Tomas RAW - Screen Test - FULL CONTACT further in this newsletter

Our Coming Soon Set Preview


Trailer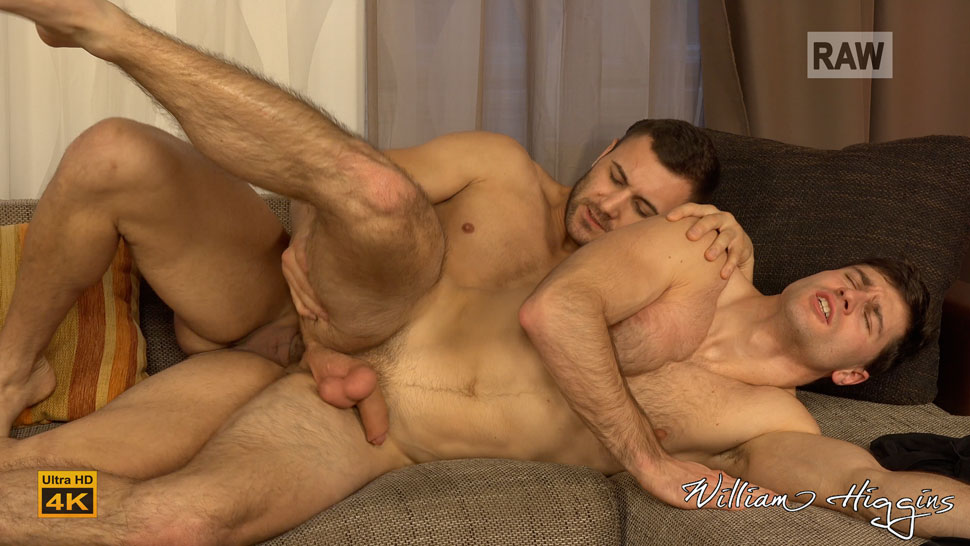 Vlog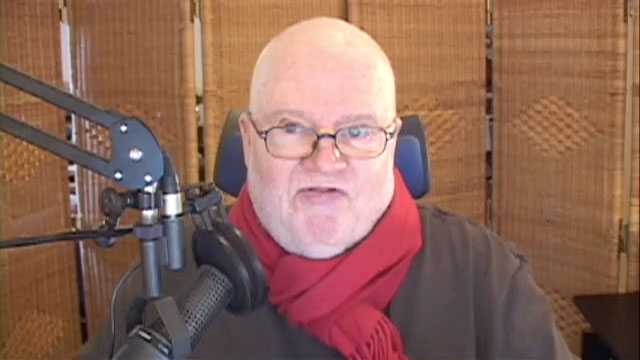 You can watch my Vlog for this Newsletter by clicking above or by going over to the Blog :
http://www.wheuro.com/?p=18575
More spring like weather in Prague today; however, at noon there were a few, very few, snowflakes.
I want to call out Ondra Taryk's Spanking over on Str8hell. Here's gorgeous in a Spanking scene....This young muscular guy has done a number of scenes for us and was a top in our Xmas Wank Party (91). He has been finger fucked in his Soft Duo, his Massage and again here in his Spanking....we are working hard to try to get him to go all the way and do a Cherry Busting! Alas.....he has not yet agreed. Stay Tuned.
https://www.str8hell.com/set-list/set-detail/18020651
Vadim Covrescu, our Columbian newcomer is paired in the Massage with site cutie Karel Polak. Vadim has since told us he wants to be a porn star and since he has no problem staying rock hard while Karel fucks him with a dildo we are certainly quite happy to help him with his chosen career path! Karel flips him on his back again to give him a blowjob and Vadim again cums while he is being finger fucked.
Another comment about Eric Jarek: This str8 lad lost his virginity when he was 14 years old and says it was still the best sex he ever had. He later admits to having experience with a boy during his interview and just as we get curious about what he is going to admit to.....he then confirms he once kissed a boy...that's it!! Given that he seems ok with finger fucking himself and sliding a dildo in and out of his ass while he wanks ...let's hope Miro can widen his horizons.
And do check out the castings today: Mirek Laden. If you like to see a little cutie as we first see them - especially one that can get his cock rock hard, don't miss this casting. With an ass like this let's hope he comes back to do more for the Studio...preferably in the same position with some hunk on top of him.
We have a wonderful line-up in today's newsletter. We start with a great screentest featuring two very hot str8 guys, Gerasim Sparak and Tomas Salek. Then we have another str8 guy, Vadim Covrescu being massaged by Karel Polak. Our erotic solo today is str8 guy Tomas Frol.
Our castings today are very good indeed, Mirek Laden and Ivan Bader. Both guys look very good indeed as they show off their wares. Pick of the day goes to Mirek Laden.
REMEMBER YOUR CAN ALWAYS CHECK THE OLD WH WEBSITE AT:
NEW SETS AT STR8HELL.COM

Members of str8hell.com get full access to the site and to the full archive of more than 2500 sets on Czech Guys Next Door web site, at:
http://archive.czechguysnextdoor.com/
Non-members can access str8hell.com and browse the complete content, including free video previews and some free photos for each set. Non-members can also search the site, and are able to buy any sets they like, without taking out a full membership. Paying only for the sets you really want to see.
Sincerely
William Higgins

WHVideoShop.com Website Latest Updates


DOWNLOAD OUR VIDEOS IN FULL HD 1920x1080p FROM ALL 6 SITES!
Special Offer for William Higgins Newsletter Readers
William Higgins Newsletter readers are able to obtain a discount on the price of WHVideoShop downloads by using the coupons that we will be publishing in each Members Newsletter. The coupon published in each newsletter will be valid for a period of 7 days.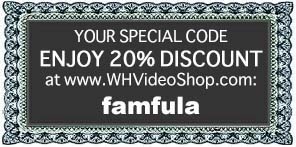 Copy today's coupon code here: famfula

Our Partners:

PLEASE PROCEED TO THE NEXT PAGE FOR THE LATEST WilliamHiggins.com UPDATES