Friday, February 23, 2018 - Peter & Stano RAW - CHERRY BUSTING

Peter & Stano RAW - CHERRY BUSTING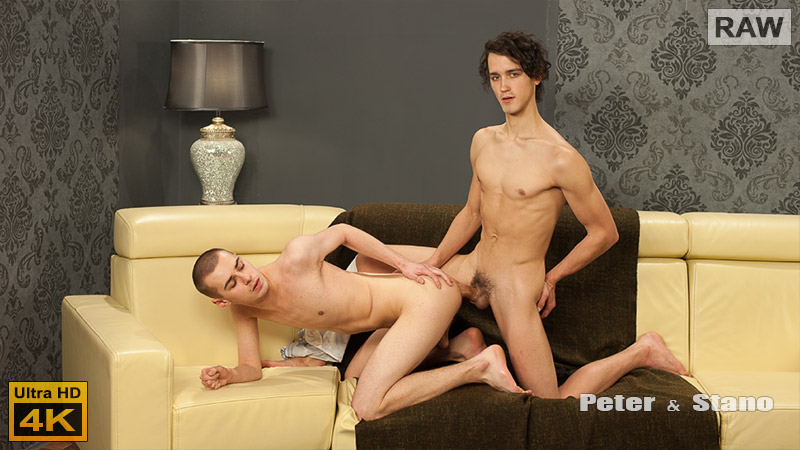 In this Cherry Busting we have two very hot str8 guys, Stano Janda, whose cherry gets busted, and Peter Uman, who learns that an ass isn't just for one thing, when he shoves his dick so deep in Stano. They sit together on the sofa for a brief interview, where they explain it is all about cash. They are somewhat nonplussed as it dawns on them what might be about to happen. But it all starts gently with a kiss. Following instructions from the crew Peter removes Stano's tee shirt. Then Stano does the same for Peter. After kissing again, and rubbing each other Stano is told to remove Peter's pants and to wank him. Peter seems to protest a little, but moves his hands, revealing a swelling cock which Stano takes hold of. His wanking quickly gets Peter's dick rock hard. Then he leans over and kisses and licks the cock. He takes it in his mouth and sucks on it, as directed. Peter, still protesting that it's weird, runs his hands over Stano. Stano keeps up his sucking of Peter's big cock, then he removes his jeans to show off his cock, which is already rock hard. Peter's hand gingerly closes around Stano's dick and starts to wank. His own cock is wanked too. They kiss again as they keep wanking each other. Then Peter is told to suck on Stano's cock. He takes his time, but does lean over and take the dick into his mouth. He sucks it and licks the head. Then he kisses the balls and licks up and down the shaft of that throbbing cock. Stano's cock stays rock hard as they sit waiting for more instructions. Stano moves onto his knees and Peter positions himself behind. He slides his stiff cock into that tight, hot hole. Stano moans as he feels the dick pushing agains his virgin hole. The hole opens up to take that cock and Peter starts to fuck nice and deep. Stano keeps up a stream of moaning and comments as he feels Peter's throbbing dick working deep in his ass. He turns over onto his back, with legs in the air, for more deep fucking. Peter obliges, his thick dick going all the way in the ass. He fucks that hot ass as Stano moans. Peter's fucking speeds up as Stano grabs his own cock and starts to wank it. He keeps wanking until his gives up his cum. Peter continues to fuck until he is ready to cum too and then pulls out to dump his load over Stano's cock and balls. He milks his dick dry and they both go off to the shower.
... more about Peter & Stano RAW - CHERRY BUSTING further in this newsletter

Our Coming Soon Set Preview


Trailer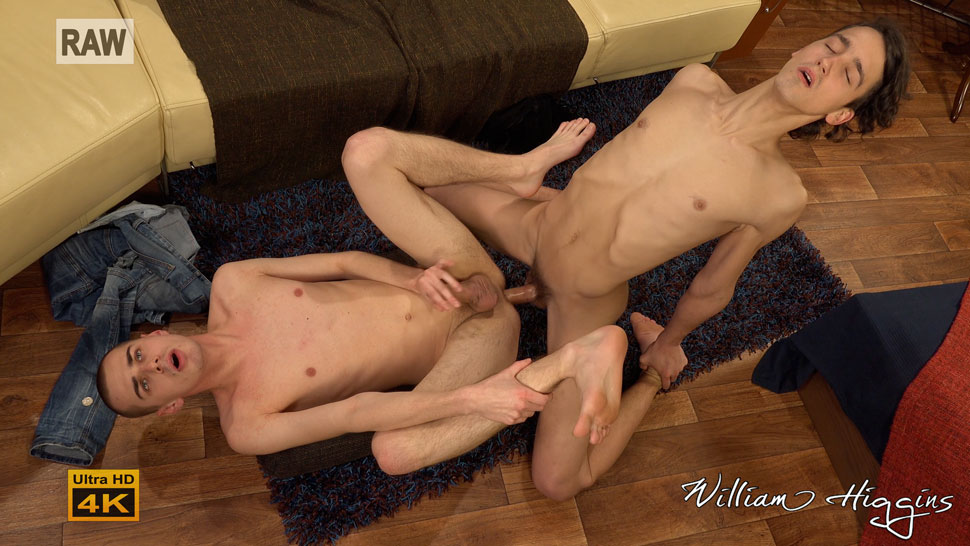 Vlog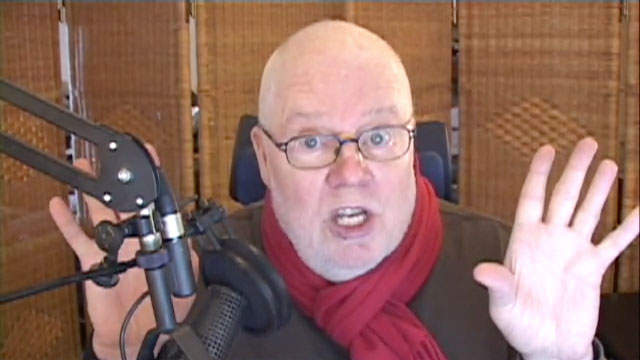 You can watch my Vlog for this Newsletter by clicking above or by going over to the Blog :
http://www.wheuro.com/?p=18591
It's cold, cold, cold outside, but still NO SNOW. February is finally living up to its reputation, sort of, as the coldest month of the year. When I woke up this morning it was - 5º outside. Currently, it's right at freezing, 0º. Let me tell you this: I've lived through much colder Februaries in Prague than this one.
We're introducing a brand new category today over on Str8hell. Currently, it's parked under Raunchy, but I'm going to call the category either Young Juvies or Young Offenders. Which one do you think is best? Str8 guy Stano, who JUST got his Cherry Busted in today's Newsletter, gets nabbed for shoplifting. There's only one way he can get out of charged. Guess what happens next? Stano has been quite a busy boy. He went directly from Casting to Cherry Busting. He was paired with Peter Uman, the homophobe. Peter's ass (which is 'only for one thing') and Stano were having quite a discussion as to which one would receive the honor. Franky tossed a coin, and Peter lost. Peter gets to save his Cherry until the NEXT shoot. Stano went right from the Cherry Busting to the Young Juvie shoot. Talk about jumping right into the deep water.
I want to remind you we have another great Cherry Busting coming online over the weekend with our new Columbian model. Check back over the weekend.
Oh, I just received notes from a very long time subscriber to out sites. They're so interesting, I'll just append them hereto:
Peter Uman/ Stano Janda - Raw Cherry Busting: 21/02/18
Even I have to admit that I do not yet know whose Cherry is getting busted as we post this scene which makes it much more interesting...even for me! Frankie and Miro obviously decided to give a new twist to this Cherry Busting format...do let me have your comments. We posted twinky Stano Janda's Casting on 04/11/17 and he seems to have dived in to this Cherry Busting with my favorite homophobe ( 'My ass is for one thing only") Peter Uman. n the interview they both make it perfectly clear they are only doing this for the money...the geeky Peter Uman and the nervous Stano are encouraged to touch and kiss and suck each other properly as the scene progresses. When Frankie asks, "What's it like to suck a dick?"Stano laughs and replies, "I don't want to be a girl!" After being offered more money they agree to fuck and Stano immediately volunteers to be the top since Peter looks more like a girl with his hairstyle.... and Peter reminds us again in Czech, "My ass only works one way". Finally they toss a coin to settle it and Stano loses. So, finally I get to see who's Cherry is being busted....Peter does a great job, his first time as a top on the site, and Stano's role as the bottom seems to get easier for him as Peter just bangs away at his ass. I'm still definitely looking forward to seeing Peter as a bottom!
Filip Urbak - Erotic Solo: 22/02/18
I was intrigued by this guy because Miro and Frankie told me that when he first came in he was really quite arrogant in his attitude, almost to the point when they were thinking it was better to not bother filming with him. Only once it was explained clearly what he was expected to do if he wanted to get his money did his attitude change, and he became more amenable to the instructions he needed to follow. I did wonder what to make of a guy that wears a T-shirt stating, "Bitch I Am The Shit". It also looks like he went to a hairdresser specially just before he came in. Needless to say he confirms he has never done anything with a guy during his interview and when asked if he wants to try he responds, "No I don't". We shall have to wait and see...
Stano Janda/Karel Polak - Raunchy: 23/02/18 Str8Hell
Although the new theme of this Raunchy was not a surprise to me there was still in fact a surprise for me in this scene...... Having only done a Casting before, Stano makes his second appearance in 2 days with this scene on Str8Hell today with Karel Polak....after his Cherry Busting on the main site 2 days ago. Here, Stano is a thieving pickpocket who has been caught by Karel, the security guard. For Karel there are 2 possible solutions to the problem...either he calls the police to have Stano arrested or....???....no prizes for guessing the alternative solution!! Karel face fucks the apparently unwillling Stano before turning him round and then buttfucks him hard. At the end Karel jerks off and cums over Stano's face and eager open mouth before Stano sucks the last drop out of Karel's hard cock. I hope you like this scene as much as I do?
Wank Party 83 - Backstage
A little treat here for those that like to see the boys relaxing during the shoots...this Wank Party was originally posted on the site on the 3rd May ( Part 1) and 17th May (Part 2) in 2017. Romi Zuska....who has worked a lot for us since his Casting way back in November 2014 appears to be the comedian amongst the bunch especially when we get to see his phone recorded big-dipper ride along with what I presume is his girlfriend. I also think that we get to see his brother Peter Zuska sitting behind him with his girlfriend too... I need to double check that? Not something you see every day on a gay site!! There's a nice little clip of him dancing at the end of this Backstage looking super cool smoking his cigarette wearing his sunglasses.
What a fantastic Cherry Busting we have to start today's newsletter. It features Stano Janda, getting it for the first time, and Peter Uman whose ass is 'only for one thing' doing the fucking. It is a great scene with the guys being pushed hard to do lots of things they have never done. We then see Filip Urbak in his erotic solo and we have a lovely backstage video from Wank Party # 83.
For our castings today we have Tomas Frol and Erik Jarek. Both are very good models, as we have already seen in their solo shoots. Erik just edges it for pick of the day.
REMEMBER YOUR CAN ALWAYS CHECK THE OLD WH WEBSITE AT:
NEW SETS AT STR8HELL.COM

Members of str8hell.com get full access to the site and to the full archive of more than 2500 sets on Czech Guys Next Door web site, at:
http://archive.czechguysnextdoor.com/
Non-members can access str8hell.com and browse the complete content, including free video previews and some free photos for each set. Non-members can also search the site, and are able to buy any sets they like, without taking out a full membership. Paying only for the sets you really want to see.
Sincerely
William Higgins

WHVideoShop.com Website Latest Updates


DOWNLOAD OUR VIDEOS IN FULL HD 1920x1080p FROM ALL 6 SITES!
Special Offer for William Higgins Newsletter Readers
William Higgins Newsletter readers are able to obtain a discount on the price of BURNDVD downloads by using the coupons that we will be publishing in each Members Newsletter. The coupon published in each newsletter will be valid for a period of 7 days.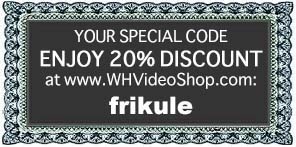 Copy today's coupon code here: frikule

Our Partners:

PLEASE PROCEED TO THE NEXT PAGE FOR THE LATEST WilliamHiggins.com UPDATES