Friday, February 16, 2018 - Wank Party #93, Part 1 RAW

Wank Party #93, Part 1 RAW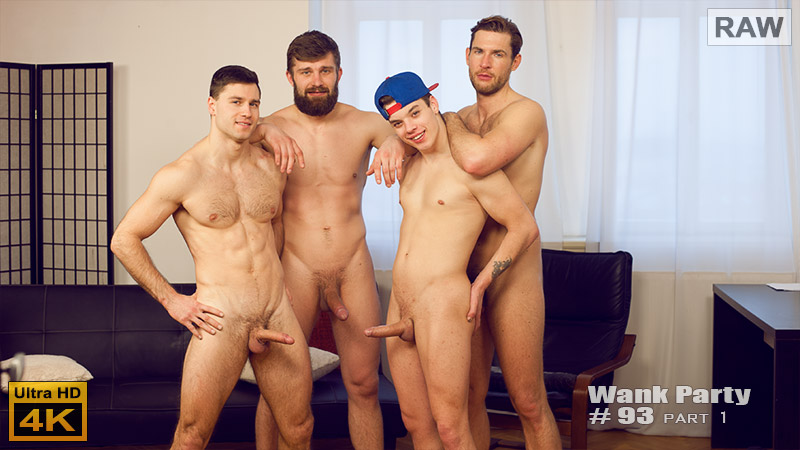 We have a great line-up for Wank Party #03, with some very sexy str8 guys. Part one sees Nikol Monak, Karel Polak, Tomas Salek and Adam Zrzek enjoying a drink. Their thoughts soon turn to more than drink and everyone gets bare chested as they kiss each other. Karel sits with Nikol kissing and rubbing. Tomas kisses Adam at the same time. Then Nikol's pants come down to reveal his throbbing cock. Tomas pushes his jeans down too, releasing his big, hard, cock. Karel eagerly sucks on Nikol's dick as Adam takes Tomas' into his mouth. Karel's head bobs up and down on Nikol's rock hard dick as Adam's lips are wrapped tight around Tomas'. Then Adam joins Karel in sucking on Nikol's cock while he sucks Tomas. Kael and Adam share Nikol's cock, sucking and licking it and kissing each other. Then Adam turns back to suck on Tomas again, taking turns with Nikol. Nikol then moves, bending to present his hot ass with Karel quickly starts to lick. His tongue laps at Nikol's hairy hole. Meanwhile Tomas is on his back with his legs in the air as Adam's tongue works into the hairy hole.
... more about Wank Party #93, Part 1 RAW further in this newsletter

Our Coming Soon Set Preview


Trailer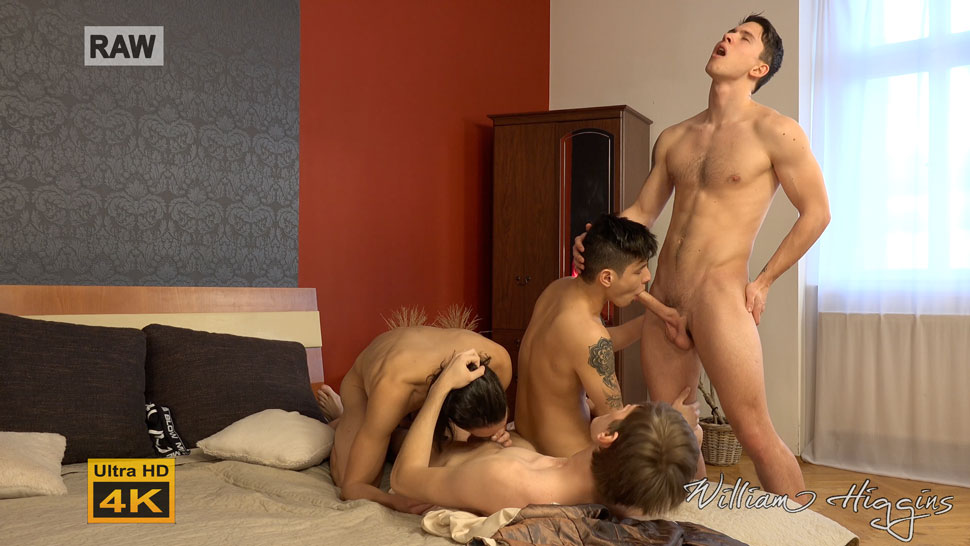 Vlog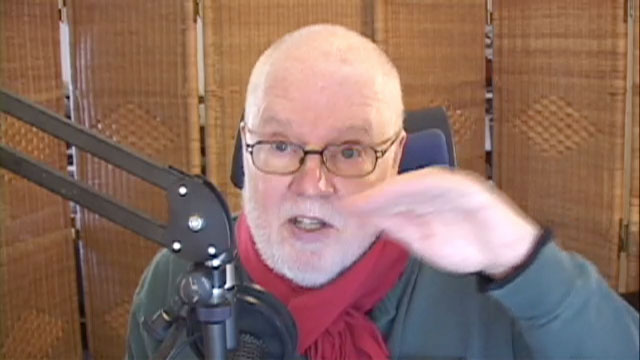 You can watch my Vlog for this Newsletter by clicking above or by going over to the Blog :
http://www.wheuro.com/?p=18565
We were supposed to have a heavy snowstorm overnight. When I got up for pee breaks, I looked out the window, the streets were wet, but I didn't see a single snowflake either time. This morning, I again looked out the window and there was a light dusting of snow on the parked cars. The sidewalks and street were too warm, and not a bit of snow remained. But they were wet. My what a change from years ago at this time. But our Dear Leader tells us there's no global warming. BTW at the moment I'm sweltering, it's 6º outside.
This morning, the str8 homophobe Peter Uman brought in his little brother for a wrestling match. Both look very nerdy when wearing their glasses. Miro Vibered me that they wanted to have coffee with me after the shoot. I thanked them for the coffee invitation and said I was, unfortunately, too busy with the Newsletter for coffee today. Could we make it another day. I don't know whether there is any significance, but Miro called today's shoot, "The Crazy Brothers Shoot.' Lest I need to remind you, when asked if he would ever consider having sex with a guy, Peter replied, 'my ass is only for one thing.' A reminder: Peter's Hot Ass, where he finds out there is more than one use for his ass, is published today over at Str8hell. Do check out the link below.
https://www.str8hell.com/set-list/set-detail/18021251
In the last Newsletter I screwed up and left out the backstory of Vadim Covrescu's Helping Hand. I thought he was Romanian, in fact he's Columbian lad now living in Prague. That's a first. Even though Columbia is rapidly becoming a flavor of the month. During his interview, Vadim admitted: to wanting to "maybe" try something with a boy and is surprised to find his Erotic Solo show has turned into a Helping Hand as he receives a massage. As he wanks while he is being double finger fucked quite hard, he finally cums and thanks Frankie for the "very nice surprise". It looks like he has come to the right place to explore his sexuality more...and he has done more shoots already for the Studio. Very nice looking lad:
https://www.williamhiggins.com/set-list/set-detail/18021201
Finally for today, in the personal remembrances department: We've had several workshop students this week. We had a very nice student from Hong Kong. I said, 'I've been to Hong Kong.' He asked, 'when?' I said, '1988.' He said, '30 years ago.' Well, duh. So, it's been 30 years since I moved to Europe. Hong Kong was just a stop over on the way. 30 years in Europe and this is my 40th year in the gay entertainment business.' My oh my, how time flies when you're having fun.
We have a great cast, Nikol Monak, Tomas Salek, Karel Polak and Adam Zrzek in part 1 of Wank Party #93. We also have a great newcomer in str8 guy Erik Jarek. We also have a lovely bonus set from str8hell.com with Robin Valej and Aron Ros in an Airport Security scene.
For our castings today we have Viktor Bartonik and Ivan Danek. They both look very good indeed and make some good wood. My pick for today is Ivan Danek.
REMEMBER YOUR CAN ALWAYS CHECK THE OLD WH WEBSITE AT:
NEW SETS AT STR8HELL.COM

Members of str8hell.com get full access to the site and to the full archive of more than 2500 sets on Czech Guys Next Door web site, at:
http://archive.czechguysnextdoor.com/
Non-members can access str8hell.com and browse the complete content, including free video previews and some free photos for each set. Non-members can also search the site, and are able to buy any sets they like, without taking out a full membership. Paying only for the sets you really want to see.
Sincerely
William Higgins

WHVideoShop.com Website Latest Updates


DOWNLOAD OUR VIDEOS IN FULL HD 1920x1080p FROM ALL 6 SITES!
Special Offer for William Higgins Newsletter Readers
William Higgins Newsletter readers are able to obtain a discount on the price of BURNDVD downloads by using the coupons that we will be publishing in each Members Newsletter. The coupon published in each newsletter will be valid for a period of 7 days.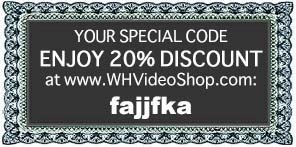 Copy today's coupon code here: fajjfka

Our Partners:

PLEASE PROCEED TO THE NEXT PAGE FOR THE LATEST WilliamHiggins.com UPDATES