Friday, June 29, 2018 - Wank Party #97, Part 2 RAW - WANK PARTY

Wank Party #97, Part 2 RAW - WANK PARTY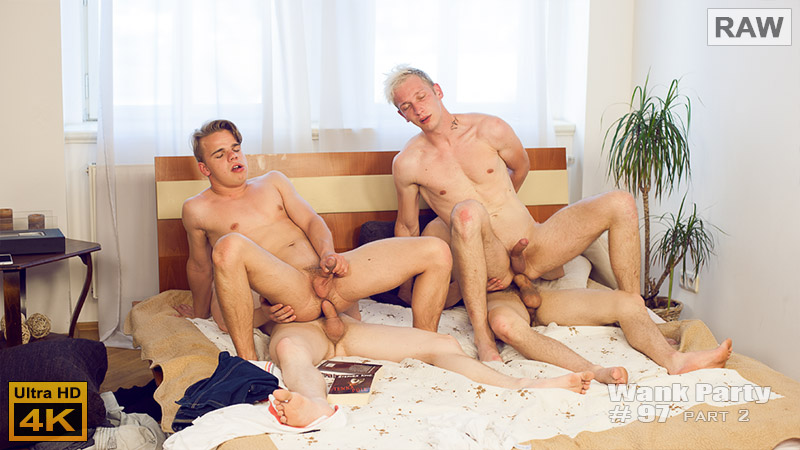 Wank Party #97 features such a hot team of guys, Karel Omanak, Kristof Trnka, Karel Opec and Bozek Kolek. In this second part we join them as Bozek is rimming Kristof's ass and Karel Op is about to slide his throbbing cock into Karel Om's hole. His dick goes deep into the hole and he spanks that sexy ass, giving it a quick spank too. As Karel Om takes that big cock Kristof feels Bozek's cock pushing into his hole too. The fat cock stretches Kristof's ass wide as he slips deep inside. Then Bozek starts to fuck with gentle thrusts. Kristof's dick is hard as he takes the cock in his hole. Pulling out of that hole Bozek shoves his dick back in and fucks harder. Karel Op continues his pounding Karel Om's ass too. Then Karel Op and Bozek pull out and swap partners. Their big cocks slip easily into the waiting holes and they resume their deep fucking. Karel Op grabs Kristof's dick and wanks fast as he fucks the hot hole. His dick slams in and out of the hot ass as fast as it can as he wanks Kristof. Then he pulls out and they swap places. Karel Op lays on the bed and gets Kristof's throbbing cock deep in his hole. He wanks himself as Kristof fucks him hard. Karel Op's cock is ready to blow as he keeps wanking as Kristof pounds his hole. Bozek continues to fuck Karel Om, thrusting his dick deep into the eager hole. Then he pulls out and they both move over to Karel Op. He sucks each of their cocks as he wanks himself and takes Kristof in his ass. Kristof's fucking gets faster as the others continue wanking. Then Kristof pulls out and they all move so that Karel Om sits on Karel Op's cock while Kristof does the same to Bozek's dick. The two ride up and down on those big cocks, their own dicks rock hard. Kristof and Karel Om wank themselves as they slide up and down on the big cocks. Karel Op thrusts hard up into Karel Om's ass. Karel Om wanks himself so hard as he takes that dick and he shoots he creamy load all over the bed. He milks his cock dry of cum as he continues to ride on Karel Op's dick. Then it is all change again. Karel Op kneels to take Kristof in his ass again as Bozek stands and wanks himself. Karel Om runs a hand over Karel Op as he watches him being fucked. Kristof pulls out of Karel Op's ass and shoots his hot cum all over it. He wanks his dick till all the cum is released and then makes way for Bozek to fuck that ass some more. Bozek pulls out of the hot ass and wanks himself to a creamy load, dumping it on Karel Op. Then lays on his back, with the others sitting next to him, and wanks himself. He quickly shoots his cum up his body and they all kiss to end a great Wank Party.
... more about Wank Party #97, Part 2 RAW - WANK PARTY further in this newsletter

Our Coming Soon Set Preview
Peter Hronsky Jr does a screentest with Miro Dalek. These two good looking straight guys sit on the bed chatting as Miro interviews Peter. Then they begin to kiss and get barechested. Miro removes his jeans and his big, stiff cock is exposed. Peter shows his willingness to please as he takes the cock into his mouth and sucks it. His head slides up and down on the rock hard cock. Miro lays back and enjoys the attention his cock is receiving as Peter licks up and down the thick shaft and sucks on the head. Then Peter's jeans are pushed down, as he moves onto his knees, then his cock is sucked by Miro. That throbbing cock, with the big, bulbous, head points skywards as Miro's mouth works on it. They kiss again and Peter takes another turn at sucking as he works on Miro's dick. He then moves behind Miro and slides his rampant cock into the waiting ass. Miro moans as the thick cock slides deep into his waiting hole. Peter's hips thrust as he fucks the tight hole. Then he pulls out and lays back on the bed for Miro to sit his ass down on the hard dick. He rides on Peter's cock, taking it deep into his ass. Turning around he sits back down on that cock and rides it some more. Peter thrusts his dick up into the hot ass. Moving again Miro is fucked missionary style as Peter's dick works deep into the ass. Miro wanks himself as he takes the cock in his hole. He quickly shoots his hot cum as Peter's dick is deep inside him. Peter fucks faster and pulls out to shoot his hot cream onto Miro's belly. He leans over and kisses Miro again to complete his screentest.

OPEN SET WINDOW

Trailer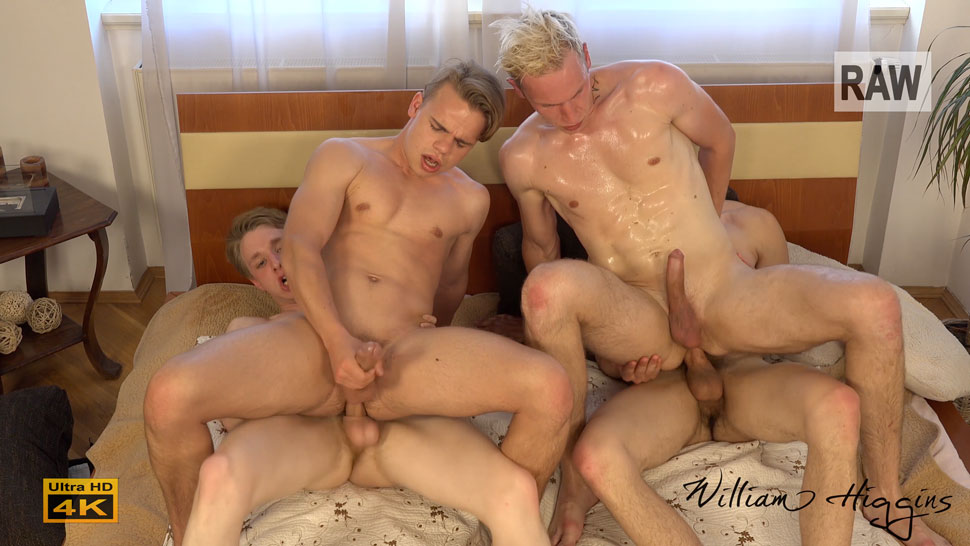 Vlog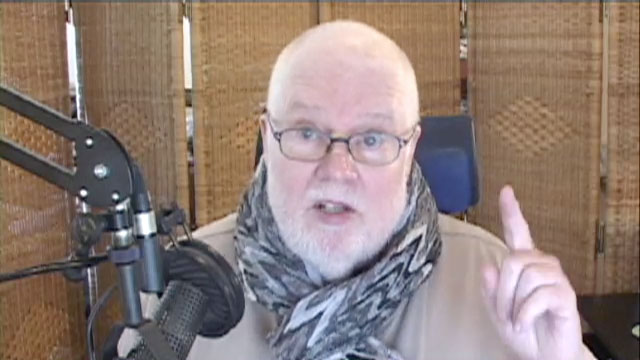 You can watch my Vlog for this Newsletter by clicking above or by going over to the Blog :
http://www.wheuro.com/?p=19145
Back to warm weather in Praha today. Yesterday, Franky departed for gay pride in Barcelona. He's going to make 'the big three' this year, Barca, Berlin, and Prague. Happy hunting to him.
Upcoming over the weekend is a great RAW fuck duo starring my current favorite model, Miro Dalek and Peter Hronsky JR. Junior is the son of one of our very first models in Prague, Peter Hronsky SR. Just as soon as young Hronsky turned 18, papa sent him to us. Thanks very much. The apple don't fall far from the tree.
Part 2 of Wank Party #97, with Karel Omanak, Kristof Trnka, Karel Opec and Bozek Kolek gets the newsletter off to a great start today. These hot straight guys really deliver a wonderful scene. Then we have a lovely Dreamset, suggested by Charles, with Tomas Muller. We also have a very good backstage video with Nikola Donoval and Filip Sebek.
We have two very good candidates for casting today, Erik Tunek & Adam Sinor. They both look good with Erik being given the accolade as pick for today.
REMEMBER YOUR CAN ALWAYS CHECK THE OLD WH WEBSITE AT:
NEW SETS AT STR8HELL.COM

Members of str8hell.com get full access to the site and to the full archive of more than 2500 sets on Czech Guys Next Door web site, at:
http://archive.czechguysnextdoor.com/
Non-members can access str8hell.com and browse the complete content, including free video previews and some free photos for each set. Non-members can also search the site, and are able to buy any sets they like, without taking out a full membership. Paying only for the sets you really want to see.
Sincerely
William Higgins

WHVideoShop.com Website Latest Updates


DOWNLOAD OUR VIDEOS IN FULL HD 1920x1080p FROM ALL 6 SITES!
Special Offer for William Higgins Newsletter Readers
William Higgins Newsletter readers are able to obtain a discount on the price of BURNDVD downloads by using the coupons that we will be publishing in each Members Newsletter. The coupon published in each newsletter will be valid for a period of 7 days.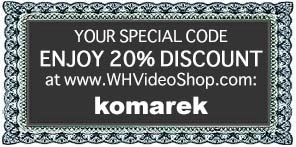 Copy today's coupon code here: komarek

Our Partners:

PLEASE PROCEED TO THE NEXT PAGE FOR THE LATEST WilliamHiggins.com UPDATES