Friday, September 28, 2018 - Alan & Martin RAW - CHERRY BUSTING

Alan & Martin RAW - CHERRY BUSTING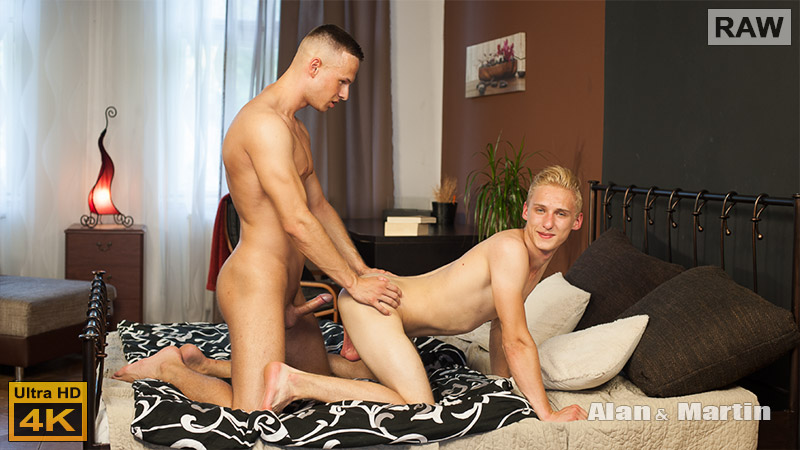 Cute and sexy str8 guy Alan Hemar gets his cherry busted by Martin Hovor. When Martin arrives he sits and chats with Alan, determining that so far he has only been kissed and massaged by a guy. He decides that he wants to try more, so Martin starts things off by leaning over so they can kiss. As they kiss Martin gropes Alan. Alan then removes his shirt and they kiss some more as Martin feels the sexy chest and gropes Alan's crotch. He then opens Alan's belt and helps him take off his shorts. Alan leans back on the pillows as Martin takes hold of his cock. They kiss again as Martin wanks on Alan's cock and then he moves down to suck it. He takes the stiff dick into his mouth, wrapping his lips tight around it. Alan pushes Martin's head down on his cock as he feels the hot lips. Matin's head bobs up and down on the rock hard cock, taking it all into his mouth. He licks up and down on the shaft too. Having sucked for a while Martin removes his shirt and then takes off his shorts too, revealing his own, very stiff, cock.. He rocks back onto his heels as Alan moves forward to show that he is willing to suck too. Alan takes Martin's huge, stiff, cock into his mouth and suck on it. He cups the tightening balls as he sucks on the big head of Martin's cock. He sucks and licks on that dick for a while, swirling his tongue around the head and licking up and down the shaft. Then he lays on his back with his legs in the air. That exposes his tight hole as well as his stiff cock and his . balls. Martin sucks on the cock and licks the hot hole. He also sucks the balls into his mouth and then he slips a finger into Alan's hot hole. He sucks on the balls some more as he fingers that ass hole. Then he positions his big cock and begins to push it into Alan's ass. That fat cock opens the hole up and slides deep inside. Martin starts to gently fuck that tight ass, grabbing hold of Alan's cock too. Then he fucks harder, pulling out and shoving that dick back into the tight ass. With long strokes he fucks Alan's ass. Alan takes hold of his own cock and wanks it as that big dick fills his ass. The balls are tight around Alan's shaft as he wanks himself and dumps his cum onto his chest while Martin fucks him deep and hard. Martin continues to fuck hard, leaning over to kiss Alan as well. He pounds the hot hole, turning Alan over onto his knees. That big cock slams in and out of Alan's hole, stretching it wide. Martin's cum builds up and the pulls out to shoot his creamy load all over Alan's sexy ass.
... more about Alan & Martin RAW - CHERRY BUSTING further in this newsletter

Our Coming Soon Set Preview
Gerasim Spartak is a handsome, hairy st8 guy who gets his cherry busted today. His partner for this treat is another hot str8 guy Tomas Fuk. They begin by kissing and feeling each other, lifting tee shirts to kiss chests too. Soon they are bare-chested with hard cocks out too. They kiss as they wank each other, with some playful spanks too. Then both get naked and Tomas lays on top of Gerasim lustily kissing him. He sucks on nipples too before moving down to kiss the balls and lick that hard cock. He takes Gerasims stiff dick into his mouth and sucks it hard. LIcking up and down the shaft and sucking on the head he does a great job on that dick. He sucks on the balls too while Gerasim reaches for Tomas' cock and wanks it. Then they swap places and Gerasim sucks on Tomas' cock and balls. His head bobs on the cock as they moan with pleasure. His mouth encircles the cock as he sucks and then he takes the balls into his mouth and pulls on them as he releases. As the change positions again Tomas sucks on Gerasim's cock before getting between his legs to fuck him. His throbbing cock pushes into Gerasim's tight, virgin, hole and begins to fuck. Gerasim gives his own cock a few pulls as he takes that dick in his ass. Laying on his back Gerasim's hot hairy chest looks so good as the dick fucks his hot hole. He moans as he feels the cock stretching his hole and he wanks on his cock. He keeps wanking as Tomas fucks him hard and he speeds up the stroking until he shoots his hot cum onto his belly. Tomas continues fucking Gerasim's ass, turning him over onto his knees too. That big cock works deep into Gerasim's ass as Tomas fucks. Geramsim's cock stays rock hard as Tomas fucks him. As the cum builds up Tomas pulls out to shoot the creamy cum over Gerasim's hole. Then Gerasim turns round and they kiss again.

OPEN SET WINDOW

Trailer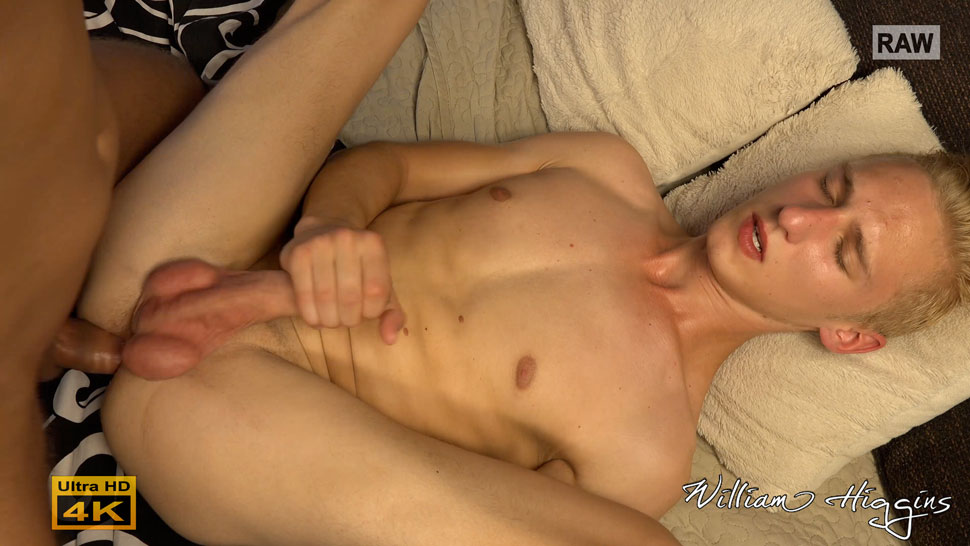 Vlog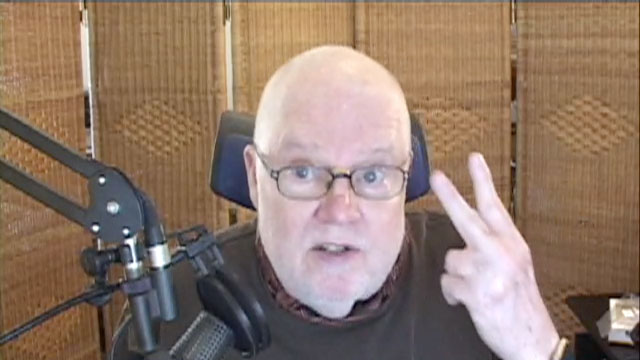 You can watch my Vlog for this Newsletter by clicking above or by going over to the Blog :
http://www.wheuro.com/?p=19483
Today is an important holiday in the Czech Republic St. Wenceslas Day. I've driven hundreds of times through Stara Boleslav where Wenceslas (more properly known as Vaclav, a very popular first name) was assassinated by his brother, Boleslav. At the time, most people were happy to be rid of Wenceslas. He was considered to be a little bit daft. Here's a link:
https://www.private-prague-guide.com/article/saint-wenceslas-svaty-vaclav/
Our wordsmith has asked me, 'Please do not mention that Alan Hemar looks like a young Ellen Degeneres. I wouldn't think of it.
Cute str8 guy Alan Hemar gets his Cherry Busted by Martin Hovor to start today's newsletter. Then we see the very sexy straight guy Ivan Alexov in his erotic solo. We also have a bonus set with Manuel Olveyra, James Castle and Theo Ford.
Our castings today are Milos Simek and Leo Kras. They both look so good, with Milos, whose cock got hard without any touching, getting the vote as pick of the day.
Over the weekend we have a great Cherry Busting coming on line. With Str8 Stud Gerasim getting the honors.
REMEMBER YOUR CAN ALWAYS CHECK THE OLD WH WEBSITE AT:
NEW SETS AT STR8HELL.COM

Members of str8hell.com get full access to the site and to the full archive of more than 2500 sets on Czech Guys Next Door web site, at:
http://archive.czechguysnextdoor.com/
Non-members can access str8hell.com and browse the complete content, including free video previews and some free photos for each set. Non-members can also search the site, and are able to buy any sets they like, without taking out a full membership. Paying only for the sets you really want to see.
Sincerely
William Higgins

WHVideoShop.com Website Latest Updates


DOWNLOAD OUR VIDEOS IN FULL HD 1920x1080p FROM ALL 6 SITES!
Special Offer for William Higgins Newsletter Readers
William Higgins Newsletter readers are able to obtain a discount on the price of BURNDVD downloads by using the coupons that we will be publishing in each Members Newsletter. The coupon published in each newsletter will be valid for a period of 7 days.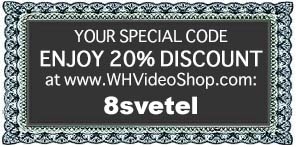 Copy today's coupon code here: 8svetel

Our Partners:

PLEASE PROCEED TO THE NEXT PAGE FOR THE LATEST WilliamHiggins.com UPDATES