Friday, May 19, 2017 - Wank Party #83, Part 2 RAW

Wank Party #83, Part 2 RAW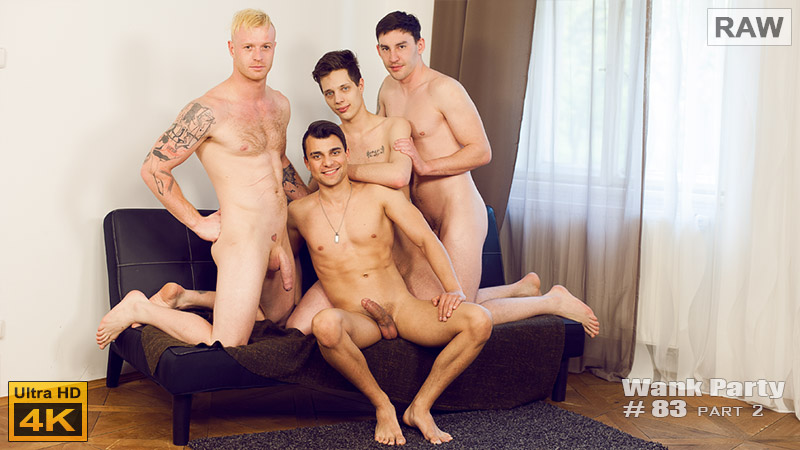 In Wank Party #83 we have Tom Vojak, Petr Cisler, Romi Zuska and Rudolf Poper. In this second part we rejoin them with Petr rimming Rudolf's ass and Romi sucking on Tom's massive cock. Then it is all change as Rudolf gets on his knees with Tom behind him and sliding his big cock into the waiting ass. Romi sits on the sofa and Petr straddles him to slide his ass down on the hard cick below. Petr rides Romi's cock as Tom's big dick slides deep into Rudolf's eager hole. Romi fucks his throbbing cock up into Petr's hole as Tom continues fucking Rudolf. Tom's fat cock really stretched Rudolfs ass. Petr enjoys the hard cock in his ass and turns around and slides his ass back down on it. His dick flops around as he rides Romi's hard cock. Rudolf takes Tom's cock so well and Petr moves again, onto his side, wanking himself as Romi fucks him hard. He keeps up his hard wanking until he shoots the cum up onto his hot body. Romi toninues to pound Petr's hot ass until he is ready, then he pulls out and dumps his cum as well. Tom's fucking has got him ready to cum too and he shoots his hot cream all over Rudolf's ass. Rudolf sits up and kisses Tom. Then he grabs his own cock and wanks it as the other watch. With his cock rock hard Rudolf soon delivers his creamy load too.
... more about Wank Party #83, Part 2 RAW further in this newsletter

Our Coming Soon Set Preview


Trailer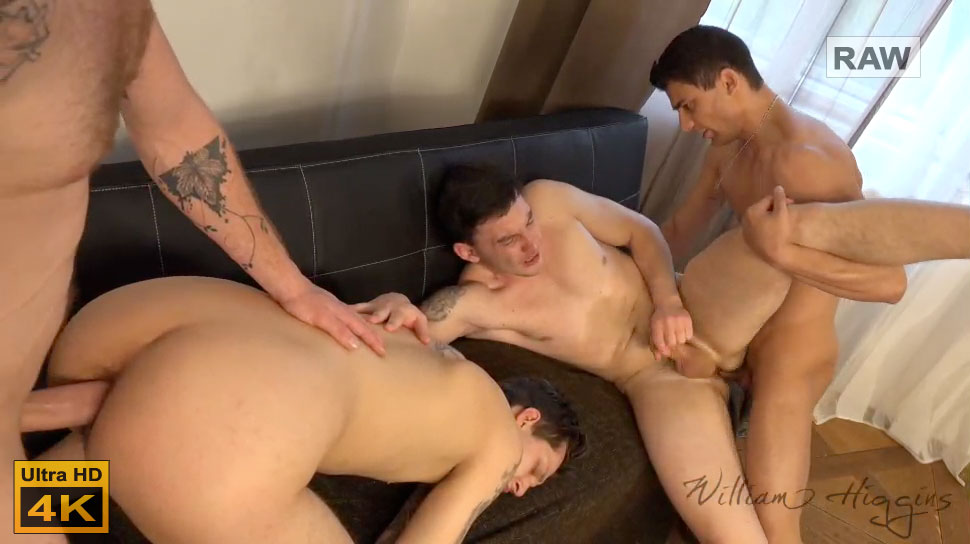 Vlog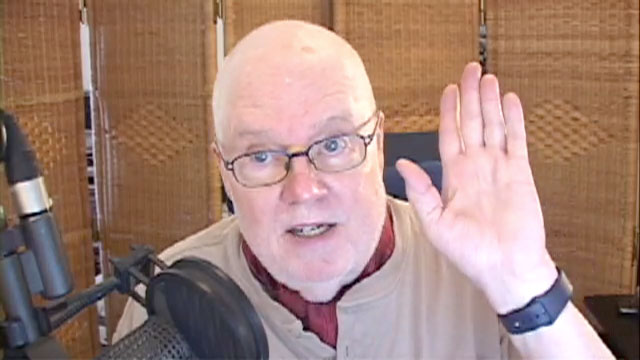 You can watch my Vlog for this Newsletter by clicking above or by going over to the Blog :
http://www.wheuro.com/?p=17645
We're enjoying another brilliant day in Prague, the third in a row. Unfortunately, the weather is supposed to get colder over the weekend. Hopefully that's just for a brief time. I want to call your attention to the massage of Ivan Sabado from the last Newsletter. He's just my type, one among many types. By Tuesday, we'll be posting a full RAW scene with Ivan. I'll be looking forward to that. I hope to see many return performances with Ivan.
I also want to call attention to the Fucking Part of Wank Party 83. I really like the fairly new macho Tom Vojak. I don't want to take anything away from the rest of the cast. Tom has done quite a few shoots for us previously. But IMHO he looks really great in today's episode. He seems to have a new hair color. And for once the change in a model looks good. Tom rings a lot of my bells. Tom is a very good pitcher. So far, he's never been a catcher. I believe it's about time for a change of behavior.
Part 2 of Wank Party #83 with Tom Vojak, Petr Cisler, Romi Zuska and Rudolf Poper is a great way to start today's newsletter. Then we see Viktor Modrak with his erotic solo. We also have a lovely backstage video with Miro Matejka and Milos Ovcacek.
For our castings today we have Otto Nezdar and Alan Pekny. While Otto looks good it is Alan who is really outstanding with his handsome face and great body, so he is my pick for today.
SESSION STILLS


Dear members,
as you probably noticed we discontinued publishing SESSION STILLS as a separate set recently. The reason for doing this is that we want to now offer quality pictures from the Session Still set and action videos from the Erotic Solo set in one product which will be called only EROTIC SOLO. So all the best stuff you were used to watching is still available, only now in one product.
Your WH Team
REMEMBER YOUR CAN ALWAYS CHECK THE OLD WH WEBSITE AT:
NEW SETS AT STR8HELL.COM

Members of str8hell.com get full access to the site and to the full archive of more than 2500 sets on Czech Guys Next Door web site, at:
http://archive.czechguysnextdoor.com/
Non-members can access str8hell.com and browse the complete content, including free video previews and some free photos for each set. Non-members can also search the site, and are able to buy any sets they like, without taking out a full membership. Paying only for the sets you really want to see.
Sincerely
William Higgins

WHVideoShop.com Website Latest Updates


DOWNLOAD OUR VIDEOS IN FULL HD 1920x1080p FROM ALL 6 SITES!
Special Offer for William Higgins Newsletter Readers
William Higgins Newsletter readers are able to obtain a discount on the price of BURNDVD downloads by using the coupons that we will be publishing in each Members Newsletter. The coupon published in each newsletter will be valid for a period of 7 days.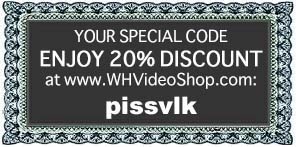 Copy today's coupon code here: pissvlk

Our Partners:

PLEASE PROCEED TO THE NEXT PAGE FOR THE LATEST WilliamHiggins.com UPDATES