Friday, December 16, 2011 - XMas Wank Party 2011 Part 1

Christmas Wank Party 2011, Part 1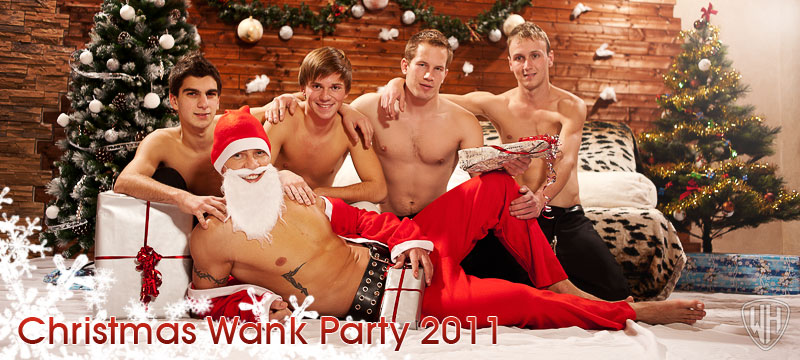 Christmas Wank Party 2011 features 5 of the hottest guys of the year. From Mirek Ceslar, as Father Christmas to the four cutest newcomers Jan Subrt, Honza Forst, Zaja Kolomaz and Jakub Nakuda everyone looks great. Fun is the name of the game in this first part of the scene, and the guys are ready for that, as they visit the celebrations in Prague Old Town Square. Jakub buys himself some hot mulled wine and meets up with some friends. He invites them back with him, where we find the sexiest Santa you could ever wish to meet. Daniel introduces his friends to Santa who is happy to see them and dispenses presents too all. In the spirit of the fun to come it seems that Santa has focussed on dildos and vibrators as his gifts this year. Santa decides that the fun should really start and choose Jan to start things off. Jan removes Santa's coat before Kaja joins in the has he shirt removed too. Kaja's belt is taken off and Jan uses it to spank his ass. Then Jan removes his shirt as well before Santa sits them back down. Jakub and Honza take their shirts off too, so all are now topless and are feeling each other. Then Kaja and Jan remove their pants and Honza stands to make room for Santa to sit. Honza and Santa start feeling Kaja as Jakub pays attention Jan before getting his pants off as well. Now the guys are really getting into it with Honza wanking Kaja and the other three feeling each other. Honza and Santa also get naked and now we can really get started as the guys wank and suck each other. Kaja sucks on Honza's big hard cock as Honza licks Santas balls, with Jakub and Jan kiss. Honza then sucks Mirek's(Santa) and Kaja's throbbing cocks as Jan works on Jakub. As he rims Jan's eager hole Mirek looks on and Honza works on Kaja's dick. Kaja is a really horny bottom and soon Honza has him on his back fingering his tight ass. Jan is still eating Jakub's ass while Jakub sucks on Mirek's big cock. Kaja's hole needs more than a finger and one of the new toys slips into his ass. Even that isn't enough Kaja wants the larger vibrator in there and Honza is happy to oblige. Meanwhile Mirek really wants to get into the action and he shoves his big, hard cock into Jakub's ass. Jakub loves to be fucked and wanks himself as that dick stretches his hole, and he sucks on Jan's cock too. He really cant get enough cock and very soon he cant hold back and shoots a big, creamy load over himself as Mirek pounds his ass. That is a trigger for everything to get even hotter, as Jan sits on Mirek's throbbing dick and Honza rams his own rampant cock deep into Kaja;s ass. This first part of the Christmas Wank Party 2011 really excels, with all the guys getting hotter by the minute. Be sure to look out for part two with, even more horny action.
... more about Christmas Wank Party 2011, Part 1 further in this newsletter

Our Coming Soon Set Preview
Ivan Cakovsky and Tomas Graca came in for a duo, and what a great scene it turned out to be. Things start out with Ivan sitting on a couch, in just his cut-off jeans, rubbing his crotch. Tomas watches him, surreptiously, through a doorway, and rubs himself as he does so. As he watches Tomas slips his hand through his open fly and feels his cock. He then opens his jeans to reveal a swollen cock, which he takes in hand and starts to wank. His pleasure is enhanced as Ivan removes his shorts and starts to play with his big, hard cock. He notices Tomas and walks over to him and goes down on his knees and sucks his cock. Tomas is enjoying the feel of Ivan's hot mouth working on his cock. Ivan then stands and the two guys kiss each other before moving to the bed. Ivan lays down on the bed and Tomas sucks on his cock and licks his balls, as he wanks himself. It feels so good and Ivan stands up and fucks the face of the kneeling Tomas. He fucks it nice and deep into Tomas' mouth. Then Ivan lays down again, on his side, and Tomas gets to rim some ass. His tongue is licking as Ivan's nice tight hole. Ivan loves the feeling, it makes his dick rock hard. With his cock so hard Ivan decides he needs some ass and gets Tomas on his knees. In that position Tomas is ready and Ivan's rock hard cock slides, easily, into the waiting hole. Then Ivan starts to fuck that ass, hard and fast, really pounding it. Tomas takes it very well, his own cock rock hard from feeling his hole stretched so well. Ivan then sits on the bed and Tomas climbs up and sits on Ivan's cock. He rides it really well until Ivan holds him steady and starts to slam his dick upwards, fucking deep into his open ass. Ivan wanks Tomas as his dick fucks him. They quickly move into a spoon position, with Ivan fucking even harder as he wanks Tomas' dick. He really i s slamming that dick so deep into Tomas' ass, with Tomas wanking himself fast and furious until he dumps a big, creamy load all over his leg. Ivan is ready a quickly positions himself over Tomas' face and drop his load all over him. He then sucks on Ivan's spent cock, to drain the last of that cum from him. Ivan then bends down to Tomas mouth and kisses him on the lips bringing a wonderful scene to a close.

OPEN SET WINDOW

Trailer
Vlog
You can also watch my Vlog for this Newsletter by clicking the video above or over at the Blog:
I can say I feel a year younger than I did two days ago. My birthday is on the 19th, and I called up Pavel Nikos and asked him, 'what do I have to do to be able to ride the tram when I'm 70 on the 19th?' He replied, 'but you won't be 70 on the 19th of this month as you are 68 years old.' I was incredulous. I guess I've never been very good at high mathamatics (or arithmetic for that matter). After several re-calculations, he was right I will be 69 on the 19th not 7o. I swear it was a mistaken calculation not a senior moment. Now I won't have to worry about turning 7o for about another six months. Then I can start worrying again. I don't think I'll ever live long enough to ride public transportation for free in Prague. There are very strong plans to do away with that privilege as part of Europe's draconian austerity measures. What they need to do is stop the black riders of public transportation. They could do that in a few days by putting conductors on all public transportation. That would bring in millions and millions in additional revenue. On to more pleasant subjects.
The weather has turned decisively colder in Prague, wind, drizzle, rain, and blowing winds, not very pleasant. Marc from Holland has been complaining that it doesn't feel very Christmassy in Prague this year, with all this drizzle and now snow. I hate to be Scrooge, but I'd say better not Christmassy, than snow up to your ass like last year. I'm hoping to go to the Christmas Market tomorrow evening with Marc and make one of my YouTube travelogues. But in weather like this, I'd have to postpone it. I wouldn't get anything good. Pavel and Boris got some beautiful footage when they went there with the guys for the 'B Roll' on our Wank Party. You can see it in Part One tonight. I've also done Part Two of my Sneak Backstage Videos. Please do take a look at it on the Blog.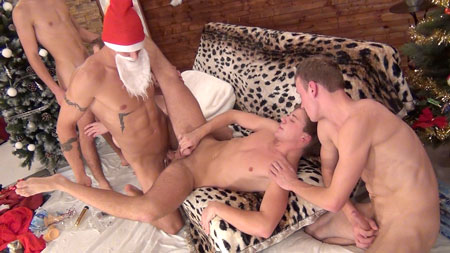 MESSAGE ABOUT LINKS TO THE OLD WH WEBSITE - WILLIAMHIGGINS.com ARCHIVES:
Please be aware that the link www.williamhiggins.com takes you to this brand new website now. If you bookmarked our old website in the past and you want to keep the bookmark as a shortest way to access the old WH website you need to change the link in the bookmark to:
You do not need to remember this link, you can conveniently get to the old WH Website - WilliamHiggins.com Archives anytime you need through the "WH 2001-2010" in the top menu of the new WilliamHiggins.com website.
Today's Weather in Prague
We have launched our all new Kink only site with no solos. It's not for the feint hearted. Do take a look (if you dare):
http://www.str8hell.com/updates
At present, Members of CzechGuysNextDoor will be able to access the new site with their user information. If you have problems, write Karel@wh.cz
Latest Sets At Our NEW STR8HELL.com Website

Members of CzechGuysnextDoor.com - to log in the member's section of the new STR8HELL website use your present username and password, if you forgot your password or encounter a log in problem please feel free to contact us at: whcustomerservice@gmail.com
Non-members - you are welcome to browse our complete content - each regular set contains free video preview and free photos, if you decide not to become a member of our website you can also buy sets separately (we huge, well organized and easy to search library of models - there is always few models you may like) you can pay only for what you really want see ;-). You are always welcome to come back.
All members of www.CzechGuysNextDoor.com get a free access to STR8HELL.com till the end of November 2011!
Please use your present CzechGuysNextDoor username and password to log into the members area.
We have terminated updates to CzechGuysNextDoor.com website. CzechGuysNextDoor.com website will stay online, but now only as an archive of all CzechGuysNextdoor.com sets. Anyone who wants to access CzechGuysNextDoor.com Archives needs to have a STR8HELL.com membership. STR8HELL.com will continue with most of the czechguysnextdoor.com projects. Anyone who joins STR8HELL.com will gain access to two websites STR8HELL.com and CzechGuyNextDoor.com Archives which contain 2500+ sets. STR8HELL.com has exactly same features and controls as NEW WilliamHiggins.com website.
Direct access to CzechGuysNextDoor.com website is now through the link: archive.czechguysnextdoor.com or through "Archive Sets 2004-2011" links on the new STR8HELL website.
Thank you for your loyalty to CzechGuysNextDoor.com website,
Sincerely
William Higgins

BurnDVD.tv Website Latest Updates


DOWNLOAD AND BURN VIDEOS TO DVD OR DOWNLOAD OUR VIDEOS IN FULL HD
Starting today you can download our videos in Full HD quality 1920x1080px!
Please remember that most of the videos available on BurnDVD are easily able to be downloaded with a single link, but some of the very large files, such as the newsletter DVDs have to be split into three separate links, as detailed below.

The videos with very large file sizes are now split into more than one part, using a program called HJSplit. If you wish to buy one of these larger videos to Burn to DVD, you will receive a link for file and then it is a simple process to join the downloaded files together to make the .iso file for Burning to DVD.

You can see all the available videos at www.burndvd.tv

Before downloading any videos to burn to DVD I advise you to read the BURNDVD Manual, which explains how you can burn the file to DVD. The file is an ISO file which contains all the required DVD files. The process for burning to DVD is fully explained.

The BurnDVD manual is easy to follow, with a step by step guide. Burning a DVD is easy to do, though it is helpful if you have previously burned DVDs or CDs.

The manual can be viewed here: BURNDVD Manual

Anyone who has any problems understanding the manual, or burning their download to DVD, or indeed any questions about this service please email geoff@wh.cz . Geoff will be happy to assist you.

You can view all the available downloads at www.burndvd.tv, by clicking the on the categories. A direct link to the latest files available will be published in each newsletter.
Our Latest Sets at www.BurnDVD.tv
Today we have part 1 of our Christmas Wank Party 2011 and our lateset Airport Security and Igor Putasky and Nude Submission Wrestling with Rudy Bodlak and Roman Lysacek:
Special Offer for William Higgins Newsletter Readers
William Higgins Newsletter readers are able to obtain a discount on the price of BURNDVD downloads by using the coupons that we will be publishing in each Members Newsletter. The coupon published in each newsletter will be valid for a period of 7 days.
Copy today's coupon code here: r84wg51

Our Partners:

PLEASE PROCEED TO THE NEXT PAGE FOR THE LATEST WilliamHiggins.com UPDATES