Friday, December 23, 2011 - Roman and Rudy - Broke CZ Boys - FULL CONTACT

Roman and Rudy - Broke CZ Boys - FULL CONTACT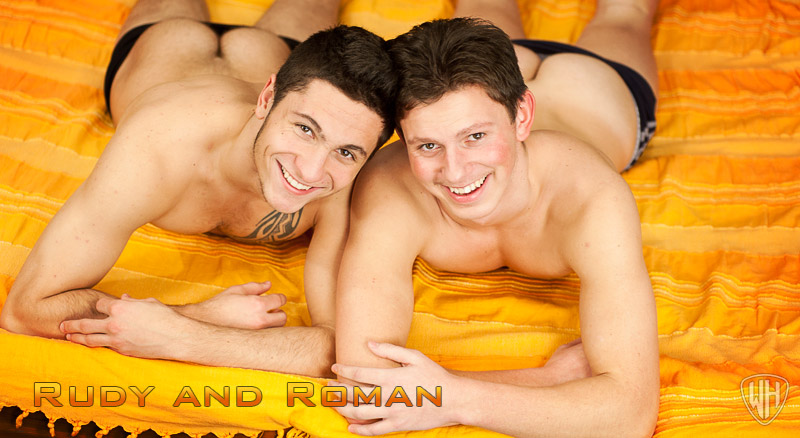 I really like Roman Lysacek and Rudy Bodlak, and wanted to see them in something more than solo shoots. When I discovered that they are actually very good friends I asked Boris to set up a Broke Czech Boys shoot with them, to see how far we could get them to go. After their interview the guys start to feel each other, with lots of giggling. They are directed on what to do. Firstly with Rudy kissing and licking Roman's body. Roman finds it all very amusing, then he is told to do the same. Then they are told to kiss each other. Roman's tongue seems a little more active than Rudy's but both do it well, with Roman still prone to a little giggle. Next the guys start to rub each other's cocks through their jeans. They strip down to their underwear and then start to play with each other's cocks inside the underwear. The dicks are then pulled out of the underwear and they start to wank. They whisper to each other and laugh as they play with the cocks. Next they remove each other's underwear and wank each other. They are told that the first one to get hard will be sucked. Roman is the first to get hard, so Rudy must suck his cock, but he is a little reluctant, instead he kisses it and licks it. Roman then returns the favor, licking Rudy's cock, and then, after some intstruction he is bold enough to start sucking it. He licks and sucks the cock as it gets rock hard. Rudy takes his head and pushes it down on his throbbing cock. Then it is his turn to suck, and he takes Romans' dick n his mouth. He gets Roman's cock hard as he sucks and licks it. It is then time to get them to go even further. Roman lifts his legs in the air and Rudy inserts a vibrator into his ass. He fucks it in and out as he wanks Roman's cock. Then he sucks on Roman's hard cock as he dildoes his ass. Rudy then removes the dildo and wanks Roman till he blows a very nice load. Roman then takes a vibrator to Rudy's ass, while Rudy wanks himself. Once the vibrator is in the ass Roman starts to suck on Rudy's cock again. Then Rudy, wanks himself to a climax as Roman plays with the vibrator. Roman takes Rudy's spent cock and wanks it some more. The guys then kiss before going off for a shower. Well what a lovely scene we got from two great guys. Rudy has since been back for more, and we are hopeful that we may have Roman back again soon. They are both wonderful.
... more about Roman and Rudy - Broke CZ Boys - FULL CONTACT further in this newsletter

Our Coming Soon Set Preview
Gregor Bortel, Rado Zuska and Mattias Solich are 3 of my very favorite guys, so I was very pleased to get them together for this scene. It starts with Gregor seated, in just his shorts, feeling himself as he watches Rado and Mattias kissing each other. Mattias then kisses Rado's nipples and reaches for his cock, which is already hard, and out of his jeans. Mattias drops down and takes that cock in his mouth as Gregor pulls his dick out of his shorts. Gregor quickly gets very hard as he stares intently on Mattias sucking and licking all over Rado's rock hard cock. Mattias is really working on that cock, he loves sucking. Gregor stands up and moves over to the other two guys, his cock sticking out of his shorts. Rado grabs for that cock and wanks it as his own throbs for Mattias. Gregor rubs his hand over Rado's massive chest. His mouth meets Rado's in a sensual kiss at the same time, with Mattias focussed on sucking. Mattias really has a taste for cock now and Gregor moves to the side of him, so that he can suck on his too. Mattias is really up for it as his sucks on both guys in turn. Two hard cocks to satisfy his lust. He takes turns on the cocks, as Gregor and Rado kiss again. Then the jeans are stripped of and the guys move to the couch, with Mattias sucking on Rado as Gregor sucks on him. All three cocks are rock hard and ready for action, with Gregor wanking himself as he sucks Mattias who, in turn, is still working his mouth all over Rado's. He just loves that big, fat cock and also sucks the balls into his mouth. He just cant get enough of Rado. Gregor is just loving Mattias cock and balls as well, working his mouth all over them. He then starts rimming Mattias ass, with Rado helpfully holding a Mattias leg up to make the hole available. Gregor's tongue really works on Mattias hole, lapping as it as Mattias keeps going on Rado's dick. Gregor loves Mattias hole and teases it with a finger, before pushing it inside. He works that finger in the hole and then pulls out and spits on the hole. Nicely lubed that hole now gets two fingers, and Mattias feels it being induced open as he sucks on Rado. Mattias then gets on his knees, so that his ass is available. Gregor loves how the hole is presented and starts to fuck it, nice and slowly as Rado, on his knees, has his cocked sucked some more. Rado is loving it and bends to kiss Mattias before feeding him more cock. Gregor keeps fucking Mattias hot hole as he leans forward and kisses Rado. A spit roasted Mattias is a sight to behold, with Gregor and Rado doing a great job on him. Rado needs more than sucking though and the guys move so that he can pump his cock deep into Mattias' ass and suck Gregor at the same time. Mattias loves how his ass feels, full of big, hard cock. He is wanking himself and moaning with pleasure as his ass is full and Gregor is sucking on his toes. The guys are really going at it strongly, sucking, fucking and wanking, all in unison. Rado is so horned up as he fucks that hole, faster and harder, with Mattias loving every second of it. Mattias is so close, and very soon he pops a nice creamy load while Rado is fucking him nice and deep. The guys really loved that pop shot and kiss each other. But Rado wants more and lays down on his back, legs in the air, so that Gregor can fuck him. Gregor is more than willing to do it, and shoves his dick into Rado's hairy ass. He opens that hole with his big cock, fucking it hard and fast, with Rado wanking himself. He quickly shoots a big creamy load all over his chest. Gregor continues to fuck that hot ass until he needs to cum too. He pulls out and wanks himself and shoots his hot load over Rado. The guys then move to kiss each other, after a really great session. What a wonderful scene, with 3 really good guys. I loved every minute of it.

OPEN SET WINDOW

Trailer
Vlog
You can also watch my Vlog for this Newsletter by clicking the video above or over at the Blog:
We want to wish you a Very Happy Holiday, A Merry Christmas and Happy Hanukkah. This afternoon Aida goes with Pavel to the family farm. There aren't so many fireworks on Christmas, but there are some. She hates them. It will be good for her to be away from Prague. The big fireworks come on New Year's Eve. She'll be back at the farm again. I'll be alone in Prague for the holidays. The studio has now officially closed until after the first of the year. The kids are scattering to the four corners. I'll be able to do a lot of editing over the holidays. I love to do that. Our friend Derfla arrives in Prague the day after Christmas, so we can keep each other entertained. Today, I went to lunch, and for the first time in years and years forgot to put any money in my pocket. How embarrassing. However, I was able to scrounge around all my pockets and come up with enough coins to pay. Got some curious looks on that one. Last time this happened, I got on the phone and asked someone to rescue me. While waiting, I ordered so many cups of coffee, the top of my head almost blew off. Thank goodness I never empty the change out of my pockets.
I will be back again on Tuesday after Christmas with the regular Newsletter.
Oh, yes, thanks to the person who wrote in after my last newsletter, saying that neti pots should only be used with distilled water. Bacteria in tap water can be quite dangerous when used with neti pots. I haven't had any trouble in over five years. But one can never be too safe. I keep lots of distilled water. Now, I have to figure out a way to heat it to body temperature, and no higher. Easy to do with tap water. I tried to find the article referred to, with no luck. I did read it's safer to use metal or ceramic neti pots. Fortunately, I got the warning in time to order a stainless steel neti pot. Take proper precautions, but they are great for warding off colds.
Today was the funeral for former president Havel. At 12:00 noon, the sirens sounded and everything came to a stop for three minutes. A couple of hours later, there was a 21 gun salute (I think, I didn't count, might have been 19 guns). When Aida and I went for our walk in Kampa Park, we found this new wall graffito. It depicts President Havel perfectly, cigarette in hand. He was a great man. For years I thought he'd beaten the grim reaper. By all rights he should have died while President. But no one beats it forever. I liked him very much. And I'll miss reading about him.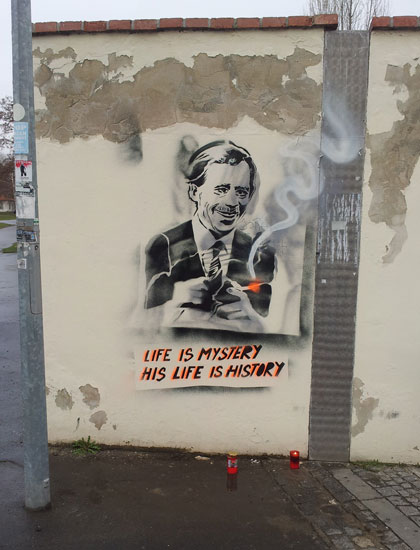 I didn't have very much time to work on this Backstage as it is being published today, very soon after we shot it. I'll edit a very long version for posting on the main website. We all think Roman is quite gay. At least he really gets hard and loves the male/male contact. I believe Rudy is more or less totally straight. Naturally, as it almost always turns out, Roman is much more reluctant to do anything on camera than Rudy. Franky believes Roman doesn't want to come to terms with his natural feelings. We'll work mightily to get him to do more. By the way, Roman refused to do this episode unless it could be with his close friend Rudy.
The very next day, Rudy came right back for another shoot, and got fucked for the very first time. And I might add: in just about every way imaginable. What a difference a day makes. The set from which this backstage was edited is published in full on the site today (see Below). I highly recommend it.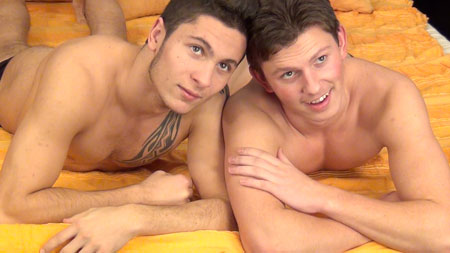 MESSAGE ABOUT LINKS TO THE OLD WH WEBSITE - WILLIAMHIGGINS.com ARCHIVES:
Please be aware that the link www.williamhiggins.com takes you to this brand new website now. If you bookmarked our old website in the past and you want to keep the bookmark as a shortest way to access the old WH website you need to change the link in the bookmark to:
You do not need to remember this link, you can conveniently get to the old WH Website - WilliamHiggins.com Archives anytime you need through the "WH 2001-2010" in the top menu of the new WilliamHiggins.com website.
Today's Weather in Prague
We have launched our all new Kink only site with no solos. It's not for the feint hearted. Do take a look (if you dare):
http://www.str8hell.com/updates
At present, Members of CzechGuysNextDoor will be able to access the new site with their user information. If you have problems, write Karel@wh.cz
Latest Sets At Our NEW STR8HELL.com Website

Members of CzechGuysnextDoor.com - to log in the member's section of the new STR8HELL website use your present username and password, if you forgot your password or encounter a log in problem please feel free to contact us at: whcustomerservice@gmail.com
Non-members - you are welcome to browse our complete content - each regular set contains free video preview and free photos, if you decide not to become a member of our website you can also buy sets separately (we huge, well organized and easy to search library of models - there is always few models you may like) you can pay only for what you really want see ;-). You are always welcome to come back.
All members of www.CzechGuysNextDoor.com get a free access to STR8HELL.com till the end of November 2011!
Please use your present CzechGuysNextDoor username and password to log into the members area.
We have terminated updates to CzechGuysNextDoor.com website. CzechGuysNextDoor.com website will stay online, but now only as an archive of all CzechGuysNextdoor.com sets. Anyone who wants to access CzechGuysNextDoor.com Archives needs to have a STR8HELL.com membership. STR8HELL.com will continue with most of the czechguysnextdoor.com projects. Anyone who joins STR8HELL.com will gain access to two websites STR8HELL.com and CzechGuyNextDoor.com Archives which contain 2500+ sets. STR8HELL.com has exactly same features and controls as NEW WilliamHiggins.com website.
Direct access to CzechGuysNextDoor.com website is now through the link: archive.czechguysnextdoor.com or through "Archive Sets 2004-2011" links on the new STR8HELL website.
Thank you for your loyalty to CzechGuysNextDoor.com website,
Sincerely
William Higgins

BurnDVD.tv Website Latest Updates


DOWNLOAD AND BURN VIDEOS TO DVD OR DOWNLOAD OUR VIDEOS IN FULL HD
Starting today you can download our videos in Full HD quality 1920x1080px!
Please remember that most of the videos available on BurnDVD are easily able to be downloaded with a single link, but some of the very large files, such as the newsletter DVDs have to be split into three separate links, as detailed below.

The videos with very large file sizes are now split into more than one part, using a program called HJSplit. If you wish to buy one of these larger videos to Burn to DVD, you will receive a link for file and then it is a simple process to join the downloaded files together to make the .iso file for Burning to DVD.

You can see all the available videos at www.burndvd.tv

Before downloading any videos to burn to DVD I advise you to read the BURNDVD Manual, which explains how you can burn the file to DVD. The file is an ISO file which contains all the required DVD files. The process for burning to DVD is fully explained.

The BurnDVD manual is easy to follow, with a step by step guide. Burning a DVD is easy to do, though it is helpful if you have previously burned DVDs or CDs.

The manual can be viewed here: BURNDVD Manual

Anyone who has any problems understanding the manual, or burning their download to DVD, or indeed any questions about this service please email geoff@wh.cz . Geoff will be happy to assist you.

You can view all the available downloads at www.burndvd.tv, by clicking the on the categories. A direct link to the latest files available will be published in each newsletter.
Our Latest Sets at www.BurnDVD.tv
Today we have friends Roman Lysacek and Rudy Bodlak in a Broke Czech Boys and Jakub Vostal and Mirek Ceslar in Duty Bound and Martin Kubanka:
Special Offer for William Higgins Newsletter Readers
William Higgins Newsletter readers are able to obtain a discount on the price of BURNDVD downloads by using the coupons that we will be publishing in each Members Newsletter. The coupon published in each newsletter will be valid for a period of 7 days.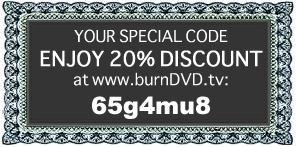 Copy today's coupon code here: 65g4mu8

Our Partners:

PLEASE PROCEED TO THE NEXT PAGE FOR THE LATEST WilliamHiggins.com UPDATES