Friday, January 20, 2012 - Kamil and Mirek - Screen Test - FULL CONTACT

Kamil and Mirek - Screen Test - FULL CONTACT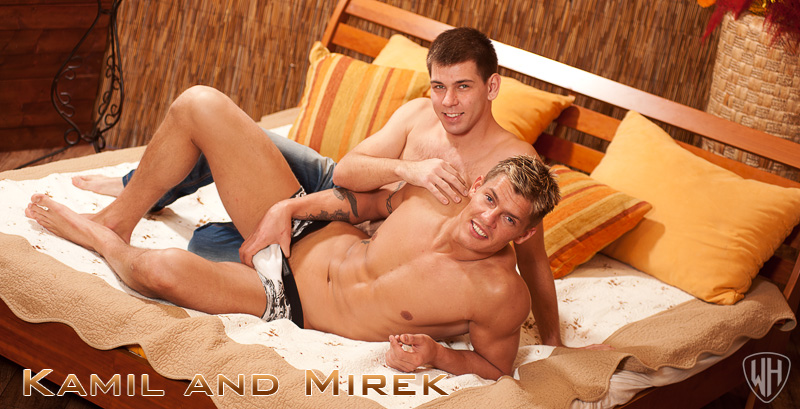 We paired Kamil Kladeklo with the experienced top Mirek Ceslar for this Screentest. Kamil is a very nice looking guy and I was very keen to see him with another guy. Things start out with Mirek doing a brief interview with Kamil. Mirek starts things off rubbing Kamil's chest and licking at a nipple before kissing him. Kamil responds to the kissing and he begins to feel Mirek as well. Mirek takes Kamil's cock out of his jeans and starts to wank it as he kisses him. Kamil's cock is very hard indeed as Mirek wanks it. They remove Kamil's jeans and his cock is staning proud. Mirek continues to wank it and then takes it in his mouth for sucking. Mirek's mouth slide that big, hard cock in and out, lips closed tightly around the shaft. Mirek wants to move on to the next step and kisses Kamil and then pulls his own cock out and presents it to Kamil for sucking. Kamil is eager to please and does well at sucking and then licking up and down the shaft while he also plays with Mirek's balls. Mirek then positions Kamil for a 69, with Kamil underneath and Mirek on top. They both suck, with gusto, Kamil's head rocking up and down to get the cock and Mirek's ass is in full view as the cock is sucked. Next Mirek pays attention to Kamils nice hairy ass. With a leg in the air the hole is exposed and Mirek slips two fingers into that tight hole. He really works the hole, as he also wanks Kamil's cock. Three fingers stretch the hole very well and make it ready for cock. Mirek's cock is hard and ready, so he slides it into Kamil's ass and begins to fuck him. Holding Kamil's leg up gives Mirek full access to that hole and he really fucks deep and hard, with Kamil's cock rock hard and in need of wanking again. Mirek then lays on the bed and Kamil climbs on top, with Mirek holding him so that his ass is exposed and available for his cock. That cock rams into Kamil's ass so deep as it fucks it as hard as it can go. Kamil stays completely hard as he gets fucked and they move to a doggy style, with Kamil's cock pushed back between his legs and Mirek pounds his ass. Mirek really works that eager hole with his cock slamming in and out until he cant hold back and he moves to shoot his load all over Kamil's face and chest, squirting everywhere. Kamil then takes the spent cock in his mouth to drain it more completely. This sends Kamil over the edge as well and he blows his load too. To bring a wonderful screentest to an end, with Kamil proving that he is a great bottom.
... more about Kamil and Mirek - Screen Test - FULL CONTACT further in this newsletter

Our Coming Soon Set Preview
Rudy Bodlak and Jan Sadecky are both great additions to our ensemble, with good looks and very willing attitudes. So we decided to pair them up for a duo. The scene starts with Jan recling on the sofa, naked to the waist. He is feeling his body, running his chands over his chest, paying particular attention to rubbing his nipples. Then he get up onto his knees and continues to run his hands over himself. Suddenly he is joined by Rudy, who is standing behind him and his hands are working over Jan's body. As he does so Jan looks up into Rudy's eyes. Rudy slowly lowers his face and kisses Jan on the lips. Jan then starts to kiss and lick on one of Rudy's nipples, which clearly has an affect as Rudy opens his jeans to reveal that his cock is rock hard and in need of some attention. The jeans are pushed down so that we can see Rudy's bubble butt as Jan takes that stiff cock in his mouth and begins to suck. He sucks on Rudy's cock, taking it deep in this throat and then licking up and down the shaft. He then closes his mouth over that cock again and Rudy then starts to fuck it into Jan's mouth. A change of position sees Jan's jeans coming off and his cock rock hard too. As Jan lays naked, with his cock at attention Rudy takes some oil and rubs it over Jan's chest and then starts to suck on that big cock. It looks massive as Rudy sucks on it, with his lips closed tight around the head and working up and down on it. Then he starts to lick on the shaft as well before Jan fucks that mouth. Jan wants to move things on, and places Rudy on his back, with his legs in the air. He takes some oil to lubes Rudy's ass and then he begins to finger that tight hole. The finger goes in very deep, with Rudy grimacing somewhat as it does. Then a second finger works its way in a little, before coming out and being replaced by a thumb. Jan judges that Rud's hole is ready and puts him on his knees and slides his big, fat cock deep inside. He starts to fuck Rudy, slowly at first, with Rudy feeling every thrust. Then Jan speeds up and fucks that tight ass nice and deep. The guys change position, with Rudy sitting on that big dick and riding it, his own cock bouncing around as he does so. Jan then starts to fuck up into that ass and the guys take turns in doing the work, with Jan's cock stretching Rudy's hole wide as it is filled with big cock. Jan is ready to cum and Rudy lays down next to him Jan shoot his load all over Rudy's face. Rudy then sucks on Jan's spent cock. Rudy then moves up to Jans mouth and kisses him before laying down to deliver his cumshot. Jan kneels over Rudy and watches for the cum to shoot out of his cock, as Rudy wanks himself to a climax. Jan's then sucks on Rudy's cock to drain it completely before kissing him again, bringing a wonderful scene to an end.

OPEN SET WINDOW

Trailer
Hi Everybody, this is Geoff substituting for Bill again today. I will give you an update on Bill's progress, as I understand it, but I haven't managed to chat with him yet today. His operation was on Tuesday and, according to the doctor, everything went as expected. The doctor inserted some wire pins as well to keep the foot as steady as possible, and Bill will have to stay off his feet, as much as possible, for quite sometime. He left hospital yesterday and is now back at home to recuperate. He still has quite a bit of pain in the foot, which is to be expected. Hopefully the pain will recede fairly soon. I am sure Bill will soon be back with us all in newsletter land, and able to give a fuller and better update than I can provide.
Today's newsletter has some really good sets for you to explore. Kamil Kladelko appears in his screentest, with Mirek Ceslar, Milos Capek does a fabulous erotic video, the lovely Rudy Bodlak has his stills shoot, as does Radko Stencl. We also have a special treat of Cumshot Compilation 2012 #1, which is a must for lovers of cum.
Our castings today are Jan Hrach, Radek Skocik and Tomas Strasak. My pick for today is Tomas, as he has already shown his prowess in duos.
MESSAGE ABOUT LINKS TO THE OLD WH WEBSITE - WILLIAMHIGGINS.com ARCHIVES:
Please be aware that the link www.williamhiggins.com takes you to this brand new website now. If you bookmarked our old website in the past and you want to keep the bookmark as a shortest way to access the old WH website you need to change the link in the bookmark to:
You do not need to remember this link, you can conveniently get to the old WH Website - WilliamHiggins.com Archives anytime you need through the "WH 2001-2010" in the top menu of the new WilliamHiggins.com website.
Today's Weather in Prague
We have launched our all new Kink only site with no solos. It's not for the feint hearted. Do take a look (if you dare):
http://www.str8hell.com/updates
At present, Members of CzechGuysNextDoor will be able to access the new site with their user information. If you have problems, write Karel@wh.cz
Latest Sets At Our NEW STR8HELL.com Website

Members of CzechGuysnextDoor.com - to log in the member's section of the new STR8HELL website use your present username and password, if you forgot your password or encounter a log in problem please feel free to contact us at: whcustomerservice@gmail.com
Non-members - you are welcome to browse our complete content - each regular set contains free video preview and free photos, if you decide not to become a member of our website you can also buy sets separately (we huge, well organized and easy to search library of models - there is always few models you may like) you can pay only for what you really want see ;-). You are always welcome to come back.
All members of www.CzechGuysNextDoor.com get a free access to STR8HELL.com till the end of November 2011!
Please use your present CzechGuysNextDoor username and password to log into the members area.
We have terminated updates to CzechGuysNextDoor.com website. CzechGuysNextDoor.com website will stay online, but now only as an archive of all CzechGuysNextdoor.com sets. Anyone who wants to access CzechGuysNextDoor.com Archives needs to have a STR8HELL.com membership. STR8HELL.com will continue with most of the czechguysnextdoor.com projects. Anyone who joins STR8HELL.com will gain access to two websites STR8HELL.com and CzechGuyNextDoor.com Archives which contain 2500+ sets. STR8HELL.com has exactly same features and controls as NEW WilliamHiggins.com website.
Direct access to CzechGuysNextDoor.com website is now through the link: archive.czechguysnextdoor.com or through "Archive Sets 2004-2011" links on the new STR8HELL website.
Thank you for your loyalty to CzechGuysNextDoor.com website,
Sincerely
William Higgins

BurnDVD.tv Website Latest Updates


DOWNLOAD AND BURN VIDEOS TO DVD OR DOWNLOAD OUR VIDEOS IN FULL HD
Starting today you can download our videos in Full HD quality 1920x1080px!
Please remember that most of the videos available on BurnDVD are easily able to be downloaded with a single link, but some of the very large files, such as the newsletter DVDs have to be split into three separate links, as detailed below.

The videos with very large file sizes are now split into more than one part, using a program called HJSplit. If you wish to buy one of these larger videos to Burn to DVD, you will receive a link for file and then it is a simple process to join the downloaded files together to make the .iso file for Burning to DVD.

You can see all the available videos at www.burndvd.tv

Before downloading any videos to burn to DVD I advise you to read the BURNDVD Manual, which explains how you can burn the file to DVD. The file is an ISO file which contains all the required DVD files. The process for burning to DVD is fully explained.

The BurnDVD manual is easy to follow, with a step by step guide. Burning a DVD is easy to do, though it is helpful if you have previously burned DVDs or CDs.

The manual can be viewed here: BURNDVD Manual

Anyone who has any problems understanding the manual, or burning their download to DVD, or indeed any questions about this service please email geoff@wh.cz . Geoff will be happy to assist you.

You can view all the available downloads at www.burndvd.tv, by clicking the on the categories. A direct link to the latest files available will be published in each newsletter.
Our Latest Sets at www.BurnDVD.tv
Today we have Kamil Kladelka's screentest, with Mirek Ceslar and Milos Capek's erotic video and Airport Security 2012 #1 with Roman Klaska, Kamil Kladelka and Mirek Ceslar and Cumshot Cumpilation 2012 #1:
Special Offer for William Higgins Newsletter Readers
William Higgins Newsletter readers are able to obtain a discount on the price of BURNDVD downloads by using the coupons that we will be publishing in each Members Newsletter. The coupon published in each newsletter will be valid for a period of 7 days.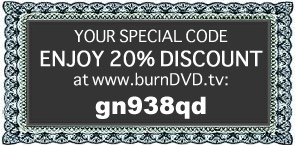 Copy today's coupon code here: gn938qd

Our Partners:

PLEASE PROCEED TO THE NEXT PAGE FOR THE LATEST WilliamHiggins.com UPDATES