Tuesday, January 24, 2012 - Rudy and Jan - FULL CONTACT

Rudy and Jan - FULL CONTACT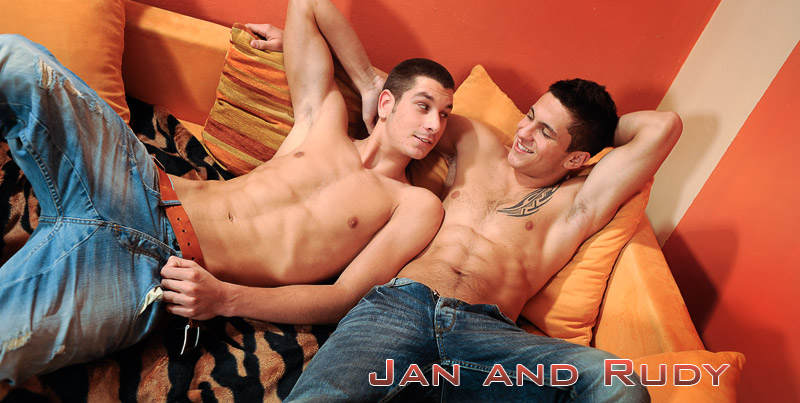 Rudy Bodlak and Jan Sadecky are both great additions to our ensemble, with good looks and very willing attitudes. So we decided to pair them up for a duo. The scene starts with Jan recling on the sofa, naked to the waist. He is feeling his body, running his chands over his chest, paying particular attention to rubbing his nipples. Then he get up onto his knees and continues to run his hands over himself. Suddenly he is joined by Rudy, who is standing behind him and his hands are working over Jan's body. As he does so Jan looks up into Rudy's eyes. Rudy slowly lowers his face and kisses Jan on the lips. Jan then starts to kiss and lick on one of Rudy's nipples, which clearly has an affect as Rudy opens his jeans to reveal that his cock is rock hard and in need of some attention. The jeans are pushed down so that we can see Rudy's bubble butt as Jan takes that stiff cock in his mouth and begins to suck. He sucks on Rudy's cock, taking it deep in this throat and then licking up and down the shaft. He then closes his mouth over that cock again and Rudy then starts to fuck it into Jan's mouth. A change of position sees Jan's jeans coming off and his cock rock hard too. As Jan lays naked, with his cock at attention Rudy takes some oil and rubs it over Jan's chest and then starts to suck on that big cock. It looks massive as Rudy sucks on it, with his lips closed tight around the head and working up and down on it. Then he starts to lick on the shaft as well before Jan fucks that mouth. Jan wants to move things on, and places Rudy on his back, with his legs in the air. He takes some oil to lubes Rudy's ass and then he begins to finger that tight hole. The finger goes in very deep, with Rudy grimacing somewhat as it does. Then a second finger works its way in a little, before coming out and being replaced by a thumb. Jan judges that Rud's hole is ready and puts him on his knees and slides his big, fat cock deep inside. He starts to fuck Rudy, slowly at first, with Rudy feeling every thrust. Then Jan speeds up and fucks that tight ass nice and deep. The guys change position, with Rudy sitting on that big dick and riding it, his own cock bouncing around as he does so. Jan then starts to fuck up into that ass and the guys take turns in doing the work, with Jan's cock stretching Rudy's hole wide as it is filled with big cock. Jan is ready to cum and Rudy lays down next to him Jan shoot his load all over Rudy's face. Rudy then sucks on Jan's spent cock. Rudy then moves up to Jans mouth and kisses him before laying down to deliver his cumshot. Jan kneels over Rudy and watches for the cum to shoot out of his cock, as Rudy wanks himself to a climax. Jan's then sucks on Rudy's cock to drain it completely before kissing him again, bringing a wonderful scene to an end.
... more about Rudy and Jan - FULL CONTACT further in this newsletter

Our Coming Soon Set Preview
For our first Wank Party of 2012 we brought Mirek Ceslar and Honza Copak together with three very hot newcomers, Jan Sadecky, Danek Rovny and Tomas Strasak. Continuing on from part 1 we find Jan, in turns, sucking on Honza and Mirek with Tomas sucking him and Danek, on his knees, sucking Tomas. All the cocks are nice and hard and Mirek fucks his cock into Jan's mouth, with gusto. Jan's cock is standing up, and throbbing as Tomas' mouth takes as much of it as he can. The sucking goes on, ubabated with all the guys enjoying it and Mirek also dropping his saliva into Jan's open mouth, and slapping his face with that big cock. Mirek has other plans for Jan too and lets go a stream of piss all over his chest while Tomas is sucking on Jan's dick. The scene changes with Tomas and Honza both laying on their backs, legs up, with Mirek fucking Tomas and Jan fucking Honza. Danek is standing over them watching the fucking as he wanks himself. A change around sees Honza sitting on Mirek's cock and riding it and Jan slides his dick in and out of Tomas' eager hole. Honza's cock is rock hard as he rides Mirek's dick so Danek leans over and sucks on it. Then he kisses Honza before turning his attention back to what Jan and Tomas are doing. Jan is fucking Tomas, whose mouth opens and takes Danek's hard cock for some sucking too. Jan then moves Tomas, raising his ass high in the air to he can fuck him nice and deep, while Tomas sucks on Danek again. Honza's cock needs some ass too and Danek lays on his back to take Honza's fat cock in his ass as Tomas moves so that he can suck Jan and take Mirek's cock in his ass at the same time. Mirek's cock is real deep in Tomas as, stretching his hole as he fucks him. Tomas is taking it very well and sucking on Jan's big dick too. Honza too is fucking well, giving Danek's ass a real good pounding. Time for the cumshots and the guys crowd around Danek to dump their loads. First to let loose is Mirek, who squirts his juice over Danek's face. Danek then takes the cock in his mouth to suck it dry. Honza follows, shooting his cum all over Danek's leg, with Danek dropping to his knees to drain the spent cock. Next to unload is Tomas, who shoots over Danek's chest and then presents his cock for Danek to clean it off. The last to shoot is Jan, who dumps his cum on Danek's face, before Danek takes that massive, sticky cock, into his mouth to get another taste. The guys need to clean up so they all get back into the whirlpool and splash around, bringing a really great Wank Party to a very nice end.

OPEN SET WINDOW

Latest Updates Trailer
Note from Bill:
Thanks to Geoff and Kyptus for doing the heavy hitting on the Newsletter again today. As Geoff says below, I can't sit at the main computer for any length of time. Each day the wound gets a little better, but the fresh bandage the doctor put on yesterday is not nearly as comfortable as the previous one. I won't be able to do any vlogs for awhile longer. Trust me, that's a blessing. Below is a link on my Blog about yesterday's visit to the hospital:
I forgot to state, Pavel Nikos did a double take when presented with the hospital bill. Operation, several x-rays, drugs, anesthesiologist, and three days in a private room: 300 Kcs. At today's rate, that's about $15.00 US. I hope he didn't march right in and protest. They might find they made a mistake!
Our dear colleague Miro MMS'd the following photo to me: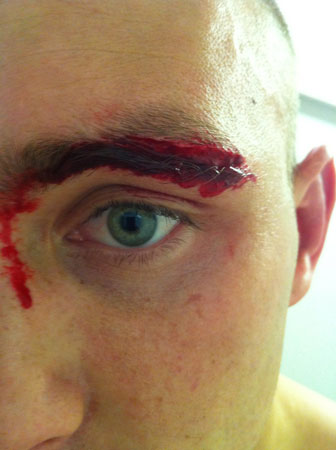 He told me he'd been to boxing lesson and did a sparring match with his instructor. Above is the result.
I showed to photo to Pavel, and his response was 'boxing or disco?' Unfortunately, my thoughts exactly. Some say he went with Franky to Franky's favorite Albanian disco, and some Albanian tried to pick up Franky…..
Well, what do I know?
I think I've been sitting at the computer for about my limit today. I think Geoff and Kyptus will have to continue doing the heavy hitting for a few more Newsletters.
Hi Everybody, this is Geoff substituting for Bill again today. Bill is unable to work for any length of time at his main computer, as he has to keep his foot raised, to aid his recovery. So I am standing in again. Bill did provide an update on his current situation, in the blog yesterday. Here is what he wrote: I've just returned from having the wound examined and the dressing changed. My surgeon says the wound looks very good, and he will remove the stitches a week from today. That's the good news. The bad news is that the wires, which make walking, even with crutches, extremely hazardous will remain in place for five more weeks. Meaning I'll have to hobble around on crutches, using extreme caution during those weeks.
I'm doing better than I'd expected to be doing at this point. But Mr. Geoff will have to do most of the heavy lifting on the Newsletter. I can't sit at the big computer for more than 15 minutes at a stretch as there's no way to elevate my injured foot. MacBook Air is great, but not for serious work.
This hospital complex is like a small city. As the distance from the entrance to the doctor's office is at least as long as several football pitches end to end, Pavel must drop me off at the ambulance entrance, plant me in a wheel chair, and then go find a place to park. He has to walk back, and roll me to the doctor's office, and then repeat the process in reverse.
What I've noticed while waiting in the ambulance entrance: It's like sitting in the lobby of a busy hotel and watching the taxis pull up and pick up and unload passengers. Replace 'taxis' with 'ambulances.' There's a steady stream of ambulances, head to tail, pulling up, unloading and picking up patients. Now, that's a busy hospital. Remember, everything the communists built had to be the biggest in the world. That included hospitals. Right next to where Pavel parks me is a huge door marked "Traumabox." I assume that's the emergency, emergency room.
So, I'll mostly be on sick leave for at least a few more weeks. Maybe walking and sitting will become easier as the days go by. I can already get around pretty well, if very slowly, on the crutches. How much work I can do depends on how long I can sit comfortably at the 'big computer.' My foot is telling me, "time to go."
I am sure he will be back with us just as soon as he can.
Today we have some really excellent shoots in the newsletter, Rudy Bodlak and Jan Sadecky in a duo, Danek Rovny's Helping Hand, Jirka Bohaty's Erotic Video, Tomas Razina's Session Stills and Mark Kratky's Session Stills.
In the castings we feature Jirka Bukva, Alex Stasak, Jozef Malisek and Miro Kuznik. My pick of the day is Jirka Bukva.
MESSAGE ABOUT LINKS TO THE OLD WH WEBSITE - WILLIAMHIGGINS.com ARCHIVES:
Please be aware that the link www.williamhiggins.com takes you to this brand new website now. If you bookmarked our old website in the past and you want to keep the bookmark as a shortest way to access the old WH website you need to change the link in the bookmark to:
You do not need to remember this link, you can conveniently get to the old WH Website - WilliamHiggins.com Archives anytime you need through the "WH 2001-2010" in the top menu of the new WilliamHiggins.com website.
Today's Weather in Prague
We have launched our all new Kink only site with no solos. It's not for the feint hearted. Do take a look (if you dare):
http://www.str8hell.com/updates
At present, Members of CzechGuysNextDoor will be able to access the new site with their user information. If you have problems, write Karel@wh.cz
Latest Sets At Our NEW STR8HELL.com Website

Members of CzechGuysnextDoor.com - to log in the member's section of the new STR8HELL website use your present username and password, if you forgot your password or encounter a log in problem please feel free to contact us at: whcustomerservice@gmail.com
Non-members - you are welcome to browse our complete content - each regular set contains free video preview and free photos, if you decide not to become a member of our website you can also buy sets separately (we huge, well organized and easy to search library of models - there is always few models you may like) you can pay only for what you really want see ;-). You are always welcome to come back.
All members of www.CzechGuysNextDoor.com get a free access to STR8HELL.com till the end of November 2011!
Please use your present CzechGuysNextDoor username and password to log into the members area.
We have terminated updates to CzechGuysNextDoor.com website. CzechGuysNextDoor.com website will stay online, but now only as an archive of all CzechGuysNextdoor.com sets. Anyone who wants to access CzechGuysNextDoor.com Archives needs to have a STR8HELL.com membership. STR8HELL.com will continue with most of the czechguysnextdoor.com projects. Anyone who joins STR8HELL.com will gain access to two websites STR8HELL.com and CzechGuyNextDoor.com Archives which contain 2500+ sets. STR8HELL.com has exactly same features and controls as NEW WilliamHiggins.com website.
Direct access to CzechGuysNextDoor.com website is now through the link: archive.czechguysnextdoor.com or through "Archive Sets 2004-2011" links on the new STR8HELL website.
Thank you for your loyalty to CzechGuysNextDoor.com website,
Sincerely
William Higgins

BurnDVD.tv Website Latest Updates


DOWNLOAD AND BURN VIDEOS TO DVD OR DOWNLOAD OUR VIDEOS IN FULL HD
Starting today you can download our videos in Full HD quality 1920x1080px!
Please remember that most of the videos available on BurnDVD are easily able to be downloaded with a single link, but some of the very large files, such as the newsletter DVDs have to be split into three separate links, as detailed below.

The videos with very large file sizes are now split into more than one part, using a program called HJSplit. If you wish to buy one of these larger videos to Burn to DVD, you will receive a link for file and then it is a simple process to join the downloaded files together to make the .iso file for Burning to DVD.

You can see all the available videos at www.burndvd.tv

Before downloading any videos to burn to DVD I advise you to read the BURNDVD Manual, which explains how you can burn the file to DVD. The file is an ISO file which contains all the required DVD files. The process for burning to DVD is fully explained.

The BurnDVD manual is easy to follow, with a step by step guide. Burning a DVD is easy to do, though it is helpful if you have previously burned DVDs or CDs.

The manual can be viewed here: BURNDVD Manual

Anyone who has any problems understanding the manual, or burning their download to DVD, or indeed any questions about this service please email geoff@wh.cz . Geoff will be happy to assist you.

You can view all the available downloads at www.burndvd.tv, by clicking the on the categories. A direct link to the latest files available will be published in each newsletter.
Our Latest Sets at www.BurnDVD.tv
Today we have Rudy Bodlak with Jan Sadecky and CFNM Lecherous Nurses part 2 and Danek Rovny's Helping Hand and Anton Zemba's Spanking:
Special Offer for William Higgins Newsletter Readers
William Higgins Newsletter readers are able to obtain a discount on the price of BURNDVD downloads by using the coupons that we will be publishing in each Members Newsletter. The coupon published in each newsletter will be valid for a period of 7 days.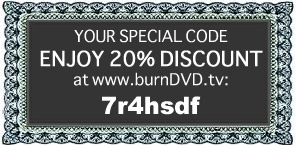 Copy today's coupon code here: 7r4hsdf

Our Partners:

PLEASE PROCEED TO THE NEXT PAGE FOR THE LATEST WilliamHiggins.com UPDATES