Friday, February 10, 2012 - Wank Party 2012 #2, Part 1

Wank Party 2012 #2, Part 1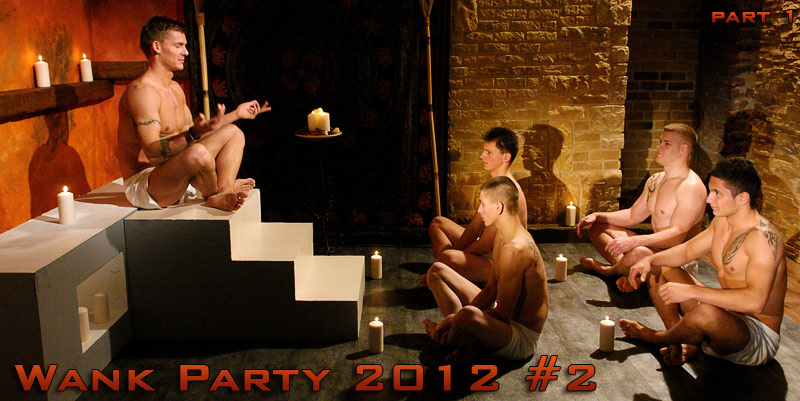 For our 2nd Wank Party of 2012 we brought together a wonderful cast, Paul Fresh,Roman Lysacek,Rudy Bodlak,Mirek Ceslar and Jozef Vavrich. Mirek Ceslar is seen lighting candles and inviting in the other guys, for a meditation class. Mirek sits on a platform, in front of the guys and tells them to sit on the floor. Then he begins to take them through some thoughts, talking to them as they sit in position. He adjusts their positions and then tells them to gently fondle each other's hands. Next he instructs the guys to caress each other on the arm, from the shoulder downwards. Jozef and Rudy do it first, to Roman and Paul, and then they return the favor, with Paul going further and caressing Rudy's chest and leg. Following each of Mirek's instructions closely the guys touch each other as directed. Then Jozef and Rudy move closer to the other two and rub their hair. Mirek is gradually getting the guys to go further each time. Jozef and Rudy begin to, ever so gently, kiss the shoulers and necks of Roman and Paul. Then they place their hands on Roman and Paul's cocks, under instruction, rubbing the groin. Paul and Roman then do the same to Rudy and Jozef, but they are instructed to go further and kiss the guys. Their lips gently kissing each other as the hands are feeling their cocks. Mirek goes down on the floor and begins to get involved as well. Cocks are beginning to swell and soon Mirek tells Jozef and Rudy to suck cock. So Jozef begins to suck on Roman's large dick with Rudy doing the same to Paul. Mirek takes his cock out too and wanks himself as he watches the others. As Jozef continues to work on Roman Rudy moves to kneel between the standing Paul and Mirek, and takes turns sucking on each of them. It seems that all thought of meditation has left the guys as things speed up with Paul and Mirek really shoving their dicks into Rudy's mouth. Then everyone moves and suck more, with Paul sucking Jozef, who in turn is sucking Rudy, while he sucks Mirek. Roman is standing next to Mirek, being wanked and kissed by him. All their cocks are rock hard and the sucking continues unabated. Mirek moves things along, by removing his shorts and the others follow suit. This leads to a change of position, with Jozef on his back, legs up so that Rudy can play with his ass while Paul starts to suck Mirek. Rudy is soon fucking his rock hard cock deep into Jozef's ass as Jozef reaches to wank Roman at the same time. As Rudy continues to fuck Jozef's tight ass he also sucks Paul's big dick. Roman is also tasting cock, that of Mirek, rubbing his lips along its length. Paul is watching closely as Rudy's dick slams into Jozef as and he goes down on Jozef's hard cock to bring the first part to an end, with the promise of much more to come in Part 2.
... more about Wank Party 2012 #2, Part 1 further in this newsletter

Our Coming Soon Set Preview
Handsome newcomer Tomek Sirnad was keen to get into some guy-guy action so we paired him with Honza Forst for a Raunchy Sex Duo. We first see Tomek tied, gagged and naked hanging in a neet, which is swinging back and forth. Honza arrives and slaps Tomek a couple of times, as he inspects his bindings. Then he starts to feel himself and undoes his pants to release his cock. He plays with his cock and then takes it and puts it between Tomek's feet and starts a fucking motion, to get himself hard. Then as he wanks himself Honza bends and gropes at Tomek's cock too. He makes Tomek's cock hard and sits on the floor to suck it, as it pokes through the fish net. Tomek's cock is rock hard as it is sucked and then Honza starts to lap at the ass hole too, with Tomek panting heavily as he feels the tongue on his hole. Honza is rock hard too and stands up, releasing Tomek's mouth and pushes his cock into it for sucking. Tomek's own cock is throbbingly hard as he suck on Honza's dick, and as Honza fucks his face. Honza really works his cock into Tomek's eager mouth. Tomek's lips close tight around the cock and he sucks deep and hard. He loves the hard cock in his mouth, but Honza wants more and he positions Tomek so he can fuck his ass. His cock plows into that hole, stretching it wide, with Honza wanking on Tomek's hard cock as the same time. Honza's dick really works that ass, fucking it hard, and Tomek maintains a huge erection all the time, with Honza wanking him. Honza then pulls out and moves around so that he can fuck Tomek's face some more, before repositioning him to fuck him again. Tomek bends over the fish net with his ass exposed, and Honza shoves his cock deep in the hole and fucks it. His cock really slams into Tomek's hole and he loves it, taking it all as his own dick sticks out through the netting. Honza moves into a final fuck position, and rams his dick deep into that ass, then he moves up to Tomek's face and shoot a nice big load. Tomek then laps at the spent cock to taste the final drops of Honza's cum. What a great scene this is, with both guys on top form and Tomek really showing us how good he is at taking cock.

OPEN SET WINDOW

The Latest Updates Trailer
Message from Bill: I forgot to tell my Soul Train story last week. The creator of Soul Train recently passed away. Way back when the show was just getting started, they had a Soul Train dance academy in LA. Those were my early days of filmmaking. I've never been able to dance. I'm not a wallflower, I just have 'two left feet.' I got up the nerve to go to their dance academy. That took a lot of nerve. Fortunately, you could pay by the lesson and didn't have to sign up for a course. Before class I told the girl who was instructing, 'I don't know whether I should even try because I really can't dance.' She said, 'Listen honey, we can teach anyone how to dance.' I spent one of the most miserable hours of my life. After she dismissed the class, she came over to me and said, 'well, Bill, I think you really would be wasting your time by attending any more dance lessons.' This is the first time I've ever told that story.
The recovery: I'm feeling a little bet better every day. Not greatly better, just a little bit better. Yesterday, The Dutchman called me. He said, 'it must really be boring.' I told him, 'actually not so much so because I can now sit at my big computer desk almost all day. When I was confined to bed, that was a real killer.'
The 27th is my appointment to have the wires removed. Freedom day. I'm sure after the wires are gone, the recovery will be quite rapid. With those wires, my movements are very restricted. I can hobble around the apartment quite well on the crutches. Doing 'heel walking' I can ever hobble a few feet without crutches. However, I must be extremely careful not to stub my toes or trip. Trust me I am.
Also, I couldn't have chosen a better time to be cabin bound. There's snow on the ground. At this moment it's -11 Centigrade. It's predicted the temperature in Prague could drop as low as -40 over the weekend. I'd rather be out of commission and snowbound, than just snowbound.
Today I posted my second teaser of the February Wank Party. Tomorrow, I'll start on Franky's Backstage coverage of the Party.
Hi Everybody, Geoff here again today, still substituting while Bill recovers from his op. He has given an update, above, so I will get right on with today's newsletter, except to say the temperature in Prague tonight is expected to go to minus 25c, so I hope Bill keeps warm.
Our sets today are all very good indeed. First up is Part 1 of Wank Party 2012 #2, which is a lot of fun. Then we have Tomek Sirnad in an erotic video, Honza Solar also in an erotic video, Tomas Burkon in his session stills and a lovely backstage video of Rudy Bodlak's Screentest, with Paul Fresh.
Our castings today are: Jaro Knedlik, Jakub Vancl and Richard Vozab. All three have their merits but I think I will go for Jaro Knedlik as my pick.
MESSAGE ABOUT LINKS TO THE OLD WH WEBSITE - WILLIAMHIGGINS.com ARCHIVES:
Please be aware that the link www.williamhiggins.com takes you to this brand new website now. If you bookmarked our old website in the past and you want to keep the bookmark as a shortest way to access the old WH website you need to change the link in the bookmark to:
You do not need to remember this link, you can conveniently get to the old WH Website - WilliamHiggins.com Archives anytime you need through the "WH 2001-2010" in the top menu of the new WilliamHiggins.com website.
Today's Weather in Prague
We have launched our all new Kink only site with no solos. It's not for the feint hearted. Do take a look (if you dare):
http://www.str8hell.com/updates
At present, Members of CzechGuysNextDoor will be able to access the new site with their user information. If you have problems, write Karel@wh.cz
Latest Sets At Our NEW STR8HELL.com Website

Members of CzechGuysnextDoor.com - to log in the member's section of the new STR8HELL website use your present username and password, if you forgot your password or encounter a log in problem please feel free to contact us at: whcustomerservice@gmail.com
Non-members - you are welcome to browse our complete content - each regular set contains free video preview and free photos, if you decide not to become a member of our website you can also buy sets separately (we huge, well organized and easy to search library of models - there is always few models you may like) you can pay only for what you really want see ;-). You are always welcome to come back.
All members of www.CzechGuysNextDoor.com get a free access to STR8HELL.com till the end of November 2011!
Please use your present CzechGuysNextDoor username and password to log into the members area.
We have terminated updates to CzechGuysNextDoor.com website. CzechGuysNextDoor.com website will stay online, but now only as an archive of all CzechGuysNextdoor.com sets. Anyone who wants to access CzechGuysNextDoor.com Archives needs to have a STR8HELL.com membership. STR8HELL.com will continue with most of the czechguysnextdoor.com projects. Anyone who joins STR8HELL.com will gain access to two websites STR8HELL.com and CzechGuyNextDoor.com Archives which contain 2500+ sets. STR8HELL.com has exactly same features and controls as NEW WilliamHiggins.com website.
Direct access to CzechGuysNextDoor.com website is now through the link: archive.czechguysnextdoor.com or through "Archive Sets 2004-2011" links on the new STR8HELL website.
Thank you for your loyalty to CzechGuysNextDoor.com website,
Sincerely
William Higgins

BurnDVD.tv Website Latest Updates


DOWNLOAD AND BURN VIDEOS TO DVD OR DOWNLOAD OUR VIDEOS IN FULL HD
Starting today you can download our videos in Full HD quality 1920x1080px!
Please remember that most of the videos available on BurnDVD are easily able to be downloaded with a single link, but some of the very large files, such as the newsletter DVDs have to be split into three separate links, as detailed below.

The videos with very large file sizes are now split into more than one part, using a program called HJSplit. If you wish to buy one of these larger videos to Burn to DVD, you will receive a link for file and then it is a simple process to join the downloaded files together to make the .iso file for Burning to DVD.

You can see all the available videos at www.burndvd.tv

Before downloading any videos to burn to DVD I advise you to read the BURNDVD Manual, which explains how you can burn the file to DVD. The file is an ISO file which contains all the required DVD files. The process for burning to DVD is fully explained.

The BurnDVD manual is easy to follow, with a step by step guide. Burning a DVD is easy to do, though it is helpful if you have previously burned DVDs or CDs.

The manual can be viewed here: BURNDVD Manual

Anyone who has any problems understanding the manual, or burning their download to DVD, or indeed any questions about this service please email geoff@wh.cz . Geoff will be happy to assist you.

You can view all the available downloads at www.burndvd.tv, by clicking the on the categories. A direct link to the latest files available will be published in each newsletter.
Our Latest Sets at www.BurnDVD.tv
Today we have Wank Party 2012 #2 part 1 and Ruslan Tarovsky & Pavel Sokolik Nude Wrestling and Tomek Sirnad's Erotic Video and Nude Submission Wrestling – Roman Lysacek and Roman Hucko.
Special Offer for William Higgins Newsletter Readers
William Higgins Newsletter readers are able to obtain a discount on the price of BURNDVD downloads by using the coupons that we will be publishing in each Members Newsletter. The coupon published in each newsletter will be valid for a period of 7 days.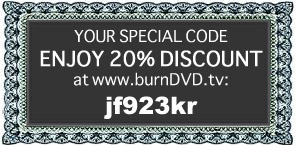 Copy today's coupon code here: jf923kr

Our Partners:

PLEASE PROCEED TO THE NEXT PAGE FOR THE LATEST WilliamHiggins.com UPDATES