Tuesday, March 13, 2012 - Yuri, Rado and Mirek - CZECH UP

Yuri, Rado and Mirek - CZECH UP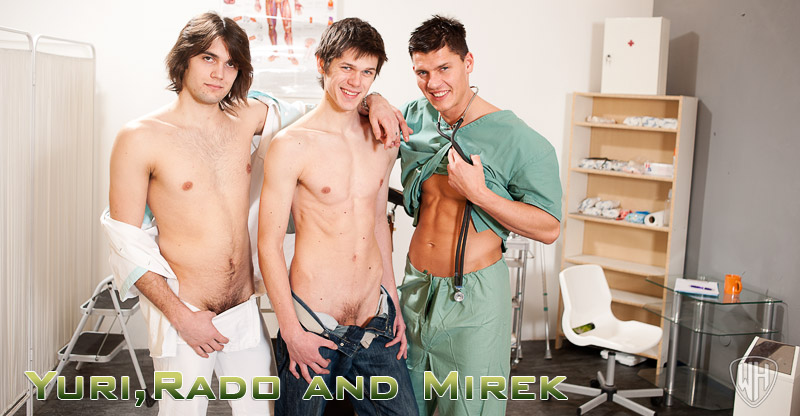 Rado Viker's Czech Up is with Sister Yuri Bulakov and Doctor Mirek Ceslar. Rado is the final patient of the day, and Mirek tells Yuri to bring him in. Rado arrives, on crutches, with a heavily bandaged ankle. He explains that it was injured in a fall, and is told that they will take care of him. Yuri helps Rado to get undressed and to put on a medical gown, and to climb onto the examination chair. Rado is then examined, by Mirek with his stethoscope. With the gown raised up his chest Rado is nicely exposed, with his flaccid cock resting on his balls. Mirek does a full stehoscopic exam, including on Rado's balls. Then he starts to examine the injured ankle, removing the bandange, and testing the ankle, which causes pain to Rado. Then Mirek needs to take Rado's temperature and uses a thermometer on his cock to check it. To check it further he pushes the thermometer into Rado's ass. Yuri, meanwhile, has taken hold of Rado's cock and is gently kissing his face. Rado seems to like that and responds by kissing Yuri, and he cock begins to grow. Yuri begins to suck on Rado's hard cock and Rado turns his head and kisses Mirek. Yuri sucks on Rado's cock, working his mouth all over it, then he kisses him again, leaving the cock available to be sucked by Mirek. Mirek is an expert sucker and Rado's dick is throbbing nicely in his mouth. Then both he and Yuri lick the cock at the same time, as it stands proud. Yuri then pulls his cock out for Rado to suck, while Mirek continues sucking too. Mirek then presents his cock to Rado for sucking, so he has two available to him. As he sucks them Yuri and Mirek kiss each other. Rado really enjoys sucking, and really has a great time swapping between those cocks as the guys get naked for him. But Mirek realises they have a job to do and decides he must examine Rado's ass. He inserts a speculum deep inside for a good view. Rado is moved onto his knees for further inspection, and everything is fine. Rado sits back on the chair, with his cock rock hard and ready for action. Yuri, obligingly, sits his hairy ass down on that cock and begins to ride it. His ass moving up and down on the rigid shaft. Mirek wants to feel that ass too so Yuri moves and bends over to present his ass for Mirek's dick to slide deep inside. As Mirek fucks that ass, deep and hard, Yuri is sucking and wank on Rado's cock, he works it well and then Rado takes over and wanks himself to a massive climax. It shoots all over Yuri's face and he takes the cock in his mouth again to finish it off. Mirek is ready too and pulls out of Yuris ass and shoots his load all over it. Yuri then sits and wanks himself to a very good cumshot too, squirting it up his chest. They all had such a good time that Rado is invited back next week for another Czech Up. What a very good scene, with 3 lovely guys.
... more about Yuri, Rado and Mirek - CZECH UP further in this newsletter

Our Coming Soon Set Preview
Jan Sadecky and Jan Mikulec are two really handsome guys, and both are very well built. Jan M is a newcomer and I was very keen to get him on guy-guy action, so we paired him with Jan Sadecky. They start off by kissing, as they kneel, facing each other. Then we see their hands on each others' crotches. As they kiss they are both very hard in their undies. Jan S pushes his down and his massive cock flops out. Jan M takes hold of it and start to wank it as Jan S rubs his hand over his friends undies. Jan M's undies come down as well and his cock is rock hard too. Jan S takes hold of it to wank it as well. Jan M then stands and presents his cock for sucking. Jan S takes that cock in his mouth and begins to suck on it. He takes it deep in his mouth and suck it. Then he licks all along the shaft and balls before sucking more. His mouth is working all over that cock and Jan M begins to fuck it into Jan S' mouth. Jan M then lays on the bed, with his ass presented for rimming. Jan S licks at that hole, wetting it up nicely. Then, with Jan M on his knees, Jan S slides his huge cock deep into that ass. He really pumps that cock deep into Jan M's ass, and after a while changes position, to spoon, so we get a get view of his big dick deep in that hole. Another change of postion, with Jan M's leg in the air, the pounding of his ass continues. Jan M's cock is rock hard as his hole is being filled. Jan M is really taking that cock very well and soon he moves to sit on the cock and rides it nice and deep into his hole. Jan M wants to cum and moves into missionary position, wanking his cock and shooting a big, creamy load. Jan S kisses him and goes down on the spent cock to drain it completely. Then he wants to cum too, and lays back on the bed, with Jan M positioning himself so that he can suck that big cock and catch that cum in his mouth and on his face. Jan S soons shoots his load, over Jan M's face and he goes down on the cock again for a final suck. What a really great scene, with two really handsome guys.

OPEN SET WINDOW

Trailer
Vlog
You can watch my Vlog for this Newsletter by clicking above or by going over to the Blog : http://www.wheuro.com/?p=9821
For the last couple of days, I've felt well enough to take Aida for moderate walks. I must say, after today's walk, I felt completely tuckered and had to go for a nap. Everyday I feel progress and better. My foot is still swollen, but yesterday I guesstimated its size after the swelling goes down and ordered a fantastic pair of therapeutic trainers from the States which MikeSC will bring over at the end of the month. I made the measurement after watching lots of YouTube how to videos and feel very confident they'll fit after the swelling. If not, I can return them. I said 'trainers' not 'running shoes.' No Marathons in my immediate future. It's been at least three years since I could wear anything but sandals. Knock on wood, I feel the operation has been a success.
Today, I posted the final part of my three episode previews of our current Wank Party, which I call the Fire Eating Wank Party. I really enjoyed this Wank Party and hope you do too. Tomorrow I'll hopefully go back to the studio and cover another shoot. Take a look at the Sneak Backstage Preview below and also on my Vlog at:
Preview
We have lots of nice scenes for you today, leading off with Rado Viker's Czech up with Yuri Bulakov and Mirek Ceslar. Then we have Roman Lysacek with Ondra Jeden, Tomek Kubovy in an erotic video, Jan Manhal in his erotic video and, finally, Jozef Koranda's Session Stills.
Our castings today are Jan Mikulec, Clo Akka, Ondra Mazal and Albert Kroka. The choice is easy for me today, no doubt about it Jan Mikulec is my pick of the day.

MESSAGE ABOUT LINKS TO THE OLD WH WEBSITE - WILLIAMHIGGINS.com ARCHIVES:
Please be aware that the link www.williamhiggins.com takes you to this brand new website now. If you bookmarked our old website in the past and you want to keep the bookmark as a shortest way to access the old WH website you need to change the link in the bookmark to:
You do not need to remember this link, you can conveniently get to the old WH Website - WilliamHiggins.com Archives anytime you need through the "WH 2001-2010" in the top menu of the new WilliamHiggins.com website.
Today's Weather in Prague
We have launched our all new Kink only site with no solos. It's not for the feint hearted. Do take a look (if you dare):
http://www.str8hell.com/updates
At present, Members of CzechGuysNextDoor will be able to access the new site with their user information. If you have problems, write Karel@wh.cz
Latest Sets At Our NEW STR8HELL.com Website

Members of CzechGuysnextDoor.com - to log in the member's section of the new STR8HELL website use your present username and password, if you forgot your password or encounter a log in problem please feel free to contact us at: whcustomerservice@gmail.com
Non-members - you are welcome to browse our complete content - each regular set contains free video preview and free photos, if you decide not to become a member of our website you can also buy sets separately (we huge, well organized and easy to search library of models - there is always few models you may like) you can pay only for what you really want see ;-). You are always welcome to come back.
All members of www.CzechGuysNextDoor.com get a free access to STR8HELL.com till the end of November 2011!
Please use your present CzechGuysNextDoor username and password to log into the members area.
We have terminated updates to CzechGuysNextDoor.com website. CzechGuysNextDoor.com website will stay online, but now only as an archive of all CzechGuysNextdoor.com sets. Anyone who wants to access CzechGuysNextDoor.com Archives needs to have a STR8HELL.com membership. STR8HELL.com will continue with most of the czechguysnextdoor.com projects. Anyone who joins STR8HELL.com will gain access to two websites STR8HELL.com and CzechGuyNextDoor.com Archives which contain 2500+ sets. STR8HELL.com has exactly same features and controls as NEW WilliamHiggins.com website.
Direct access to CzechGuysNextDoor.com website is now through the link: archive.czechguysnextdoor.com or through "Archive Sets 2004-2011" links on the new STR8HELL website.
Thank you for your loyalty to CzechGuysNextDoor.com website,
Sincerely
William Higgins

BurnDVD.tv Website Latest Updates


DOWNLOAD AND BURN VIDEOS TO DVD OR DOWNLOAD OUR VIDEOS IN FULL HD
Starting today you can download our videos in Full HD quality 1920x1080px!
Please remember that most of the videos available on BurnDVD are easily able to be downloaded with a single link, but some of the very large files, such as the newsletter DVDs have to be split into three separate links, as detailed below.

The videos with very large file sizes are now split into more than one part, using a program called HJSplit. If you wish to buy one of these larger videos to Burn to DVD, you will receive a link for file and then it is a simple process to join the downloaded files together to make the .iso file for Burning to DVD.

You can see all the available videos at www.burndvd.tv

Before downloading any videos to burn to DVD I advise you to read the BURNDVD Manual, which explains how you can burn the file to DVD. The file is an ISO file which contains all the required DVD files. The process for burning to DVD is fully explained.

The BurnDVD manual is easy to follow, with a step by step guide. Burning a DVD is easy to do, though it is helpful if you have previously burned DVDs or CDs.

The manual can be viewed here: BURNDVD Manual

Anyone who has any problems understanding the manual, or burning their download to DVD, or indeed any questions about this service please email geoff@wh.cz . Geoff will be happy to assist you.

You can view all the available downloads at www.burndvd.tv, by clicking the on the categories. A direct link to the latest files available will be published in each newsletter.
Our Latest Sets at www.BurnDVD.tv
Today we have Rado Viker's Czech Up with Yuri Bulakov and Mirek Ceslar, Roman Lysacek with Ondra Jeden, Jan Manhal's Erotic Video and Roman Ditrich's Tickling.
Special Offer for William Higgins Newsletter Readers
William Higgins Newsletter readers are able to obtain a discount on the price of BURNDVD downloads by using the coupons that we will be publishing in each Members Newsletter. The coupon published in each newsletter will be valid for a period of 7 days.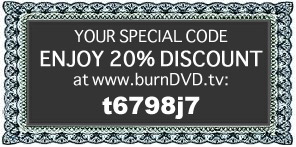 Copy today's coupon code here: t6798j7

Our Partners:

PLEASE PROCEED TO THE NEXT PAGE FOR THE LATEST WilliamHiggins.com UPDATES