Tuesday, March 27, 2012 - Roman and Paul - Screen Test - FULL CONTACT

Roman and Paul - Screen Test - FULL CONTACT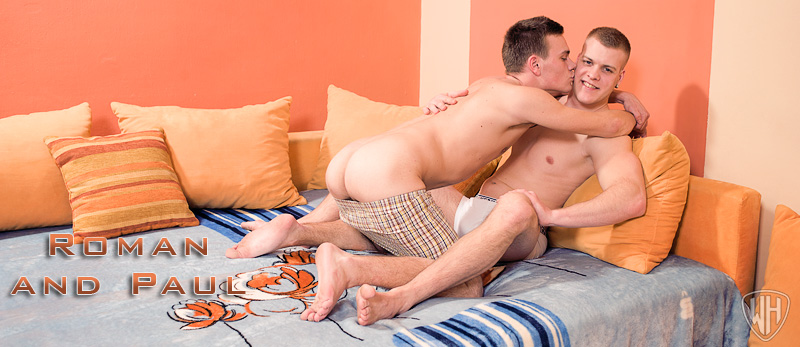 We fixed Roman Ditrich up for a Screentest with Paul Fresh. I must say he was very good indeed. So good, in fact, that we slotted him in for our latest Wank Party that is already online. Paul does a brief interview with Roman at the start, as they sit on the bed in just their underwear. Then they start to kiss, with Paul running his hands over Roman's body at the same time. Paul's hand rubs over Roman's shorts and then inside one leg to feel his cock. He keeps rubbing the cock as he kisses Roman, and then he kisses down his body and begins to suck his cock. Paul works hard on that cock and it begins to respond, swelling in his mouth. Soon it is fully hard and Paul continues to suck on is as he wanks himself. Paul then lays back and pulls his briefs now, exposing his cock as Roman leans over and kisses him and works his way down to the cock. Paul's cock is rock hard as his hand pushes Roman's head down on it. Roman sucks on the cock and licks Paul's balls as he wanks himself. After some more kissing Paul stands and present his cock to Roman again, pushing it into his mouth and beginning to fuck his face. Roman's lips are closed tight around the cock as he sucks it. Next Paul has Roman lay face down on the bed, ass raised and he start to rim his ass. His tongue laps at the hole and soon he begins to finger it as well. In the same position Paul climbs onto Roman and shoves his cock deep in that tight hole. He fucks him hard and deep, with Roman taking it real well. Paul then lays down so that Roman can sit on his big, hard dick and ride it for himself. He works his ass up and down on that throbbing cock, his own cock rock hard and solid as he fucks himself onto Paul's. Then Paul takes over and really rams his cock, time after time, into Roman's open ass. They move into a sort of missionary position and Paul continues to fuck Roman. Roman wanks himself hard and fast as Paul's cock slams into his ass. Soon Roman shoots his cum for us, as Paul's cock is deep in his ass. Paul continues to fuck that ass until he is ready to cum as well. As he fucks he leans down and kisses Roman and then he pulls out and moves up to Roman's face. He quickly shoots his load all over Roman's face. Roman takes the empty cock into his mouth a final time and then Paul leans down to kiss Roman again. Well what a lovely Screentest this was and Roman certainly was very impressive for his first time.
... more about Roman and Paul - Screen Test - FULL CONTACT further in this newsletter

Our Coming Soon Set Preview
Ludvig Hofta returned to casting again recently, after a long absence. We were also looking for someone to team up with Rado Viker for a scene, so we put the two of them together. What a great pairing it turned out to be too. The scene starts with Rado clearing tables. Ludvig arrives, in a foul mood, and on the phone abusing his girlfriend. It appears that he has stood him up. Although the bar is closed Ludvig insists on a drink and will then leave. Having been given the drink Ludvig chats with Rado and eventually persuades him to take the place of his girlfriend, upon the promise of some money. Ludvig begins to kiss Rado, and undress him. He soon has him naked and very hard indeed and Ludvig sucks on his cock. He is an experts cocksucker and really goes to town on Rado's cock and balls. Then Ludvig gets his own cock out, and it too is fully erect. Rado begins to suck him, his is directed by Ludvig on what to do and sucks that big cock and sucks on the balls too. Next Ludvig has Rado move, with a leg up on the table, so that his ass is exposed and ready for rimming. Ludvig's tongue hits the hole and rims it real well, sucking the cock some more too. Then he wants to fuck that nice ass, and readies his cock for action. He rams his dick deep in Rado's ass and fucks him real hard and fast, working that hole to perfection. Then he has Rado lay on the table, with his legs up, and slams his dick back into him to fuck him some more. From time to time he pulls out and sucks on Rado's cock again. Then he wants more than just sucking, so he sits his ass on Rado's rock hard cocka nd begins to ride it as fast as he can. As he rides that cock Ludvig wanks himself and is ready to shoot his load. So he quickly dismounts and presents his throbbing cock to Rado. The cock shoots a nice big load over Rado's face and he then sucks it to drain it completely. Ludvig bends to kiss him and then begins to suck his cock, getting him ready to cum as well. Rado shoots his load as Ludvig wanks him. His mouth closes over the shooting cock to suck it dry. Then they kiss to bring a wonderful scene to a very nice close.

OPEN SET WINDOW

Trailer
Vlog
You can watch my Vlog for this Newsletter by clicking above or by going over to the Blog : http://www.wheuro.com/?p=9852
The weather is quite hot today in Prague, wonderful. I'm hoping to shrink the swelling on my right foot before Friday. MikeSC is bringing me several pairs of new shoes from the USA. That brand is not available here. Of course, I had to guess a bit at the size because of the swelling. If the shoes don't fit, I can return them. I did some research on Google and found the soaking feet with post surgery swelling in a bath of very warm water and Epsom salts is good for the swelling. After quite a bit of looking, I think we found the last Epsom salts in Prague. It was a couple of liters. Snatched 'em up and today I soaked my recovering foot in the prescribed bath. I don't know what effect it will have on the swelling, but it surely made my foot feel better. I'm hopeful.
On Friday, we'll shoot our Easter Wank Party, so I'll have to do my part of the Newsletter early so I can attend and shoot some backstage.
Meanwhile, today, I've published Part Two of my Three Part Preview of the latest Airport Security, based on Boris's experience from crossing from Ukraine to Slovakia by bus. I do remember that SK customs can be a nightmare. Fortunately, there's no longer a customs check between CZ and SK because of the EU. However, even back in the bad old days, I don't remember any waterboarding. That Boris certainly has an active imagination.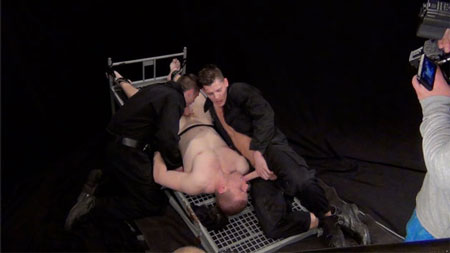 Lot's of very good shoots in today's newsletter, starting with Roman Ditrich's Screentest, which also features Paul Fresh. Then we have Jozef Koranda's Massage, Erotic videos from Jindra Stryk and Alex Peleska and Michal Tyser's session stills.
Our castings today are Ondra Gavlas, Radko Kozelek, Anton Mertlik and Radek Filipec. The pick of the day, for me is definitely Radek Filipec.

MESSAGE ABOUT LINKS TO THE OLD WH WEBSITE - WILLIAMHIGGINS.com ARCHIVES:
Please be aware that the link www.williamhiggins.com takes you to this brand new website now. If you bookmarked our old website in the past and you want to keep the bookmark as a shortest way to access the old WH website you need to change the link in the bookmark to:
You do not need to remember this link, you can conveniently get to the old WH Website - WilliamHiggins.com Archives anytime you need through the "WH 2001-2010" in the top menu of the new WilliamHiggins.com website.
Today's Weather in Prague
We have launched our all new Kink only site with no solos. It's not for the feint hearted. Do take a look (if you dare):
http://www.str8hell.com/updates
At present, Members of CzechGuysNextDoor will be able to access the new site with their user information. If you have problems, write Karel@wh.cz
Latest Sets At Our NEW STR8HELL.com Website

Members of CzechGuysnextDoor.com - to log in the member's section of the new STR8HELL website use your present username and password, if you forgot your password or encounter a log in problem please feel free to contact us at: whcustomerservice@gmail.com
Non-members - you are welcome to browse our complete content - each regular set contains free video preview and free photos, if you decide not to become a member of our website you can also buy sets separately (we huge, well organized and easy to search library of models - there is always few models you may like) you can pay only for what you really want see ;-). You are always welcome to come back.
All members of www.CzechGuysNextDoor.com get a free access to STR8HELL.com till the end of November 2011!
Please use your present CzechGuysNextDoor username and password to log into the members area.
We have terminated updates to CzechGuysNextDoor.com website. CzechGuysNextDoor.com website will stay online, but now only as an archive of all CzechGuysNextdoor.com sets. Anyone who wants to access CzechGuysNextDoor.com Archives needs to have a STR8HELL.com membership. STR8HELL.com will continue with most of the czechguysnextdoor.com projects. Anyone who joins STR8HELL.com will gain access to two websites STR8HELL.com and CzechGuyNextDoor.com Archives which contain 2500+ sets. STR8HELL.com has exactly same features and controls as NEW WilliamHiggins.com website.
Direct access to CzechGuysNextDoor.com website is now through the link: archive.czechguysnextdoor.com or through "Archive Sets 2004-2011" links on the new STR8HELL website.
Thank you for your loyalty to CzechGuysNextDoor.com website,
Sincerely
William Higgins

BurnDVD.tv Website Latest Updates


DOWNLOAD AND BURN VIDEOS TO DVD OR DOWNLOAD OUR VIDEOS IN FULL HD
Starting today you can download our videos in Full HD quality 1920x1080px!
Please remember that most of the videos available on BurnDVD are easily able to be downloaded with a single link, but some of the very large files, such as the newsletter DVDs have to be split into three separate links, as detailed below.

The videos with very large file sizes are now split into more than one part, using a program called HJSplit. If you wish to buy one of these larger videos to Burn to DVD, you will receive a link for file and then it is a simple process to join the downloaded files together to make the .iso file for Burning to DVD.

You can see all the available videos at www.burndvd.tv

Before downloading any videos to burn to DVD I advise you to read the BURNDVD Manual, which explains how you can burn the file to DVD. The file is an ISO file which contains all the required DVD files. The process for burning to DVD is fully explained.

The BurnDVD manual is easy to follow, with a step by step guide. Burning a DVD is easy to do, though it is helpful if you have previously burned DVDs or CDs.

The manual can be viewed here: BURNDVD Manual

Anyone who has any problems understanding the manual, or burning their download to DVD, or indeed any questions about this service please email geoff@wh.cz . Geoff will be happy to assist you.

You can view all the available downloads at www.burndvd.tv, by clicking the on the categories. A direct link to the latest files available will be published in each newsletter.
Our Latest Sets at www.BurnDVD.tv
Today we have Roman Ditrich's Screentest, with Paul Fresh and Jozef Koranda's Massage and CFNM Water Tasting part 3 and Michal Tyser's Spanking.
Special Offer for William Higgins Newsletter Readers
William Higgins Newsletter readers are able to obtain a discount on the price of BURNDVD downloads by using the coupons that we will be publishing in each Members Newsletter. The coupon published in each newsletter will be valid for a period of 7 days.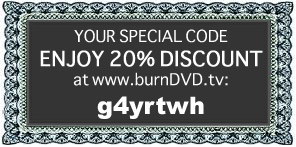 Copy today's coupon code here: g4yrtwh

Our Partners:

PLEASE PROCEED TO THE NEXT PAGE FOR THE LATEST WilliamHiggins.com UPDATES