Tuesday, April 24, 2012 - Milos and Mattias - FULL CONTACT

Milos and Mattias - FULL CONTACT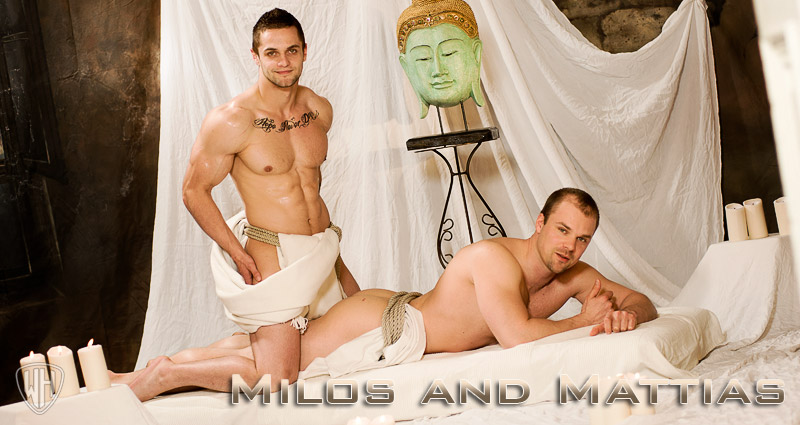 Milos Zambo and Mattias Solich are two great guys. We got them together and sest up this Meditation scenario, as a visitor had bought a Buddha mask that Boris wanted to include in the scene. Mattias walks into the room, with a candle and places it on the altar. Milos arrives as well, kneels to light his candle. As he is kneeling opposite Mattias we see his cock bobbing under his robe, as he closely watches Mattias. Milos uncovers his cock, which is rock hard. Mattias opens his eyes and sees Milos kneeling in front of him, his hard cock sticking right out in front. Milos stands and moves towards Mattias, with his cock just at mouth level. Mattias opens his mouth and takes the head of that big cock in it. He begins to suck it, gently. Milos' hand holds the back of Mattias head in place as his cock is sucked. Mattias own cock is rock hard too, as he works his mouth over Milos'. Mattias then lays down and Milos kneels over his face so that his cock and balls can be licked. Then Milos wants some of Mattias hot ass. He lays down and Mattias sits his ass down on that throbbing cock. Milos begins to fuck upwards into Mattias tight hole, with Mattias' massive thighs astride him. Mattias leans back and lets Milos get to work on that ass, his cock going in real deep. Mattias loves the feel of that cock deep in his ass, and lifts his legs in the air as Milos pounds his hole. Mattias then turns around and sits back down on Milos' dick and begins to ride up and down on it. He leans forward and kisses Milos as he fucks himself onto that big, fat cock. A change to a spoon position gives Milos more control of his fucking and he really starts to fuck Mattias deep, with long, smooth strokes. As his ass is fucked so deep Mattias wanks himself and blows a huge, creamy load over his leg. Milos loves the feel of that ass wrapped tight around his cock and soon he needs to cum as well. He pulls out and shoots his load on Mattias to bring a lovely scene to a close.
... more about Milos and Mattias - FULL CONTACT further in this newsletter

Our Coming Soon Set Preview
We had already done solo shoots and a Broke Czech Boys with Albert Kroka and wanted to push him a bit further, so we paired him with Kaja Kolomaz for a screentest, to see how he would do. Kaja starts off by interviewing Albert and then begins to kiss him. Albert responds to the kisses and things are underway. Soon Albert's top is bare and the kissing continues. Kaja removes his top too and begins to kiss Albert's chest and nipples. Albert wants to show he can do it too and responds in kind. Then Kaja is feeling Albert's cock, thru his jeans, and soon they come off so that Kaja can suck that hard dick. His mouth works up and down on Albert's cock, lips closed tightly around it. Albert loves it and is rubbing Kaja's back as he is sucked. Soon Kaja kisses Albert again, then it is his turn to be sucked. Albert shows he can do it, as he is on his knees, head bobbing up and down on that big cock. Kaja puts his hands on Albert's head and pushes it down onto his cock. Albert then moves up and kisses Kaja again. Kaja gets on his knees and presents his ass to Albert, who duly starts to lick it. His tongue works up and down the crack, settling on that hairy hole, as Kaja wanks himself. Albert is soon ready to go further and begins to finger that tight hole. Firstly with just one finger and then with two. When he judges it is ready he climbs on and pushes his big, thick cock into the waiting hole. He fucks that ass nice and deep, building up the speed as Kaja continues his wanking. Kaja is moaning with each thrust of Albert's cock. He clearly likes that dick in his ass as his cock stays rock hard. A change of position has Kaja sitting down on Alberts throbbing cock and riding it as he wanks himself. Kaja is really turned on by it all and wants some ass as well, so they swap places and Kaja fucks his rock hard cock into Albert's ass. He loves that hole and moves Albert to lay on the bed so he has better access and fucks him real hard and fast. Albert feels it deep and is moaning as his ass gets fucked. Kaja cant hold back and shoots his load over Albert who takes the cock in his mouth to clean it off. Then it is Albert's turn and he dumps a big creamy load over Kaja's face, and in his mouth. Kaja loves it and suck that spent cock to drain it completely. Then he stands and kisses Albert to bring his screentest to an end. Albert certainly proved that he is up for anything in this scene, with Kaja again showing us how good he is too.

OPEN SET WINDOW

Trailer
Vlog
You can watch my Vlog for this Newsletter by clicking above or by going over to the Blog : http://www.wheuro.com/?p=9968
Yesterday, I went to the hospital for my three month post-op checkup. (It's hard to imagine it's been three months since the operation.) I learned some new information. The surgeon asked me about any problems. I said, 'well the swelling is not going down as quickly as I'd like.' He replied, 'it can take up to a year for the swelling to go completely down.' So, much for Google searches. Second problem, the wires didn't do their jobs on the lesser toes. He said he'd try to correct the problem with orthopedic inserts. If that doesn't work, another operation might be necessary. 'Fat chance,' I thought. I also have a complete assortment of toe separators from before the operation. They hold the lesser toes in place, thank you very much. The very good thing about the operation: I can now wear 'normal' shoes, which I haven't been able to do for probably about six years.
I don't feel stupid buying many pairs of xxwide shoes to be muled over from the States. The brand I love, Drew, is not available in Europe. If it takes a year for the swelling to go down completely, I can do an Imelda Marcos and throw out all of the too wide shoes when it does, and BUY SOME MORE!
I am able to walk a little bit better and less painfully each day. Yesterday, I took Aida on two relatively long walks. However, I think walking tours of places like Venice or shooting the Battle of Austerlitz is out for this year. That's the wages. But who knows? The really good aspect of yesterday's checkup, is I'm no longer worried that something's wrong about the foot still being swollen. And that swelling goes down a little each day. Hopefully, I can quite boring you so much about the operation from here on out. I do think I'll be able to work on outdoor shoots this summer as, rustic as the locations are, they are usually not great hikes from the parking lot.
On Saturday, we shoot our monthly Wank Party. I'll be there with twinkle toes. The cast is looking quite promising.
I love the sets for today's newsletter, starting with that fabulous shoot with Milos Zambo and Mattias Solich. Also featured are nude submission wrestling with Honza Biskal and Sebastian Mecta as well as Janda Micka's Erotic Video, Albert Kroka's Erotic Video and Tomas Jirasko's Session Stills.
Our castings today are Tomas Pohan and Jirka Houzar, as well as one other that is not yet online. I wont do a pick of today, since I don't know who the third guy is, as I am preparing this.

MESSAGE ABOUT LINKS TO THE OLD WH WEBSITE - WILLIAMHIGGINS.com ARCHIVES:
Please be aware that the link www.williamhiggins.com takes you to this brand new website now. If you bookmarked our old website in the past and you want to keep the bookmark as a shortest way to access the old WH website you need to change the link in the bookmark to:
You do not need to remember this link, you can conveniently get to the old WH Website - WilliamHiggins.com Archives anytime you need through the "WH 2001-2010" in the top menu of the new WilliamHiggins.com website.
Today's Weather in Prague
We have launched our all new Kink only site with no solos. It's not for the feint hearted. Do take a look (if you dare):
http://www.str8hell.com/updates
At present, Members of CzechGuysNextDoor will be able to access the new site with their user information. If you have problems, write Karel@wh.cz
Latest Sets At Our NEW STR8HELL.com Website

Members of CzechGuysnextDoor.com - to log in the member's section of the new STR8HELL website use your present username and password, if you forgot your password or encounter a log in problem please feel free to contact us at: whcustomerservice@gmail.com
Non-members - you are welcome to browse our complete content - each regular set contains free video preview and free photos, if you decide not to become a member of our website you can also buy sets separately (we huge, well organized and easy to search library of models - there is always few models you may like) you can pay only for what you really want see ;-). You are always welcome to come back.
All members of www.CzechGuysNextDoor.com get a free access to STR8HELL.com till the end of November 2011!
Please use your present CzechGuysNextDoor username and password to log into the members area.
We have terminated updates to CzechGuysNextDoor.com website. CzechGuysNextDoor.com website will stay online, but now only as an archive of all CzechGuysNextdoor.com sets. Anyone who wants to access CzechGuysNextDoor.com Archives needs to have a STR8HELL.com membership. STR8HELL.com will continue with most of the czechguysnextdoor.com projects. Anyone who joins STR8HELL.com will gain access to two websites STR8HELL.com and CzechGuyNextDoor.com Archives which contain 2500+ sets. STR8HELL.com has exactly same features and controls as NEW WilliamHiggins.com website.
Direct access to CzechGuysNextDoor.com website is now through the link: archive.czechguysnextdoor.com or through "Archive Sets 2004-2011" links on the new STR8HELL website.
Thank you for your loyalty to CzechGuysNextDoor.com website,
Sincerely
William Higgins

BurnDVD.tv Website Latest Updates


DOWNLOAD AND BURN VIDEOS TO DVD OR DOWNLOAD OUR VIDEOS IN FULL HD
Starting today you can download our videos in Full HD quality 1920x1080px!
Please remember that most of the videos available on BurnDVD are easily able to be downloaded with a single link, but some of the very large files, such as the newsletter DVDs have to be split into three separate links, as detailed below.

The videos with very large file sizes are now split into more than one part, using a program called HJSplit. If you wish to buy one of these larger videos to Burn to DVD, you will receive a link for file and then it is a simple process to join the downloaded files together to make the .iso file for Burning to DVD.

You can see all the available videos at www.burndvd.tv

Before downloading any videos to burn to DVD I advise you to read the BURNDVD Manual, which explains how you can burn the file to DVD. The file is an ISO file which contains all the required DVD files. The process for burning to DVD is fully explained.

The BurnDVD manual is easy to follow, with a step by step guide. Burning a DVD is easy to do, though it is helpful if you have previously burned DVDs or CDs.

The manual can be viewed here: BURNDVD Manual

Anyone who has any problems understanding the manual, or burning their download to DVD, or indeed any questions about this service please email geoff@wh.cz . Geoff will be happy to assist you.

You can view all the available downloads at www.burndvd.tv, by clicking the on the categories. A direct link to the latest files available will be published in each newsletter.
Our Latest Sets at www.BurnDVD.tv
Today we have Milos Zambo and Mattias Solich and Honza Biskal vs Sebastian Mecta – Nude submission wrestling and CFNM Bunny Bashing part 3 and Tomas Vraga's Spanking.
Special Offer for William Higgins Newsletter Readers
William Higgins Newsletter readers are able to obtain a discount on the price of BURNDVD downloads by using the coupons that we will be publishing in each Members Newsletter. The coupon published in each newsletter will be valid for a period of 7 days.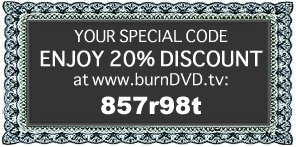 Copy today's coupon code here: 857r98t

Our Partners:

PLEASE PROCEED TO THE NEXT PAGE FOR THE LATEST WilliamHiggins.com UPDATES