Friday, May 04, 2012 - Wank Part 2012 #5, Part 1

Wank Party 2012 #5, Part 1

We have a great line-up for our latest Wank Party, Tomek Sirnad, Kaja Kolomaz, Daniel Malecky, Milos Zambo and Lukas Pribyl. Lukas, Kaja and Milos are playing ball while Tomek is barbecuing some meat, watched by Daniel. When the food is ready the guys all sit around the table and open some beer as Tomek serves the food. Then, having eaten they begin to play ball again. Lukas leaves them playing and goes inside. He strips off and towels himself. He is joined by Milos who starts to caress him and soon Lukas' cock begins to grow. Milos takes hold of it, feeling how hard it is. He continues to caress Lukas' body and soon drops his own shorts to reveal his hard cock too. The two cocks come together as Lukas begins to feel Milos body too. Milos takes hold of both cocks, in one hand and wanks them. Milos is really turned on and goes down to suck on Lukas' hard cock. He takes it in his mouth and begins to suck and, soon, Lukas starts to fuck Milos face. The other guys all arrive and catch them at it, and soon begin to join in. Milos sucks Lukas again and then hands over to Tomek to taste Lukas' cock. Kaja then begins to suck on Milos rock hard cock too. Tomek's cock needs sucking too so the guys move around so that Daniel and Kaja can suck him as he sucks Milos. Kaja turns and starts to suck Lukas as Kaja sucks his cock. Daniel sucks on his balls at the same time. Tomek switches back and forth between Lukas and Milos and Daniel takes over sucking Tomek while Kaja feels his balls. As we leave them, for the time being Tomek is sucking on Lukas who, still rock hard, wanks on Milos big cock. All the guys are having a great time and things will get even hotter in part 2.
... more about Wank Party 2012 #5, Part 1 further in this newsletter

Our Coming Soon Set Preview
Mirek Ceslar is joined by newcomer Tomek Sirnad in this Raunchy Sex duo. Tomek is as soldier and has overslept. Mirek arrives to find out why. He finds him asleep and throws water on his face and starts screaming at him. Tomek wakes and quickly gets out of bed. As he stands there his cock is hard and poking out the leg of his shorts. Mirek as him why he is still wearing socks. Mirek continues to scream at Tomek, telling him to do 10 push-ups. He starts to do them, but Mirek stands on his back and tells him to carry on. Tomek cannot lift that weight so Mirek gets off and puts just one foot on his back, for him to try again. When he has succeeded in the push-ups Tomek stands and Mirek pulls his shorts downa and instructs him to go down on his haunches and walk around, with his hands behind his head. Tomek then stands up and faces Mirek. His big cock is still rock hard. Mirek is intent of really pushing Tomek to his limit. He hangs him, by one ankle, from the ceiling, and begins to slap his and pull on his nipples. Then he wanks that hard cock some before instructing Tomek to do some crunches. Next Mirek starts to suck on Tomek's hard cock, taking it deep in his mouth, and wetting it up with his salvica. He really sucks on that cock before taking a belt and looping it around Tomek's cock. Turning him and pulling on the belt brings that big dick between his legs for Mirek to suck some more. Having pleasured his mouth Mirek decides his cock needs some action and he drops his pants and shoves his hard cock into Tomek's mouth for sucking. But he isn't finished yet, he drops one of Tomek's legs and then that ass is in the perfect position to get fucked. Mirek shoves his rock hard cock deep in Tomek's ass and fucks him nice and hard. All the while Tomek's cock stays fully hard. Mirek takes a break and has a cigarette before deciding to take Tomek down from the ceiling. He puts him on thso thae bed in doggy position so that he can fuck him some more. His cock pounds that ass nice and hard, really opening it up. Then Tomek is moved again, laying on his back, legs tied up in the air, with his hole easily available for more action. Long, deep thrusts of that big cock in Tomek's ass soon have the desired effect on Mirek and he pulls out and blows his load all over Tomek's face. Then Tomek is made to suck the sticky cock clean. Mirek decides that Tomek is not to be allowed to sleep again and puts him in a locker, closing the door and leaving him there.

OPEN SET WINDOW

Trailer
Vlog
You can watch my Vlog for this Newsletter by clicking above or by going over to the Blog : http://www.wheuro.com/?p=10013
Thank goodness it's Friday! I had to walk to the post office today to have some papers notarized. That was a little bit ambitious and I'm paying the price this afternoon. The weather has been nice with occasional thunder storms. I like thunder very much, Aida hates it.
Today, we present the first part of our May Wank Party. I really like Lukas Pribyl. So, does everyone else who looks at him. It took some persuading to get him into the WP. He refused to kiss. But got a roaring hardon every time one of the guys touched him. My favorite type. I'm really going to work on him to get him to do more. I think once he really tests the water, he'll love it and jump right in.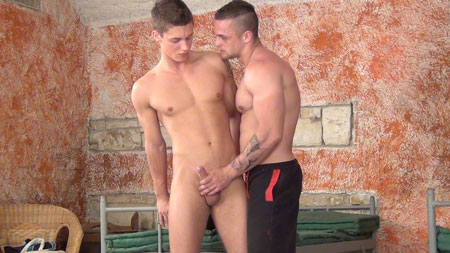 http://www.wheuro.com/?p=10008
We start things off today with part one of our latest Wank Party, and have a very strong supporting cast of sets. Anton Kretek's Erotic Video, Tomas Melus' Erotic Video, Jirka Valchar's Session Stills and a wonderful backstage video of Wank Party 2012 #1, the main video of which appeared in January.
We also have three good guys in castings today. Albert Vecko, Miro Sazima and Roman Vysata. My pick for today is Miro Sazima.
MESSAGE ABOUT LINKS TO THE OLD WH WEBSITE - WILLIAMHIGGINS.com ARCHIVES:
Please be aware that the link www.williamhiggins.com takes you to this brand new website now. If you bookmarked our old website in the past and you want to keep the bookmark as a shortest way to access the old WH website you need to change the link in the bookmark to:
You do not need to remember this link, you can conveniently get to the old WH Website - WilliamHiggins.com Archives anytime you need through the "WH 2001-2010" in the top menu of the new WilliamHiggins.com website.
Today's Weather in Prague
We have launched our all new Kink only site with no solos. It's not for the feint hearted. Do take a look (if you dare):
http://www.str8hell.com/updates
At present, Members of CzechGuysNextDoor will be able to access the new site with their user information. If you have problems, write Karel@wh.cz
Latest Sets At Our NEW STR8HELL.com Website

Members of CzechGuysnextDoor.com - to log in the member's section of the new STR8HELL website use your present username and password, if you forgot your password or encounter a log in problem please feel free to contact us at: whcustomerservice@gmail.com
Non-members - you are welcome to browse our complete content - each regular set contains free video preview and free photos, if you decide not to become a member of our website you can also buy sets separately (we huge, well organized and easy to search library of models - there is always few models you may like) you can pay only for what you really want see ;-). You are always welcome to come back.
All members of www.CzechGuysNextDoor.com get a free access to STR8HELL.com till the end of November 2011!
Please use your present CzechGuysNextDoor username and password to log into the members area.
We have terminated updates to CzechGuysNextDoor.com website. CzechGuysNextDoor.com website will stay online, but now only as an archive of all CzechGuysNextdoor.com sets. Anyone who wants to access CzechGuysNextDoor.com Archives needs to have a STR8HELL.com membership. STR8HELL.com will continue with most of the czechguysnextdoor.com projects. Anyone who joins STR8HELL.com will gain access to two websites STR8HELL.com and CzechGuyNextDoor.com Archives which contain 2500+ sets. STR8HELL.com has exactly same features and controls as NEW WilliamHiggins.com website.
Direct access to CzechGuysNextDoor.com website is now through the link: archive.czechguysnextdoor.com or through "Archive Sets 2004-2011" links on the new STR8HELL website.
Thank you for your loyalty to CzechGuysNextDoor.com website,
Sincerely
William Higgins

BurnDVD.tv Website Latest Updates


DOWNLOAD AND BURN VIDEOS TO DVD OR DOWNLOAD OUR VIDEOS IN FULL HD
Starting today you can download our videos in Full HD quality 1920x1080px!
Please remember that most of the videos available on BurnDVD are easily able to be downloaded with a single link, but some of the very large files, such as the newsletter DVDs have to be split into three separate links, as detailed below.

The videos with very large file sizes are now split into more than one part, using a program called HJSplit. If you wish to buy one of these larger videos to Burn to DVD, you will receive a link for file and then it is a simple process to join the downloaded files together to make the .iso file for Burning to DVD.

You can see all the available videos at www.burndvd.tv

Before downloading any videos to burn to DVD I advise you to read the BURNDVD Manual, which explains how you can burn the file to DVD. The file is an ISO file which contains all the required DVD files. The process for burning to DVD is fully explained.

The BurnDVD manual is easy to follow, with a step by step guide. Burning a DVD is easy to do, though it is helpful if you have previously burned DVDs or CDs.

The manual can be viewed here: BURNDVD Manual

Anyone who has any problems understanding the manual, or burning their download to DVD, or indeed any questions about this service please email geoff@wh.cz . Geoff will be happy to assist you.

You can view all the available downloads at www.burndvd.tv, by clicking the on the categories. A direct link to the latest files available will be published in each newsletter.
Our Latest Sets at www.BurnDVD.tv
Today we have a Wank Party 2012 #5 part 1 and Anton Kreteks' Erotic Video and Tomas Melus' Erotic Video and CFNM Mad Maids with Dima Lukin and Hugo Antonin.
Special Offer for William Higgins Newsletter Readers
William Higgins Newsletter readers are able to obtain a discount on the price of BURNDVD downloads by using the coupons that we will be publishing in each Members Newsletter. The coupon published in each newsletter will be valid for a period of 7 days.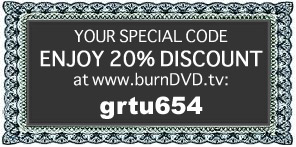 Copy today's coupon code here: grtu654

Our Partners:

PLEASE PROCEED TO THE NEXT PAGE FOR THE LATEST WilliamHiggins.com UPDATES