Friday, June 29, 2012 - Wank Party 2012 #7, Part 1

Wank Party 2012 #7, Part 1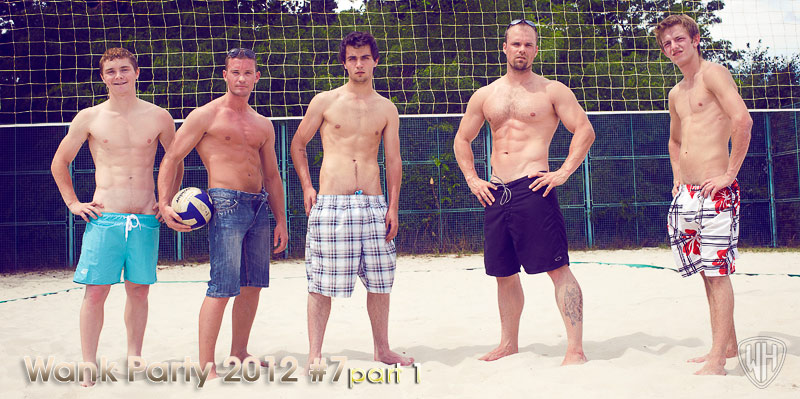 Rado Smutny, Mattias Soslich, Anton Malac, Mirek Hodbod and Patrik Lukasz make a fabulous line-up for our latest Wank Party. We join the five of them as they are at the beach enjoying a leisurely game of volleyball. All are naked as they play, Mattias and Rado against Patrik, Mirek and Anton. They aren't taking the game too seriously and, after a while, they leave it and have a little play on a roundabout. As they spin round and round the camera is at groin level and we see the cock and balls of each guy going through the frame. Then they climb onto the roundabout and their asses are in full view. Next it is time to get into the lake, and the 5 guys run down to the water, dicks flapping around as they do. They swim out a bit, into the lake and begin to play with Mattias and Rado lifting the others, in turn, and tossing them as far as they can into the water. Having enjoyed themselves for long enough with their play they move inside to continue the fun. Mattias takes charge and begins to train the guys. firstly making them bend over to touch their toes. Mattias spanks each of them on the ass in turn and tells them to get naked. They do as they are told and bend over again, with those beautiful asses in full view. When they stand up, as ordered, and turn around each of them is fully erect. Mattias walks along the line, inspecting the hard cocks and then stands in the middle of the line to have his shorts removed too. He is rock hard too and Anton wastes no time in dropping to his knees and sucking on Mattias cock. Rado and Mirek lean over and begins to kiss Mattias' nipples. Rado then begins to kiss Mattias as Patrik takes over the sucking from Anton. Anton wants cock though and, after kissing Rado begins to suck him. Mirek takes over sucking from Patrik, sucking and licking Mattias thick, hard cock. Mattias wants to taste dick too and as Mirek comes of his cock he goes down on Rado's big one. Then he sucks Anton as well while Patrik is working on Mirek's dick. Rado drops to his knees, joining Mattias, and he begins to suck Anton. Mattias wanks himself and Rado, with Mirek now sucking on Patrik's cock. Mattias takes over from Rado, on Anton's cock and Rado gets lower to suck on him too. All the guys have big, hard erections and change again, so that Mattias gets a taste of Mirek's big cock while Anton sucks on Patrik. Rado moves to allow Anton access to a second cock to suck, which he eagerly accepts into his mouth. Mattias loves that big dick of Mirek, his lips close tight around it, sucking hard as he wanks himself. Patrik and Rado go down on their knees to enjoy Anton for a while, with Rado slapping on Patrik's hot ass. Anton moves over to join Mattias in sucking Mirek while Patrik has Rado's massive cock all to himself. Rado then sucks Patrik, in return, deep throating his cock. Mattias moves over to join them and Patrik is quick to begin sucking him as Mirek takes a turn on Anton's dick. These guys really enjoy cock and make sure they all get to suck each other. With Rado now sucking Mirek and Anton and Mattias chowing down on Patrik. Things are really hotting up now and it can't be long before they want to take things even further. But first they want to make sure that everyone has sucked as much as they want. Mattias lays back on the sofa enjoying the feel of Rado and Mirek sucking him hard, while Anton is working on Patrik, his lips clasped so tight around that thorbbing cock. Mattias is the first to break, he is keen to go further, and lifts his legs in the air, exposing his hole. Rado eagerly starts to lap at that hole, his tongue dipping inside. Patrik picks up on the idea and has Anton on his knees, ass pushed back so that he can rim his hot hole too. That is where we leave the guys for the time being, with everyone horned up and wanting more.
... more about Wank Party 2012 #7, Part 1 further in this newsletter

Our Coming Soon Set Preview
Tomas Kukal and David Kadera are both very well defined guys. They are in the gym for training, with David assisting Tomas as he lifts the dumbells. Then they reverse and Tomas helps David. His hands run over David's biceps as the weights are lifted, and then a hand drifts onto his chest. David stands and stretches an arm out, muscles rippling as Tomas runs his hands up and down it. Then Tomas does the same with the other arm. Then it is Tomas' turn to do some more weights and David gives him the same attention. They are clearly into each other's bodies as they train, slowly and senuously. David goes further and begins to lick Tomas' chest. He encourages Tomas' to kiss him and then stands him up and contiues to lick his chest, and his him. Tomas appears to have a very hard cock in his jockstrap. David licks the jockstrap and pulls it open to release Tomas' cock, which is standing fully to attention. David licks the cock and the balla and takes the head in his mouth. He sucks on that throbbing cock before standing so that Tomas can undress him. David's cock is rock hard too and Tomas quickly goes down and begins to suck it. He looks magnificent as he is bent over and sucking David's cock. The guys are both so horny and have a cock fight before David bends Tomas over and begins to rim his beautiful ass. He rims that tight hole and slips a finger in to test it out. Tomas takes it very well so David is encourage and wants to go further. He stands and soon as his cock depp in Tomas' ass. Tomas really feels it as it rams into his hole, but is very eager to please and take as much as he can. David continues to fuck as hard as he can with Tomas relaxing into it, and taking it very well. David then has Tomas turn onto his back for more fucking, his ass now very receptive to taking that throbbing cock. Tomas is wanking himself and shoots his load with David pushing his dick back into that ass for more fucking. It's not long before David is ready to cum as well and he moves to shoot his load over Tomas' face. It is a nice creamy load and Tomas takes the spent cock in his mouth to clean it off. What a lovely shoot with two magnificent specimens of manhood.

OPEN SET WINDOW

Trailer
Vlog
You can watch my Vlog for this Newsletter by clicking above or by going over to the Blog : http://www.wheuro.com/?p=10251
I'm pleased as punch about something that happened yesterday over on the other side of The Pond. I'll leave you to guess what it was.
Meanwhile, it's hotter than heck here in Prague, the guys are out filming story with two fantastic models. I'll go and cover the sex in the studio in a few moments. This is the Mad Monk's final day on the job before he heads to Rio on Monday. Tomorrow, he and several of the guys are off to a castle in Pisek to attend the wedding of 'guess who?' Our dear Misha is getting married. Well, knock me over with a feather. I guess Misha's world travels will come to a screeching halt.
Yesterday, the updated my Samsung Note to Icecream Sandwich, only three months late. Gosh, the phone is now on steroids. I hope it don't have to do a piss test. The phone just screams. I love it even more. Of course, I always was a size queen.
Meanwhile, over on the Blog, I've posted the second of several teaser videos of our Wank Party by the Mad Monk. Enjoy the teasers, and also Part One of the real thing.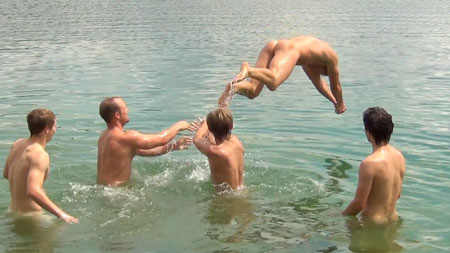 http://www.wheuro.com/?p=10248
First up today is a fabulous line-up in part one of Wank Party 2012 #7, with Anton Malac, Patrik Lukasz, Rado Smutny, Mirek Hodbod and Mattias Solich. They have a lot of fun out by the lake, before coming inside for more. We also have the stunning Tomas Kukal again, in his erotic video, and another beauty in Radim Valovy with his session stills.
We have a great line-up of castees today as well, David Mertlik, Lukas Tvaroh and Bohdan Benda. Three handsome guys, who all have promise, but my pick will be Lukas Tvaroh.

MESSAGE ABOUT LINKS TO THE OLD WH WEBSITE - WILLIAMHIGGINS.com ARCHIVES:
Please be aware that the link www.williamhiggins.com takes you to this brand new website now. If you bookmarked our old website in the past and you want to keep the bookmark as a shortest way to access the old WH website you need to change the link in the bookmark to:
You do not need to remember this link, you can conveniently get to the old WH Website - WilliamHiggins.com Archives anytime you need through the "WH 2001-2010" in the top menu of the new WilliamHiggins.com website.
Today's Weather in Prague
We have launched our all new Kink only site with no solos. It's not for the feint hearted. Do take a look (if you dare):
http://www.str8hell.com/updates
At present, Members of CzechGuysNextDoor will be able to access the new site with their user information. If you have problems, write Karel@wh.cz
Latest Sets At Our NEW STR8HELL.com Website

Members of CzechGuysnextDoor.com - to log in the member's section of the new STR8HELL website use your present username and password, if you forgot your password or encounter a log in problem please feel free to contact us at: whcustomerservice@gmail.com
Non-members - you are welcome to browse our complete content - each regular set contains free video preview and free photos, if you decide not to become a member of our website you can also buy sets separately (we huge, well organized and easy to search library of models - there is always few models you may like) you can pay only for what you really want see ;-). You are always welcome to come back.
All members of www.CzechGuysNextDoor.com get a free access to STR8HELL.com till the end of November 2011!
Please use your present CzechGuysNextDoor username and password to log into the members area.
We have terminated updates to CzechGuysNextDoor.com website. CzechGuysNextDoor.com website will stay online, but now only as an archive of all CzechGuysNextdoor.com sets. Anyone who wants to access CzechGuysNextDoor.com Archives needs to have a STR8HELL.com membership. STR8HELL.com will continue with most of the czechguysnextdoor.com projects. Anyone who joins STR8HELL.com will gain access to two websites STR8HELL.com and CzechGuyNextDoor.com Archives which contain 2500+ sets. STR8HELL.com has exactly same features and controls as NEW WilliamHiggins.com website.
Direct access to CzechGuysNextDoor.com website is now through the link: archive.czechguysnextdoor.com or through "Archive Sets 2004-2011" links on the new STR8HELL website.
Thank you for your loyalty to CzechGuysNextDoor.com website,
Sincerely
William Higgins

BurnDVD.tv Website Latest Updates


DOWNLOAD AND BURN VIDEOS TO DVD OR DOWNLOAD OUR VIDEOS IN FULL HD
Starting today you can download our videos in Full HD quality 1920x1080px!
Please remember that most of the videos available on BurnDVD are easily able to be downloaded with a single link, but some of the very large files, such as the newsletter DVDs have to be split into three separate links, as detailed below.

The videos with very large file sizes are now split into more than one part, using a program called HJSplit. If you wish to buy one of these larger videos to Burn to DVD, you will receive a link for file and then it is a simple process to join the downloaded files together to make the .iso file for Burning to DVD.

You can see all the available videos at www.burndvd.tv

Before downloading any videos to burn to DVD I advise you to read the BURNDVD Manual, which explains how you can burn the file to DVD. The file is an ISO file which contains all the required DVD files. The process for burning to DVD is fully explained.

The BurnDVD manual is easy to follow, with a step by step guide. Burning a DVD is easy to do, though it is helpful if you have previously burned DVDs or CDs.

The manual can be viewed here: BURNDVD Manual

Anyone who has any problems understanding the manual, or burning their download to DVD, or indeed any questions about this service please email geoff@wh.cz . Geoff will be happy to assist you.

You can view all the available downloads at www.burndvd.tv, by clicking the on the categories. A direct link to the latest files available will be published in each newsletter.
Our Latest Sets at www.BurnDVD.tv
Today we have Wank Party #7 part 1 and Tomas Kukal's Erotic Video and Airport Security – Radim Kalvoda, Mirek Ceslar and Rado Smutny and Submission Wrestling – Lukas Nypl & Paco Mlaticka.
Special Offer for William Higgins Newsletter Readers
William Higgins Newsletter readers are able to obtain a discount on the price of BURNDVD downloads by using the coupons that we will be publishing in each Members Newsletter. The coupon published in each newsletter will be valid for a period of 7 days.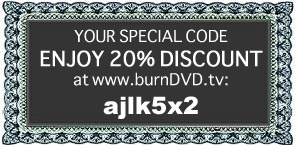 Copy today's coupon code here: ajlk5x2

Our Partners:

PLEASE PROCEED TO THE NEXT PAGE FOR THE LATEST WilliamHiggins.com UPDATES