Friday, August 03, 2012 - Street Hunting - Ian Ford - GONZO

Street Hunting - Ian Ford - GONZO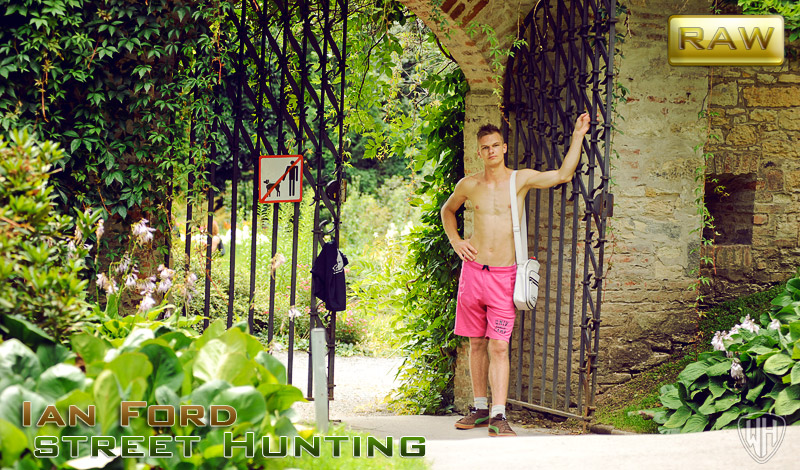 Our gonzo cameraman is out hunting the streets again. He talks to a few people about showing their bodies naked. But he keeps getting refusals, until he finds Ian Ford. After a little persuasion Ian shows his stomach for money, but he baulks at getting completely naked for more money. Ian declines the offer and walks off. But the cameraman doesn't give up, he follows and offers even more money. Eventually Ian agrees and they go off to find somewhere to do it. Having found a secluded spot Ian strips down to his underwear and lets the camera inspect his body. With his back to the camera Ian then removes the underwear and we see his sexy ass. He then turns around and his cock is already hard. The cameraman takes hold of Ian's cock and strokes it. Then Ian is told to go down on his knees and the cameraman gets his own cock out and instructs Ian to suck it. His mouth closes around that fat cock and begins to suck it. After a while he stands and the cameraman begins to suck his cock instead. Ian then goes back down on the cameraman before they stand, with their hard cocks together and wank them. They hear someone approaching so they stay quiet until no-one is there and Ian begins to suck again. Then, having placed a towel on the ground Ian it put onto his knees and the cameraman begins to fuck him, but only after more people have walked by. That cock slides nicely into Ian's ass and fucks him deeply. Ian moans as he is being fucked, even though the cameraman is trying to keep things very quiet. He stands up against a tree and wanks his cock as his ass is fucked some more. It is not long before Ian shoots a nice big load while he continues to take that cock in his ass. Then he kneels down and takes the cameraman's load over his body. So the scene comes to a very nice end with the promise of work if Ian cares to come into the studio sometime.
... more about Street Hunting - Ian Ford - GONZO further in this newsletter

Our Coming Soon Set Preview
I was very keen to get the handsome Petr Morava in action with another guy, and he needed money, so we set him up for a shoot with Ivan Cakovsky, to see what we could get him to do. After an interview Ivan starts things off, by reaching over and rubbing Petr's chest. Then he starts to kiss him. Petr responds to the kissing with no problem at all. Ivan then moves down and licks on Petr's nipples, while rubbing a hand of his crotch as well. Next Ivan pulls Petr's underwear off, and we see that his cock is hard. Ivan wastes no time and takes the cock in his mouth. He is a sucker par excellence and really works on Petr's rock hard cock. Petr seems to be enjoying his cock being sucked, but is a little reticent when it is suggested that he return the favor. However he does, and Ivan gets on his knees so that his cock can clide easily into Petr's mouth. Petr wanks himself as he sucks on Ivan's large cock. He does a good job with the sucking as well, and Ivan places a hand on the back of his head and begins to fuck his cock in and out of the mouth. The guys then switch to a 69 position with Ivan on top. His cock slides fits snugly in Petr's mouth as he leans over to suck as well. Ivan pulls Petr's ass high in the air and leans over to rim it. His tongue laps as the hole, wetting it very nicely. Then he starts to finger the hole as well. Petr is doing very well indeed, so Ivan moves on to the next step and slides his cock into that tight ass. In spoon position he fucks Petr nice and deep. Petr takes it very well and then he is moved onto his knees, with Ivan behind him, fucking his hot ass again. Petr moans as he feels that cock deep in his ass, and he wanks his cock hard at the same time. He loves how his ass feels and is soon shooting his load, the cum spurting out and landing on the bed. Ivan is ready to cum as well and kneels in front of Petr's face and shoots his creamy load all over his face. Petr then takes Ivan's spent cock in his mouth to drain it completely, before kissing him to end a really good first time scene.

OPEN SET WINDOW

Trailer
Vlog
You can watch my Vlog for this Newsletter by clicking above or by going over to the Blog : http://www.wheuro.com/?p=10414
We've had some scary times. A few days ago, Pavel found a lump below one of Aida's breasts. We immediately took her to the vet for a biopsy. It took several days for the results to come back, then the vet called and said they were pretty sure it was cancer or at the very least pre-cancerous. They scheduled an immediate operation for the next morning (yesterday). Yesterday evening Aida came back from the operation. Actually, she looked much better than she did after a previous operation years ago. She could walk slowly. But it was too painful for her to sit or lie down. Poor girl stood all last night. By this morning, she was already much stronger. Her bowel movements were fine. Pavel stayed up with her all night. And took her to his apartment for some rest. The surgeon said the operation went very well, and he thinks they got everything. They sent the tumor for a complete biopsy and we'll know the results in 20 days. Aida is a strong girl, and I'm confident she'll be fine.
Meanwhile, I had a very strange 'premonition' about 12 hours before Gore Vidal died. About 16 years ago, I spent several days with him and his lover, Howard, in Prague and Budapest. I hadn't thought about him in years. My 'premonition' was: "I don't think Gore Vidal will ever make it back to Prague." Next morning, I read on the Internet that he'd died. Very strange. And I hardly ever have premonitions. But when I do, ignoring them is always at my peril.
As a very experienced gay, I think Vidal was fibbing a little bit when he said he and his companion of 50 years, Howard, never had sex. I'll bet something went on at least at the start. Howard was quite a looker when he was young. Vidal told me he owned his longevity to consumption of a bottle of whisky daily.
Several obituaries mentioned Vidal's statement: "I'm exactly as I appear. There is no warm, lovable person inside. Beneath my cold exterior, once you break the ice, you find cold water." Quite true. My favorite Gore Vidal quote: "Politics is Hollywood for ugly people."
I've finished the penultimate Sneak Peek of our August Wank Party and posted it on the Blog. There's so much good material, I'll post one more, final Sneak Peek over the weekend. Please take a look.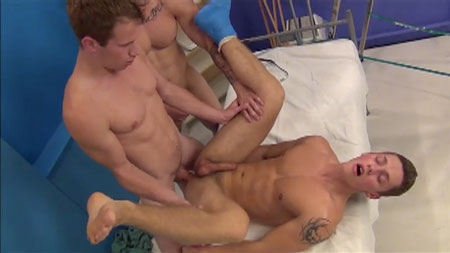 http://www.wheuro.com/?p=10412
Ian Ford is our lead today, in a fabulous Street Hunting scene. He is followed by Petr Kotora's erotic video and Egon Kubalak in his session stills.
Our castees today are Filip Stainer, Ian Ford and Mikhail Nesersev. All three look very good, but I think I will opt to Ian Ford today as he did a great Street Hunting scene.

MESSAGE ABOUT LINKS TO THE OLD WH WEBSITE - WILLIAMHIGGINS.com ARCHIVES:
Please be aware that the link www.williamhiggins.com takes you to this brand new website now. If you bookmarked our old website in the past and you want to keep the bookmark as a shortest way to access the old WH website you need to change the link in the bookmark to:
You do not need to remember this link, you can conveniently get to the old WH Website - WilliamHiggins.com Archives anytime you need through the "WH 2001-2010" in the top menu of the new WilliamHiggins.com website.
Today's Weather in Prague
Introducing a BRAND NEW WEBSITE SWNude.com


We are proudly introducing a brand new Nude Submission Wrestling website SWNude.com
A membership website for fans of nude submission wrestling.
We will be posting a wrestling match each Friday there, anouncing it here in the WH Newsletter. So there will be always a new content available to the SWNude.com website members for weekends ;-). At present there is 30+ nude wrestling matches on the SWNude.com website and there will be always a new one each Friday while our production is at present shooting at least two completely new nude wrestling matches in a month.
The website is now acessible through both www.SWNude.com and www.SubmissionWrestlingNude.com domain links.
Please, feel free to take a FREE TOUR of our new website HERE.
ONLY NOW YOU CAN GET SWNUDE.com FOR A SPECIAL INTRODUCTORY PRICE!
Gregor Bortel vs Radek Kupsky
It's funny how a friendly competition always becomes more than a little competitive over the course of a few minutes. The guys start laughing as they start to wrestle but after a few rounds of grappling with each other they start to go for the damaging locks and holds that soon have their underwear lying on the floor. Both guys have athletic builds which they use to great advantage on the mats. Even though it's meant to be fun, an element of competition always sneaks in. Although it did look like Radek would win as he has obviously been working out. Gregor however, has agility and holds his own for a draw. This sets the tone of the match with both guys being equally matched.
Open Gregor Bortel vs Radek Kupsky at SWNude.com

We have launched our all new Kink only site with no solos. It's not for the feint hearted. Do take a look (if you dare):
http://www.str8hell.com/updates
At present, Members of CzechGuysNextDoor will be able to access the new site with their user information. If you have problems, write Karel@wh.cz
Latest Sets At Our NEW STR8HELL.com Website

Members of CzechGuysnextDoor.com - to log in the member's section of the new STR8HELL website use your present username and password, if you forgot your password or encounter a log in problem please feel free to contact us at: whcustomerservice@gmail.com
Non-members - you are welcome to browse our complete content - each regular set contains free video preview and free photos, if you decide not to become a member of our website you can also buy sets separately (we huge, well organized and easy to search library of models - there is always few models you may like) you can pay only for what you really want see ;-). You are always welcome to come back.
All members of www.CzechGuysNextDoor.com get a free access to STR8HELL.com till the end of November 2011!
Please use your present CzechGuysNextDoor username and password to log into the members area.
We have terminated updates to CzechGuysNextDoor.com website. CzechGuysNextDoor.com website will stay online, but now only as an archive of all CzechGuysNextdoor.com sets. Anyone who wants to access CzechGuysNextDoor.com Archives needs to have a STR8HELL.com membership. STR8HELL.com will continue with most of the czechguysnextdoor.com projects. Anyone who joins STR8HELL.com will gain access to two websites STR8HELL.com and CzechGuyNextDoor.com Archives which contain 2500+ sets. STR8HELL.com has exactly same features and controls as NEW WilliamHiggins.com website.
Direct access to CzechGuysNextDoor.com website is now through the link: archive.czechguysnextdoor.com or through "Archive Sets 2004-2011" links on the new STR8HELL website.
Thank you for your loyalty to CzechGuysNextDoor.com website,
Sincerely
William Higgins

BurnDVD.tv Website Latest Updates


DOWNLOAD AND BURN VIDEOS TO DVD OR DOWNLOAD OUR VIDEOS IN FULL HD
Starting today you can download our videos in Full HD quality 1920x1080px!
Please remember that most of the videos available on BurnDVD are easily able to be downloaded with a single link, but some of the very large files, such as the newsletter DVDs have to be split into three separate links, as detailed below.

The videos with very large file sizes are now split into more than one part, using a program called HJSplit. If you wish to buy one of these larger videos to Burn to DVD, you will receive a link for file and then it is a simple process to join the downloaded files together to make the .iso file for Burning to DVD.

You can see all the available videos at www.burndvd.tv

Before downloading any videos to burn to DVD I advise you to read the BURNDVD Manual, which explains how you can burn the file to DVD. The file is an ISO file which contains all the required DVD files. The process for burning to DVD is fully explained.

The BurnDVD manual is easy to follow, with a step by step guide. Burning a DVD is easy to do, though it is helpful if you have previously burned DVDs or CDs.

The manual can be viewed here: BURNDVD Manual

Anyone who has any problems understanding the manual, or burning their download to DVD, or indeed any questions about this service please email geoff@wh.cz . Geoff will be happy to assist you.

You can view all the available downloads at www.burndvd.tv, by clicking the on the categories. A direct link to the latest files available will be published in each newsletter.
Our Latest Sets at www.BurnDVD.tv
Today we have Street Hunting Ian Ford and Petr Kotora's Erotic Video and Egon Kubalek's Backstage Solo and Airport Security with Patrik Lukasz and Milos Zambo.
Special Offer for William Higgins Newsletter Readers
William Higgins Newsletter readers are able to obtain a discount on the price of BURNDVD downloads by using the coupons that we will be publishing in each Members Newsletter. The coupon published in each newsletter will be valid for a period of 7 days.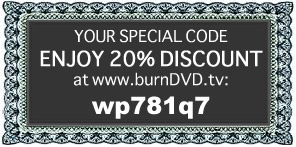 Copy today's coupon code here: wp781q7

Our Partners:

PLEASE PROCEED TO THE NEXT PAGE FOR THE LATEST WilliamHiggins.com UPDATES