Tuesday, August 14, 2012 - Tomas, Lukas and Jan - CZECH UP

Tomas, Lukas and Jan - CZECH UP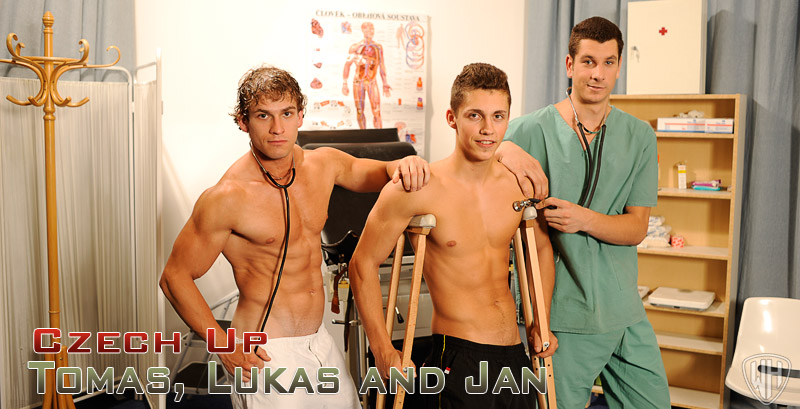 Lukas Pribyl had an accident on a motorcycle, on his first ever ride on one. His ankle was set in plaster and we invited him in for a Czech Up with our very own medical team, of Tomas Kukal and Jan Sadecky. We first see the medics, and they are discussing the fact that Lukas is coming in. Tomas says he wants to have some fun, but that they must be nice to Lukas. There is a knock on the door and Lukas comes in, on crutches. Jan tells Lukas to get undressed so they can do a full check up. They help him off with his clothes, and dress him in a white surgical gown. Then Lukas climbs onto the examination chair and puts his legs in the stirrups. The gown is lifted, exposing his cock and balls, as Jan listens to his chest. Meanwhile Tomas busies himself checking Lukas' cock. He slowly wanks it and as it gets hard he starts to suck on it. Lukas' hand goes on to Tomas' head and pushes him down on his cock, at the same time kissing Jan. they really enjoy that kissing as Tomas sucks on the cock and balls. Tomas then kisses Jan, who replaces him in sucking on that cock. After some kissing Tomas joins Jan in sucking Lukas' cock and balls. Jan then puts a glove on and starts to finger Lukas ass as well. Jan then gets naked himself and his cock is rock hard too, as he kisses Lukas. He climbs up so his cock is close to Lukas face, but Tomas leans over and starts sucking it before Lukas has a chance. Then Tomas goes back down on Lukas' dick and Jan's cock is available. Lukas wastes no time, he wanks it and then takes it in his mouth. Tomas sucks on Jan again and then gets naked himself. So now Tomas is being sucked by Jan as he himself sucks on Lukas again. Those cocks are all throbbing and ready for action. Tomas moves around and sucks Lukas, but his ass is presented to Jan who rims it and then fingers that hole. Once it is loose enough Tomas climbs up and sits his ass down on Lukas rigid dick. He rides up and down on that cock as Jan sucks him. Tomas takes it very well indeed, but wants something different. So they change positions so that Tomas can now fuck his cock into Lukas hot hole. While Lukas is taking that cock Jan sucks him as well. Lukas is really feeling that dick in his ass and wanks himself hard, shooting a big creamy load. Tomas pulls and shoots his cum too. Jan goes down on Tomas cock to suck him dry and then stand and cums over Lukas. Tomas returns the favor, sucking Jan's dick dry of cum. All three guys, having dumped their loads end with a final kiss.
... more about Tomas, Lukas and Jan - CZECH UP further in this newsletter

Our Coming Soon Set Preview
We invited Zdenek Berdak in for a Screentest, with Lukas Pribyl. Lukas drives up in his car, then he gets out and removes his shirt as he walks into the park. He stands around and watches as people pass by. Zdenek, on roller blades, goes past him, and then turns around to come back the other way. He is just coasting as he approaches Lukas again. Lukas says hi and asks if Zdenek can teach him to roller blada as well. He suggests going, in the car, for a drink. Zdenek goes back to the car with him and they get it. Then Lukas let's the real reason out, as he suggests they don't go for a drink but find something else to do. He starts by kissing Zdenek. Then his hand drops to Zdenek's shorts and starts to rub him. Pulling the shorts open we see that Zdenek's cock is quite hard and Lukas goes down on it. He sucks on that nice, fat cock a while. Then the scene changes and the guys are on a sofa, naked, with Lukas still sucking. His own cock is hard and he is wanking it as he sucks. He then moves, climbing on top of Zdenek, slipping his cock into his mouth for sucking as he leans over and begins to rim his ass. Lukas' tongue laps at that ass hole, and then begins to finger it, while his own cock is being sucked. Two fingers push into Zdenek's ass while he wanks on Lukas cock. Zdenek's ass is soon ready for cock and they change position so that he can sit himself down on Lukas' throbbing dick. He rides that cock a while and then turns around and sits down again, with Lukas thrusting his dick deep into that eager ass. Lukas really loves that ass and fucks nice and hard. He then puts Zdenek into missionary position and continues fucking him as hard as he can. Zdenek loves the feeling and wanks himself as well, soon shooting a mighty big load of cum. This soon sends Lukas over the edge too and he moves to shoot his cum all over Zdenek's chest and face. Zdenek then takes the sticky, spent cock into his mouth for cleaning before the guys kiss to bring his Screentest to a very nice end.

OPEN SET WINDOW

Trailer
Vlog
You can watch my Vlog for this Newsletter by clicking above or by going over to the Blog : http://www.wheuro.com/?p=10456
Aida had a little setback in the road to recovery last Friday with some fluid buildup around the wound. The vet drained it off and assured us this happened quite regularly and it was nothing to worry about. The stitches were removed yesterday. However, Aida is now induced to wear an Elizabethan collar. She's not fighting it, but clearly doesn't like it and is very tired. Otherwise, the recovery seems to be progressing well. I'll certainly keep you informed.
I'll probably receive lots of email for the following comments: I managed to make it through the entire Olympics without ever watching a single event! As they are all about MONEY, I've long held a very negative attitude regarding the Olympics, which is always reininduced whenever I see images of those imperious Olympic officials, who insist on being treated like royalty. I recently read an article with the headline "let them use drugs." I couldn't agree more. As it's all about winning, and money, why not use anything and everything to win and do away with all the hypocrisy? There you have it. I also have to admit that one of my favorite lines ever came from the movie "I Love You, Philip Morris." Ewan McGregor shouted at his lover: "You're GAY! You don't have to play golf!" (There goes all my golfing gay friends.)
The lovely Lukas Pribyl is the subject of a wonderful Czech Up today, with Tomas Kukal and Jan Sadecky. That is followed by Egon Kubalek's massage, Honza Baros' erotic video and Jiri Svenseu's session stills.
Our castings today are Lukas Kluch, Lukas Wert, Nikolay Arbesov and Karel Vychoc. All the guys look good to me, but my pick for today, as he has already done some great scenes for us, is Nikolay Arbesov.

MESSAGE ABOUT LINKS TO THE OLD WH WEBSITE - WILLIAMHIGGINS.com ARCHIVES:
Please be aware that the link www.williamhiggins.com takes you to this brand new website now. If you bookmarked our old website in the past and you want to keep the bookmark as a shortest way to access the old WH website you need to change the link in the bookmark to:
You do not need to remember this link, you can conveniently get to the old WH Website - WilliamHiggins.com Archives anytime you need through the "WH 2001-2010" in the top menu of the new WilliamHiggins.com website.
Today's Weather in Prague
Introducing a BRAND NEW WEBSITE SWNude.com


We are proudly introducing a brand new Nude Submission Wrestling website SWNude.com
A membership website for fans of nude submission wrestling.
We will be posting a wrestling match each Friday there, anouncing it here in the WH Newsletter. So there will be always a new content available to the SWNude.com website members for weekends ;-). At present there is 30+ nude wrestling matches on the SWNude.com website and there will be always a new one each Friday while our production is at present shooting at least two completely new nude wrestling matches in a month.
The website is now acessible through both www.SWNude.com and www.SubmissionWrestlingNude.com domain links.
Please, feel free to take a FREE TOUR of our new website HERE.
ONLY NOW YOU CAN GET SWNUDE.com FOR A SPECIAL INTRODUCTORY PRICE!
Maxim Petrovic vs Petr Pancek
Maxim Petrovic and Petr Pancek represent the classier side of submission wrestling. Coming straight from the office they have enough pent up aggression to get them through a whole season. And so, unleashing it on each other they spring into life grappling with the others slim yet muscular bodies. Writhing on the floor they struggle to control the other as these two turn out to be a pretty evenly matched duo. The first few rounds go by with no real advantage, but once things get oily and slippery the superior wrestler is known and prevails with move after well timed move.
Open Maxim Petrovic vs Petr Pancek at SWNude.com

We have launched our all new Kink only site with no solos. It's not for the feint hearted. Do take a look (if you dare):
http://www.str8hell.com/updates
At present, Members of CzechGuysNextDoor will be able to access the new site with their user information. If you have problems, write Karel@wh.cz
Latest Sets At Our NEW STR8HELL.com Website

Members of CzechGuysnextDoor.com - to log in the member's section of the new STR8HELL website use your present username and password, if you forgot your password or encounter a log in problem please feel free to contact us at: whcustomerservice@gmail.com
Non-members - you are welcome to browse our complete content - each regular set contains free video preview and free photos, if you decide not to become a member of our website you can also buy sets separately (we huge, well organized and easy to search library of models - there is always few models you may like) you can pay only for what you really want see ;-). You are always welcome to come back.
All members of www.CzechGuysNextDoor.com get a free access to STR8HELL.com till the end of November 2011!
Please use your present CzechGuysNextDoor username and password to log into the members area.
We have terminated updates to CzechGuysNextDoor.com website. CzechGuysNextDoor.com website will stay online, but now only as an archive of all CzechGuysNextdoor.com sets. Anyone who wants to access CzechGuysNextDoor.com Archives needs to have a STR8HELL.com membership. STR8HELL.com will continue with most of the czechguysnextdoor.com projects. Anyone who joins STR8HELL.com will gain access to two websites STR8HELL.com and CzechGuyNextDoor.com Archives which contain 2500+ sets. STR8HELL.com has exactly same features and controls as NEW WilliamHiggins.com website.
Direct access to CzechGuysNextDoor.com website is now through the link: archive.czechguysnextdoor.com or through "Archive Sets 2004-2011" links on the new STR8HELL website.
Thank you for your loyalty to CzechGuysNextDoor.com website,
Sincerely
William Higgins

BurnDVD.tv Website Latest Updates


DOWNLOAD AND BURN VIDEOS TO DVD OR DOWNLOAD OUR VIDEOS IN FULL HD
Starting today you can download our videos in Full HD quality 1920x1080px!
Please remember that most of the videos available on BurnDVD are easily able to be downloaded with a single link, but some of the very large files, such as the newsletter DVDs have to be split into three separate links, as detailed below.

The videos with very large file sizes are now split into more than one part, using a program called HJSplit. If you wish to buy one of these larger videos to Burn to DVD, you will receive a link for file and then it is a simple process to join the downloaded files together to make the .iso file for Burning to DVD.

You can see all the available videos at www.burndvd.tv

Before downloading any videos to burn to DVD I advise you to read the BURNDVD Manual, which explains how you can burn the file to DVD. The file is an ISO file which contains all the required DVD files. The process for burning to DVD is fully explained.

The BurnDVD manual is easy to follow, with a step by step guide. Burning a DVD is easy to do, though it is helpful if you have previously burned DVDs or CDs.

The manual can be viewed here: BURNDVD Manual

Anyone who has any problems understanding the manual, or burning their download to DVD, or indeed any questions about this service please email geoff@wh.cz . Geoff will be happy to assist you.

You can view all the available downloads at www.burndvd.tv, by clicking the on the categories. A direct link to the latest files available will be published in each newsletter.
Our Latest Sets at www.BurnDVD.tv
Today we have Lukas Pribyl's Czech Up, with Tomas Kukal and Jan Sadecky and Egon Kubalak's Massage and CFNM Crazy Nurses part 3 and Roman Klaska's Spanking.
Special Offer for William Higgins Newsletter Readers
William Higgins Newsletter readers are able to obtain a discount on the price of BURNDVD downloads by using the coupons that we will be publishing in each Members Newsletter. The coupon published in each newsletter will be valid for a period of 7 days.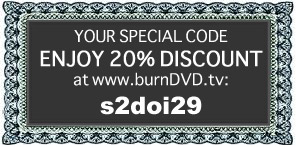 Copy today's coupon code here: s2doi29

Our Partners:

PLEASE PROCEED TO THE NEXT PAGE FOR THE LATEST WilliamHiggins.com UPDATES