Sunday, May 01, 2011 - Tomas & Jakub - Brothers Shoot

Tomas & Jakub - Broke Czech Brothers Shoot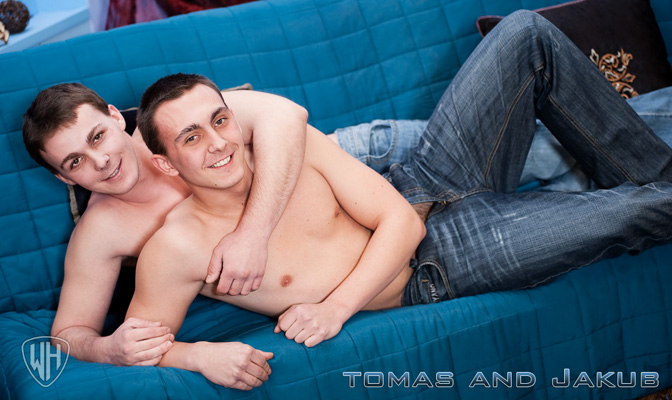 A wonderful Broke Czech Brothers Shoot with Tomas and Jakub Cech. Jakub had already done some shoots when he brought his brother into casting. They told us that they both needed money, so it seemed right and proper to invite them both into the studio for a Broke Czech Brothers shoot.They weren't too happy at the prospect which we only informed them about when they arrived in the studio. But once they got over the shock, the both got very nice stiffies. The guys start off undressing each other and then get some oil and takes turns in oiling each other. Then they massage each others bodies, first Jakub massages Tomas and then the roles are reversed. When Tomas starts to play with Jakub he gets very hard. Finally they sit on the couch and jack each other, before giving us the money shots. It is great to see brothers who are happy to help each other out in this 60 minute video.
... more about Tomas & Jakub - Brothers Shoot further in this newsletter

Our Coming Soon Set Preview
Honza Biskal is aged 19 and lives in the city of Liberec. He works in a small business and enjoys going to the gym in his spare time. Honza is a very handsome guy, and he has a good body too, obviously his time in the gym has worked for him. In this erotic solo Honza treats us to a nice slow, sensuous build up to be naked, with his dick hard as it comes out of his jeans. He also gives us a great view of his nice hairy hole as he jacks himself. Then after standing, to let us get the full effect of his body, and jacking a while he gets down to the business of a pop-shot which, when delivered, is very good indeed. We would love to do some duos with Honza, but so far we have only managed to persuade him to come in for a wrestling shoot.

OPEN SET WINDOW

Latest Updates Trailer
William Higgins Atelier Backstage Vlog
William Higgins Newsletter Text
We're enjoying some wonderful weather in Prague. We had quite a thunderstorm last night, but today has been lovely. Aida has been at the farm for the weekend. So, I've just been working away here.
I have some important announcements to make: This will be our FINAL SUNDAY NEWSLETTER. For a long time, I've been wanting to change the days of the Newsletter and was told by the IT department we should not do it, until the New Site was on line. Well, the New Site is on line and from today we're change the Newsletter dates to Tuesday's and Fridays. There are a couple of reasons for this: It's been our experience that if something is going to break down, it will break down at Newsletter time, and it seems mostly likely to happen on the larger Sunday Newsletter. Each year it becomes more difficult to locate our tech people to come in and fix problems on the weekends. By changing to Fridays, if something breaks down, we can contact the tech folks BEFORE they leave town for weekends. Second, I just think it will be nicer to publish the big Newsletter of the week on Fridays so that viewers will have the entire weekend to browse it at their leisure. Plus, with the New Site we are doing daily updates. You can come in each day and see what is new. This sort of makes me redundant. My Newsletter, after all these years, becomes a sort of twice-weekly digests. I'm perfectly happy with this arrangement so our members will new material to enjoy on a daily basis.
Next, I'm afraid I misspoke in answer to a question, I think it was Thursday, in the Prague Buddies Chat Room. The data bases of the archives, with over 10,000 sets, will not be integrated with the New Site. Admittedly, this will involve a small inconvenience for you. When you do a search, it will sometimes be necessary to do it twice, once on the New Site, and once in the Archive Site. Of course, this won't be necessary with new models as they will only be listed on the New Site. When I brought this up with the IT department, I was told, that integrating the two search engines would involve a delay in launching the new site by up to or more than a year. And the cost would be bone crushing. And, as a kicker, we might never be able to integrate the two search engines. I can tell you, I'd much rather invest the tens and tens and tens of thousands of dollars that would be necessary to develop in integrated search function in advancement of the site and shooting quality material. I apologize for this misunderstanding on my part.
Personally, I love the new site. It was something we had to do, as the critics were just killing us on the outmoded design of our old site.
Yesterday, they had the annual bicycle race that runs in front of Drakes and our studios. As is my practice, I covered it this year. They had to change the route slightly because they had narrowed the intersection in front of our building. The racers could not safely negotiate the new corner. They just made the course longer, and the turn is not in front of the Savoy (for those of you who know Prague) instead of our building. The Dutchman Marc is in town, and I must admit he got the best picture this year with his still camera. I'd also like to add, for a few years, the guys seemed to be switching to black riding pants, which showed much less basket. Now modesty is out again, with bright red and blue pants, which reveal all. Thank you very much.
Lets, see, on Friday we filmed perhaps the hardest fought Nude Submission Wrestling match we've promoted. The guys really went after each other. And it must be said, it got a little bit too dirty. Fortunately, there were no serious injuries.
With that I'll get down to business.
his is my first Newsletter on the totally redesigned site. I'm just sort of feeling my way. But I'll do my best.
I have an important announcement: With the launch of the New Site, we are going to change the dates of the Newsletter. This is our last Sunday Newsletter. Since now, the Newsletter dates are different. Starting this week, we'll be publishing the Newsletter on Tuesday and Friday. The main reason for this: By publishing on Friday, Members will have all weekend to browse the Newsletter, not just Sunday evening. Plus, it's good to keep in mind, from now on you don't have to wait for the Newsletters. The New Site will be updated daily. So, you can check daily for each update. We'll just consolidate the updates into twice weekly Newsletters. Remember that all you need to do to see the latest sets or castings is to click either the "Updates" or "Castings" in the top menu. All sets on our new website are arranged chronologically from the newest sets on the first page. Please use the calendar to browse for older sets or just simply keep clicking "Next 20 Sets" to "time travel" to the past ;-). For direct access to any set posted in this newsletter just click the "OPEN SET WINDOW LINK", this link will take you onto set page where you have a short set video preview, all video downloads links, photo zip download links and links to photo galleries as well.
Please write me with your impressions of the new site. If you have problems, let us know about them also and we'll fix them ASAP.
MESSAGE ABOUT CASTINGS:
Just a little reminder that the Latest Updates page which appears when you access the site shows the latest sets to come online. However that doesn`t include the castings. For the latest castings to come online you can click CASTINGS at the top of the page.
MESSAGE ABOUT LINKS TO THE OLD WH WEBSITE - WILLIAMHIGGINS.com ARCHIVES:
Please be aware that the link www.williamhiggins.com takes you to this brand new website now. If you bookmarked our old website in the past and you want to keep the bookmark as a shortest way to access the old WH website you need to change the link in the bookmark to:
You do not need to remember this link, you can conveniently get to the old WH Website - WilliamHiggins.com Archives anytime you need through the "WH 2001-2010" in the top menu of the new WilliamHiggins.com website.
Today's Weather in Prague
CzechGuysNextDoor.com Latest Updates


Health Warning Strong: Today we have a CFNM with Jarda Omacka & Denis Dobro and also two very good solo shoots.
Enter www.CzechGuysNextDoor.com HERE
ENTER www.CzechGuysNextDoor.cz Newsletter Archives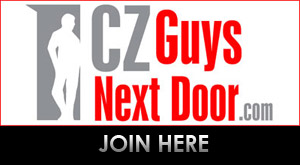 BurnDVD.tv Website Latest Updates


DOWNLOAD AND BURN VIDEOS TO DVD OR DOWNLOAD OUR VIDEOS IN FULL HD
Starting today you can download our videos in Full HD quality 1920x1080px!
Please remember that most of the videos available on BurnDVD are easily able to be downloaded with a single link, but some of the very large files, such as the newsletter DVDs have to be split into three separate links, as detailed below.

The videos with very large file sizes are now split into more than one part, using a program called HJSplit. If you wish to buy one of these larger videos to Burn to DVD, you will receive a link for file and then it is a simple process to join the downloaded files together to make the .iso file for Burning to DVD.

You can see all the available videos at www.burndvd.tv

Before downloading any videos to burn to DVD I advise you to read the BURNDVD Manual, which explains how you can burn the file to DVD. The file is an ISO file which contains all the required DVD files. The process for burning to DVD is fully explained.

The BurnDVD manual is easy to follow, with a step by step guide. Burning a DVD is easy to do, though it is helpful if you have previously burned DVDs or CDs.

The manual can be viewed here: BURNDVD Manual

Anyone who has any problems understanding the manual, or burning their download to DVD, or indeed any questions about this service please email geoff@wh.cz . Geoff will be happy to assist you.

You can view all the available downloads at www.burndvd.tv, by clicking the on the categories. A direct link to the latest files available will be published in each newsletter.
Our Latest Sets at www.BurnDVD.tv
Today we are featuring a Brothers Duo - Jakub & Tomas Cech , a fabulous fucking duo Matej Toman and Jan Kedlubna , a very tempting Submission Wrestling Nude - Sebastian Mecta vs. Honza Biskal and finaly also a CFNM - Denis Dobro and Jarda Omacka
Special Offer for William Higgins Newsletter Readers
William Higgins Newsletter readers are able to obtain a discount on the price of BURNDVD downloads by using the coupons that we will be publishing in each Members Newsletter. The coupon published in each newsletter will be valid for a period of 7 days.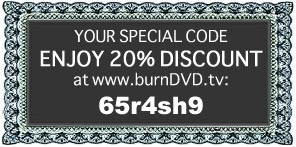 Copy today's coupon code here: 65r4sh9

Our Partners:

PLEASE PROCEED TO THE NEXT PAGE FOR THE LATEST WilliamHiggins.com UPDATES