Friday, June 28, 2013 - Wank Party 2013 #05, Part 1

Wank Party 2013 #05, Part 1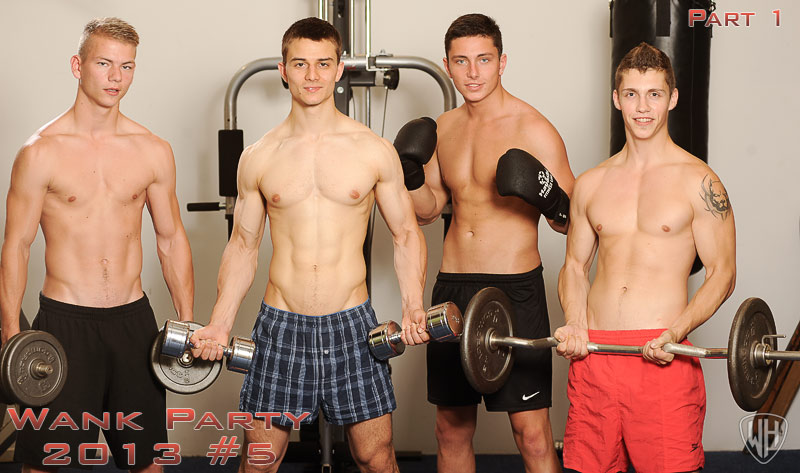 We have a wonderful line-up for Wank Party 2013 #5, Borek Sokol, Jan Faust, Robert Drtina and Lukas Pribyl. In this first part we find all 4 guys in the fitness room. Borekis holding the punch bag for Robert as Jan and Lukas exercise. The Jan asks Lukas to help him with his pull ups. Lukas moves over and assists his friend. Then they swap places so that Lukas can do some pull ups too. Borek changes places with Robert as well, on the punch bag. As Robert encourages Borek the other two stop and watch. Robert calls across to them and they all start to chat, as Lukas takes a turn on the punch bag. As they chat about what else they might try Lukas suggests some "special" exercises. With that they begin to touch each other and start to kiss. Soon hands are in each other's shorts and then cocks are out and being wanked. Jan gets hard very quickly and Borek drops to his knees and sucks on that dick. Lukas does the same for Robert, his mouth eagerly gorging on a rock hard cock. Borek sucks on Jan's dick and his own cock gets very hard. He stands and moves, with Jan, over to the others. Lukas, spies them and turns to suck on Borek's cock as Jan wanks Robert. Lukas is eager for more and turns to suck Jan's cock too. In fact he quickly takes turns on all three throbbing cocks. He really works hard, keeping all those cocks nice and hard, as he takes turns. Then the guys pair up with Jan on his knees sucking Robert's big cock, and Borek servicing Lukas. Robert is keen to suck too and he drops to his knees, as Jan stands, and takes sucks his new friend. Lukas takes hold of Borek's head, pushing it further down his cock shaft. The guys then all stand close together wanking each other as Lukas and Robert kiss. Then Robert turns and kisses Jan as well as he wanks both guys. They all move again, with Lukas bent over, presenting his ass so that Jan can rim his tight hole. Robert lays on his back, with his legs in the air for Borek to tongue his hole too. Robert loves the feel of that hot tongue on his hole and wanks himself as he feels it. This first part has been a wonderful beginning to the wank party, with four very good looking guys. Part 2 cannot come soon enough for me.
... more about Wank Party 2013 #05, Part 1 further in this newsletter

Our Coming Soon Set Preview
We invited the very good looking Filip Klatic in for a duo with the lovely Adam Rupert. We find them in only their underwear, kneeling on the bed and kissing as they grope each other. Filip's cock is rock hard and, very quickly, his underwear is off. Adam's comes off too and his big, hard cock flops into view. Adam kisses his way down Filip's chest and has a quick suck on that hard cock before returning to the kissing. Filip is wanking on Adam's cock and he goes down and begins to suck on it. Laying on the bed Filip works his mouth all over that cock, taking it nice and deep, as he wanks himself. Adam runs a hand over Filips body as he feels that mouth on his cock. Fililp comes off that big cock and stands, which allows Adam to return the favour, by sucking his cock. His tongue licks over the cock and he sucks it into his mouth, intermittently sharing kisses too. Filip lays on the bed, with Adam next to him sucking him some more. Then Filip moves onto his knees, presenting his ass to Adam. Adam hands spread those sexy ass cheeks and examine that tight hole. He spits on the hole, and then starts to tongue it before slipping a finger inside. That finger works Filips hole, opening it nicely, then he climbs up and slides his big cock deep inside. Adam really works that ass hard, his cock fucking nice and deep, speeding up as he fucks. Filip's cock is rock hard and pushed between his legs as he takes Adam's. Then they move, with Adam sitting on the bed, and Filip sits his hot ass right down on that throbbing dick. He wanks his own cock as Adam fucks him hard and fast. He really works that ass, then Filip takes over and begins to ride the cock, as he wanks himself. Moving into missionary position Adam continues to pound that hole nice and fast as Filip's wanking speeds up. He really wanks that dick and soon shoots his load all over his belly. Adam is ready too and pulls out, moving up to Filip's face and shoots a huge load all over him. Filip's tongue reaches out to lick the head of that cock as it shoots and then he takes the cock in his mouth to suck it dry.

OPEN SET WINDOW

Trailer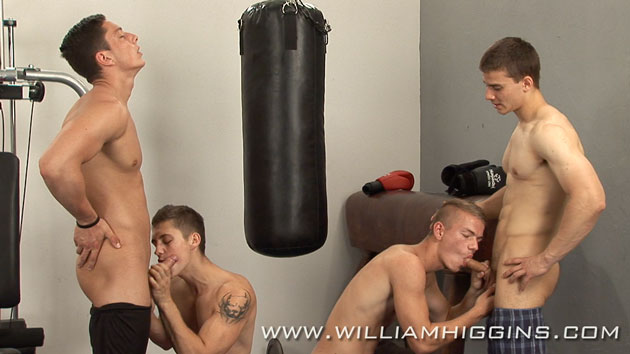 Vlog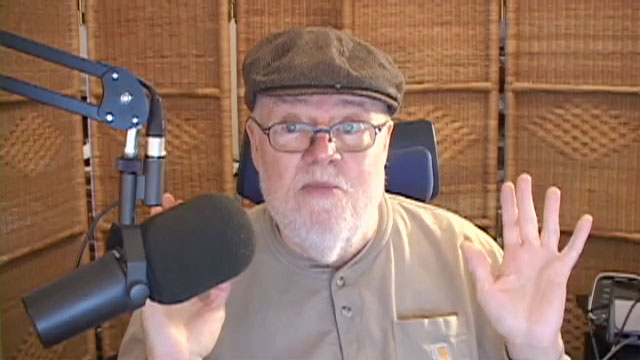 You can watch my Vlog for this Newsletter by clicking above or by going over to the Blog : http://www.wheuro.com/?p=11309
Finally some wonderful Spring Like weather in Prague with no rain forecast for the weekend. Right now I seem to have some little bug from something I ate. Hope it goes away before tomorrow.
Two to SCOTUS decisions regarding DOMA and Prop 8 were great news for our side. It seems like the tide has quickly and decisively turned in our favor. Hopefully, the Czech Republic will move from domestic partnerships to full marriage. We'll have to wait and see on that one.
With all the big news stories, a friend wrote, the Czech Republic has been knocked out of the press in the States. Here's what's happening, the new Mr. President has decided to appoint a government of 'experts.' His designate for PM was a close associate. He did not accept the recommendation of the ruling coalition. Next the government, appointed by the President against the wishes of the majority coalition, will come up for a vote of confidence in parliament. All predictions indicate it will not receive a majority confidence vote. If so, then Mr. President can appoint another government. If it fails to receive a vote of confidence, then the Speaker of the House, who was the majority coalition's pick for PM, will pick the next government. If her pick fails to win a vote of confidence, then, I believe, snap elections will be called. Let's just say, we're in for a period of confusion.
Meanwhile, yesterday, we shot an absolutely fab threesome which I think you'll love. Hopefully, it will be published soon.
The first part of Wank Party 2013 #5 leads things off today and what a stellar cast we have for that, Robert Drtina, Jan Faust, Lukas Pribyl and Borek Sokol. We then have Zdeno Jaro with a helping hand, Daniel Just in his session stills and a lovely backstage video of Wank Party 2013 #1.
Our castees today look very good too. They are Walda Kozr, Tomas Veverak and Zdenek Hrozny. That is three good looking guys. My pick for today will go to Walda Kozr and his very stiff dick.

MESSAGE ABOUT LINKS TO THE OLD WH WEBSITE - WILLIAMHIGGINS.com ARCHIVES:
Please be aware that the link www.williamhiggins.com takes you to this brand new website now. If you bookmarked our old website in the past and you want to keep the bookmark as a shortest way to access the old WH website you need to change the link in the bookmark to:
You do not need to remember this link, you can conveniently get to the old WH Website - WilliamHiggins.com Archives anytime you need through the "WH 2001-2010" in the top menu of the new WilliamHiggins.com website.
Today's Weather in Prague
We have launched our all new Kink only site with no solos. It's not for the feint hearted. Do take a look (if you dare):
http://www.str8hell.com/updates
At present, Members of CzechGuysNextDoor will be able to access the new site with their user information. If you have problems, write Karel@wh.cz
Latest Sets At Our NEW STR8HELL.com Website

Members of CzechGuysnextDoor.com - to log in the member's section of the new STR8HELL website use your present username and password, if you forgot your password or encounter a log in problem please feel free to contact us at: whcustomerservice@gmail.com
Non-members - you are welcome to browse our complete content - each regular set contains free video preview and free photos, if you decide not to become a member of our website you can also buy sets separately (we huge, well organized and easy to search library of models - there is always few models you may like) you can pay only for what you really want see ;-). You are always welcome to come back.
All members of www.CzechGuysNextDoor.com get a free access to STR8HELL.com till the end of November 2011!
Please use your present CzechGuysNextDoor username and password to log into the members area.
We have terminated updates to CzechGuysNextDoor.com website. CzechGuysNextDoor.com website will stay online, but now only as an archive of all CzechGuysNextdoor.com sets. Anyone who wants to access CzechGuysNextDoor.com Archives needs to have a STR8HELL.com membership. STR8HELL.com will continue with most of the czechguysnextdoor.com projects. Anyone who joins STR8HELL.com will gain access to two websites STR8HELL.com and CzechGuyNextDoor.com Archives which contain 2500+ sets. STR8HELL.com has exactly same features and controls as NEW WilliamHiggins.com website.
Direct access to CzechGuysNextDoor.com website is now through the link: archive.czechguysnextdoor.com or through "Archive Sets 2004-2011" links on the new STR8HELL website.
Thank you for your loyalty to CzechGuysNextDoor.com website,
Sincerely
William Higgins

BurnDVD.tv Website Latest Updates


DOWNLOAD AND BURN VIDEOS TO DVD OR DOWNLOAD OUR VIDEOS IN FULL HD
Starting today you can download our videos in Full HD quality 1920x1080px!
Please remember that most of the videos available on BurnDVD are easily able to be downloaded with a single link, but some of the very large files, such as the newsletter DVDs have to be split into three separate links, as detailed below.

The videos with very large file sizes are now split into more than one part, using a program called HJSplit. If you wish to buy one of these larger videos to Burn to DVD, you will receive a link for file and then it is a simple process to join the downloaded files together to make the .iso file for Burning to DVD.

You can see all the available videos at www.burndvd.tv

Before downloading any videos to burn to DVD I advise you to read the BURNDVD Manual, which explains how you can burn the file to DVD. The file is an ISO file which contains all the required DVD files. The process for burning to DVD is fully explained.

The BurnDVD manual is easy to follow, with a step by step guide. Burning a DVD is easy to do, though it is helpful if you have previously burned DVDs or CDs.

The manual can be viewed here: BURNDVD Manual

Anyone who has any problems understanding the manual, or burning their download to DVD, or indeed any questions about this service please email geoff@wh.cz . Geoff will be happy to assist you.

You can view all the available downloads at www.burndvd.tv, by clicking the on the categories. A direct link to the latest files available will be published in each newsletter.
Our Latest Sets at www.BurnDVD.tv
Today we have Wank Party 2013 #5 Part one and Zdeno Jaro, Backstage Video – WP 2013 #1 and CFNM – Ivan Vladik and Petr Damcek.
Special Offer for William Higgins Newsletter Readers
William Higgins Newsletter readers are able to obtain a discount on the price of BURNDVD downloads by using the coupons that we will be publishing in each Members Newsletter. The coupon published in each newsletter will be valid for a period of 7 days.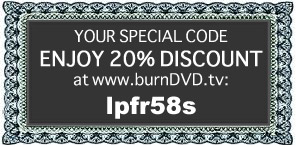 Copy today's coupon code here: lpfr58s

Our Partners:

PLEASE PROCEED TO THE NEXT PAGE FOR THE LATEST WilliamHiggins.com UPDATES