Tuesday, May 31, 2011 - Dmitry and Pavel

Dmitry and Pavel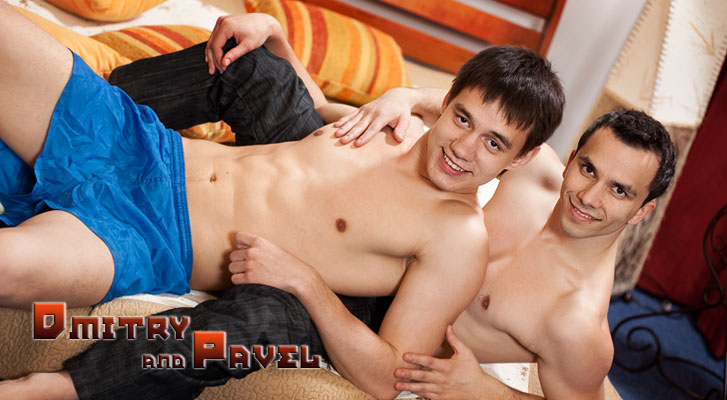 Pavel Modelon and Ruslan Tarovsky are two fabulous models. In this scene Pavel encounters Dmitry in the park, and has a chat to him, which ends up with them deciding they want some fun. What a lot of fun it was too as, firstly, Pavel works on Dmitry, feeling him up in his football shorts, and then pulling the dick out and making him hard. Then Dmitry lays on the bed and Pavel plays with his ass, fingering the hole as he sucks Dmitry's dick. Having opened him up sufficiently Pavel slides his rock hard dick into Dmitry's gaping hole. Dmitry has certainly learned how to take it, in the short while he has been with us and does it very well in this scene, changing positions, ending up by riding Pavel's dick. Then Dmitry decides to get Pavel off by sucking him and ...
... more about Dmitry and Pavel further in this newsletter

Our Coming Soon Set Preview
Fanda Modry is 23 years old and come from Brno, where he works in security. Fanda enjoys football and ice hockey. He is a very good looking guy, with a nice slim build. I think he looks great in this stills shoot, and he adopts some very nice poses, as he displays his attributes. That rock hard dick and beautifully exposed ass really look inviting. I see he also managed to slide a vibrator up his bumper chute, so I am hoping to see much more of that in his erotic video, when it appears.

OPEN SET WINDOW

Latest Updates Trailer

William Higgins Atelier Backstage Vlog

I just finished up a BrokeCzechGuys shoot. The guys were two very cute 18 year olds. Dalibor had done an ambush solo. Franky stroked his dick a few times and he was 'on to glory.' Never mind, Franky then probed him with fingers and vibrator. Dalibor popped right up again, and spoofed a second time. Wow. I'll point him out to you when his casting comes on line. I insisted he be scheduled right away for a 'Broke' episode. Boris scheduled with another cute 18 year old with a great body and fabulous bubble butt. When I did the interviews, I asked Dalibor when was the first time he ever had sex. He answered, 'To this point, I've never had sex." Double Wow. Not only a virgin with guys, but a complete virgin. I asked him, why? He replied, "I just recently started going to fitness, so I guess I wasn't good looking enough." Well, as soon as Michal's lips landed on Dalibor's dick, it popped right up and stayed that way. He certainly isn't a virgin any longer. And Michal is no longer a virgin with guys, and his virgin butt got popped. I truly enjoyed the shoot. And I'll have lots more of these guys in the future.

We're having some very hot weather in Prague. Strange thing is: with the weather this hot, not nearly as many guys lounge in various states of semi nudity on the grass at Kampa Park. On Saturday, Aida and I were walking by the river. There were some races with either Viking Longboats or Hawaiian boats. Someone started shouting my name. I looked and it was a husband and wife whom I know. The man is an American who was born in Germany and now lives in the Czech Republic. His wife is Czech. I hadn't seen them in over a year. They had their newly acquired pet puma with them. He told me to take Aida over and introduce her to the puma. He said, 'It's Okay, she was raised with dogs.' That might be true. But Aida was NOT raised with pumas. She started barking at the beast and I couldn't quiet her down. There was another American couple standing there. They have a Golden back in California. I asked them to hold Aida while I went over to pet the puma. I asked my friend if it was okay to pet the puma. 'Sure go ahead. She's perfectly tame.' Fine, I reached out my hand to pet the puma on the head, and she tried to take my hand off. I didn't know these old reflexes could be so fast because I managed to pull my hand out of her mouth just as I could feel the tips of her teeth. And it wasn't in slow motion by any means.

I am sure they have the puma because the Mrs. is deathly afraid of dogs. When she was young, a dog, an Alsatian, bit her rather badly trying to take some food away from her. I thought, 'you haven't seen nothing yet. Wait until this puma is fully grown and is no longer a cut cub.' The puma is 11 months old and is about the size of Aida.

The long and the short of this story is: I'll stick to dogs, thank you very much. No exotic animals are in my future.

Please write me with your impressions of the new site. If you have problems, let us know about them also and we'll fix them ASAP.

MESSAGE ABOUT CASTINGS:

Just a little reminder that the Latest Updates page which appears when you access the site shows the latest sets to come online. However that doesn`t include the castings. For the latest castings to come online you can click CASTINGS at the top of the page.

MESSAGE ABOUT LINKS TO THE OLD WH WEBSITE - WILLIAMHIGGINS.com ARCHIVES:

Please be aware that the link www.williamhiggins.com takes you to this brand new website now. If you bookmarked our old website in the past and you want to keep the bookmark as a shortest way to access the old WH website you need to change the link in the bookmark to:

You do not need to remember this link, you can conveniently get to the old WH Website - WilliamHiggins.com Archives anytime you need through the "WH 2001-2010" in the top menu of the new WilliamHiggins.com website.



CzechGuysNextDoor.com Latest Updates
Health Warning: We have no health warning for Czech Guys Next Door today.
Enter www.CzechGuysNextDoor.com HERE
ENTER www.CzechGuysNextDoor.cz Newsletter Archives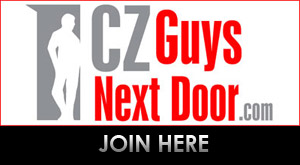 BurnDVD.tv Website Latest Updates
DOWNLOAD AND BURN VIDEOS TO DVD OR DOWNLOAD OUR VIDEOS IN FULL HD
Starting today you can download our videos in Full HD quality 1920x1080px!
Please remember that most of the videos available on BurnDVD are easily able to be downloaded with a single link, but some of the very large files, such as the newsletter DVDs have to be split into three separate links, as detailed below.

The videos with very large file sizes are now split into more than one part, using a program called HJSplit. If you wish to buy one of these larger videos to Burn to DVD, you will receive a link for file and then it is a simple process to join the downloaded files together to make the .iso file for Burning to DVD.

You can see all the available videos at www.burndvd.tv

Before downloading any videos to burn to DVD I advise you to read the BURNDVD Manual, which explains how you can burn the file to DVD. The file is an ISO file which contains all the required DVD files. The process for burning to DVD is fully explained.

The BurnDVD manual is easy to follow, with a step by step guide. Burning a DVD is easy to do, though it is helpful if you have previously burned DVDs or CDs.

The manual can be viewed here: BURNDVD Manual

Anyone who has any problems understanding the manual, or burning their download to DVD, or indeed any questions about this service please email geoff@wh.cz . Geoff will be happy to assist you.

You can view all the available downloads at www.burndvd.tv, by clicking the on the categories. A direct link to the latest files available will be published in each newsletter.
Our Latest Sets at www.BurnDVD.tv
Today we are featuring Petr Kristen and Albert Mikan in a Raunchy Duo, And Pavel Modelon with Ruslan Tarovsky:

Special Offer for William Higgins Newsletter Readers
William Higgins Newsletter readers are able to obtain a discount on the price of BURNDVD downloads by using the coupons that we will be publishing in each Members Newsletter. The coupon published in each newsletter will be valid for a period of 7 days.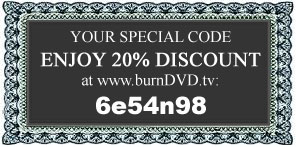 Copy today's coupon code here: 6e54n98

Our Partners:

PLEASE PROCEED TO THE NEXT PAGE FOR THE LATEST WilliamHiggins.com UPDATES