Friday, April 18, 2014 - Michael and David - Brothers Shoot - SOFT DUOS

Michael and David - Brothers Shoot - SOFT DUOS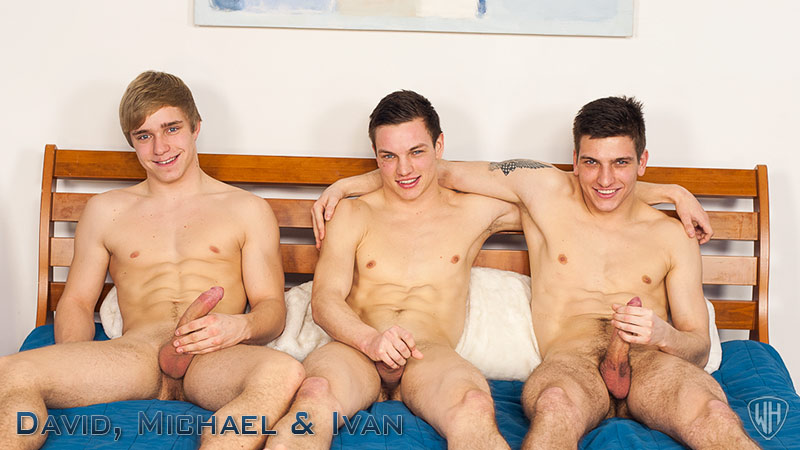 Brothers David and Michal Kott are very hot indeed. We wanted to test their limits a bit so brought Ivan Mraz in to see what might happen. We find David and Michal sitting on the bed, discussing their fitness regimes. Ivan joins them, and soon suggests that they all jack off. Removing their jeans all three guys are naked and the brothers are rock hard right away. Ivan is hard very soon too, and they have a nice relaxing wank. Ivan takes the lead and starts rubbing David's thigh. David does the same to his brother, as they all continue to wank. Then Ivan tests the waters further, by taking David's cock in his hand, without complaint, and wanking it. So far, so good, he thinks and leans over and begins sucking on David's rock hard cock. Michal continues wanking himself as Ivan sucks David. Then Ivan moves over, so that he can suck Michal's dick. He sucks it good, and takes Michal's hand and places it on David's cock. Michal wanks on his brother's dick as Ivan sucks on his. They seem to accept the sucking ok and Ivan moves them so that he can suck both dicks at the same time. His mouth is full of big hard cockheads. The stand up face each other, cocks together so that Ivan can wank them some more. David and Michal then move again, with David sitting on Michal, their cocks close together so that Ivan can lick and suck them in turn. Then David pulls his legs in the air, so that Ivan can rim his hot, hairy hole, with Michal's cock right next to it. Ivan sucks on Michals cock again Before they sit up and David wanks on Michal's dick as Ivan sucks his. Then Michal leans over and sucks on his brother's left nipple before all three sit up and wank themselves to their cumshots. Michal is first to blow, his hot cum running down over his balls. Then David shoots his load too, onto his left leg. Ivan is last to cum and shoots a nice big load. Then Ivan leans over and licks and sucks on David's sticky cock, licking the remaining cum off it. Michal's cock is still rock hard and Ivan moves over and sucks on it as well, to make sure all the cum it out. Then they all go off to the shower to clean up.
... more about Michael and David - Brothers Shoot - SOFT DUOS further in this newsletter

Our Coming Soon Set Preview
Peter Van Don and Roman Madlec are both good looking guys. We find them out, looking over the Vlata River. Then they go inside and immediately start kissing each other. As they kiss they remove their tee-shirts and then sit on the sofa, continuing to kiss. They each open the other's jeans and Roman shucks his down, showing off a rock hard cock. That big dick is just what Peter wants and he quickly starts sucking on it. His mouth wraps tight around the thick shaft, his head moving up and down on it. Then Peter stands and his cock is exposed, also nice and hard. Roman sits and sucks on that big cock, his own standing to attention all the while. Moving onto their knees the guys face each other and kiss as they wank on the cocks. Roman lays down and Peter straddles him, head to toe, so they can 69. They each suck cock so well, with Peter licking up and down Roman's shaft as well. Then he moves Roman, so his legs are up, over his head, and his ass is available. Peter rims that hot, hairy ass, getting it nice and wet. Then Roman drops the ass to cock level and Peter slides his throbbing dick deep inside. He fucks that hot hole nice and deep, as Roman breathes heavily with each thrust. Roman wanks himself a while, as Peter fucks him slowly. That big cock works Roman's hole real good. Roman moves onto his knees, with Peter taking that ass from behind. As he gets fucked Roman wanks himself back between his legs. Peter speeds up his fucking and then moves Roman again, onto his side. He fucks that hot ass as Roman holds a leg in the air. Then Roman rests his leg on Peter's shoulder and wanks himself as his ass takes that big cock.Soon Roman is shooting a big, creamy load over his body. Peter fucks until he is ready too and pulls out, dumping his cum over Roman's cock and balls. He leans forward and kisses Roman again and they both go to the shower to clean up, after a very hot time.

OPEN SET WINDOW

Trailer
Vlog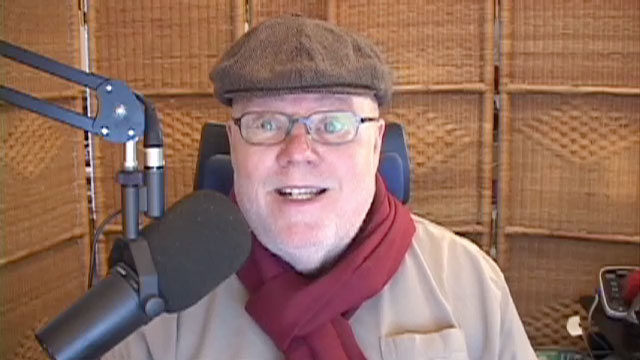 You can watch my Vlog for this Newsletter by clicking above or by going over to the Blog :
http://www.wheuro.com/?p=12819
Welcome to an absolutely miserable, rainy TGIF in Prague.

Frequently, even nowadays, I'm asked by friends on the other side of the Pond why with all of the political corruption, I still love living in the Czech Republic. Here's the answer from a headline in the MailOnline: Like sex? Head to the Czech Republic! It's the most 'morally accepting' country in the world!

Speaking of which, as a permanent resident, I may soon be able to vote in Czech elections. The EU has ruled that denying foreigners with long-term residence in CZ is a violation of our 'human rights.' It's said, being an expat is the best of all possible worlds. When the Czech Republic wins at football or something like that, we can say "WE WON!" When a Czech politician gets caught with his hand in the till, we can say, 'Those horrible Czech politicians!' With the vote, I won't be able to make that weasel any longer. I must admit, I am not enthusiastic about having to decide which Czech politicians to vote for.

One of my special fetishes is brothers. Today we have two brothers. I arranged an ambush with Ivan Mraz as our shill. The brothers were told it would be just three guys wanking on the same bed. I carefully arranged the plot with Ivan before the shoot. Started out innocently enough, then Ivan reached over and started wanking the brother nearest to him. Then he segued to sucking. That brother was slowly shaking his head 'no.' Ivan certainly didn't stop sucking on the lollypop. Then he switched his attention to the other brother. By the time for the pop shots, we had them wanking each other. Lots and lots of touching. A good time was had by all, especially by yours truly.

We start off today with brothers David and Michael Kott, joined by Ivan Mraz in a very good soft duo. That is followed by Petr Malina in his erotic video and then Lubos Koryz in a session stills shoot.

Our castings all look too, they are Milan Cepica, Justin Park and Ivan Kuka. That is three very good candidates today. My pick of the three is Justin Park.

MESSAGE ABOUT LINKS TO THE OLD WH WEBSITE - WILLIAMHIGGINS.com ARCHIVES:
Please be aware that the link www.williamhiggins.com takes you to this brand new website now. If you bookmarked our old website in the past and you want to keep the bookmark as a shortest way to access the old WH website you need to change the link in the bookmark to:
You do not need to remember this link, you can conveniently get to the old WH Website - WilliamHiggins.com Archives anytime you need through the "WH 2001-2010" in the top menu of the new WilliamHiggins.com website.
Today's Weather in Prague
We have launched our all new Kink only site with no solos. It's not for the feint hearted. Do take a look (if you dare):
http://www.str8hell.com/updates
At present, Members of CzechGuysNextDoor will be able to access the new site with their user information. If you have problems, write Karel@wh.cz
Latest Sets At Our NEW STR8HELL.com Website

Members of CzechGuysnextDoor.com - to log in the member's section of the new STR8HELL website use your present username and password, if you forgot your password or encounter a log in problem please feel free to contact us at: whcustomerservice@gmail.com
Non-members - you are welcome to browse our complete content - each regular set contains free video preview and free photos, if you decide not to become a member of our website you can also buy sets separately (we huge, well organized and easy to search library of models - there is always few models you may like) you can pay only for what you really want see ;-). You are always welcome to come back.
All members of www.CzechGuysNextDoor.com get a free access to STR8HELL.com till the end of November 2011!
Please use your present CzechGuysNextDoor username and password to log into the members area.
We have terminated updates to CzechGuysNextDoor.com website. CzechGuysNextDoor.com website will stay online, but now only as an archive of all CzechGuysNextdoor.com sets. Anyone who wants to access CzechGuysNextDoor.com Archives needs to have a STR8HELL.com membership. STR8HELL.com will continue with most of the czechguysnextdoor.com projects. Anyone who joins STR8HELL.com will gain access to two websites STR8HELL.com and CzechGuyNextDoor.com Archives which contain 2500+ sets. STR8HELL.com has exactly same features and controls as NEW WilliamHiggins.com website.
Direct access to CzechGuysNextDoor.com website is now through the link: archive.czechguysnextdoor.com or through "Archive Sets 2004-2011" links on the new STR8HELL website.
Thank you for your loyalty to CzechGuysNextDoor.com website,
Sincerely
William Higgins

BurnDVD.tv Website Latest Updates


DOWNLOAD AND BURN VIDEOS TO DVD OR DOWNLOAD OUR VIDEOS IN FULL HD
Starting today you can download our videos in Full HD quality 1920x1080px!
Please remember that most of the videos available on BurnDVD are easily able to be downloaded with a single link, but some of the very large files, such as the newsletter DVDs have to be split into three separate links, as detailed below.

The videos with very large file sizes are now split into more than one part, using a program called HJSplit. If you wish to buy one of these larger videos to Burn to DVD, you will receive a link for file and then it is a simple process to join the downloaded files together to make the .iso file for Burning to DVD.

You can see all the available videos at www.burndvd.tv

Before downloading any videos to burn to DVD I advise you to read the BURNDVD Manual, which explains how you can burn the file to DVD. The file is an ISO file which contains all the required DVD files. The process for burning to DVD is fully explained.

The BurnDVD manual is easy to follow, with a step by step guide. Burning a DVD is easy to do, though it is helpful if you have previously burned DVDs or CDs.

The manual can be viewed here: BURNDVD Manual

Anyone who has any problems understanding the manual, or burning their download to DVD, or indeed any questions about this service please email geoff@wh.cz . Geoff will be happy to assist you.

You can view all the available downloads at www.burndvd.tv, by clicking the on the categories. A direct link to the latest files available will be published in each newsletter.
Our Latest Sets at www.BurnDVD.tv
Today we have Brothers David and Michael Kott, with Ivan Mraz and Wrestling Michal Calovka & Robert Drtina, Foot Shoot – Martin Bortlik and Foot Shoot – Michal Pajtas.
Special Offer for William Higgins Newsletter Readers
William Higgins Newsletter readers are able to obtain a discount on the price of BURNDVD downloads by using the coupons that we will be publishing in each Members Newsletter. The coupon published in each newsletter will be valid for a period of 7 days.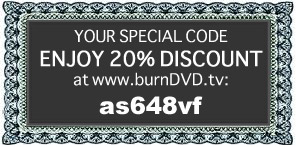 Copy today's coupon code here: as648vf

Our Partners:

PLEASE PROCEED TO THE NEXT PAGE FOR THE LATEST WilliamHiggins.com UPDATES