Tuesday, May 20, 2014 - Ivan and Danek RAW - Screen Test - FULL CONTACT

Ivan and Danek RAW - Screen Test - FULL CONTACT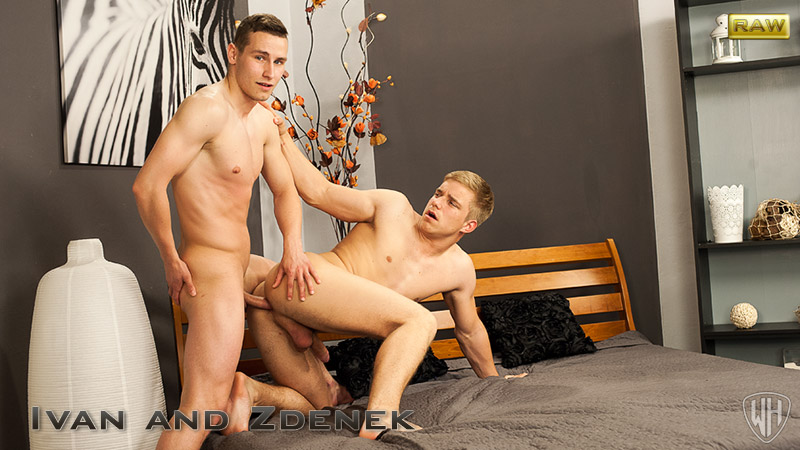 We brought Danek Gyor in for a screentest, with Ivan Mraz. Ivan kicks things off by interviewing Danek and then leans forward to kiss him. He runs a hand over Danek's hot chest as they kiss. Then he starts to rub Danek's cock, through his underwear. As he kisses the nipples as well he continues rubbing and Danek removes his underwear. With the cock now available Ivan is soon sucking on it, and has it rock hard. On his knees, with his own dick rock hard, Ivan sucks on Danek's big, stiff cock. Danek wanks on Ivan's cock as well, and feels his ass. Then Danek takes a turn at sucking, as Ivan kneels at his side. He wanks himself as he sucks on Ivan's cock and has it fucked in and out of his mouth. They move to a 69, with Ivan on top working his mouth all over that rock hard cock. Moving again Ivan lays down for Danek to suck him some more. He then moves onto his knees, with Danek behind him sliding that big dick deep into the waiting ass. Danek fucks that ass deep and hard, stretching it wide with his thick cock. He moves Ivan onto his back and fucks him some more, missionary style. He wanks Ivans big cock as he fucks him hard and fast. Next Danek lays down and Ivan sits on his cock, straddling him and riding up and down. His ass really works on that throbbing cock, taking it all the way. As he rides that dick Ivan's cock is rock hard and gets wanked by Danek. Then Ivan wanks himself as he takes Danek's cock, and soon shoots a massive load of cum all up the chest. Then Ivan moves and Danek wanks himself until his too explodes with cum, with Ivan wiping his face all over the cockhead. He takes the cum-coated cock in his mouth and cleans it off beautifully. The scene ends with Ivan kisses Danek's nipples. What a great scene test, with two very hot guys.
... more about Ivan and Danek RAW - Screen Test - FULL CONTACT further in this newsletter

Our Coming Soon Set Preview
Milos Cepica came in for a screentest, with Peter Filo. It starts off with Peter interviewing Milo and then leaning over to kiss him. As they kiss Peter reaches to feel Milos' body. They soon take off their tops and Peter's mouth starts to work over Milos' sexy chest. He opens the jeans as they continue kissing. Milos' is quickly naked, and hard, with Peter sucking on his dick. Peter knows what he is doing and sucks so good. His tongue licks all over Milos' dick and he sucks it so good. Milos' gropes Peter as his cock gets sucked. Then Peter removes his jeans too, revealing his own rock hard cock. He sucks on Milos' cock and balls. Milos' wanks Peter at the same time and then takes a turn at sucking. He shows us that he can do it right and they soon move to 69. Milos is on top, his mouth moving up and down on Peter's throbbing shaft, as his own dick is deep in Peter's mouth. Then Milos has his cock deep in Peter's eager ass. He fucks him nice and hard, going in all the way. Milos' really knows how to throw a good fuck, and works Peter's hole so good. Peter stays hard as his hole gets stuffed. Moving to spoon Milo's continues ramming his big dick deep in that hot hole, sucking on Peter's left nipple at the same time. Then he kisses him too as he pounds away at that ass. As they change position again Peter grabs his dick and wanks himself, before turning over onto his knees for Milos to fuck him some more. Milos pulls out and shoots a nice big load all over that hot ass. Peter then turns and sucks the rest of the cum right out of Milos cock. Then he lays down and wanks himself to a great cumshot too. What a lovely screentest from two sexy guys, finishing with Peter's cock being cleaned by Milos' mouth.

OPEN SET WINDOW

Trailer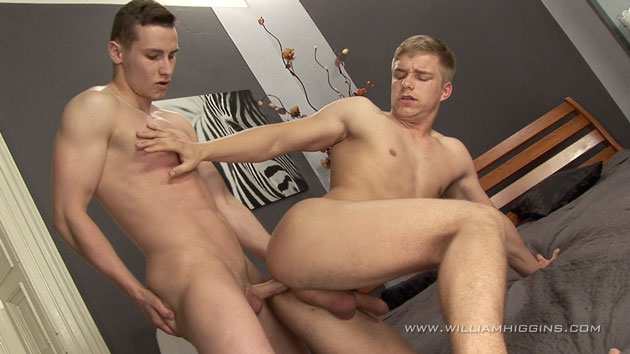 Vlog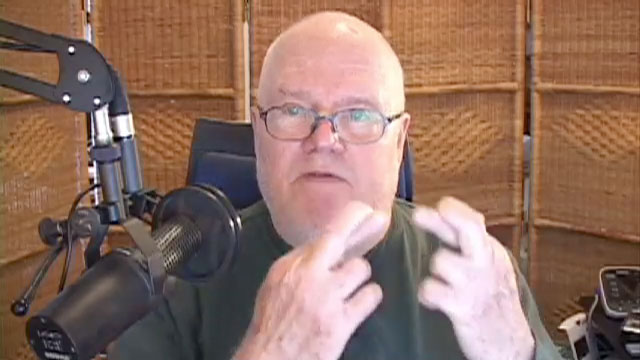 You can watch my Vlog for this Newsletter by clicking above or by going over to the Blog :
http://www.wheuro.com/?p=12940
Later this week, I take off on a long weekend vacation. First I've had in years. This will cause some temporary changes to the Newsletter schedule. I think we'll do Friday's Newsletter on Thursday. Not sure about Tuesday. I'll arrive back in the afternoon. So, we'll probably try to put that one in the can before I leave. There will be a four day gap in publishing to the Blog. Except Mr. Franky will be able to do some updates while I'm gone. The site will be updated as usual. So, check the daily updates.
Meanwhile down to work:
We lead off today with a wonderful screentest, that features newcomer Danek Gyor with Ivan Mraz, it is a really great scene. Then we have a lovely massage with the handsome Milan Kvetnik. That is followed by Milan Beran in his erotic video. Last up, and very good too, is a session stills with Vilem Posto.
We have a very nice line-up of castings too, with Hugo Divoky, Oliver Vanok, Lorenzi Balducci and Milan Kmeti. That is a great selection today. But for me the choice for pick of the day is quite simple, Hugo Divoky really stands out for me.

REMEMBER YOUR CAN ALWAYS CHECK THE OLD WH WEBSITE AT:
NEW SETS AT STR8HELL.COM

Members of str8hell.com get full access to the site and to the full archive of more than 2500 sets on Czech Guys Next Door web site, at:
http://archive.czechguysnextdoor.com/
Non-members can access str8hell.com and browse the complete content, including free video previews and some free photos for each set. Non-members can also search the site, and are able to buy any sets they like, without taking out a full membership. Paying only for the sets you really want to see.
Sincerely
William Higgins

BurnDVD.tv Website Latest Updates


DOWNLOAD AND BURN VIDEOS TO DVD OR DOWNLOAD OUR VIDEOS IN FULL HD 1920x1080P!
Special Offer for William Higgins Newsletter Readers
William Higgins Newsletter readers are able to obtain a discount on the price of BURNDVD downloads by using the coupons that we will be publishing in each Members Newsletter. The coupon published in each newsletter will be valid for a period of 7 days.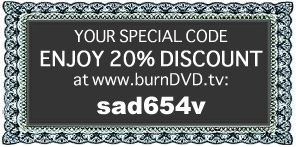 Copy today's coupon code here: sad654v

Our Partners:

PLEASE PROCEED TO THE NEXT PAGE FOR THE LATEST WilliamHiggins.com UPDATES